Luxury Street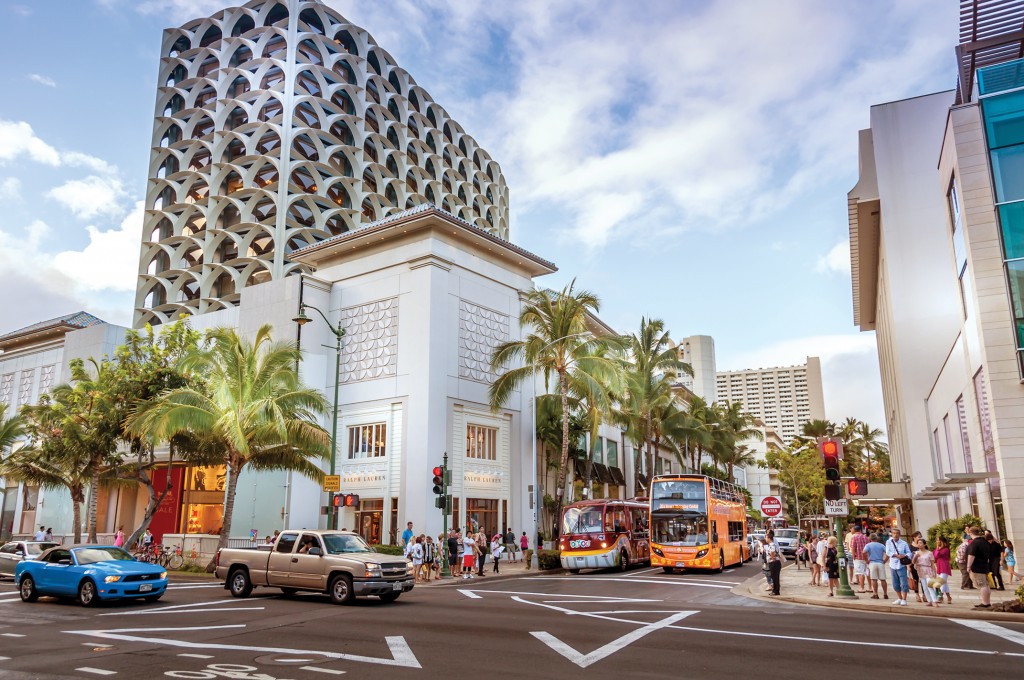 Retail rents on Oahu have climbed more than 50 percent in the past decade, while in Waikiki, the increase has been 65 percent. And the biggest increases have come in the primest of Hawaii's prime real estate: a half-mile of Kalakaua Avenue from the Sheraton Hotel at Lewers Street to the Hyatt Regency at Uluniu.
Street-level rents along that stretch were about $20 per square foot per month in 2005, but are now pushing over $35 for the best spaces, says Andrew Starn, first VP of CBRE, who has specialized in analyzing retail space in Hawaii's resort markets for the past 14 years. Drawn by heavy tourist foot traffic, the stores along that glittering boulevard include luxury brands such as Hermes, Rolex, Prada, Valentino, Armani and Tiffany, plus globally popular retailers such as Victoria's Secret and Apple, and only a few locally owned outlets.
"Kalakaua is the fifth-strongest street in the United States" for retail sales, says Starn, after the top luxury-shopping markets: New York City, Los Angeles, San Francisco and Chicago. "In the last decade, the retailers that have been successful globally have focused on the highest-performing streets internationally and done very well because of it."

From that stretch of Kalakaua, Starn says, rents in Waikiki taper down with "pockets" of impressive rents and sales in projects such as Luxury Row at 2100 Kalakaua. The "main floor" at Ala Moana Center from Macy's to where Sears used to be, also carries a hefty price tag with many rents over $20 per square foot per month, industry experts say.
The latest million-dollar question is how high rents will go on Kalakaua's nearby streets as major developments open in the next two years. For instance, Saks Fifth Avenue will anchor the revamped International Market Place, scheduled to open in August 2016, and the Ohana Waikiki West hotel will reopen in June 2016 as the Hilton Garden Inn Waikiki Beach.
"International Market Place is expecting to get rents at double the current second- and third-floor tenant rents in Waikiki," Starn says. "To do this, they will need to be a successful vertical mall similar to Ala Moana Center."
Higher rents have already forced out many Kuhio Avenue tenants and higher-end retail stores are expected to take their place, says Mike Hamasu, director of consulting and research for Colliers International Hawaii. He says Colliers' resort retail team expects rents along Kuhio will increase at least 15 percent after construction and remodeling are done.
However, neither Starn nor Hamasu expect significant rate increases in the near future along Kalakaua's main section. Retail sales are down in 2015 in both New York City and Waikiki, according to Starn, which he calls a bad sign for landlords hoping to increase rents.
"The only luxury market in the world that is up this year is Japan, and Japan is being driven predominately by Chinese buyers and many expect Japan to remain a very strong market at least through the Olympics in 2016," Starn says. "Here, I think it will remain flat."
Hamasu says Colliers identifies five retail rental zones within Waikiki, with the epicenter at Kalakaua and Seaside avenues. The further from the epicenter, the lower the rent, and upper stories are cheaper than ground floors. "Rental rates may decline to $3 to $5 per square foot on Kuhio and areas closer to Ala Moana Boulevard," Hamasu says.
"The average Waikiki rent has gone from $8.80 to $14.50 per square foot per month, a gain of 65 percent over this 10-year period," he says. "Smaller increases are usually associated to areas outside the prime retail locations: Kuhio and the Ewa side of Waikiki."