Maker Movement Aims to Remake Manufacturing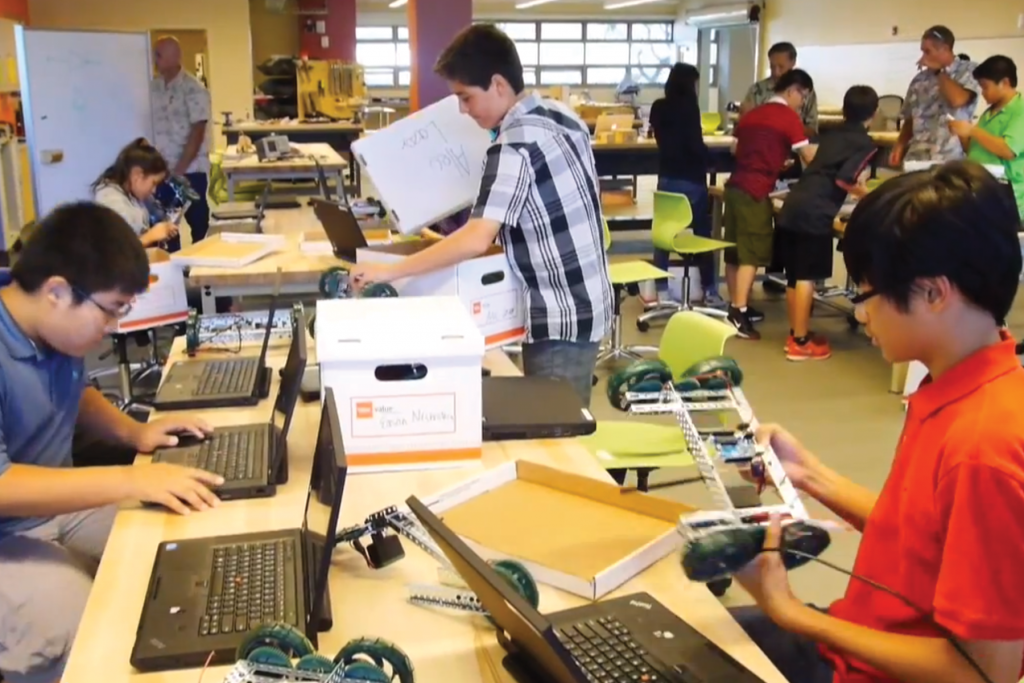 Makerspaces create communities that aren't afraid to take something apart to see how it works, and then try something different. There are hundreds of them around the world and many in Hawaii, including Oahu Makerspace, HI Capacity, Maui Makerspace, Big Island Tech Works and Kauai Makers Club. You can also find makerspaces in the Detroit public library, the Middle East and the NASA Ames Research Center.
At Maui Makerspace, housed in a freight container in rural Puunene, members of the collective share several 3D printers, laser cutters, circuit boards, chop saws, soldering stations, robotic curiosities and a vast inventory of micro-controllers. Members have access to the fabrication tools that would normally price out hobbyists or amateur craftsman, while the Internet and social media allow local makers to tap into a worldwide network.
"Design global, build local," says Jerry Isdale, founder of Maui Makerspace and SpaceGambit, an international organization that supports DIY space research.
In the case of Maui's Hackerspace Earthship, a SpaceGambit-funded project developing hardware for use in extraterrestrial habitats, "Build local, design cosmic" might be more accurate.
A small but passionate group recently organized the first Honolulu Mini Maker Faire. Don Kosak, managing partner at the Nalukai Foundation and one of the organizers, emphasizes, "We can be creators as well as consumers."
Maker faires take DIY projects from the worktable to the masses – essentially a show-and-tell. While the flagship maker faires in New York and the San Mateo welcome tens of thousands of people each year, 98 independently produced Mini Maker Faires were held around the world in 2013, including in Tokyo, Rome, Santiago and Oslo. President Obama is even hosting a maker faire at the White House later this year.
The Honolulu Mini Maker Faire was held at the Iolani School's Sullivan Center for Innovation and Leadership in March. Over 500 visitors saw everything from local blacksmiths to drones. In fact, Iolani opened the $23 million Sullivan Center in August 2013 to support this kind of maker education with hardware and working space.
"More making means I have students entering college with more skills on which to build," says Brian Chee, founder and manager of the Advanced Network Computing Laboratory at the UH School of Ocean and Earth Science and Technology. He let his students use millions of dollars' worth of equipment without restrictions precisely so imagination is the only limit.
In a time when we can hold more computing power in our hands than could fit into an entire room 20 years ago, "we need people who can connect A to B in a way that no one has ever seen before," says Ross Mukai, founder of Oahu Makerspace. He explains that interdisciplinary cross- pollination of ideas is as critical to innovation as it is to life's broad gene pool. "Maker Faires and Makerspaces excel in bringing together a diverse collection of ideas."
Punahou School is redesigning a library to include collaborative workspaces. Teacher Douglas Kiang, who is part of the committee planning that redesign, observes, "If there is something students are trying to figure out how to do, they are more likely to hop on YouTube and look for a video that another kid has uploaded, rather than asking an adult for help." Providing space and informal guidance when necessary allows students to work on the projects they want.
"Increasingly we'll see a middle class of consumers who are interested in purchasing maker-built goods – everything from furniture to hardware and beyond," says Alex Goldman, researcher at the Institute for the Future, which is based in Palo Alto, Calif.
Brian Chee sums it up well: "Making feeds the human need to use tools to improve our lives and the world around us."