Former Miss Hawai'i's Podcast Wins Global Award  
Malika Dudley says she launched the podcast Communification to raise money for nonprofits and bring academic research about communication to everyday people.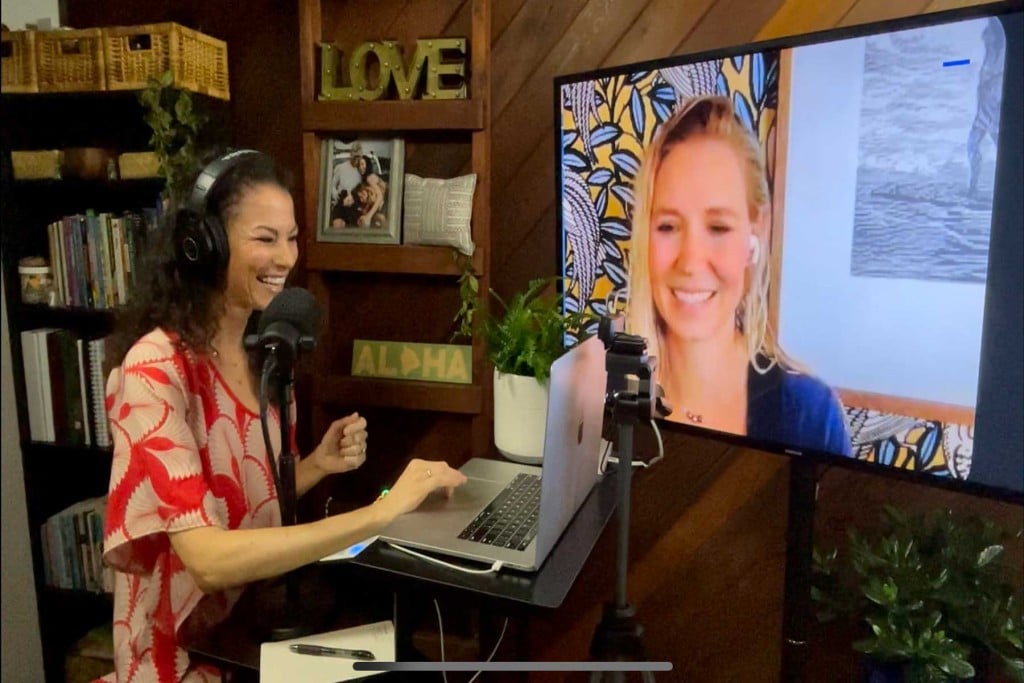 Malika Dudley has a black belt in karate, is fluent in French, was crowned Miss Hawai'i in 2005 and is the host of an award-winning podcast. And she still has time to do the weekend weather on KITV4 Maui.
Dudley says the podcast Communification launched in the top 15 in the U.S. on Apple Podcasts in the social science genre in 2021 and Dudley says it's made an impact in Russia (it peaked at No. 12); South Korea; Poland; Japan; Canada; the United Kingdom; New Zealand; Australia and Germany.
"I hate selling. I don't like pushing things on people, and I always knew that there would not be ads in my podcast," she says. "I was lying in bed one day, and I thought: What if I didn't sell ads? What if I ran ads for local businesses that donated to nonprofits?
"I have them donate directly so I don't have to touch money, and they get 100% of that tax benefit. The podcast doesn't make me any money because that was never the goal."
And with every $500 donation given to a charity of the individual or business's choice, Dudley airs a 15-second advertisement for them.
In February, Dudley was awarded a bronze medal for "Best Partnership or Collaboration – Humanitarian Action & Services" from the inaugural Anthem Awards, in recognition of her work to raise money and awareness for the Maui Food Bank, for which she serves as a board member.
The Anthem Awards were created in recognition of the "massive culture shift where humans worldwide have led and organized in new ways to build a more purpose-driven society," according to the awards website. Partners include the Ad Council, GLAAD, the Born This Way Foundation and the World Wildlife Fund.
Dudley says she has helped generate over $72,000 in donations to various nonprofits. Among her efforts: She donated her revenue from Instagram and hosted a virtual concert with Paula Fuga and rallied support for the local singer after she was mocked by some on social media for emotionally sharing her story of childhood hunger during a benefit for the Hawaii Foodbank.
"The Beautification of Communication"
The name of the podcast, "Communification," means "the beautification of communication," she says, and started as Dudley's final thesis project at UH Mānoa, where she returned to complete her master's degree in communicology after a gap of almost two decades.
The unexpected university hiatus began in 2005 when Dudley was crowned Miss Hawai'i a year into her master's program. After her win, she began what was planned as a gap year from school.
She was driving a Mercedes, one of the perks of being Miss Hawai'i, while working part-time as a bouncer at The W and struggling to feed herself.
"Unfortunately, most of the work I did was unpaid. … You get a leased Benz for the year," Dudley says. "And I just remember driving around in it even though I could barely feed myself. I would call around and ask when there was an event, so I could go wear my crown and banner to eat."
Afterward Dudley became a French teacher and launched a 15-year career in media before returning to graduate school in 2019 – prompted by the loss of her third child, Kahiau, through a miscarriage.
"It was this pivotal moment in my life where I started to reexamine what am I really passionate about; what do I really want to do with my life?" Dudley says. "And that's when this weird idea to go back to school popped into my head. And it made no sense.
"I lived on Maui. The master's program that I had started 17 years ago is on O'ahu and I have two kids. … There were so many reasons why it wouldn't or shouldn't work, but my former professors, my husband and everyone around me was telling me to go."
Before the pandemic, Dudley flew to O'ahu from Maui once a week to attend class, or watched her classes virtually from an iPad camera stationed in the back of the classroom before online classes became the norm.
Straddling Two Worlds
Two years later, Dudley launched the first episode of Communification with the guidance of communication scholar and professor Amy Ebesu Hubbard, who was the chair of Dudley's committee at the time and her thesis advisor.
"The development of this podcast was to fill a niche that had to do with straddling her two different worlds," Hubbard says. "She is someone who can understand the academic literature, as well as somebody who can speak very well to the public and can translate that information in a way that's digestible and accessible to people.
"I think the podcast has really resonated with people because we've always been interested in communication, but it becomes even more timely because of the kinds of experiences people might be having. So, when they hear about it, or they can see that others have been having similar experiences, then maybe they feel less alone and more understood."
Hubbard and other experts, as well as local musicians and social media influencers/creators Anuhea Jenkins, Kimié Miner and Pashyn Santos, have been featured on Dudley's podcast. Topics include body image, technology's influence on relationships, and lying and deception.
Dudley says there are two parts to Communification. In the first, experts share what they know – because so often, Dudley says, information is stuck in academia and inaccessible to everyday people.
The second part echoes what Hubbard says about people feeling less alone. "I felt so alone so many times in my life," Dudley says. "And when I look back, I realize, I was so not alone. And if I had just known that at the time, it would have been such a comfort to me."
Communification is for free for listeners on Apple Podcasts, Audible, or Radio Public.