Mana Up Aims to Turn Small Local Companies into Global Brands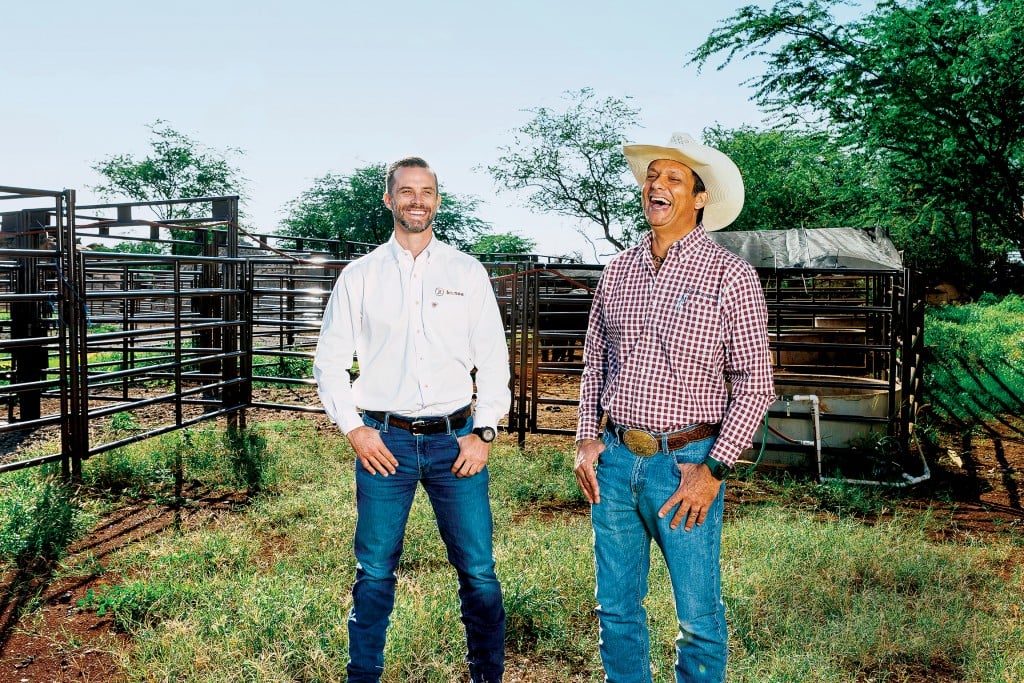 The Hawaii brand is beloved around the world and there are mom and pop enterprises that want to give that love back but don't know how.
Enter Mana Up, a new accelerator aimed at promoting homegrown Hawaii products and transforming them into million-dollar companies and brands. The new initiative launched an intensive 12-week accelerator session in January for its first cohort of 10 companies, chosen from a pool of 85 applicants. The locally based companies get help with marketing, pricing, distribution, scaling and other strategies to support their rapid growth beyond the state.
Mana Up is the brainchild of three people: well-known local entrepreneur Meli James, president of the Hawaii Venture Capital Association; relative newcomer Brittany Heyd, a founder of the globally funded startup accelerator 1776; and Michael Cheski, a Punahou grad who has helped launch more than 100 products with brands such as TLC, Food Network, Amazon and most recently, Shopify.
Mana Up's goal: Take 20 Hawaii companies a year with revenue in the $100,000-a-year-and-up range and grow them tenfold over the next five or six years. They must be companies with local products and headquarters in the Islands. The point, say the founders, is building the Hawaii brand with authentic products that support the economy, create jobs and produce a new generation of CEOs and other business leaders. Support for the new venture comes from well-established Hawaii institutions such as Kamehameha Schools, which are underwriting the cost of operations and will have ongoing opportunities to be associated with young, upcoming growth companies. As well the three Mana Up partners will be drawing on the extensive networks of mentors they have developed over the years.
"We have some great entrepreneurs creating local products, but the challenge is mentorship and access to resources and capital."

—Meli James, Entrepreneur and co-founder of Mana Up
"We have some great entrepreneurs creating local products, but the challenge is mentorship and access to resources and capital," says James, who most recently was head of new ventures at Sultan Ventures and program director of XLR8UH, UH's venture accelerator. "How do we take something that is a regional strength – our brand – and put attention toward product innovation? This sector is actually a huge market but we haven't been able to connect the dots."
That's what Mana Up hopes to do.
"China produces so many products that are using the Hawaii brand, and you see products across the Mainland using the Hawaii brand, and yet they have nothing to do with Hawaii. Maui Style Potato Chips, for instance, are probably the top-selling brand in the U.S. and yet they're not made here," James says.
"The brand of Hawaii is universally loved and yet Hawaii doesn't profit from its own brand. Many of the companies at $300 million annual revenue are not based here. So how can you start moving market share to companies here that have the authentic narrative? How do we give local companies a step up in order to play ball? That's what we're going to do."
The partners say they will use strategies that appeal to Millennials, a generation that has passed the Baby Boomers in numbers and will soon pass them in shopping power. Millennials want authenticity, says James.
"They turn the product over and read the fine print. They want to know who is the founder? Is it a clean product? People are searching for more authenticity and looking for the culture. It's something we could take advantage of. Take the example of Neiman Marcus: They actually have a Made in Hawaii section and even have pictures of the products with the founders and their stories.
"The store's epicurean section is the highest grossing in the world and half is made in Hawaii," says James. "What's funny is it's almost unstocked. People come in and buy out shelves of products. They literally can't keep the shelves stocked because they're being bought like crazy. We know this market exists and we know it's much larger than what's being bought here. People want these products."
Interestingly, each of the 10 companies in the first cohort have some type of agricultural component in their product mix, says James. "They are all either sourcing or growing themselves a raw agricultural material from the Islands. This is profound when you think about massive sectors coming together – agriculture, tourism, innovation and technology – to build an industry here for the future.
"What's really powerful," continues James, "is seeing these industries coming together. Agriculture is seeing a big turnover, with sugar and pineapple leaving; the tourism economy is booming more than ever; technology is getting to a level where e-commerce is leveling the playing field; and we're really looking at innovation and entrepreneurship rising. … When we combine strong industries that have all of these pieces put together – making a strong connection to land and culture – it's good for Hawaii. We're creating something in Hawaii to last."
Partner Brittany Heyd, settled on Maui two years ago with her Maui-born husband and two young children. The Mana Up challenge is the newest in a series of roles for her that have included a White House internship with Rahm Emanuel when he was President Barack Obama's chief of staff; both a law degree and a master's degree in public policy from Georgetown; and positions as managing director and general counsel at 1776. She remains a part-time general counsel with 1776, but now she is in Hawaii with the idea of nurturing local business on many levels.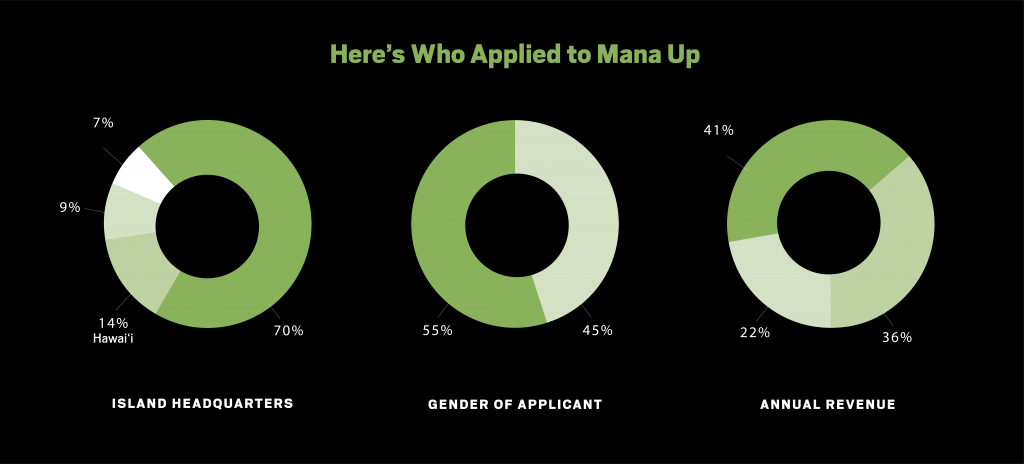 "There is a very entrepreneurial spirit here," says Heyd, who comes from a family of California entrepreneurs. "You have a thousand local products and all these things bring out the creativity that Hawaii people are forced to have in a lot of ways. We live on an island and if we want something new, a lot of times it has to come from within. I find that interesting and admirable.
"There's also a very strong community here in that people want to support local. There's a feeling that we're all in this together, which puts entrepreneurs ahead of the game because they already have this 'family' to support them."
Heyd says Mana Up will focus on companies that are already on solid footing, but want to grow.
"You have to have a specific mindset in order to want to grow," she says. "It's hard. There are plenty of companies that have a local market here in Hawaii and they want to stay at that size and they're making enough money to support themselves and that's wonderful. But there are a portion of companies that do want to grow, those that know there's a bigger market out there and want to get help to capitalize on it. Those we want to work with."
In order to create and maintain the momentum, Mana Up has support from other entrepreneurs as well as investors that want to build this important part of the economy, including Kamehameha Schools, Ulupono Initiative, Castle & Cooke/Dole Plantation, American Savings Bank, Innovate Hawaii and the Hawaii Technology Development Corp. As the companies grow and expand, the Mana Up's partner institutions will have ground-floor accessibility to new growth industries that will help the state's economic strength. Additionally, Mana Up envisions an e-commerce platform to sell each company's products. Mana Up will buy products wholesale and sell them through the online retail platform. The financial return will also help support their efforts going forward.
"I think we'll have a tremendous economic development impact in terms of building companies and their revenues, which obviously means more jobs."

—Brittany Heyd, co-founder, Mana Up
Stacy Clayton, executive strategy consultant in the Kamehameha Schools' Strategy & Innovation Division, sees the new accelerator as critically important to the state and its children. That's a major reason the private school for Native Hawaiian children became a sponsor.
"We need to see Native Hawaiian business owners who are not just at the mom and pop level but who really add value to the larger marketplace and Hawaii," says Clayton. "There's a huge market out there for Native Hawaiians to be able to capitalize on. We need to see other Native Hawaiian businesses that are operating at higher levels of revenue generation."
What's good for Native Hawaiians, adds Clayton, is good for Hawaii. "We appreciate the sensitivity and the authenticity that Mana Up is looking at, ensuring that these products that are made in Hawaii and are tagging themselves as Hawaiian brands – that they're proceeding in a way that's authentic," she says. "They're not just capitalizing on Hawaiian values but there's true authenticity when culture is used as part of the business branding.
"We love it when culture is elevated to a global market but it needs to be done with care and authenticity."
Part of Mana Up's commitment includes building that online platform to market these Hawaii products; the partners already have a warehouse for storage, packing and shipping products.
"I think we'll have a tremendous economic development impact in terms of building companies and their revenues, which obviously means more jobs," says Heyd. "That's our top line metric that we're driving for. The idea is how much revenue can we grow? We all want to make this a place to create a dream, a place where kamaaina can have amazing job opportunities. The more that we can build strong companies in Hawaii, the more opportunities and interesting jobs we can bring."
Says James: "These companies now are at the mom and pop level, and we want to help them get to the seven-digit level – into the millions – by creating an innovative ecosystem to build the next 100 CEOs with million-dollar annual revenue companies."
---
Meet the Mana Up Companies
The public will be able to sample and buy Hawaii products from the first cohort of Mana Up companies, and meet the people and companies behind those products.
The event is April 27 at 3 p.m. at a venue to be announced.