Mana Up Aims to Turn Small Local Companies into Global Brands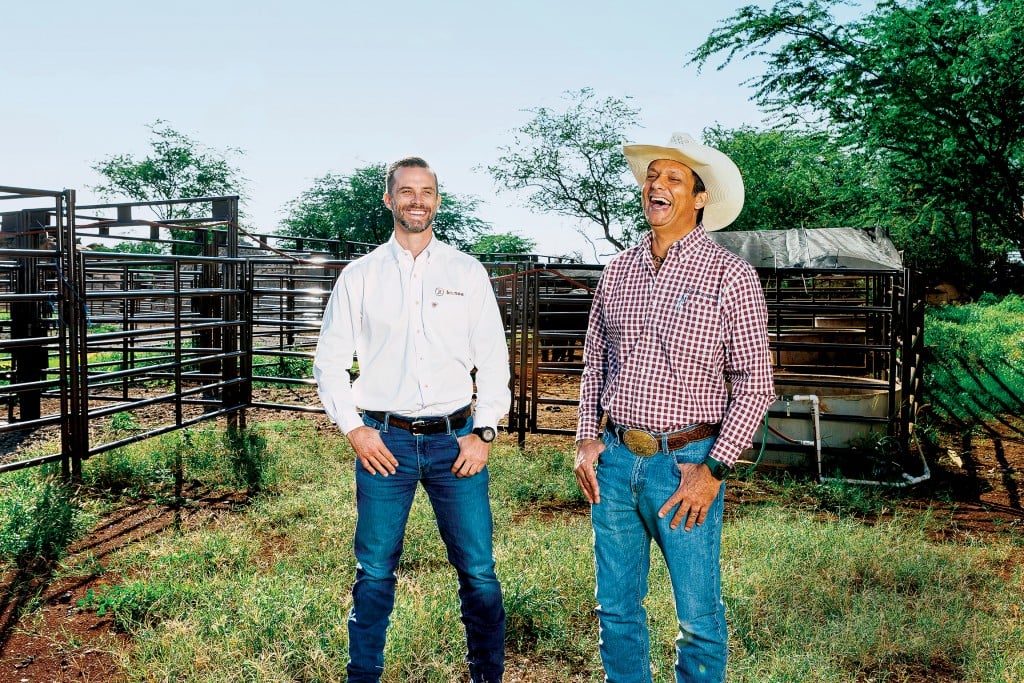 Making Pasture-Raised Cattle a Local Growth Industry
Consumers' growing desire to know about the background, ranch and processing of the meat they eat has created a golden opportunity for Kunoa Cattle. The 3-year-old company says that desire means it can build a new industry in Hawaii that is good for shoppers, good for the local economy and good for the environment.
Kunoa is raising 2,000 head of grass-fed cattle on 4,000 acres of pastureland on Kauai and Oahu, and buying grass-fed, Island-raised cattle from other ranches. With assistance from Mana Up as part of the accelerator's first cohort, the company expects its growth will happen faster than previously envisioned.
There are many reasons to favor grass-fed cattle, says Jack Beuttell, Kunoa co-founder and CEO, who has an MBA and a master's degree in environmental management. "The pasture-raised animals have higher amounts of various nutrients," he says. "In a pasture-raised system, we can use livestock to accelerate photosynthesis and soil building. Living microbes use trampled animal waste and plant matter as food, in turn building more soil."
Beuttell says cattle ranching has been demonized because of overgrazing and soil runoff. But the results can be the opposite with proper pasture management, such as regularly moving cattle from acreage to acreage.
"That's exactly how 8 to 10 feet of topsoil was built on the Great Plains – because of the bison. It's all about management. And we see this enterprise as a tool for good management, as well as a nutritious source of food and an opportunity to create local jobs."
In nature, predators force grazing animals to be on the move constantly and Beuttell says Kunoa mimics that pattern. "We move them onto a parcel of land, and will graze the land intensively, and then let it rest before we come back to it. It depends on the stock and type of forage but it would be 10 days to 45 days (of rest) on the windward side. On the leeward side it's much different because there's less precipitation, more heat and different grass species as well."
In the three years since the company was founded by Beuttell and longtime Kauai rancher and roper Bobby Farias, Kunoa has grown to employ 25 people, partially because it bought out Farias' ranching operations as well as a meat processing facility in Kapolei. The latter was operating at just 5 percent capacity, says Beuttell, so there's plenty of room to grow. Already the processing plant has doubled its processing to 10 percent of capacity.
"The pasture-raised animals have higher amounts of various nutrients."

—Jack Beuttell, co-founder and

CEO, Kunoa Cattle
"The facility is designed to harvest 50 head of cattle a day, as well as 200 hogs per day," Beuttell says. "We are doing 80 cattle per month and about 75 hogs per month now."
He says there's enough demand to sell all of Kunoa's output in the Islands. "But outside Hawaii there's almost unlimited opportunity to export premium Hawaii beef and develop the Hawaii equivalent of a Kobe brand," he said. "That has been our ambition from the start."
The company plans to serve the Hawaii market first, and has partnered with Times Supermarkets, Don Quijote and other local stores to sell its ground beef, beef cuts and beef bars. "That's just a reflection of our brand's orientation, which is toward the average local customer in Hawaii. We really want to build our business around that foundation: high quality, high value products for local customers."
Over the next decade the company will add higher margin products for export, and will begin sending to Los Angeles, San Francisco and New York.
"Asia is high on our list but we need to acquire a USDA certification for any country internationally. It's fairly stringent, and it will be a couple of years before we do that. If I could hire a couple of people to focus on that (and all the paperwork needed) I could probably export to Japan in eight months and would love to do that."
The company plans to expand its home ranch on Kauai. "We've got several thousand more acres earmarked for our expansion," says Beuttell. "We want to max our facilities within seven to 10 years up to about 13,000 head, either raising them directly or buying them from partner producers.
"It's not really hard to find land. There is a lot that used to be in sugar and pineapple or used by the seed companies and the state has large portfolios and so does Kamehameha Schools. There's a lot of land out there. But part of our model is to work with the ranchers to source cattle and we've developed a specification for our beef and work with other partner producers that can develop according to those specs. (With that) we can scale faster, and they can increase their stocking rates."
Kunoa now buys 40 to 60 head of cattle a month, all from Hawaii producers. "It's 100 percent Hawaii," he says. "That's central to our brand."
Mana Up will help Kunoa in several areas, including developing new products. The company already has a beef bar made from hamburger meat that is seasoned and smoked and doesn't require refrigeration.
"We're working on a handful of new flavor profiles for the beef bar. We'll also launch more beef jerky in several flavor profiles in 2018. And those can ship all over the Mainland," Beuttell says.
Kunoa's products are already sold on Amazon and goodeggs.com, but once the Mana Up platform is up, Kunoa will also use that.
"They're not asking for an exclusive," says Beuttell. "Their goal is to get it into as many distribution channels as possible. In Hawaii we're already selling (beef bars) in about 200 locations – every Safeway, Times and 7-Eleven convenience store, two Don Quijotes on Oahu and a bunch of independent stores. We're just getting started and still figuring out the merchandising model, where it should be in the store, what the price point is, and what is best next to it. We're still figuring out the right recipe, as it were."