Mana Up Aims to Turn Small Local Companies into Global Brands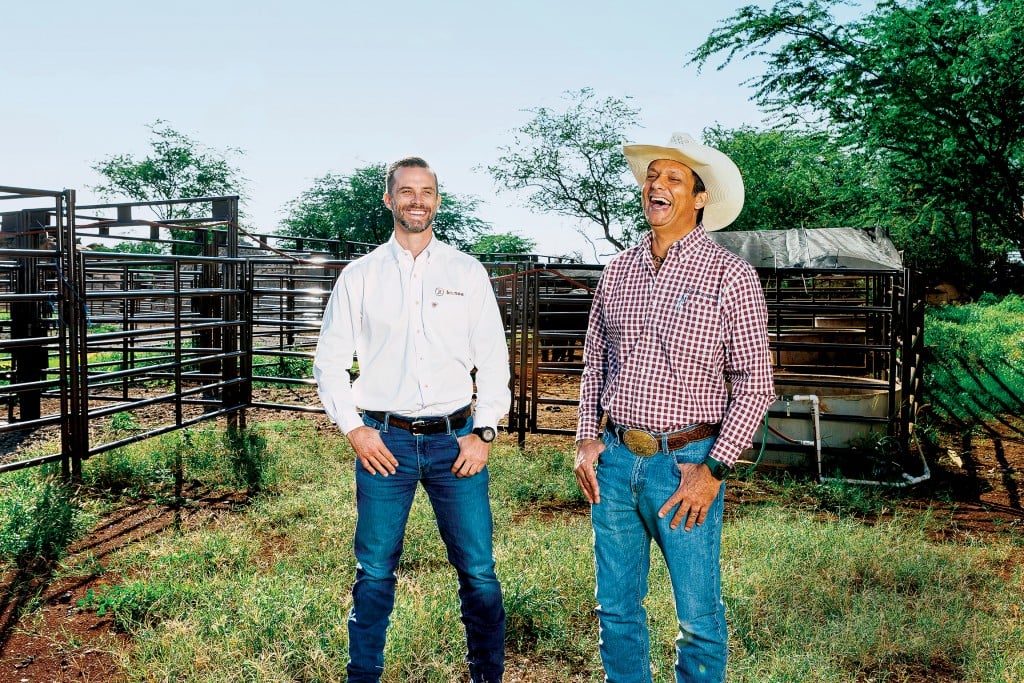 Rum From Hawaii's Past
When sugar cane left the Islands for places with cheaper labor, it left empty land. It also left behind stories and legends from the early days, as well as original sugar cane strains brought to Hawaii aboard voyaging canoes.
That legacy dating back 1,000 years inspired Kō Hana Hawaiian Agricole Rum, one of a handful of rums in the world made from fresh pressed sugar cane juice rather than molasses.
Now 6 years old, Ko Hana Rum is sold in high-end restaurants, bars and specialty stores throughout Hawaii, and is ready to launch into bigger things. That's where Mana Up comes in.
"All the restaurants around town will usually have Kō Hana Rum in one of their name cocktails," says Jason Brand, who with Robert Dawson founded Manulele Distillers, which makes Kō Hana. "This is a mixologist's dream. It's very aromatic and flavorful. So you're trying to accent the rum as opposed to disguise it, letting the rum speak for itself."
The founders began as farmers, and still grow lettuce, but were entranced by stories of how the early Hawaiians used sugar cane in medicine, tattoos, as a hedge against drought, as wallpaper, even in hairstyling.
"Most people think of sugar cane in the Caribbean, and they got it around 1500 with Columbus' second voyage," says Brand. "But Hawaii had sugar cane about 1,000 years ago. Sugar cane was on the first canoes."
By the 1800s, however, with the growth of Hawaii's sugar plantations, the early native varieties gave way to others that were less fat, less juicy and grew straighter. "Most of the Hawaiian canes got lost to history to make way for the sugar cane used in Louisiana (to process into white sugar)," says Brand. "We worked with the Hawaii Agricultural Research Center and Dr. Noa Lincoln and they knew everything about sugar cane and the ethnobotany of Hawaiian plants."
Over the past six years, Brand and Dawson have grown all of the Hawaiian cane varieties, and use them in combination or singly in their rums.
"We worked to collect and genetically test the old varieties of Hawaiian sugar cane and we found 34 varieties," says Brand. "We juice these canes and then turn that juice into a high-end rum as opposed to converting molasses into it. It's a sipping rum. We have about 11 flavors and offer five different rums. Sometimes we'll mix and combine and blend flavors to create a new taste."
The rums currently include a white rum, a barrel select product, a connoisseurs' rum right from the barrel, and a chocolate/honey rum with local cacao and honey. "If you like after-dinner drinks or dobash cake, this is the one," says Brand of the latter.
"Most of the Hawaiian canes got lost to history."

—Jason Brand,

Co-founder, Manulele Distillers
While the partners are newly focused on their growing rum business, they want to do so in an environmentally sustainable way and help Hawaii become food independent. They say their farming techniques use aquaponics and require neither power nor soil.
The partners farm on 30 acres of old Del Monte sugar land in Kunia, and use the original Del Monte General Store for their tasting room, which is the only one on Oahu. "We're not just revitalizing the story of the sugar cane, but we're bringing back a rural community as well," says Brand. "When we took over the Del Monte General Store it was 10 years abandoned."
The plantation camp, with 140 homes and 600 residents, is where many of the company's workers live, and the company employs 22 people from the village.
The distilling process takes fresh pressed juice through fermentation to distillation. Fermentation converts the sugar to alcohol and carbon dioxide and then the alcohol is distilled by "running it through our specially designed craft distiller to convert it into high-proof alcohol." The white rum is 80 proof, the aged rum 90 proof, the connoisseurs rum 130 proof and the chocolate/honey rum 60 proof.
The partners have yet to reach $1 million in annual revenue, but with help from Mana Up, they see their business growing as much as fiftyfold. "We can probably grow 10 times our size just in Hawaii," says Brand. "But we're looking for help to grow with our Hawaii visitors and then we'd like to take it to the Mainland and internationally. Hawaii has very few opportunities to have a product that is best in class, and this is one of them. It's among the world's best Agricole rums."