Marketing Hawaii 3.0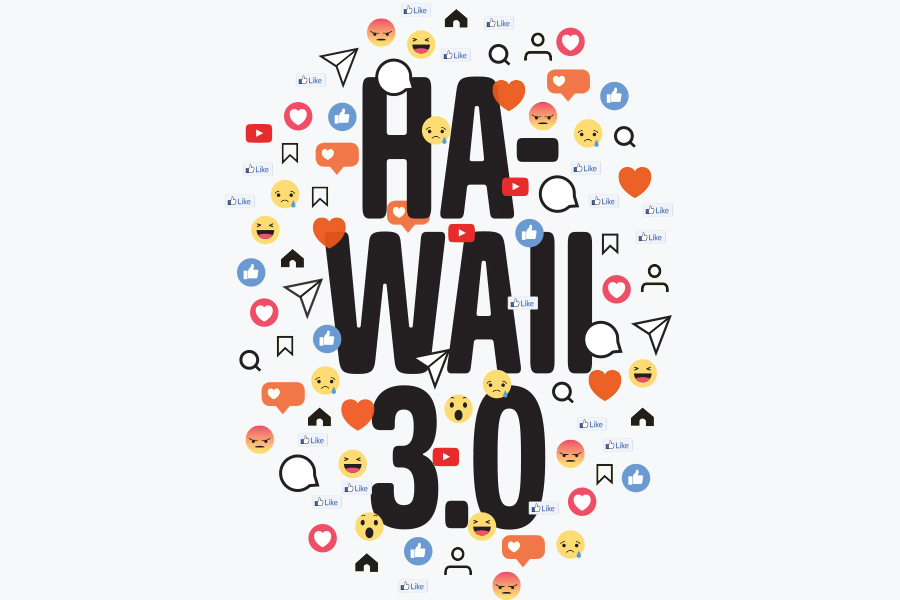 A record-setting 8.9 million visitors came to Hawaii in 2016. Most were drawn by the Islands' decades-old persona of sun, sand, surf and aloha, but some were lured by the artful use of creative technology:
• A photo on the Instagram account of a Japanese model in which she is seen surfing under a rainbow at Waikiki Beach;
• A lush Hawaii landscape featured in an episode of a popular Korean reality TV series; and
• An online game that teaches players about Hawaii's famous sights as they build a personalized vacation itinerary.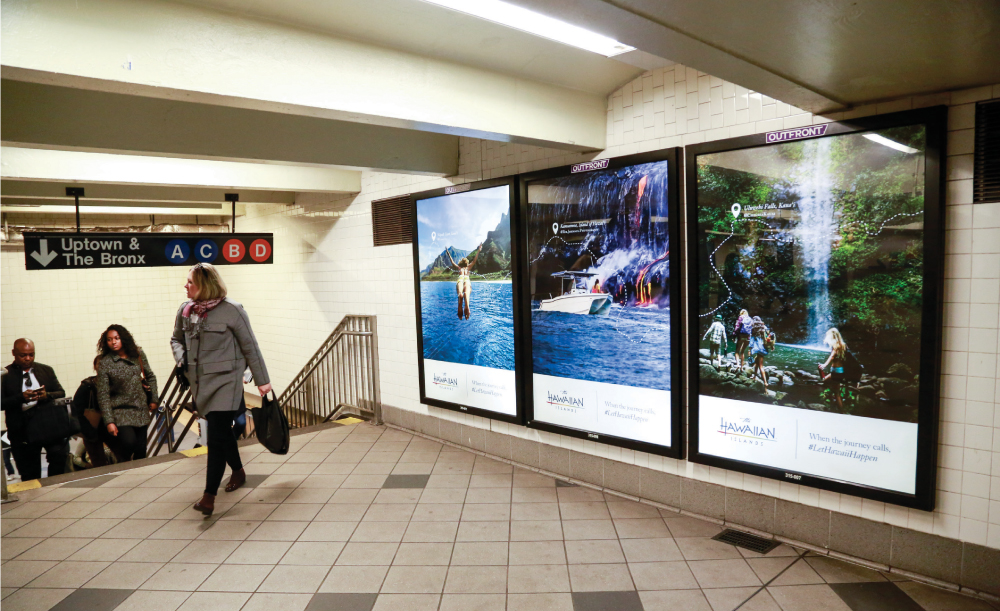 Other visitors may have booked a flight to the Aloha State after experiencing Hawaiiana first-hand: a hula and music showcase in Malaysia or a visit to Taiwan's New Taipei City, where a hotel lobby was dressed in tropical, Hawaii-inspired decor.
The Hawaii Tourism Authority says it and its partners were behind all of this unconventional buzz and much more.
A critical part of the state agency's mission is developing effective marketing campaigns for Hawaii, but traditional tactics aren't as effective in the digital age as they once were. HTA says its techniques are changing because many travelers today view themselves as explorers, not vacationers, and they seek experiences that are authentic, unscripted and open to discovery.
"Millennials have these preconceived notions of Hawaii as the place where grandma and mom and dad go," says Leslie Dance, HTA's VP of marketing and product development. "They see it as a very mature travel destination. But it's not that. And, in some parts of the world Millennials don't know what to think about Hawaii because they aren't as familiar. So we are working to get people to assess or reassess Hawaii with campaigns that really catch attention."
HTA's marketing innovations include Hawaii-themed smartphone games and unexpected partnerships with martial artists, Pan-Asian boy bands, reality TV shows and fast-food chains. The goal is to boost Hawaii's appeal among Millennials without alienating the Baby Boomers who already hold the Islands so dearly.
The importance of tourism to Hawaii's economy is difficult to overstate: In 2016, visitors spent $15.6 billion, or $42.7 million per day, according to the HTA's annual report, making tourism the largest single contributor to the state's gross domestic product. It's HTA's job to grow or maintain those numbers.
"We want Millennials to see that Hawaii is a place where you can go off the beaten path and have your own experience that's authentic – that feels like you discovered it," Dance says. "That's what we think is the key to getting them here."
Here's a look at a few, less-conventional marketing campaigns.
Warm Hearts in New York
The orange glow of Kilauea crater. A dive into pristine water off the Na Pali Coast. The Milky Way illuminating the sky above a beach with roaring surf. These images, captured and shared by Hawaii-based Instragram users, appeared on digital billboards at Columbus Circle in Manhattan during March. Part of a twice-monthly, three-year campaign, the goal of the billboard promotion is to boost visits to Hawaii from residents of metro New York, especially adults ages 25 to 35.
The timing and location for the billboard promotion was chosen based on data from a heat map tracking how young people move through New York's boroughs. The billboards played during hours when that demographic was most likely to be commuting via the subway station at 59th Street and Columbus Circle.
All told, 152,000 people visit Hawaii from New York annually. HTA would like to grow that number by showcasing a version of Hawaii that would appeal most to New York's Millennials: Diverse islands offering phenomenal food, a distinct culture and countless ways to build a spontaneous adventure without the manufactured feel of a packaged tour.
Young New Yorkers' top travel considerations are safety and price, followed by unique cuisine, unique culture and soft-adventure activities – but they don't think Hawaii has all of these things, according to surveys associated with the HTA campaign. The goal of the billboard blitz is to shift that perception.
"The problem for Hawaii isn't lack of awareness, it's lack of comprehension," says Jay Talwar, chief marketing officer of the Hawaii Visitors and Convention Bureau, which launched the marketing campaign with funding from HTA. "So we have to tell a fuller story. If we are perceived as a beach, we are too far and too expensive for a New Yorker, who might instead look to go to Thailand, which they think has interesting food and culture. But if we are perceived as a group of islands with unique culture and unique cuisine and places where you can participate in adventurous activities in these amazing geological locations, then we're going to get people. We are trying to change perceptions, which is different and a much harder task than creating awareness."
Of course, it's difficult to capture a New Yorker's attention – especially during the hectic daily commute. Part of the battle, Talwar says, was figuring out where and when these billboards would catch the most attention from Millennials. The campaign also aimed to project the right tone; it sought to achieve an air of authenticity with user-generated content that portrayed Hawaii as a place of exploration.
"When we looked at the New York market specific to the 25-to-35-year-old demographic focus, we saw they don't watch TV – they don't own TVs – and they read the paper online if they read the paper at all," Talwar says.
"They are mobile based, and they spend a lot of time commuting. That's where we wanted to get them."
In addition to the billboards, there was a live song and dance performance by a hula halau, which brought the marketing campaign to life.
"That's where it really worked, when we had the combination of technology and the people of Hawaii together," Talwar says. "The aloha spirit is something that can only be delivered in person.
"Someone actually stopped me in awe and said, 'With this, you have warmed this cold New Yorker's heart.'"
Exposure, Exposure, Exposure
Many of HTA's marketing campaigns aim to increase travelers' awareness of Hawaii, but the effectiveness of promotions is hard to measure. For instance, it is impossible to determine how many people were persuaded by the billboard campaign to come to Hawaii – and, therefore, hard to determine if the campaign was a worthwhile investment.
In one marketing campaign set to premier in September, HTA was going to partner with Haribo, the German-based manufacturer of gummy bears, to create a Hawaii-themed gummy bear mix using tropical flavors and packaging that evokes Hawaii. However, the program was cancelled before it began.
State Sen. Glenn Wakai, who chairs the Senate committee on economic development, tourism and technology, had criticized the planned gummy bear program. He says that, while he applauds the innovation behind many of HTA's marketing campaigns, more needs to be done to ensure they translate to measurable benefits for the state.
"The marketing plan for the gummy bear promotion in Europe, for example, cannot simply be about exposure," Wakai says. "There has to be something that's a call to action."
Wakai suggests HTA reach out more to stakeholders, such as the hotel industry, so eye-grabbing campaigns can be paired with contests for giveaways, such as free hotel stays.
"It troubles me when a campaign is purely about exposure," Wakai says. "The initiatives themselves are very creative, but they just need to be fine-tuned so they actually make more dollars for Hawaii."
HTA says many of its campaigns are coupled with giveaways or designed with performance indicators to track return on investment. In Europe this year, HTA partnered with Austria-based binocular-maker Swarovski Optik to drum up vacation bookings to Hawaii through tour operators in Germany and the United Kingdom – the top two markets for Hawaii travelers in Europe. Dubbed "Hawaii Through a Lens," the online marketing promotion highlighted the beauty, diversity and culture of the Hawaiian Islands and the many activities available on each Island as seen through the lens of a camera.
From January to March, the campaign's three interactive lightbox content hubs were featured on premium websites, such as United Kingdom's Telegraph newspaper, Lonely Planet, Trip Advisor, Conde Nast Traveler, National Geographic and Sport Diver. There was also a Facebook competition in which people could submit, share or like captions for weekly image posts for a chance to win a vacation for two to Hawaii. Swavorski provided pocket binoculars as runner-up prizes.
The results of the multi-faceted campaign, which encompassed social media, virtual reality, print and online advertising, were measurable. In the United Kingdom, there were over 3,000 Facebook competition entries and more than 140,000 interactions. All told, there were 4 million social media impressions.
The European campaign was needed. While Hawaii visits from the U.K. increased by almost 1 percent last year, visits from Germany dropped almost 5 percent due to factors that included the strength of the U.S. dollar against the euro and British pound, as well as the economic uncertainty created by Brexit.
Last year, when HTA discovered that visits to Hawaii from Canada were slipping – the fallen value of the Canadian dollar was largely to blame, according to Dance – HTA focused more on the Toronto and Vancouver markets. The small decline in visits by Canadians was turned around and the data prove it, Dance says.
In another example, HTA says it launched a social-media campaign in China in July 2016 led by six popular Chinese social media users. The promotion, which targeted Millennials through an interactive mobile game, was supported with vacation giveaways from Hawaiian Airlines, Outrigger Hotels and Resorts, and chef Roy Yamaguchi. In the campaign's first three days, the game was played 10.26 million times. More than 35,000 people played the game in the first month. Building on this success, a 2.0 version of the game will launch in 2017, the HTA says.
Some marketing campaigns are based purely on increasing exposure, and their influence does not always come with measurable data. HTA partnered with The Bachelor New Zealand to showcase Hawaii's natural beauty on four episodes of the popular TV show, which aired from March to May 2016.
Twenty-three women contended to be the sweetheart of bachelor Jordan Mauger, a 32-year-old TV and film producer. Episodes 7 through 10 take Mauger and the women to Hawaii, where they visited multiple islands while they learned about each other. Mauger and the women enjoy a helicopter ride, catamaran racing, sailing, snorkeling, speed-boating, ziplining, sightseeing at Kilauea Volcano and dinner at a luau.
"Making sure that your product is featured in a movie or television program has always been a big part of marketing," Dance says. "… People who watch will probably say, 'Oh, I want to go there,' and some of them will."
HTA has deemed the promotion a success, and is working to lure the TV show back to Hawaii for another season. There was a small increase, 0.2 percent, in visitors from New Zealand to Hawaii during 2016 compared with 2015, but it's hard to say what role the TV show played in those numbers.
You can see the effect of Hawaii's beauty on the faces of many tourists. So it makes sense that HTA partnered with Expedia to use facial recognition technology to market the Islands. People are encouraged to watch a two-minute video and "smile at the parts you like." The video features jaw-dropping drone footage and cultural vignettes, including the creation of new land by Kilauea volcano, Waipio Valley strewn with waterfalls and a woman stringing a lei on a black sand beach. Users are then presented with a custom travel itinerary based on the sights that sparked the best facial responses.
This groundbreaking campaign targets Expedia users in the U.S., Canada, Japan and Oceania. You can try it out yourself by visiting discoveryouraloha.expedia.com.
It used to sound like science fiction, but computer systems can now perform tasks once reserved for humans and more such innovations are coming. Marketing is expected to be among the first industries transformed by artificial intelligence, and HTA is one of the few marketers nationwide currently using it to power its campaigns, according to several nationwide studies.
HTA's facial-recognition campaign is part of a series of high-tech promotions launched in 2016. A free mobile app employs virtual reality to give users a paraglider's perspective as he hovers over the Islands, before landing on Oahu, Maui, Kauai and Hawaii Island to explore with a local. On the app, musician Kimie Miner performs atop Kilauea with a hula halau, Kepa Kruse strums an ukulele on a catamaran off the Na Pali Coast, waterwoman Jenny Van Gieson surfs in Waikiki and Hokulea apprentice navigator Austin Kino swims beneath a waterfall near Hana.
"We don't have tons of money to spend everywhere, so we have to be really innovative and agile and stand out," Dance says. "We have to meet Millennials where they are, and where they are is on their phones and on their computers."