Maui Divers Refreshes Its Multilayer Brands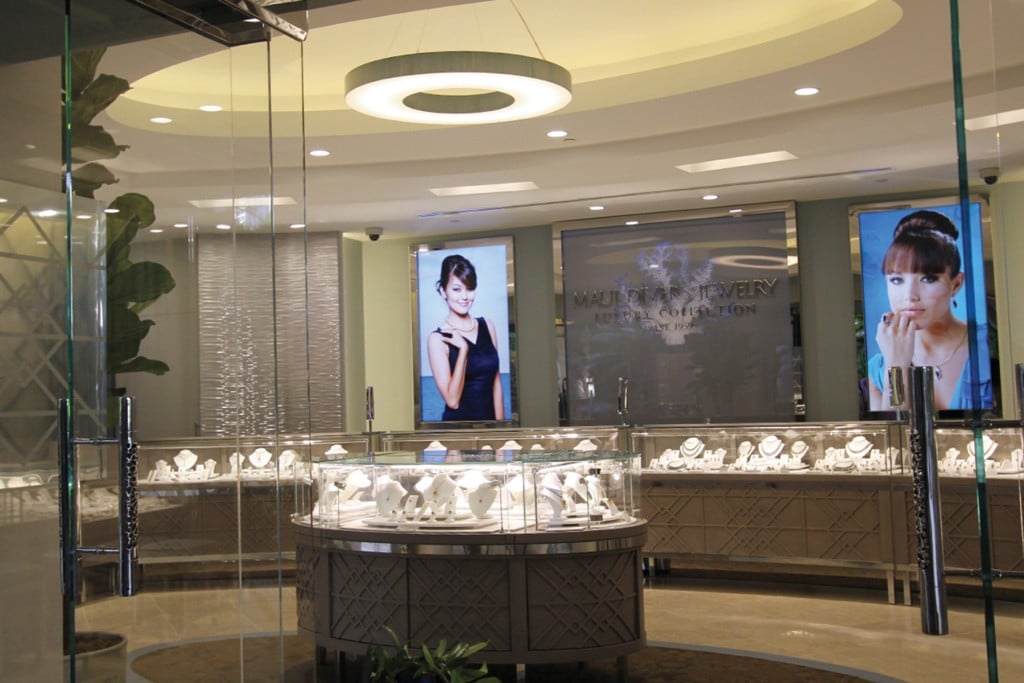 Maui Divers Jewelry's elegant new shop in the lobby of the Hilton Hawaiian Village's Alii Tower is just the most visible part of a multimillion-dollar brand refresh for the entire company.
The state's largest jewelry retailer and manufacturer, which started in 1958 as an undersea touring company in Lahaina, is upgrading everything from its packaging to the type used in its print ads to the uniforms for its 350 retail employees.
"We have to stay current, we have to update," says Mary Beth Brenner, president and CEO of Maui Divers, who started working on the brand update more than a year ago. "There was no consistency before, except for the black- and-gold logo."
The new store reflects the company's approach to unifying a brand that has three different levels, primarily based on the price of the products offered, says Kuulei Garcia, VP of merchandising.
There's the handful of Pick A Pearl locations in tourist areas, where customers select an oyster and the pearl inside is mounted in a customized piece of jewelry. Prices range from about $40 for a silver piece to as high as $1,000 for a 14-karat-gold piece with diamonds.
The mid-level stores, simply called Maui Divers Jewelry, showcase jewelry that appeals to a broad customer base. The collections can range from $60 for silver pendants to upwards of $20,000 for strands of pearls. (The company is looking at transitioning its three remaining Island Pearls stores into Maui Divers shops.)
The new store at Hilton Hawaiian Village, with its jewel-box interior by the award-winning designer Kaypee Soh, is the second to feature the company's Luxury Collection. (The first is in the Royal Hawaiian Hotel.) These upscale shops feature the best of Maui Divers' collections of Tahitian black pearls, chocolate Tahitian pearls, golden South Sea pearls and black coral, along with jewelry featuring precious and semi-precious stones. Prices range from $250 to more than $100,000. Brenner says the company is looking to eventually open Luxury Collection shops on other islands.
This kind of multilevel branding isn't new to business. For example, Toyota has a standard line of cars, a Scion brand aimed at younger buyers and upscale Lexus vehicles. The Honolulu-based Sullivan Family of Companies has full-service Foodland grocery stores, its higher-end Foodland Farms, and visitor convenience stores such as Coco Cove and Whalers General Stores.
For Maui Divers, the brand refresh will better tie together its three brands. The new look, with ocean blue and white tones, will be used in all of the company's stores and online. But each brand will retain its uniqueness, Brenner says.
Pick A Pearl will still be about the experience of selecting your own pearl and watching it get mounted. This will naturally appeal to families and visitors.
With its broad range of jewelry, the Maui Divers Jewelry shops reach more residents than the other two brands.
The Luxury Collection is all about the quality of the jewelry, which appeals to more affluent customers no matter where they're from.
"With three brands," Brenner says, "we're able to capture a larger market share of customers." The design and manufacturing of Maui Divers jewelry using pearls and corals are done in Hawaii, and Brenner wants to remind people about these strong local roots. That's the larger purpose of the brand refresh: to tell the story of the company's history and legacy in the Islands.
"We are pushing Hawaii and what we're founded on," Brenner says. "That's what we're getting back to."