My Job: Cowboy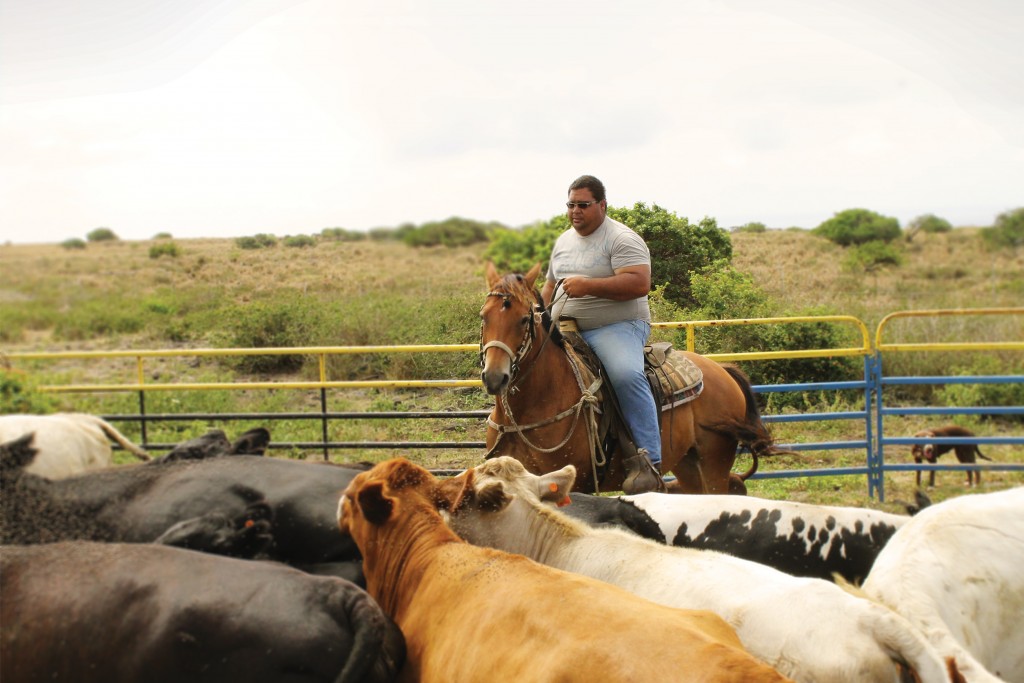 Start
Galimba grew up on Oahu's North Shore while his dad, Al, played a big role in dairy operations at Meadow Gold. He raised rabbits, birds and goats to sell. "I used to have a sign out on the highways that said, 'Rabbits for sale, $20,' " Galimba says.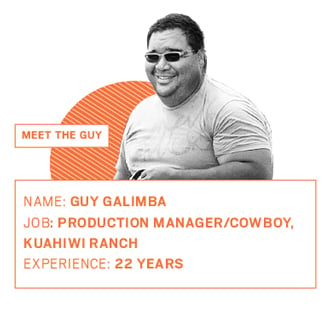 When Meadow Gold closed its Oahu dairy, his family moved to Hawaii Island. He graduated from Waiakea High and spent two years at UH Hilo, majoring in agriculture, before leaving in 1993 to work full time at his family's ranch in the Kau district of Hawaii Island.
Duties
Galimba calls himself a ranch hand, though he really runs all the production at Kuahiwi Ranch, which spans 8,000 acres from Wood Valley to Waiohinu, with pasture from sea level to 2,100 feet. He's in charge of many things, including managing the rotation for more than 2,000 head of cattle, maintaining fencing, feeding and finishing cattle, and hauling them to the processor, Hawaii Beef Producers. "There's always something different to do every day," he says.
Misconception
"The cowboy of yesterday would strictly ride horses and move animals," he says. Today, there are many other things to do. "Now, I'm lucky if I have time to train a new horse."
Toughest part
The unpredictable nature of his job keeps the work interesting, but it can be frustrating. "You think you're going to finish three things today and you may only get one done." Like when he has to figure out how to get water to a dry part of the ranch or when a herd doesn't want to move to a new feeding area.
Challenge
Galimba often goes to grocery stores to promote the Kuahiwi Ranch brand, but some customers resist the locally grown, grass-fed beef because of its stronger taste and higher price. "You've got to explain to them why you do it, why it tastes the way it does. It's about educating customers. But it brings you back to what you're doing and why you're doing it."
Advice to others
Ranching is hard work. Galimba works at the ranch seven days a week and hasn't taken his family on vacation in four years. "To be successful at this, you have to love what you do. And you have to be able to adjust to the different situations without getting too stressed out."
Spare time
For nearly a decade – since his oldest son was 9 – Galimba has been active in the Kau 4-H Club. He now serves as chairperson for the Hawaii County 4-H Livestock Show and Auction. He also raises pigs. "I don't go to the beach very often," he jokes. "Everything I do basically revolves around animals."
Typical pay
Galimba says ranch hands, which do similar work to his, get paid $12 to $18 an hour. "Some ranches provide housing, some don't," he says. "Since we're a new ranch, we don't have all that extra infrastructure."
Rewards
"I'm happy just being out in the pasture, doing what I love: raising animals."
This interview was edited for clarity and conciseness.