My Job: She Creates "Wow" Holiday Displays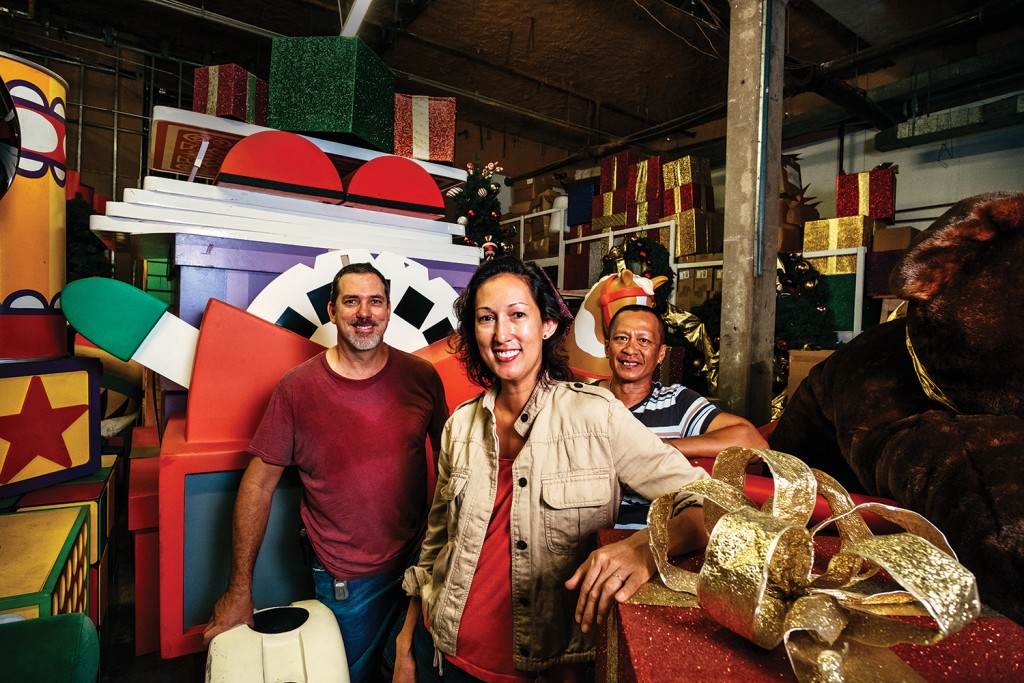 Name: Stephanie Lake
Job: Creative Designer
Responsibilities:
For Stephanie Lake, the Christmas season stretches year-round. "I live in glitter," says Lake, whose company, Platform, installs holiday displays at many of Oahu's largest shopping centers. At other times of the year, she does projects such as backdrops for fashion shows or large interactive displays at Pearlridge that have featured Ice Age animals, giant bugs or dinosaurs. But she's always planning for the holiday season, starting in January and culminating with a flurry of activity in November.
"I will not get any sleep this year," Lake admitted over coffee. "My husband likes to say he's a single parent during holiday installation."
Holiday displays include garlands, overhead lights, decorated trees and winter landscapes. In Ala Moana Center's new Ewa Wing, she's erected a Santa Seat inside a 20-foot ornament where children can sit on Mr. Claus' lap and pose for photos. "I think it's going to be so magical," she said.
"When I see the 'wow' moment on people's faces, it makes my job so worthwhile."

Start:
Lake has been creating visual environments in Hawaii for 13 years. "What I do today is something you can't really find at a job fair or career day," she says. She started in retail on the selling floor, moved to the back of the house as part of Tommy Hilfiger's wholesale team and then was recruited to be a visual coordinator for Polo Ralph Lauren in San Francisco. "The problem solving and logistics got progressively more advanced over the years, but I realized that I had a knack for it," she says.
New Skills:
Lake's retail experience gave her on-the-job experience in fashion and business. "But there is also a commitment to getting your hands dirty. Working with power tools, hauling fixtures, hanging out with the maintenance departments – it's all part of getting things done. The process isn't very glamorous," she says. "You know you've crossed a line when they know your name at the hardware stores."
Best days:
"That happens when all the pre-planning, logistics and installation come together seamlessly … even better if it's in an air-conditioned space."
Rewards:
"When I see the 'Wow' moment on people's faces, it makes my job so worthwhile."