Summer Camp for Student Entrepreneurs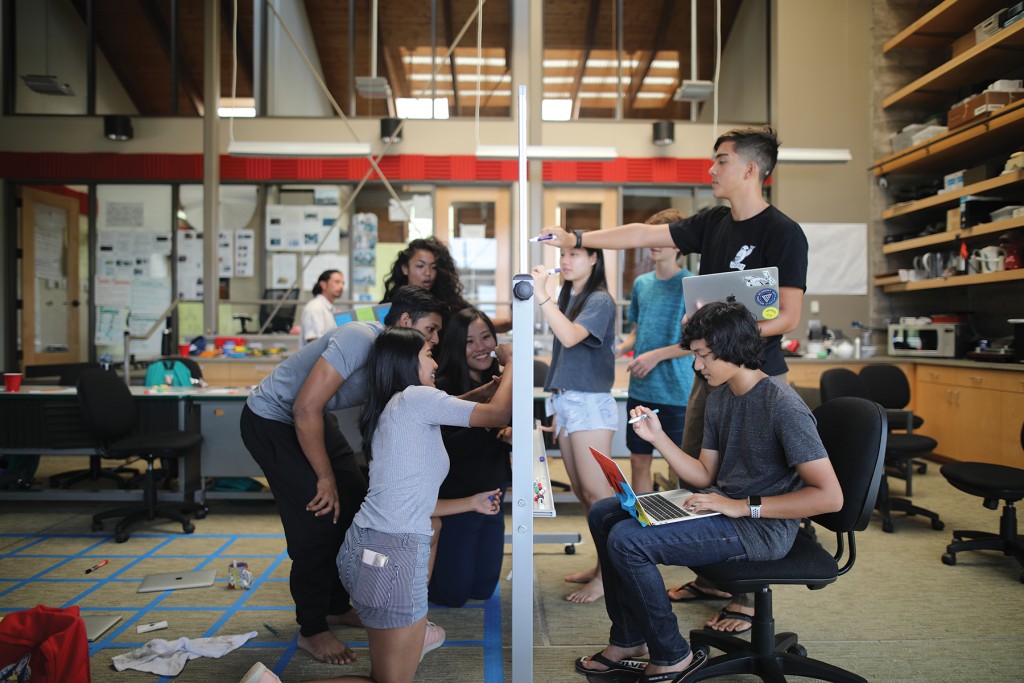 The Nalukai Summer Startup Camp is unique.
During the intensive 10-day program, Hawaii high school students stay in a student dormitory and learn how to create and launch businesses and products while being mentored by experienced entrepreneurs, Hawaiian practitioners and other teachers and motivators.
The camp is free and aims to be socio-economically and racially diverse while drawing students from local public, private and charter schools. After running for three consecutive summers on Hawaii Island, there will be two camps this July: one on the campus of Hawaii Preparatory Academy in Waimea on Hawaii Island and one at Kamehameha Schools' Halau Inana collaborative learning space on Oahu.
The sky is the limit for the students when it comes to startup ideas. Some of the digital platform ideas pitched by the 2018 cohort include: "Group Study," a platform as easy, fast and familiar as Instagram to be used for study groups of every topic. "Ray" would offer 24/7 mental wellness support and treatment for youths, who are often underserved and most at-risk. "Shelfware" would help artists access the tools they need in a reliable, safe manner and allow them to make money by renting equipment they aren't using.
Lessons begin one week before the camp on the web platform Slack. Students learn during this preparation time what a venture capital pitch is and what a slide deck does (think PowerPoint) while they formulate their startup ideas. Students arrive at the camp ready to pitch their startup ideas.
They are broken into teams in which they choose one or more ideas based upon their skills. Then the student groups pitch to a roomful of mentors. "Adults find which product or businesses spoke to them and join that group for the entire 10 days," camp director Aaron Schorn explains. "And then there is a lot of work."
Throughout the 10 days, students learn how to build their minimum viable product and present it. Each day is based around one or two topics such as leadership, team dynamics, product development, market validation, storytelling and professional development.
"The goal is that they launch a minimum viable product by day seven and that they have a formal venture capital pitch on day nine," says Schorn. During the camp, students have access to tools used in the professional world as well as mentors who have been successful in their fields.
"We're trying to mimic what the real world looks like for them to be able to make it better. We're trying to show them the tools that are used at cutting-edge firms, nonprofits, large organizations and small organizations," Schorn explains. The instructors believe that real-life access encourages students to create now rather than wait until after high school or college. They strive to empower students by broadening their horizons and giving them access to tools they might have never known existed.
Students work for a solid 14 hours each day during the camp, but Schorn says the leaders ensure they do not get burned out. They work with a nutritionist and athlete every day, and are monitored by David Clarke, Executive Director of Nalukai Foundation, who has over 25 years of experience as a teacher, coach, academic dean, assistant head of school and college counselor.
Mentors and guest speakers include businesspeople from Hawaii and Silicon Valley as well as teachers and Hawaiian practitioners. They include Auston Stewart, lead engineer of Twitch's iOS app, and Hokulea crew members Pomai Bertelmann and Chad Paishon.
"We really wanted our racially and socio-economically diverse Nalukai cohort to have mentors who look like them or could speak outside of a macroculture and we were really successful," Schorn says.
Facilitator Cortney Gusick's story is in tune with what Nalukai embodies. She worked full time for tech startup User Testing in San Francisco, from her home on Oahu, while growing her own business.
"I was doing those things side by side for about a year and so Aaron had said this is kind of an exact blend of what we're hoping to instill in the participants in Nalukai – of understanding the sort of intersection not only between technology and entrepreneurship and our home here in Hawaii but going a step further. My company that I had started, Pahiki Eco-Caskets … sources all materials, does all construction, all labor and all sales only within the state of Hawaii.
"So it's very much low cost, low carbon-footprint, low impact, no imports, etc. And he was very intrigued by the idea that there was this local example for the kids of understanding that if they wanted to become entrepreneurs that success and well-being in that space (that they don't have to be) far away from home. We have a lot of potential and resources and possibilities in the state of Hawaii."
Schorn points to Nalukai success stories: A program called Student Corner won a Hawaii business planning competition and was recognized by Arizona State University's incubator. Nick Wong, who attended the first Nalukai camp, is now a student at the University of California, Berkeley, and a mentor and project management coordinator for the camp.
Entrepreneur Darius "Bubs" Monsef founded Nalukai as a way to give back to his hometown of Waimea after successfully developing digital products and web startups. Camp director Schorn, who is also a teacher at Hawaii Preparatory Academy, explains that Monsef's driving ambition for the camp is to cultivate a "family of entrepreneurs" that could form or join with existing businesses, both now and in the future. "Innovating in Hawaii doesn't just mean creating a startup. It also means plugging into some incredible businesses that already exist."
Schorn addresses the notion that there is a lack of opportunity here for Hawaii's youth and that they must leave to achieve success. "We want to create an ecosystem and an economy where they can stay, and they can provide value here. They can solve problems here, and then can innovate and bring what makes Hawaii so incredible to the rest of the world too," he says.
How to Apply
This year's camps are scheduled for Hawaii Island from July 12-21 and Oahu from July 24- Aug. 2.
High school students can apply at nalukai.org/apply. The program is free and campers get free laptops.
The deadline to apply is March 31.