New Technologies Broaden Opportunities for Blind People in the Workplace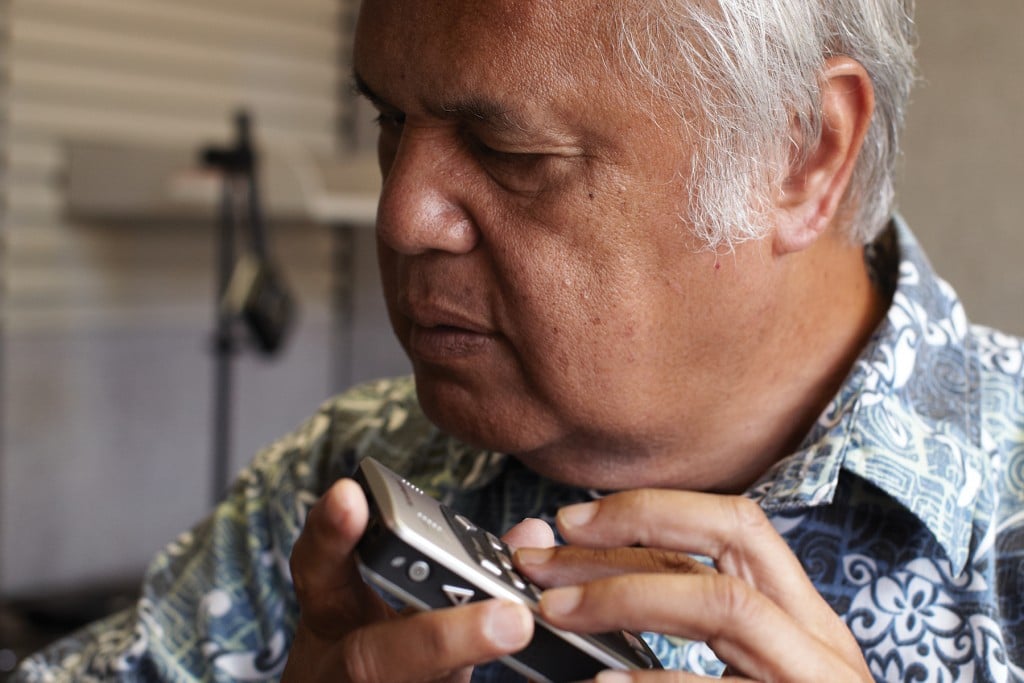 Phillip Ana, an employee at Hawaii's Executive Office on Aging, leads workshops on state-run disability services, manages an online database of resources and consults with clients by phone about services for Hawaii's disability community.
Andrew Sensano is in charge of maintaining the technology infrastructure of Apple computers, printers, servers and wireless routers at UH-Manoa.
Jerry Lonergan runs a snack shop where he prepares and cooks hot lunches, stocks shelves, fills out tax forms and writes up sales reports, as well as makes transactions with customers.
All of them are blind workers who can perform their duties independently using assistive technology that helps them read, identify and make sense of the world – technologies that were mostly created and refined over the past decade.
The Dark Ages
"Rubber bands around cassette tapes were my text books in college," recalls Dean Georgiev. "When I went to college, everything was a logistical nightmare to get things done."
Today, Georgiev is a computer and technology teacher at the state government's Hoopono's New Vision's training program, where he teaches blind and visually impaired students to use their ears and keyboards to navigate computers. Those skills have made learning much easier for today's blind students than in Georgiev's student years.
The federal Randolph-Sheppard Act of 1936 gave priority to visually impaired and blind vendors to set up shops in federal buildings, but, for decades, shop owners needed help to identify their merchandise and paper money. That was Jerry Lonergan's situation when he opened his first snack shop in New York state 18 years ago. "I had to depend on other people more to look at things for me and do things than I do now," he says.
Today, three years after moving to Hawaii, Lonergan uses a bill reader to identify paper money, a scanner reads aloud the text of a printed page to assess shipment statements and mail, and a barcode reader identifies any item in his shop. These tools allow him to truly run his shop. "It's my business, so it's my responsibility."
At UH-Manoa, Andrew Sensano says substantial advances in assistive technology for the blind began about 10 years ago. "Screen-reading software has come a long way in terms of complexity and overall accuracy and integration for computers. … It has only been within the past six years that OCR reading technologies (optical character recognition), scanning to editable text, touchscreen reading and digital media have become readily available." Before then, Braille was the main information medium for the blind, Sensano says.
Today's Golden Age
"It's been technology in general that's out there that's worked benefits for blind people," Georgiev says.
The Internet and the growing capabilities of personal computers over the past two decades created the possibility for innovations that would help blind people. Companies developed screen-reading technology, with spoken menus, text and Web pages, and created specialized keyboard commands to navigate around the screen and perform functions so people did not need to use a mouse.
As computer operating systems became more robust, so did the screen-reading technology. "Advocacy groups were crucial at this point as well, because they started to know what technology was capable of," Georgiev says.
Soon after the new millennium began, traditionally visual technologies were adapted to give "sight" to the blind. Cameras were installed in devices that would aurally describe color, identify paper money, read aloud a printed document, scan and read out barcodes, and more.
Assistive technology was initially expensive because it served only a niche market. However, "Apple just blew it open with accessibility when it went into the tablet and phone markets with its own accessibility. That's revolutionary," Georgiev says. "It is a company that said, 'Hey, let's build in accessibility for the blind into (all) our products.' Now, I don't think that companies like Google or Apple develop without the blind in mind."
"As long as companies like Apple continue to forge inroads toward total accessible technology, the future looks bright since it is included with devices that even the sighted use and companies do not create devices specifically for the blind," Sensano says.
"I think we're in a golden age, maybe not only for technology and information, but for the blind and opportunity," Georgiev says.
Business without sight
There is no one-size-fits-all assistive technology. Available options suit many needs and each person's tool set is different. But there are limits. "There are some hard truths to accept," Sensano explains. "One of those is that no technology can totally resolve all issues presented to blind or low-vision people."
Phillip Ana recently started working at the Executive Office on Aging in February. He receives weekly technology training so he can perform his duties.
"It's teamwork between the company and the employee." Ana says. "I didn't know what I would need until I was on the job. It's fortunate that I work for a good company."
"Phillip basically tells us any types of accommodations that would assist, and we've been able to make those," says Ana's supervisor, Wesley Lum. "Prior to Phillip, we also had someone who was visually impaired in this position, and her needs were different. We just make the changes based upon their circumstances."
Mainstays in Ana's technology arsenal are a screen reader on his computer, and a portable computer called the Apex that outputs Braille instead of text on a screen. "I've been able to survive without a helper for six months. I wouldn't have been able to do my work independently a long time ago, but I'm able to do that now," he says.
"We are very lucky," Lum adds, "because he is willing to do this, willing to take the extra time to get trained on the newest technology, because technology evolves."
Man or machine?
The new assistive technologies have prompted a philosophical debate: What brings success, a blind person's efforts or the technology being used?
Sensano has thought a lot about the role of technology in the lives of blind people. "Yes, it has made my life easier," he says. "However, it has not necessarily been a factor in my self-confidence. In other words, a person is who they are and if technology is not used properly, it can actually erode a person's self-confidence, as someone might place themself under undo pressure thinking that failure to master technology means a life unfulfilled. It is most definitely the person and not the technology."
Abstract debate aside, Sensano is absolutely clear about one point: "Today, not only is it possible to maintain a job using today's assistive technologies, but a blind person can thrive."