Not as Easy as (Pumpkin) Pie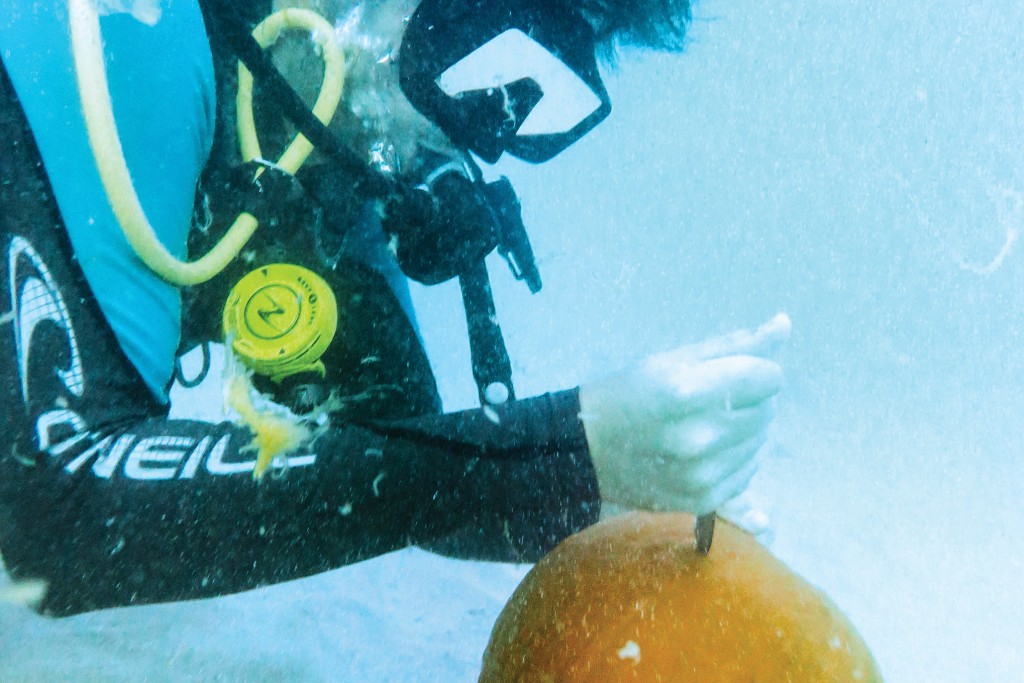 IF CARVING PUMPKINS during Halloween season is too conventional for you, Island Divers Hawaii offers the chance to do it underwater, which is as challenging as you would guess.
"You go down there with high hopes that you're going to get a real good idea, but water distorts your view and so the pumpkin comes up not looking the way you thought," says Lauren Smith, a past participant and Island Divers' marketing director. "You laugh because it looks like a kindergartener did it. It's not the artistic stuff you were expecting."
But, Smith says, the divers are having so much fun they don't really care if the carvings are odd. "They love being funny with other divers underwater, achieving the same goal and doing something they love."
In the past seven years, as many as 22 certified divers ranging in age from 12 to 60 have participated. The contest is held along with a Halloween costume contest (your choice: underwater or dry-land costume) and barbecue potluck.
Smith divulges a few secrets. The key is, she says, "preventing the pumpkins from floating by not emptying them out, and making perforated marks on your pumpkin (beforehand) so you can get a good cut when you're underwater."
---
Want to participate?
Call 423-8222 to sign up.
Island Divers Hawaii club members pay $10; $35 for nonmembers.
Bring your own equipment or rent for an extra $25.
Oct. 24 at the Hawaii Kai Shopping Center