Now "Made in Maui"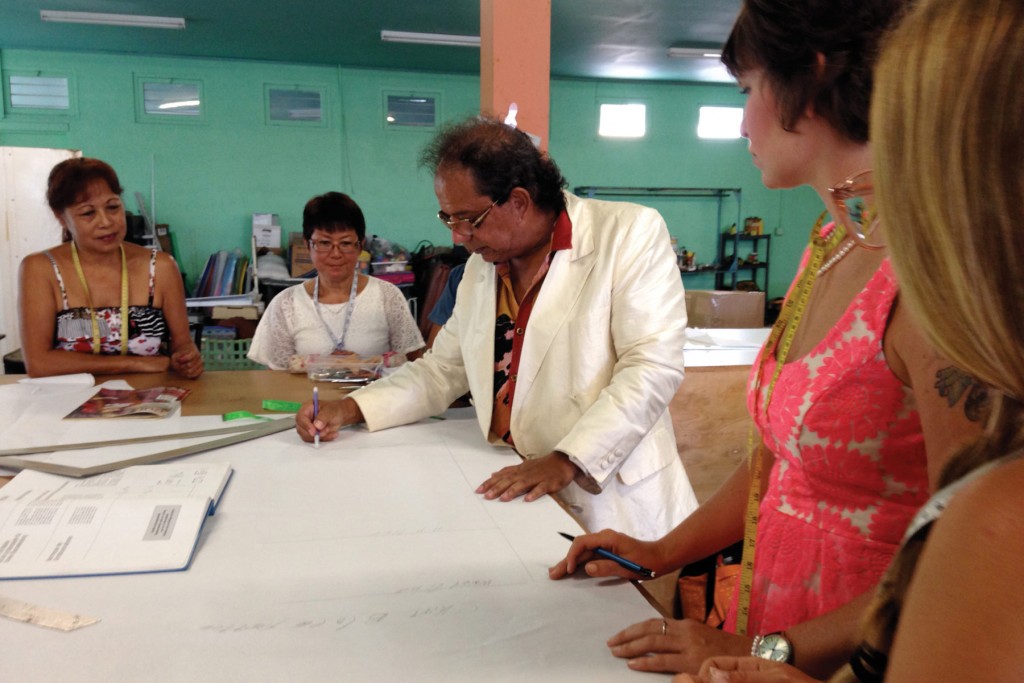 Clothing designer and maker Luis Diaz left L.A. and set up his factory on Maui, offering local designers an alternative to manufacturing at an offshore company
Luis Diaz fell in love with Hawaii and moved to Maui. His plan was to manage his Los Angeles fashion design and manufacturing company long distance, but he changed his mind and shipped his 20 machines to Wailuku and set up L.D. Made in Maui.
Now, local designers can oversee production of their fashions at L.D. rather than contract with a manufacturer in Asia – a common recipe for confusion and mismade products. Best of all, they can add the label "Made in Maui," a big draw for locals and tourists alike.
"Tourists are hunting for goods made on Maui," says L.D. business manager Sonni Dawkins. "We can produce any garment design in small lots at a reasonable cost. If an item sells well, the local retailer can order more and pick them up right here in Wailuku. What could be more convenient than that?"
L.D.'s specialty machines can produce bathing suits, lingerie, leather goods and other hard-to-make fashion apparel in small or large lots. L.D. currently has five employees, but there's the potential for up to 25 if it operates at capacity, Diaz says.
He says his small factory is a better option for local designers than manufacturing in Asia, especially "when you add in the troubles of communicating your ideas overseas, delays, costs of shipping and expediters to move containers through customs," he says. "I pay my people a good wage and still give my clients excellent quality at a fair price."
L.D has Maui clients and retains clients from its time in Los Angeles. Christina Liquori Swim, a Florida-based company, has contracted manufacturing with L.D. since 2005 and owner Christina Liquori loves working with Diaz. "Swimsuit customers demand excellent fit, and Luis adds little features in the design that create good fit," she says.
Liguori says Diaz is creating samples for her new line of "vintage-inspired-cut" swimwear in mix or match fabrics that will be marketed online. "Designing is my passion. Luis turned my sketches into product so I can do what I love," she says.
Michelle Rico of Hollywood, Calif., specializes in making utility items fashionable, and trendy accessories functional. "I went to Luis with an idea for an item never made before: a fashionable wristlet to carry just an I.D. and a credit card, for exercise, traveling or going to the clubs," Rico says. "He worked with me, testing designs, fabrics, closures and details until the accessory met all my needs. Miventi Wristlets were featured on the Morning Show in L.A. Luis made my dream come true."
Diaz does his own cutting, based on computer-generated cutting schemes that fit as many pieces as possible on each yard of fabric. Production manager Diane Valoroso oversees scheduling, the speed of factory output and quality. The clients are designers who must meet trade show and seasonal buying deadlines, so L.D. pays sewers by the piece to maximize throughput. "We take pride in our ability to train home sewers to be skilled production sewers," says Diaz.
Keeping equipment working is crucial. Though they don't look like stereotypical mechanics, Valoroso and Dawkins collaborate to service the machines, because Maui does not have a resident industrial-sewing-machine mechanic. They've learned to troubleshoot and adjust the specialty machines, such as surgers, leather feet, denim machines, keyhole buttonholers and elastic application equipment.
Diaz learned leather design in Germany, which is proving useful on Maui. Accessories, handbags in particular, add profit to fashion lines. "Made in Maui" leather fashions are perfect for Upcountry Maui and Hawaii Island shops, says Dawkins. "Local paniolo, bikers and visitors all need leather clothing for safety and warmth."
Diaz is bringing something else to Maui. When based in downtown Los Angeles' fashion district, L.D. was a training ground for aspiring fashion designers.
"I am happiest when I am teaching. I want to combine my working factory with a fashion design school on Maui, and act as a pattern design consultant to the industry," he says.
Summer fashion design classes for adults and keiki over 12 meet weekly in the L.D. factory at 1062 Lower Main St. in Wailuku. Students learn fashion design, from idea to finished product, and home sewers train on how to work with fancy fabrics they see in stores. "I teach them how to sew on my specialty machines and if they wish to work here, we are a company that pays well and wants people to get ahead," Diaz says.
Luis teaches new students traditional block pattern design, drawing designs on paper using a tape measure and rulers. "From their patterns, they produce custom garments or handbags – cut and sew them right here on my industrial machines," he says. Later, they learn to generate patterns by computer, using software that scans and plots the dimensions of every pattern piece. The computer automatically grades the pattern to many sizes, and prints them out on a 6-foot-wide roll of paper.
Before production, a designer must produce perfectly sewn samples that models can wear in shows and store buyers can inspect for quality. Diaz cautions, "Your line lives or dies on the quality of your samples."
Hiilani Sakugawa-Souza, 13, of Kula, attends L.D. pattern-design classes with her grandmother. "I want to make a lot of clothing, but I like making bathing suits the most," she says.
The Kihei Charter School sixth grader designed a pattern and created her custom bathing suit in six one-hour classes. Swimsuit fabric is unforgiving; ripping out stitches leaves needle holes and makes the fabric curl. Hiilani says she practiced on scraps of stretch fabric to perfect her technique, and sewed her final garment perfectly the first time. "Mr. Diaz is a good teacher. If you make a mistake, he doesn't yell, but helps you fix it."