Condo Sales Start This Year for Latest Office-to-Residence Conversion
The transformation of the Davies Pacific Center will create mostly one-bed apartments, while leaving a few floors of offices.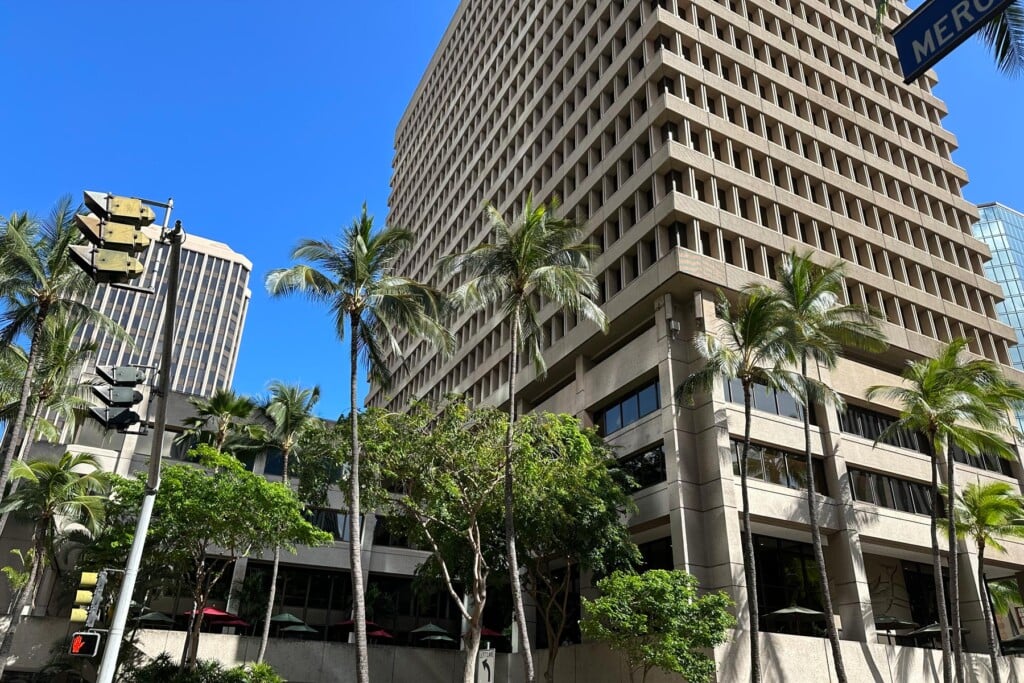 Plans to turn an office building in downtown Honolulu into a mixed-use complex with residential condominiums are taking shape, with sales of the units at the Davies Pacific Center set to start this year.
When the first residential units in the 22-story building are delivered in early 2025, it will mark the third office-to-residential conversion in Honolulu and the first to offer for-sale condos. It means adding more full-time residents to the downtown community and removing several hundred thousand square feet of downtown office space from the post-pandemic inventory.
The Avalon Group bought the Class A office building on a 1.4-acre city block at 841 Bishop St. for $96 million in January from The Shidler Group and immediately announced plans to convert offices to residences.
The building, which was built in 1972, will retain its ground-floor commercial space, with plans to add more restaurant tenants along the Merchant Street side of the building, and more landscaping for the plaza at the corner of Bishop and Merchant streets. Floors three through five will remain office space for existing tenants, as will the top floors, with more than a dozen residential floors of about 26 units each sandwiched in between.
San Francisco-based Lowney Architecture's Honolulu office is in the process of designing the project. The majority of the nearly 400 units will have one bedroom, with some studio and two-bedroom units as well, says Janice Y.K. Li, studio director at Lowney and project manager on the adaptive-reuse project.
The residential units, which will have their own secure entrance on the Queen Street side of the building, will have high ceilings, washers and dryers and air conditioning, as well as windows that open and close, Li says. The second floor of the building, which is currently a lobby and includes an outdoor lānai, will be converted into an amenity deck with a fitness center, event rooms, a mailroom and an open lounge.
Li says that while it's a challenge to adapt a building for another purpose, so far it's been like other renovation projects she's worked on. The biggest amenity for future residents will be downtown itself, she says.
"Redeveloping Davies Pacific Center is an opportunity to turn a post-pandemic corner and breathe new life into downtown Honolulu," Li says. "Incorporating housing into the existing building brings people back downtown and facilitates making the area an attractive, people-oriented environment that responds to modern lifestyles."
Avalon has contracted with Berkshire Hathaway HomeServices Hawaiʻi Realty to handle sales of the condos, which are expected to start by the end of the year.
Downtown Office Vacancy Rate is 15.12%
The office vacancy rate for downtown Honolulu in the first quarter of 2020, just as Covid-19 closures were leading businesses to send employees home to work, was 12.11%. It had risen to 15.12% by the first quarter of this year, according to the first quarter market report by Colliers Hawaii.
The Davies Pacific Center adaptive reuse project follows two other projects in Honolulu to convert downtown office spaces into apartments. And both of those previous projects were planned long before anyone ever heard of Covid-19.
Affordable housing developer Āhē Group converted the Queen Emma Building, a long-vacant office building across from the Cathedral of St. Andrew, into 71 rentals called The Queen Emma Apartments for people making 30% to 60% of the area median income. The first tenants moved in late in 2020.
Douglas Emmett took one of its Honolulu office towers off the market several years ago and is converting its Bishop Place at 1132 Bishop St., in stages, into The Residences at Bishop Place. The market-priced rental apartments are priced from $2,500 per month for an "alcove one-bedroom" unit to $3,700 for a two-bedroom, two-bath unit. Affordable rents for people making from 80% to 120% AMI range from $1,577 to $3,264.