Nonprofit Turns Local Students into Global-Minded Leaders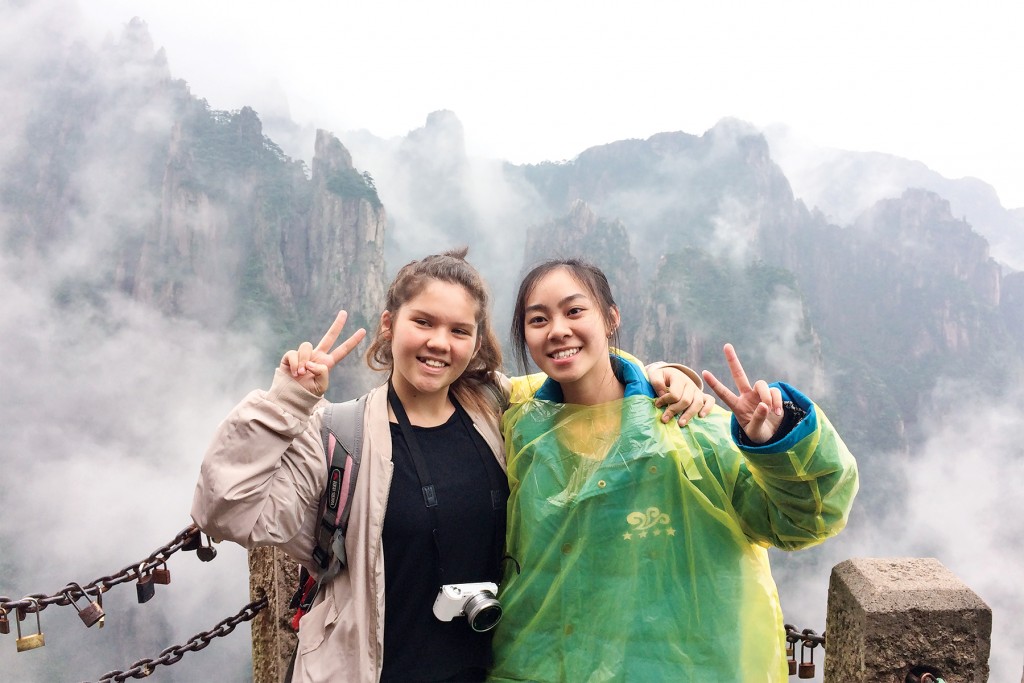 "It's very easy for us to feel isolated here in Hawai'i
and not care about what else is going on in the rest of the world," says Niki Shishido, executive director of the Pacific and Asian Affairs Council.
But there are many good reasons to understand and connect globally. "There are things affecting us here that are affecting everyone," Shishido says, including homelessness and a shortage of affordable housing, rising sea levels and much more.
PAAC is a nonprofit founded in 1954 that helps local youth develop a greater understanding of global issues and how they affect Hawai'i. Since its founding, more than 94,000 high school students have participated in PAAC's programs.
"There is no other organization in the state that offers programs to engage public, private and charter school students in international affairs and global issues," says Bryan Luke, president and CEO of Hawaii National Bank and a PAAC board VP. "In order to compete on a global scale our students must have opportunities to engage and learn about the world."
One of PAAC's bigger programs is its Global Vision Summits, where students from across the Islands gather twice a year on O'ahu for one day to learn about a single topic such as climate change, food security or refugees.
PAAC also runs an eight-month Global Leadership Program each year, in which selected students participate in a leadership camp and go on monthly field trips to learn about issues affecting Hawai'i.
At the end of the program, students take action by producing "global action projects" on issues they're passionate about. "What students have done through their projects is often pretty amazing," says Jason Shon, PAAC's high school programs director. "The projects really show how inspired they are and how aware they've become of these issues through being in the program."
Students can start a PAAC club at their high school, or join an existing one.
"We're providing a community for like-minded students who are interested in expanding their learning horizons," says Shon. "To have a young group of people who are interested in learning more about the same things and are supportive of each other – that does wonders for their confidence."
Students can also apply for PAAC study tours, where they travel to an Asia-Pacific nation to learn about that country and its shared global issues with Hawai'i. Erica Nakanishi-Stanis, PAAC's study tour director, explains that the trips are about showing students how other people tackle issues and how the students can get involved in Hawai'i.
PAAC programs are available to all high school students living in Hawai'i. PAAC gave $84,140 in travel scholarships in the 2018-2019 fiscal year and $82,600 the previous year to students who could not otherwise afford to travel.
"We have lots of different students, some who get free or reduced lunches, state aid, and come from all sorts of situations such as foster care," Nakanishi-Stanis explains. "But that doesn't mean they shouldn't have the chance to broaden their world."
Shon says PAAC programs help students develop awareness as global citizens and many find their passion and direction for what they want to do after high school. "It's like a spark in them switches on," Shon says.
One student went on PAAC's study trip to South Korea in 2018. She felt so inspired that she applied and was accepted into PAAC's Global Leadership Program. For her global action project, she organized a "Global Leadership Week" at her school where students learned about global topics and heard from a guest speaker. Today she is studying international relations at a Mainland college on a full scholarship.
PAAC's staff members see their mission as holistic, says Shon. They are especially passionate about global education's ability to teach critical thinking and soft skills to youths and help them develop into capable leaders and open-minded individuals.
America suffers from "a lot of polarization of views and values. People don't want to look at other perspectives, and they don't want to understand where the other person is coming from," says Shishido.
Learning to think critically and with an open mind is one of the biggest benefits of global education. "With global education, you're learning about a totally different culture or you're taught to value different perspectives and different ways of doing things," she says.
Akela Kuwahara, a former student at Hilo High School, founded her school's PAAC club and went on PAAC's study tour to Japan. She is now pursuing a doctorate in stem cell biology. Kuwahara says her time with PAAC prepared her to interact with people of different cultures and backgrounds in her work, and that she refrains from developing stereotypes about cultures she's unfamiliar with.
Luke says, "Our programs are making big positive changes in the life trajectories of many youth who may not have even thought about what life is like outside of the U.S., let alone Hawai'i."