Operating a Lunch Wagon in Honolulu Not As Easy As It Looks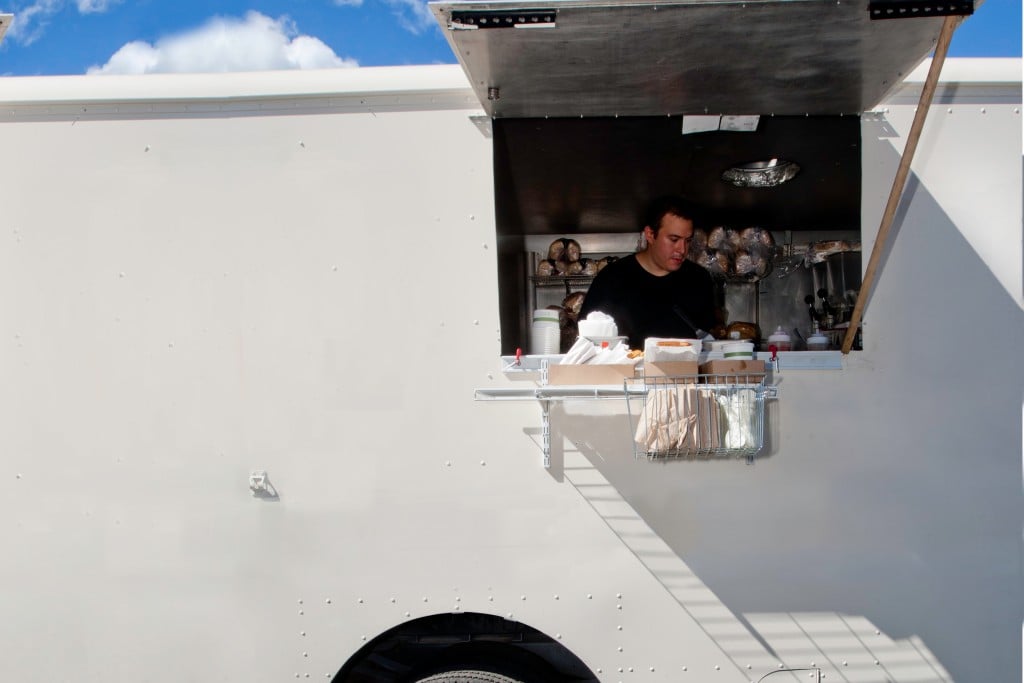 It seems so easy. Get a truck, create a menu, make a few hundred plate lunches and find a spot in a business district or near a beach. The investment is minimal, the hours are great, the money is easy.
Or so a lot of people think.
But ask anyone who runs a lunch wagon and they'll tell you just how challenging it can be. Many work other jobs, most work 12-hour days and almost none can afford multimillion-dollar homes in Lanikai.
"People think you can just make food and get rich doing it," said Paul Zarate, 37, who runs Zaratez Mexicatessen, a tour bus turned lunch wagon on Mokihana Street in Kapahulu. "Friends think I can shut down early to make it to a show or go hang out. Not happening. I have to stay open to generate income."
Still, there's an undeniable allure to running a lunch wagon or food truck. The startup costs are much lower than those for opening a restaurant. You can better control your menu. There's room for experimentation. And you can, for the most part, determine your hours and location. That's a lot of flexibility.
The downsides, however, aren't as obvious.
Most owners start prepping food right after midnight; cleaning up after lunch service can take hours.
The investment might be more than you would imagine. Lunch trucks can cost anywhere from $10,000 to more than $100,000, depending on how much work is needed. Marketing and branding can cost another $10,000. Hiring staff will mean wages, healthcare and workers' compensation. There are food costs, permit fees, taxes, insurance and other expenses associated with any food-related business.
The regulations can be daunting. The state Department of Health's sanitation rules for food establishments, including lunch wagons, run 125 pages. You have to find an approved commercial kitchen to prepare your meals and service the wagon.
The competition, especially these days, can be stiff. You need a gimmick to stand out among the hundreds of other wagons and food trucks serving meals in roughly the same areas. And finding a high-traffic location, especially one that doesn't already have a lunch wagon nearby, can be difficult.
But to many owners, the benefits outweigh the downsides – once they figure out the formula that works for them.
"Everyone we know who's done a food truck has told us how hard it is … but so what?" says Martha Cheng, one of three chefs who run the mobile gourmet sandwich truck Melt. "Everything worth doing is hard."
Beyond two scoops rice
Lunch wagons have been part of the food landscape in Hawaii for generations, usually serving the standard plate-lunch fare: two scoops of rice, macaroni salad and some kind of teri- or gravy-based main dish. But the popularity and variety of these restaurants on wheels are growing. The state Health Department says there were all-time high of 195 permits for food trucks in 2009, up from 151 in 2008 and 87 in 2007.
The department gets calls about lunch-wagon permits every day, says Peter Oshiro, sanitation branch supervisor at the Department of Health. "Everybody thinks it's easy," he says. "That's why we're getting so many inquiries."
These days lunch wagons are serving more than just beef teriyaki and roast pork. You can find everything from pad Thai noodles on the North Shore to wood-fired pizza in industrial Kalihi.
Cheng's wagon, Melt, serves gourmet grilled cheese sandwiches – an unlikely lunch-wagon item that has become a hit among foodies and folks looking for something other than the standard plate lunch. The menu, which Cheng calls "upscale yet simple and accessible," boasts such decadent items as the Triple Melt made with cave-aged Gruyere, Vermont cheddar and Dutch Gouda cheeses on sourdough ($6), the Bacon Melt with Gruyere and Hobbs' bacon and onion-apple-sage jam on wheat ($8), and the indulgent Melt of Shame with a quarter-pound Kuahiwi Ranch beef patty topped with caramelized onions and Melt's secret sauce between two grilled cheese sandwiches ($11).
"There are a lot of lunch wagons around town, but few that serve gourmet food, food outside of the plate lunch," Cheng says.
The three partners – Cheng, Lindsey Ozawa and Alejandro Briceno – drew from their experience working at fine-dining restaurants when creating the concept of Melt.
"We wanted to bring a touch of that to a food truck and to an item –grilled cheese sandwiches – that has all this nostalgia, childhood memories associated with it," Cheng says. "The primary goal is not to offer inexpensive food. We make simple but good with the highest quality ingredients, local and organic when possible. Not every truck will have that."
It took about three months to get their business running, investing about $30,000, much of that for purchasing and repairing the truck. They use social media – primarily Twitter – to spread the word about their menu offerings and locations, which change daily.
"What you lose in operations and ease you make up with relatively low startup and operating costs," Cheng says.
Despite charging a bit more than other food trucks, the risk is paying off. Fans are flocking to the truck, sometimes downtown, sometimes near Ala Moana Center.
"I love that there are more trucks trying to bring something new to our palates," says Jay Crisologo, a creative specialist from Waipahu who visits lunch wagons and food trucks several times a month. "I love plate lunches, but I'm always down to try something different."
Crisologo, who grew up on lunch-wagon food, recently tried Melt and was hooked after trying its Harissa Melt, a grilled rye sandwich with Gouda, sliced pears and homemade harissa (that's a hot red pepper paste).
"I never thought I'd ever eat a grilled cheese sandwich with sliced fruit," he says, "but I'll never forget it. It's a really good sandwich."
Picking a location
Finding the right location is important for any small business. It is particularly tricky for mobile food establishments, which often need to contend with street ordinances, government regulations and, of course, competition.
When Tyler Tanigawa first started Tani's Lunchwagon in 2003, he operated out of the parking lot of the bar where he rented the kitchen part-time. The location – near the airport – wasn't bad. But, after a few months, the bar owner wanted to start serving lunch, so he had to find a new kitchen – and a new location to sell his roast pork, meatloaf and barbecued chicken.
He quickly found a new kitchen on School Street – out of which the veteran Kanda Lunch Wagon at Kewalo Basin prepared its meals – and catered events until he found a route.
"We get one unwritten rule: You know where somebody is already established and you not going infringe," says Tanigawa, 35, who sold his lunch wagon last year and now sells bottles of his sauces and dressings. "Get competition out there no matter what. I wouldn't appreciate it if someone was parking where I supposed to park."
When he noticed the lunch wagon that parked on the property of Eki Cyclery on Dillingham Boulevard was gone, he approached the owners and asked if he could park there. They agreed on a monthly fee and, for about five years, he served lunch there.
He later picked up the route of Evelyn's Lunch Service, which had serviced customers in Kakaako. The owner was retiring after 40 years and wanted someone to pick up her route to feed her loyal patrons.
At his peak, he was serving about 125 lunches a day at five different stops, starting at 9:15 a.m. He would stop at each of the first four locations – car dealerships and state offices – for about 15 minutes before parking at Eki Cyclery for a couple of hours at the peak of lunchtime.
"The route is important, the location is important and everybody wants parking," says Tanigawa, who now works in sales at P&E Foods Inc. "I was lucky."
But location, he says, isn't as important as the quality of the food. While convenience is part of the appeal of lunch wagons for customers, they won't come back if the food isn't good.
"There are (lunch wagons) that don't have good locations, but the food is good and people will go out of their way to go there," Tanigawa says.
Location has made a big difference for Zarate, whose truck serves authentic Mexican fare made from family recipes. After opening in June, he parked at various spots in urban Honolulu, from a parking lot in Chinatown to a public street near the John A. Burns School of Medicine in Kakaako.
But soon after he opened, his wagon was burglarized – "We got robbed of everything in the truck that wasn't bolted down" – and that put him out of business for a few months.
Fueled by a passion to run a Mexican taco truck and the persistence that owners need to survive in the competitive food business in Hawaii, Zarate took the setback as an opportunity. He found a permanent location on Mokihana Street, off Kapahulu Avenue.
"Had those events not happened," he says, "it may have taken longer for me to see this come to fruition."
Finding a location was the most challenging part of running a mobile food truck for Jim Wilson, owner of Gogi Korean Taco Truck, which sells Asian-Mexican fusion comfort food such as spicy pork tacos and kalbi sliders.
It was more difficult than finding the right truck, a commercial kitchen and the proper insurance specifically for lunch wagons. He often parks along Ala Moana and Kapiolani boulevards at lunchtime, closing shop at around 7 p.m.
"Finding the right spot is tough," says Wilson, who opened in October. "Understanding posted parking restrictions is a must. But just in case, we store everything in containers that fit quick and easy into our storage racks if we ever end up having to move at a moment's notice. We're still learning."
Marvin Chun, a 40-year-old IT specialist, will trek from his office at the University of Hawaii-Manoa to food trucks as far as downtown on his lunch break. His favorites include the Gogi Korean Taco Truck, Zaratez Mexicatessen, Melt and Simply Ono, the only lunch wagon near his workplace.
He picks them based on the food, not the location.
"I find out that a particular wagon is serving a unique type of food, like Korean tacos or grilled cheese. Other times, it can be something more standard, like a really great roast-pork plate," Chun says. "Basically, the wagon should have something that distinguishes itself. If there's nothing special, then I have other places to go eat."
Survival of the tastiest
Harris Sukita has been running his lunch wagon, Simply Ono, for 16 years, earning a loyal following for an eclectic menu that has ranged from old standards like hamburger steak with onions, to seared ahi with sesame wasabi shoyu sauce, which regularly sells out.
He and his partner, Cora Stevens, started the business with about $5,000, a back pocket full of recipes and experience working in the kitchen at the Kahala Hilton. They started with one lunch wagon on Kapiolani Boulevard and grew to three, at UH-Manoa, on Punchbowl Street and in the old 99 Ranch Market building in Mapunapuna, where they rent kitchen space. They also employ about seven workers and are looking to hire.
Over the years, Sukita has managed a dining room and catered events, all while running at least one lunch wagon and devising new menu items to keep drawing his customers back. Now he's building his own commercial kitchen in a warehouse in Kalihi to have more control over his business.
Simply Ono has tried to stay ahead of the competition by offering lunch-wagon staples – beef curry, kalua pig, shoyu pork – with more gourmet and healthier options such as big salads, fresh fish, brown rice, soups, sandwiches and homemade desserts. The wagon has even served rack of lamb and beef Wellington.
"We do crazy things to make us a little bit better than the next guy," Sukita says.
It's paid off.
Not only have they been able to grow their business, Sukita and Stevens own two homes, five trucks and the warehouse where their new kitchen will be.
"What we've done is constantly change our menu where we keep variety as our focus point," Sukita says. "It breaks down into three basic principles: good food, good service, good price. If you've got those three, people will keep coming."
That's the goal of Xtreme Tacos, the newest food truck to hit the Honolulu scene. It started service in December.
After investing more than $60,000 in a custom-made truck, marketing and branding for the business, co-owners and couple Youssef Dakroub and Wendy Awai knew the challenges they faced. But they were prepared.
"We did our research," says Awai, who, with her husband, owned a chain of Japanese restaurants in the Middle East.
They toured street taco vendors in Los Angeles and Mexico and came back to Hawaii with their own spin, focusing on their hot sauces to set them apart from other taco trucks.
Like the competition, they use Twitter, Facebook, Yelp and YouTube to promote their business. They also partnered with events, such as the Xterra Trail Running World Championship at Kualoa Ranch in December, to bring their tacos and burritos to potential customers.
"They say it's an 18-hour (a day) business, and it is," says Awai, a mother of two. "You're up at the crack of dawn, preparing for your lunch crowd, then prepping for the evening crowd."
The couple isn't afraid of hard work – or finding ways to better manage it. They have hired a management team and seven employees to work the wagon while they focus on expanding the overall business, its structure and its future in Hawaii.
"It all boils down to organization," Awai says. "Many people we've met who own and run lunch wagons do it themselves so they can work all the time. And it's hard work. Prepping, cooking, cleaning, taking care of the truck on your own can get a bit overwhelming after a year or so. In our case, we're focused on hiring the right staff to work full time so we can focus on the entire business … We don't want to just open one truck."
Cat's Favorites
Catherine Toth has sampled dozens of lunch wagons over the years. Here are three of her favorites:
Inferno's Wood Fire Pizza
Nimitz Highway at Kalihi Street, 561-7409:
A parking lot in Kalihi isn't the first place you'd think of for great pizza, but Inferno's Wood Fire Pizza has been serving up some of the island's best gourmet pies since August. All pizzas, which range in price from $8 to $10, are made with fresh toppings and baked in an 800-degree kiawe-wood-fire oven on site.
Our pick: The Margherita ($10) with San Marzano marinara, fresh mozzarella, whole basil leaves and prosciutto.
T.A.S.T.E.
2012 S. Beretania St., 429-0818:
The name stands for "Tasty Asian-Style Taco Eatery," which is exactly what it is. Part of the Asian-Mexican fusion trend, this food truck is the real deal, serving five kinds of tacos – and maybe a daily special – on a single corn tortilla with shredded cabbage.
Our pick: The ribeye with kalbi marinade and wasabi dressing ($2.75) will draw you back to try the others.
Melt
Various locations,www.melthonolulu.com or on Twitter@melthnl.
How can you resist a lunch wagon selling gourmet grilled cheese sandwiches? The chefs here – and they really are chefs – use high-quality ingredients to make these sandwiches not just delicious but memorable.
Our pick: If you're going to go, go big. Try the Melt of Shame ($11), a quarter-pound patty of Kuahiwi beef with sautéed onions and Melt's special sauce between two grilled Vermont cheddar sandwiches. Oh, yeah.