"Our Goal … is to put Hawai'i on the Map for Contemporary Art"
2022's Hawai'i Triennial event will bring together local artists and those from around the Pacific to exhibit modern art and provoke discussion around current issues.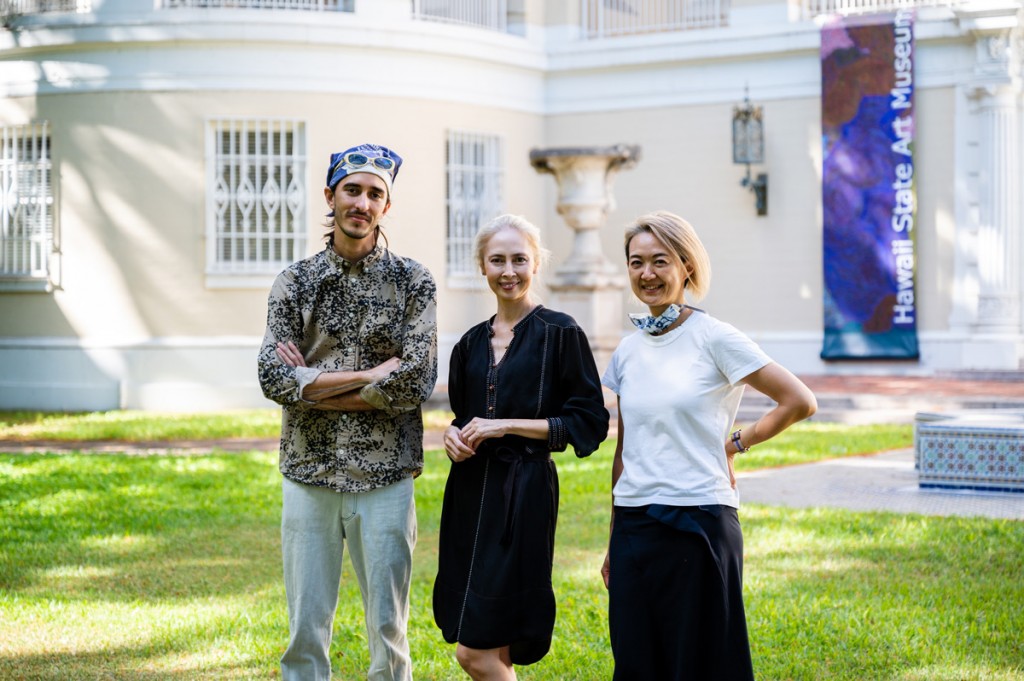 Isabella Hughes curated the first exhibition on contemporary Kānaka Maoli art at the Smithsonian National Museum of the American Indian in Washington, D.C., in 2011. She listened as visitors brought up preconceived and unrealistic notions about Hawaiian art, often related to sunsets, dolphins and hula girls.
"There's a lot of interest in Hawai'i," says Hughes, co-founder and board chair of the nonprofit Hawai'i Contemporary. "One of the grand ambitions of launching this organization, formerly known as Honolulu Biennial Foundation, was to really show a more authentic look at (Hawai'i's) contemporary artistic talents."
The group's Hawai'i Triennial 2022 event from Feb. 18 to May 8 will include up to 50 artists and collectives from Hawai'i or with connections to the Pacific, says Katherine Don, executive director of Hawaiʻi Contemporary. The multisite exhibition will be complemented by public programs such as workshops, film screenings, interactive performances and guided tours. Events will be held across O'ahu, including in Chinatown, Waikīkī and Kapolei, as well as online. Some events will be held outside; others will be in unexpected places, Don says.
One goal is to generate engaging experiences that evoke discussion. The theme is Pacific Century and artists will address environmental concerns, social issues, indigenous culture and other topics, she says. Certain pieces will allow audiences to be part of the artwork.
"It's about social engagement and an awareness, a conversation," says Don. "For artists, their work is a language that speaks to an audience, that's meant to engage people, actively."
The Hawai'i Triennial is one of 270 contemporary art events worldwide that use the biennial or triennial format. Don describes them as "the Olympics for art."
Another goal of the Hawai'i Triennial is to attract visitors and residents to less-visited parts of O'ahu. Venice began doing its biennials in the late 1800s by holding art shows to attract tourists to underused areas, Don says. A series of biennial art exhibits on some Japanese islands attracted enough new residents to prompt the reopening of two schools, she adds.
She mentions another ambitious objective.
"Our goal for the Hawai'i Triennial is to put Hawai'i on the map for contemporary art, acknowledging the amazing creative community that we have, and also putting it on the same stage as its international counterparts and bringing those voices together and having this global exchange."
The closing in December 2019 of Spalding House, known previously as the Contemporary Museum of Honolulu, left few venues for local creatives and lovers of contemporary art. Don and Hughes believe Hawai'i's art community, though small, has a lot to offer.
"It has this unique geographic location in the Pacific, connected to so many different communities and cultures, that we are able to attract a very wide, cultured, well-traveled, educated community to visit our event," says Don.
The Triennial's curator is Melissa Chiu, director of the Smithsonian Hirshhorn Museum and Sculpture Garden in Washington, D.C., supported by associate curators Miwako Tezuka and Drew Broderick. Learn more at hawaiicontemporary.org.