Overtourism and Crowding at our Favorite Spots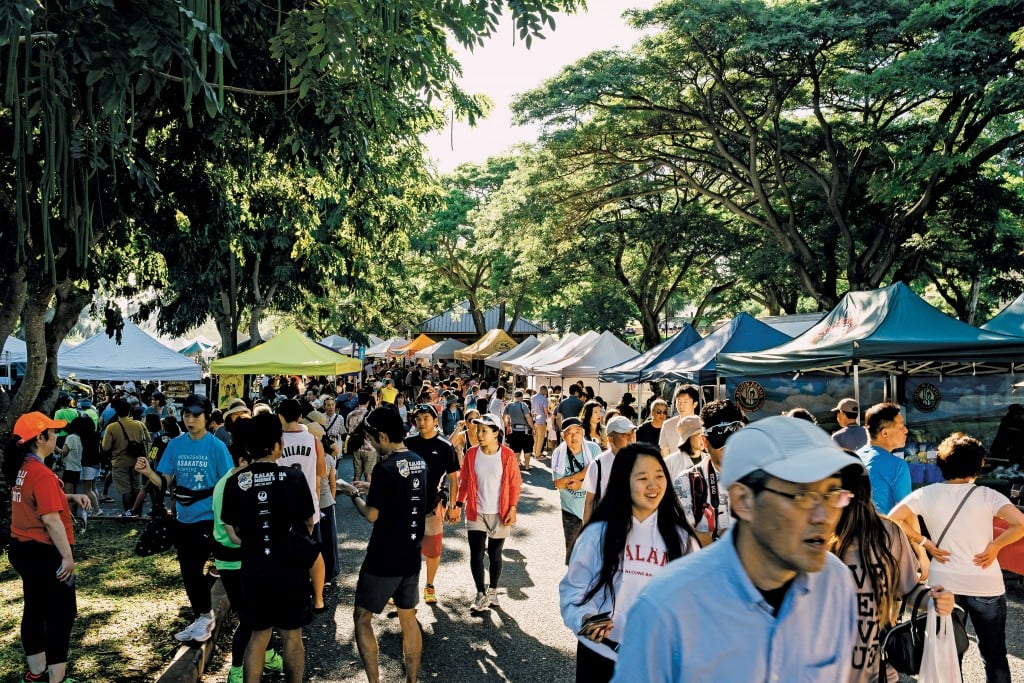 The number of tourists coming to Hawaii keeps climbing and many are now crowding into places that were once reserved for locals. It's a worldwide situation. However, the solution to "overtourism" may not be to cap the number of visitors but to make sure they share the burden of maintaining our aina and infrastructure before both are all used up.
---
It happens two or three times a week.
An "Adventure Tours" SUV pulls up outside my house. The passengers disembark and, with the slightly disoriented look common to tour groups everywhere, they take selfies with the little house across the street, which has become a repeat location on "Hawaii Five-0." Sometimes they point their phones at my house, too, maybe because of the beautiful green mountains behind it. I'm cool with tourists; Lord knows I've been one enough times myself. But this didn't used to happen, and it feels a little weird.
Then there's my former favorite beach. As a teenager, the beach was my bolt-hole, a strip of solitude where sea met shore, north of Haleiwa. Then the Hawaiian green sea turtles found it too, and shortly after that came the tour buses, and the crowds. In the 1990s, I might have seen two or three other people when I visited. I went three weeks ago on a weekday and counted 93 people and two turtles. It was the first time I'd been to Laniākea in years.
These days, everybody who lives in Hawaii seems to have a story like that. During the writing of this piece, everyone who has asked me what I'm working on has ended up telling me their own account of the crowds at former favorite spots: Manoa Falls, Makapuu Lighthouse, Morning Glass Café.
Even George Szigeti, president and CEO of the Hawaii Tourism Authority, has a story, about the place he calls "my café in Kaimuki," Café Kaila. "I used to go every morning, their breakfast is so good," he says, "but the Japanese (tourists) got wind of it, and now it's like a 20-minute waiting list." Szigeti is mindful that it's a sign that he's doing his job. "But you know what," he continues, "I love it. These visitors want that experience, and they walk out with a smile on their face." That still doesn't mean he's there every morning, anymore.
Breaking Records
What the heck is happening? Hawaii is on track to log 9.2 million visitors in 2017. That's a record – up from 6.5 million just eight years ago – and the numbers are set to keep going up in 2018 and beyond. Szigeti says the volume has taken the tourism industry by surprise; as recently as 2015, when he first joined HTA, tourism growth was forecast to flatline as Millennials sought ever more exotic places, and destinations across the globe rolled out the welcome mat.
There's no hard data, but many suspect Hawaii's unexpected uptick in visitor traffic reflects a growing global appetite for travel combined with a narrowing number of visitor destinations perceived as safe. Says James Mak, a fellow of the UH Economic Research Organization (UHERO) and author of the book "Developing a Dream Destination: Tourism and Tourism Policy Planning in Hawaii": "Part of the surge in numbers is because Americans are now less interested in traveling internationally than traveling to Hawaii. It's a safe place."
Both reflecting and enabling this trend, many airlines are either increasing the number of seats to Hawaii or jumping into the market, as Southwest Airlines and AirAsia X are doing. United Airlines alone is adding 400,000 air seats to the islands in the near future, mostly direct flights from the Mainland to the outer islands, with each roundtrip counted as a single air seat. "Even three years ago, we were at 10 million seats," says Szigeti. "Now, we're heading just a notch above 12 million." And climbing.