Pandemic Changes Hawai'i's Energy Consumption: Who, When and How Much
The pandemic and resulting recession has transformed the way Hawai'i uses energy: who consumes it, when and how much, says Scott Glenn, the state's chief energy officer.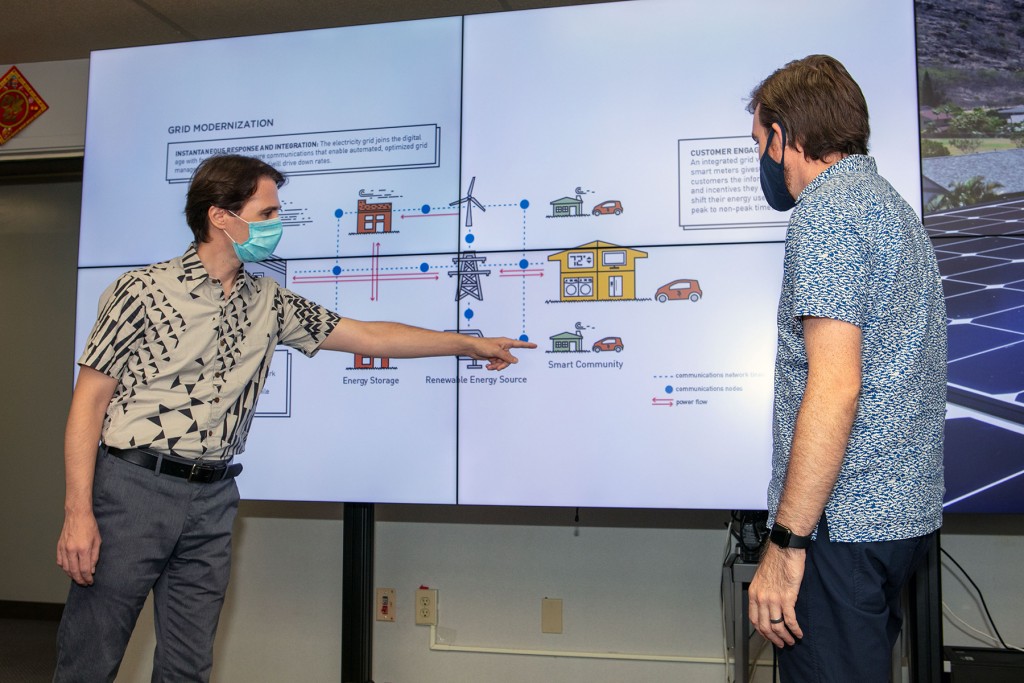 Through it all, he says, dozens of renewable energy projects continue to be built and come on line, ensuring that Hawai'i remains on track to meet its clean energy goals.
Glenn was appointed to the job last fall and confirmed by the state Senate on Feb. 27. As chief energy officer, he leads the Hawaii State Energy Office in its mission to promote energy efficiency, renewable energy and clean transportation. Previously, he served as the director of the state Office of Environmental Quality Control.
Hawaii Business Magazine interviewed him by email; the interview has been condensed and lightly edited.
Q: How has the pandemic and recession affected Hawai'i's progress toward a clean energy future?
Glenn: Hawai'i has had a lot of challenges over the past few years, from lava flows to rain bombs and now the pandemic and economic uncertainty. Through it all, we're still on track to get to our near-term clean energy goal of 30% by 2020. Our renewable power providers have shown resilience so far in the face of the COVID-19 pandemic. The state's electric utilities continue to add renewable generating capacity – mainly solar photovoltaic with battery storage – and more projects are in the planning stages.
However, the pandemic has brought into sharp relief the importance of ensuring vulnerable communities are a part of and benefit from Hawai'i's clean energy transformation. One way the Hawaii State Energy Office is helping low- and middle-income families is by supporting a community-based renewable energy program, or CBRE, approved by the state Public Utilities Commission for Hawai'i, Maui and Honolulu counties.
CBRE is popularly known as community solar, though it could be other technologies. The CBRE program, now entering its second phase, allows customers who cannot put solar panels on their roofs to own stakes in off-site PV projects and have solar power credited to their electricity bills.
Q: Please update us on the development of major renewable energy projects in Hawai'i.
Glenn: The number and variety of new utility-scale renewable energy projects being developed in Hawai'i now is unprecedented. In 2019 and 2020, six solar farms with enough capacity to power about 40,000 homes went online, including the two largest solar farms in Hawai'i to date. There are an additional 26 renewable energy projects planned, awaiting approval or under construction by Hawaiian Electric Co. and partners: 13 on O'ahu, six on Maui and seven on Hawai'i Island, including numerous solar-plus storage projects and the state's first three stand-alone grid energy storage projects.
Kaua'i has accelerated this transition even more. The Kaua'i Island Utility Cooperative and its partners are nearing completion of a solar-plus storage project that will provide electricity at roughly one-third the cost of diesel to Kaua'i residents and provide backup power to the U.S. Navy's Pacific Missile Range Facility in the event of an islandwide blackout. Kaua'i leads the state in renewable energy penetration with 56% of utility electricity sales coming from renewable resources in 2019. On most days, 90% of Kaua'i's daytime energy needs are supplied by renewable resources, with the grid routinely running on 100% renewables for five hours or more on sunny days.
Q: What has happened to electricity consumption in Hawai'i since the pandemic began?
Glenn: An increase in the number of people working or learning from home and a sharp decline in visitors to Hawai'i has impacted the amount of electricity used, and when and by whom it's consumed.
From April to June, electricity use in the commercial sector statewide fell 18% compared with the same three months last year, according to data compiled by the Department of Business, Economic Development and Tourism. That more than offset a 6% increase in the residential sector during the same period.
Peak daytime demand fell 21% on Maui and 16% on O'ahu after the governor's stay-at-home order in March.
Q: The pandemic and recession have clearly reduced the number of vehicles on the road and planes flying into and out of Hawai'i. What are the numbers on fossil fuel consumption, especially compared with recent years?
Glenn: Fuel data compiled from tax receipts show sharp declines in both gasoline and aviation fuel use. Comparing April and May of this year to last year, gasoline consumption fell about 40% to 47.4 million gallons in 2020, from 78.7 million gallons in 2019. Aviation fuel use fell about 86% to just 6.1 million gallons in 2020, from 44.7 million gallons in 2019.
While declining fuel use in Hawai'i and elsewhere will undoubtedly reduce global carbon emissions, it's not a reason to celebrate because the pandemic has spawned an international health crisis and widespread economic suffering.
Q: How have the decline in tourism and jet flights affected output at Hawai'i's only oil refinery?
Glenn: The reduction in demand for petroleum products caused by COVID-19, including jet fuel from Par Hawaii Refining, has created uncertainty surrounding the refinery operations and energy supply logistics for all Hawaiian islands.
In response to changes in the product mix at Par's Campbell Industrial Park refinery, Par is renegotiating its fuel supply contract with Hawaiian Electric. The Public Utilities Commission granted interim approval of the contract renegotiation in a move that could result in higher electricity bills for O'ahu ratepayers.
This situation illustrates the uncertainty associated with imported fossil fuel supplies and highlights the importance of our work at the Energy Office to achieve energy independence for Hawai'i using clean, indigenous resources.