Pau Hana with Denny Watts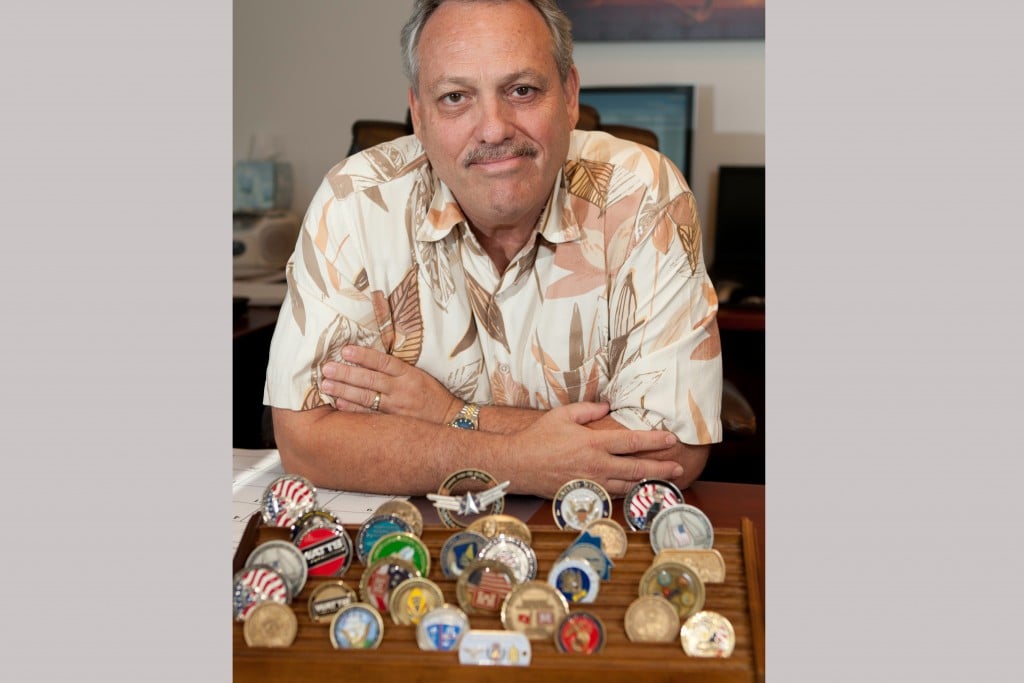 "These coins have little to no financial value," says Denny Watts, "but they have a lot of value because each one of them represents someone that I've met, the units that they ran or something unique. All have been an interesting story."
The president of Watts Constructors has been involved with military construction projects throughout his career. Since early on, the military has shared one of its traditions with him, commemorating a project by presenting him with a coin, each with a unique design.
The coins were used as currency during the U.S. Civil War but have evolved to identify a platoon or unit.  Many traditions are associated with these "challenge coins." For instance, when military service members or coin-bearers gather at a pub, if one person puts a coin on the bar, the last to show a coin has to buy everyone else a drink.
Watts has about 75, some of them on display in his office. His favorite is white and gold, and shaped like a military dog tag. It was given to him by Army Sgt. 1st Class Sualauvi "Malua" Tuimalealiifano, who was paralyzed in 2007 while serving in Afghanistan. Tuimalealiifano's home in Hawaii was not wheelchair accessible, so he bathed outside. After learning of his plight, Watts' company, with the help of vendors and subcontractors, renovated his home for free.
"It ended up going from, 'Let us help,' to helping him to handicap the house – putting in walkways and stuff – to adding an 800-square-foot, second-story addition onto his house that's fully accessible."