Plastics Ban: What's Next
Local restaurants are seeking alternatives and worried about the costs, customer experiences and other challenges just as Oʻahu's new law restricting single-use plastics has business owners scrambling to comply.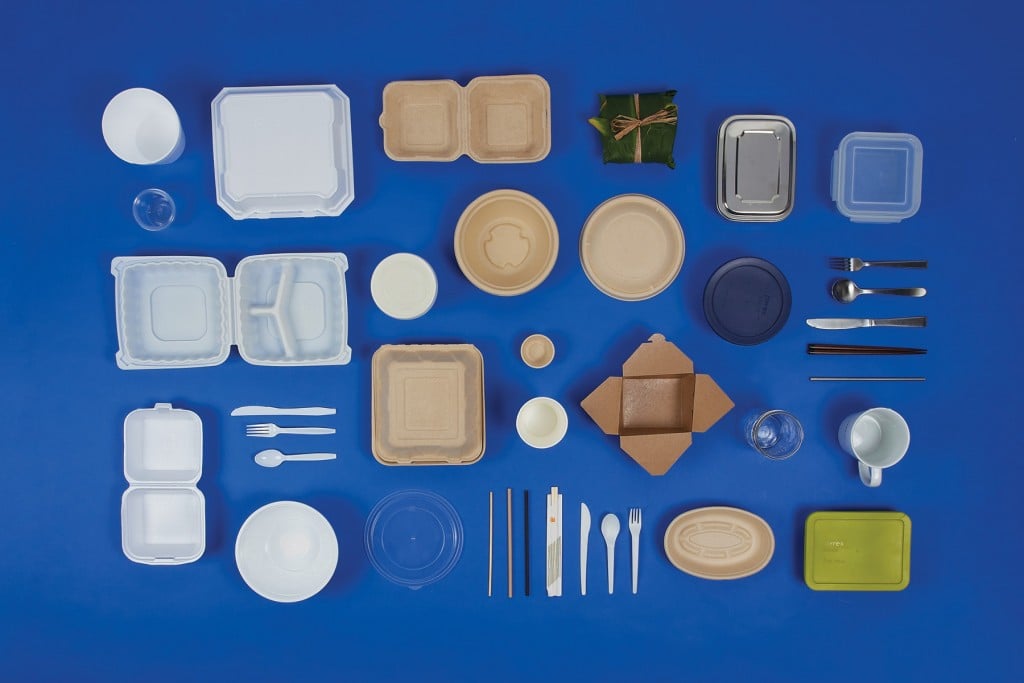 O'ahu's new law restricting single-use plastics has business owners scrambling to comply with the impending bans – just as happened on the Neighbor Islands after similar bans were imposed.
The bans take effect in 2021 and 2022, but some businesses have already voluntarily swapped out soon-to-be-banned items made of plastic and polystyrene foam for compostable utensils, straws, takeout boxes, bags and drinking containers. Other businesses are trying to figure out how to make the transition and how much it will cost.
"It hurts us, but we'll do our best," says Rose Ling, wife of restaurateur Ron Simon. "It is more work, more time and more money, but I'd rather do it now than later."
Their family-owned takeout restaurant, 'Ōlena by Chef Ron Simon, is in an industrial area of Kalihi, on Republican Street near Nimitz Highway.
Ling says she currently shops for supplies at Costco, ChefZone and Sam's Club and predicts the transition will be expensive. She estimated that plastic utensils cost her about 2 cents each and biodegradable ones twice that much. The total cost of the transition, she says, remains a big question.
The restaurant has already sampled compostable plant-based straws, Ling says, but her customers complained they tasted like corn. One plan being considered for some uses is to sell glass Mason jars to customers as takeout containers, a strategy used by some juice bars and other businesses. Once customers finish using the jars, they can return them for store credit.
She says the restaurant has been working with a local-based fabric company, Trendtex Fabrics, on compliant takeout bags.
She's planning on working with Triple F Distributing to supply compostable cups, but probably without the restaurant's logo because that costs more.
"As a small business in Hawai'i, with less storage, higher cost of living, higher food competition, higher taxes and saturation in our food business with an already slim profit, Bill 40 does not benefit our 'āina in Hawai'i or our business," says Ling.
Locally owned Zippy's is one Hawai'i's largest restaurant chains with 24 locations on O'ahu, Maui and Hawai'i Island and a new one scheduled to open this year in Las Vegas. CEO Jason Higa says Zippy's is trying to switch to compliant materials as quickly as possible.
Before the Honolulu City Council passed its ban in December 2019, Higa says, the company's cost analysis showed the added cost would total in the millions each year. Replacing plastic straws with biodegradables would cost $150,000 and utensils $250,000. Higa says the company has not yet determined if prices will have to go up to cover those costs, but other restaurateurs say increased prices are inevitable.
Each restaurant owner interviewed emphasized their willingness to help the environment, but some wished the quality of the biodegradable alternatives better fit the needs of customers.
"The concerns have mainly been functionality and the safety for our employees as well as our customers," says Higa. "One of the biggest challenges with many of the compostable containers is the rigidity is not there." That is especially hard for customers carrying several containers for colleagues, family or friends.
Other concerns mentioned by restaurateurs and customers include containers that leak and straws that clog.
Maui and Hawai'i counties have already banned polystyrene, better known by the brand name Styrofoam. Most business owners expressed concerns but a few welcomed the ban.
"I think the positives outweigh the negatives," says Alexa Caskey, co-owner of Moku Roots, a vegan restaurant in Lahaina. "You want to be on the right side of history. You don't want to be known as the last business using Styrofoam. People are going to look at that."
When they founded the restaurant in May 2018, Caskey and co-owner Erica Gale set a goal of generating zero waste that might ultimately end up in the ocean. They use ti leaves to wrap the food and reusable Mason jars and metal boxes as takeout containers when customers pay a deposit. They also encourage customers to bring their own utensils and containers.
"It works great, and it's really cool," says Caskey.
Justin Young has a similar perspective. "Whether it's biodegradable or plastic, it's still trash," says the GM at Koko Head Café in Kaimukī.
He says the small 6-year-old restaurant fully transitioned from plastics to biodegradable products about three years ago. Most of the products are from World Centric, a Mainland company that sells compostable goods made of corn, sugar cane and wheat straw fiber. Young says customers have never complained about the products.
He says staff at Koko Head Café give customers only what is necessary or requested – such as straws, bags and takeout boxes – which is better for the environment and saves the restaurant money.
"We will continue to be better stewards to the land and better hosts to our guests," Young says.
Examples of takeout containers made from styrofoam, plastic, compostable materials and fully reusable materials. Container samples were provided by 'Ōlena by Chef Ron Simon and Sustainable Island Products.

1a) Plastic clamshell take-out containers cost 'Ōlena by Chef Ron Simon 25 cents each, Rose Ling says.
1b) A compostable clamshell take-out container like this one or something comparable costs 'Ōlena 35 cents, Ling says.
2a) Plastic utensils cost 'Ōlena about 2 cents each, Ling says.
2b) Compostable utensils like this or something comparable cost 'Ōlena 4 cents each, Ling says.