Buy Local: A Simple Phrase with Layers of Meaning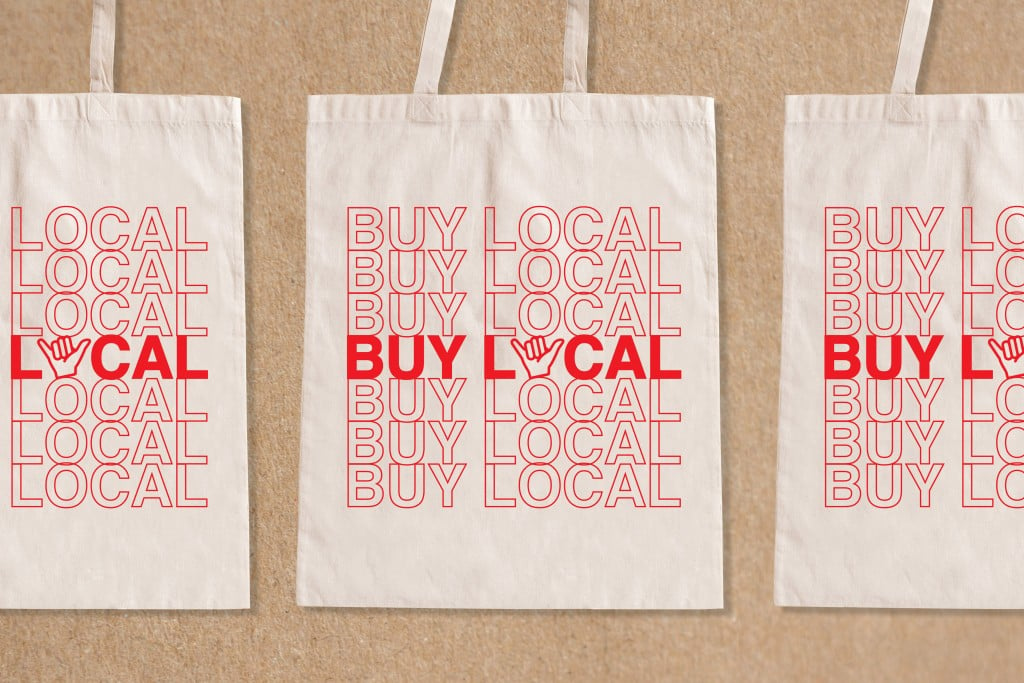 This story explores the power of local in business ownership, corporate leadership and consumer preferences.
Attorney Jeff Watanabe, who has served on the boards of several large local companies, has spoken often about the subtleties of Hawaii's culture. He says being local is a powerful tool, but it's also a moving target, especially in business.
"Absolutely companies can leverage being local," says Watanabe. "Hawaii remains a relational environment as opposed to transactional. It is driven by personal relationships, trust and loyalty. As long as that's the case, consumers feel more comfortable dealing with a local company."
But there's a larger and more complicated question, Watanabe says. What often can matter more is whether or not local interests are at the heart of a business, and how well a company – no matter where it's owned – treats the community. Is it philanthropic? Does it support local events? Sports? Kids? Good pay for its workforce?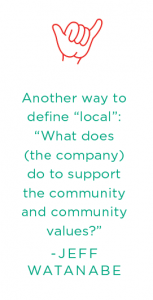 "What is local?" he asks. "Is ownership the issue? Is it ownership that drives being local? I think that has become less of an issue because Hawaii tends to be capital poor, so most large companies and the visitor infrastructure are not local. Hawaiian Electric probably has one of the largest local ownerships at 30 percent (of its stock, among big publicly traded companies), and the rest are institutional owners. From A&B, to Bankoh, to Matson, to First Hawaiian and all of the other major companies, if you did an analysis from an ownership perspective, they're not local. So there has to be another way of looking at it.
"From a strategic perspective, when you are trying to define local, one way is: What face does the company put out to the community? And the other more important way is behavior. What does it do to support the community and community values?"
A case in point is Hawaiian Telcom, which was bought last spring by Ohio's Cincinnati Bell, but is being run by Hawaii attorney John Komeiji, the company's longtime chief administrative officer and general counsel. As the new president and GM, Komeiji says he is coming to more fully realize just how much the community values having a local individual appointed to lead a company.
"People in Hawaii want to support companies that recognize that the local people have talents and abilities that transcend distance and geography," he says. "I'm coming to more fully realize how important it is to the Hawaii community that a local person was appointed."
"

From a strategic perspective, when you are trying to define local, one way is: What face does the company put out to the community?"
– Jeff Watanabe, Attorney
Komeiji inherited a company that went through a series of local/outsider crises starting in 2005 when Verizon sold it for $1.6 billion to the Carlyle Group, a multinational private equity company. Many customers eventually felt the company stacked with outside experts lost its local values. In 2008, the Carlyle-owned Hawaiian Tel declared bankruptcy, and it took new owners plus local leaders and local sensibilities – including humility and aloha spirit – to make the company viable again. With the most recent sale, hopes are resting on Komeiji to maintain all of that.
But to be considered local, those values must be authentic, Komeiji says. "The whole company has to subscribe to those values and live those values."
In a recent ad, the company included Komeiji's email address, saying people could email him if there were problems or questions. He received 300 emails and read them all, answering those he could and referring the rest to other company experts.
"We responded to all of them within a couple of days. And we've gotten reactions from people who said, 'I didn't think anyone would get back to me.' Whether it's an answer that satisfied their question, they appreciated that we have this concern that the questions of local residents are answered.
"By and large, people want to support Hawaii businesses and in a business like ours, part of it is the availability of local residents who work for our company and are easily accessible, and understand the needs of our local customers. It's also the commitment to the community. We have taken affirmative steps to let people know we are here for them, and that's part of being local."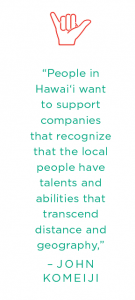 This year Komeiji and Hawaiian Telcom will roll out a program initiated by Cincinnati Bell in Ohio, which gives every employee a paid week each year to work in a nonprofit area they support. "In Ohio they give each of their employees 40 hours of paid time to give back to the community, and they have 3,000 employees," said Komeiji. "That's a tangible way to tell the community that it's important to us and we're putting our money behind our mouth."
The same can be said for Vicky Cayetano, the former Hawaii first lady who founded United Laundry 30 years ago, but sold it to PureStar in 2016. While her company is now part of an international corporation with 30 laundries extending from the Bahamas to Hawaii, Cayetano still runs the business with 850 employees at four laundries in Honolulu, Kona, Hilo and Maui. Under PureStar, she has expanded the laundry's reach and continued a broad program of community support.
Cayetano emphasizes that the intangibles of aloha spirit and philanthropy make a difference to consumers. Regardless of ownership, "those are a plus," she says.
As a businesswoman and CEO, Cayetano has spent countless hours involved in community projects, especially fundraising for local hospitals, the Hawaii Symphony, the Hawaiian Humane Society, Palama Settlement, the Boys and Girls Clubs, Historic Hawaii and many more charities. United Laundry also contributes to groups that are important to company managers.
"We do it because we want to," she says. "Anything that touches our community is important to us. Companies like United Laundry, Tori Richard, Foodland, ABC stores – their philanthropic approach is very important and meaningful to the community.
"

If you're as good as everybody around you, 'local' will make you better."
– Laurie Foster, Partner, Business Consulting Resources
"All things being equal, yes being local is a benefit," continues Cayetano. "But having said that, I would say it doesn't override the importance of quality and service and pricing. Those three things are key. Would being local make up for being more expensive, offering less quality and poor service? The answer is no. Consumers today are much more demanding and they know what they want."
Laurie Foster, a longtime supporter of family businesses and a partner at Business Consulting Resources, agrees that being a local business plays well in Hawaii. If you're a locally owned company, you can likely expect loyalty from customers. But Foster agrees with Cayetano: You still have to deliver.
"If you're a family business and want to capitalize on that, it gives you a leg up because people trust local," says Foster. "Local is like getting shave ice with the beans in the bottom. That's something Mainlanders don't even know about. Local and family mean we understand each other.
"People love local – if it's great," Foster continues. "That means you can't slack off on the level of quality or service people are expecting. Capitalize on what you have, but don't you dare do it without getting the other stuff together because it will backfire. … We are all too demanding now. We have had too many good experiences to put up with less. So if you're as good as everybody around you, 'local' will make you better."
Of course, in a state with the highest cost of living in the nation, price will always be a major factor. Eugene Tian, chief economist for the state Department of Business, Economic Development and Tourism, believes that price, value and convenience often drive consumer buying decisions and not company ownership. That's why big-box stores such as Costco thrive in Hawaii. (It doesn't hurt that Costco's shelves include many local products, allowing shoppers to support local producers and save money.)
But Tian says locally owned companies like City Mill and Hardware Hawaii have shown they can compete successfully with big-box national chains like Home Depot and Lowe's because of their convenient locations and focus on service.
He believes there is an additional nuance: Once a company is well-established in the Islands, consumers begin to consider it local possibly because it is employing local people and contributing to the tax base. Longs Drugs is a good example; the Longs brand was maintained in Hawaii after the chain was acquired by CVS. Longs was never locally owned but it has a powerful local image.
Tian explains: "Once they are in Hawaii we treat them as a Hawaii business. From a consumer point of view, I don't really mind too much who owns the company because most of the big firms are not local. The banks are not local. The communications companies are not local. And these big boxes are not local."
All the same, he adds, "because they're here doing business and contributing to the economy, people will treat them as a local company."
Food is the Simplest Way to Buy Local
It's Friday morning and Sharon and Keith Tamayoshi are driving from their Pacific Heights home, upcountry to Wahiawa to buy local eggs. They've been doing the same thing most Friday mornings for three years even though the eggs cost a bit more. The Tamayoshis say the eggs are fresher and healthier and taste better.
"Those are the only eggs I buy," says Sharon, a retired state computer programmer and analyst who doesn't mind the 45-minute drive. "I do everything with these eggs – my cooking, hard boiling, and I give some to my son and sometimes friends also. I make a lot of lilikoi butter – two to three batches at a time – and I use eight eggs for each batch."
The Tamayoshis buy a lot of local products. "As much as possible. If I have a choice, I prefer buying local," Sharon says. "I would rather my money goes to local farmers."
A lot of people feel that way, which makes promoting local – especially farmers and the food industry – a winning political issue. In last year's gubernatorial campaign, Gov. David Ige promised to "Develop a long-range plan to increase the local food production from the current 10 percent to at least 20 percent by the end of the decade." To help reach the goal he promised to develop water and energy resources, provide loans to farmers and open more land for agriculture.
Dan Nakasone has made supporting local food products part of his DNA for the past 20 years and says the support system needs to be broad and deep. That means leasing state land to farmers, supporting Hawaii's many immigrant farmers and encouraging consumers to buy local.
"Basically, No. 1, supporting local has got to be part of your politics and we need more people to buy into that," says Nakasone, who ferrets out Hawaii products for celebrity chef Alan Wong's restaurant. "It's a commitment, because a lot of times it's going to cost more. And sometimes you have to go out of your way to get the local products.
"Where it's really going to help the local producers is consumers going to the supermarket and making it part of a regular thing to buy local."
Local ranchers are making commitments to the local market, says Nakasone. "For ranchers like Kuahiwi and Parker ranches on the Big Island, and Makaweli (Meat Co. on Kauai) and Kunoa, they're keeping cattle back for local consumption. … But for ranchers making the commitment to keeping cattle back, we need more of the general consumer supporting that commitment."
Nakasone says Hawaii ranchers are taking a risk by investing in and committing to raising cattle locally, including potential drought, feed issues and the need for production facilities.
One new proposal is a local food processing plant and education center for Hawaii agriculture and culinary arts, says Daniel Leung, program coordinator for culinary arts at Kapiolani Community College. A nonprofit created to explore that idea, Na Mea Ai o Hawaii, is evaluating how this could be done, Leung says.
"The problem is we don't have a food manufacturing industry. We don't have factories," explains Leung. "So the new concept would be to support the building of a food processing center. What I've heard is between 10 and 30 percent of some products are being plowed back into the fields because farmers can't afford the labor to clean them up.
"On the Mainland they use seconds for juices and jams – anything that's canned and processed and pureed. The product is wholesome but maybe it doesn't look perfect and supermarkets will not buy. They do end up at farmers markets, but if there was a processing center, that would be added revenue for the farmers and they could grow more."
Dan Nakasone's 4 Food Shopping Secrets on Oahu
■ Petersons' Upland Farm Eggs laid that day are sold in flats with as many as 30 and as few as a dozen. The farm was launched in 1910 by Sharon Peterson Cheape's great-grandfather and is still run by the family. Some customers tell her that recipes don't turn out if they don't use local eggs, "and a lot tell me that the eggs just taste better," she says.
141 Dole St. Wahiawa, HI 96786 (808) 621-6619 petersonsuplandfarm.com
■ Higa Meat & Pork Market: Nakasone shops here for local pork and often buys in bulk to save money, then freezes it. "You buy a whole shoulder, about 15-20 pounds, and they cut it up for you," he says. "I put pork in a lot of stir-fries and over tofu and with Vietnam-style meatballs and shoyu pork." The market works with local producers like 2 Lady Farmers.
225 N. Nimitz Hwy., Unit 2 Honolulu, HI 96817 (808) 531-3591 higafoodservice.com
■ Kunoa Cattle Co.: Nakasone likes to buy local beef in bulk here. "We recently went out to the processing facility in Campbell Industrial Park and bought a family package of about 20 pounds from Kunoa with a variety of cuts. If you buy in bulk, it's a savings and it saves time. It will probably last us a couple of months."
91-319 Olai St., Kapolei, HI 96707 (Campbell Industrial Park), (808) 682-2595 kunoacattle.com
■ Kualoa Ranch Visitor Center: Kualoa sells a variety of fresh products including grass-fed beef, produce, shrimp and oysters, all raised on the ranch. They also sell some products on the website and by phone. A typical call from a visitor is: "I'll be coming to Hawai'i in three months and we want some rib-eye," says a retail associate, who calls rib-eye the most popular cut.
49-560 Kamehameha Hwy. Kaneohe, HI 96744 (808) 237-7321 Retail: (808) 748-3209 kualoa.com
Teaching Young Chefs How to Source Local Produce
At the crack of dawn one morning each semester, Kapiolani Community College culinary arts professor Alan Tsuchiyama takes his students to the fish auction. On another day they'll drive to the 2 Lady Farmers pig farm in Waianae. On yet another, they will be in Kalihi at the HPC Co. Taro brand poi factory.
It's all part of learning how to source local products, and it means that the 75 young chefs that the program graduates every year will enter their profession knowing what Hawaii produces, and how to evaluate, prepare and serve those products.
A major focus is on building support for Island food production and understanding how challenging it is to catch, raise or produce food for local consumption.
"The students are our future," says Tsuchiyama, who has been teaching culinary arts for two decades. "At KCC we believe that sourcing local, and being as sustainable as possible, is very important for our future in Hawaii. It's also good for our guests (in the college's two restaurants) so when they come in, they feel good about the food they're eating, and about the local farmers."
The two KCC restaurants that offer student chefs hands-on experience are open Tuesdays, Wednesdays and Thursdays for several weeks each semester.
The 220 Grille in the Ohia Building opens for lunch during four weeks in the middle of the semester, while the Ka Ikena fine dining restaurant is open in the Ohelo Building at 4303 Diamond Head Road for five weeks for both lunch and dinner. Click here for reservations at Ka Ikena;
220 Grille is walk-in only.
Daniel Leung, culinary arts program coordinator, says the program uses local products as much as possible. "Hawaii farm products are very high quality because of year-round production, harvesting and fine soil," Leung says. "In a lot of our vegetables the flavor is stronger and tastier. And our herbs are stronger in taste because of the soil. In that sense, we have superior quality products in Hawaii."
Leeward Community College professor Linda Yamada and her students also visit local producers as part of that college's culinary arts program. Egg farmer Sharon Peterson Cheape remembers Yamada's students spending one or two days with local farmers, watching their process and then preparing a dish using farm produce.
"The students had to get up and show the dish they prepared and they would talk about their time at the farm and their experience. One student started to tear up because she got how hard it was to do the farming and what it took to create the product," says Peterson Cheape. "She was saying 'We really need to support our local farmers because they work so hard to get their products.'
"If you teach your children when they're young how important it is to use what your island provides to keep us being sustainable," Peterson Cheape says, "that is everything."
Students also do the preparation at an LCC restaurant, The Pearl, at 96-045 Ala Ike St. It's open Wednesdays, Thursdays and Fridays from 11:30 a.m.-1:30 p.m. and takes reservations.