20 for the Next 20: Quinn Vittum, Re-use Hawai'i
The executive director co-founded the nonprofit to combat construction waste, salvaging 442 tons of building materials last year.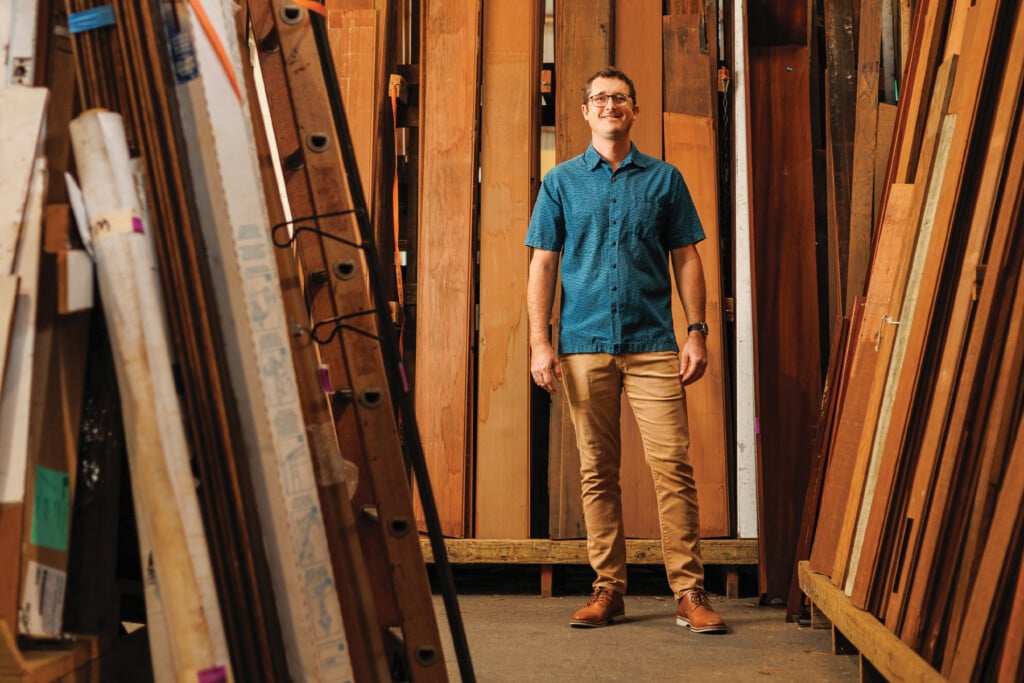 Quinn Vittum

Executive Director, Re-use Hawai'i
Even as a boy, Quinn Vittum saw that the construction industry had a problem: There was no system to recover and redistribute the waste it produced.
He recalls his father, who owned a construction company in New Hampshire, bringing salvaged and leftover materials back to their house, where he and his brothers would make forts out of the wood.
"This was in the mid-'90s. There was a little less consciousness around waste and environmental stuff," he says. "It's been cool to see the evolution."
Moving to the Pacific Northwest opened his eyes to a partial solution: an architectural salvage industry. It had potential, but he also saw many items being left behind, like fireplace mantels, clawfoot tubs and stained-glass windows. So, while attending Evergreen State College, he developed a business plan and later launched a Habitat for Humanity ReStore and Olympia Salvage, both in Washington state.
In 2006, he and Selina Tarantino co-founded the nonprofit Re-use Hawai'i, which can recover about 70% of materials in deconstruction projects. The organization has completed about 800 such projects across the state over 16 years. In fiscal year 2022, the company says its crews salvaged 442 tons of materials, which provided resources for 20,726 residents and saved 364 tons of greenhouse gases.
Vittum's recent initiatives have included job training for over 25 participants in partnership with organizations like Kupu, Aloha United Way and the WorkHawaii Youth Program, says Harley Didriksen, marketing and communications manager for Re-use Hawai'i.
She and Michaela Nartia, director of administration, say the workforce development program is an example of how Vittum builds community while helping young people learn valuable skills.
Vittum and Re-Use were fiscal sponsors for the HNL Tool Library. They helped its founder with bookkeeping, fundraising and gave the nonprofit a space at Re-use's Kaka'ako redistribution center. Vittum also serves on the board of HEMIC and is a graduate of the Omidyar Fellows' 2018-19 cohort.
Vittum says his goal is to help cultivate a circular economy and change the paradigm around construction waste. This past session, he advocated for Senate Bill 2662 aimed at encouraging builders to recycle construction materials and debris. The effort was unsuccessful and Vittum says more conversations are needed about its benefits.
"I've been here 16 years in my role at Re-use and now people come to us because of the environmental piece, whereas in the beginning it had to be about time and money, like we had to fit into that," he says. "That's nice, that's refreshing. People are with us on the mission."