Here's What It Takes to Salvage 500 Tons of Construction Material
Quinn Vittum, executive director of Re-use Hawai'i and a 20 for the Next 20 honoree, takes us through a day of combatting local construction waste.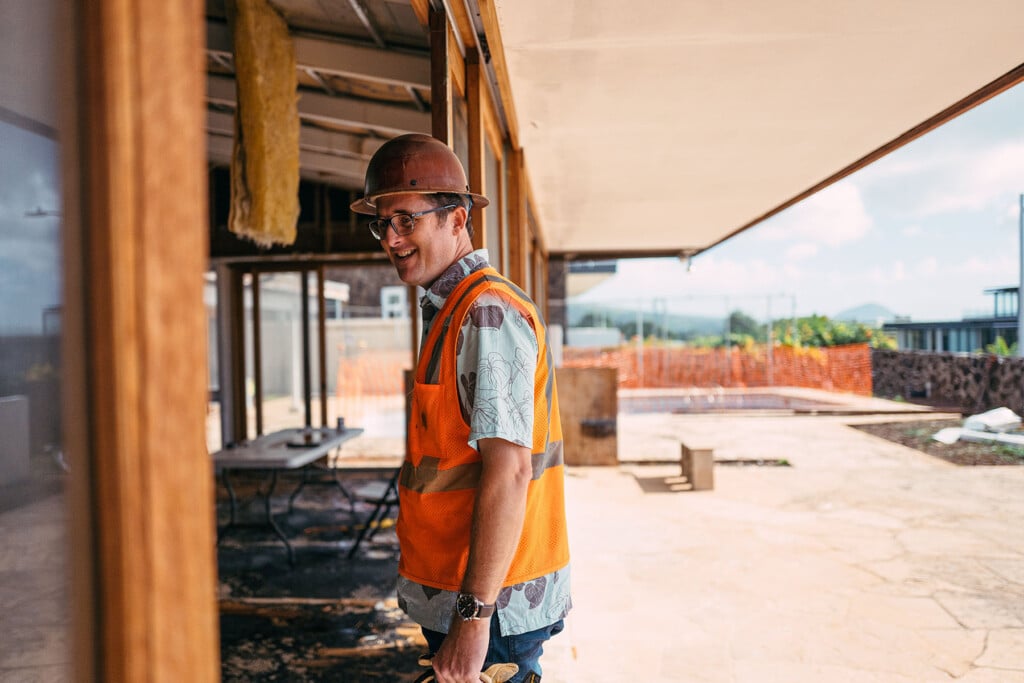 A typical day for Quinn Vittum, executive director of Re-use Hawai'i, begins at the nonprofit's 18,000-square-foot Kaka'ako redistribution center.
The organization recovers and redistributes waste produced by the local construction industry, so its warehouse holds everything from reclaimed lumber, furniture and artwork to locally milled Monkeypod slabs ready to be turned into tables and shelves.
Vittum says the work that takes place at its redistribution centers in Kaka'ako and Kona is key to fulfilling the nonprofit's mission. Each year, the nonprofit distributes an average of 500 tons of salvaged materials to more than 20,000 people.
"You can salvage stuff all day long but unless you find someone to use it, you haven't closed the loop and fulfilled the mission yet," he says. "So half the battle is actually finding new homes for it and making sure we have strong redistribution centers that are open to the public and people come in and grab the stuff."
Morning team meetings with the 15-member Kaka'ako redistribution center crew often begin with a check-in question to energize the group and help them connect to their work and each other. Staff members might be asked why they're excited about Re-use's deconstruction program and what they wanted to learn in the new year.
Next, Vittum inspects the reclaimed wood being sorted in the lumber yard. The wood, along with doors, windows, flooring, plumbing and electrical fixtures, will be re-sold to the community at discounted prices.
Some recovered materials are turned into furniture at Re-use Hawai'i's in-house workshop. Above, Vittum talks with craftsman Phillip Ziegler, who is making picnic tables and benches for a food truck village at Kewalo Basin.
Vittum visited two deconstruction sites when Hawaii Business Magazine Photographer Aaron Yoshino tagged along for a day. The first was a 30,000-square-foot retail store, where Re-use's deconstruction crew collected wiring, shelves and wire racks.
Depending on the size of the project, deconstruction can take several weeks. At the retail store, crew members were careful to remove materials without damaging them or scratching the floor.
"I remember … we were trying to figure out the right technique to getting the racking off the wall," he says. "You sort of figure out how it's built and then do it in reverse. But if you miss a step, then it can really present challenges to coming off the wall in the way that you want."
Vittum's second site visit was to a home in Diamond Head. Crew members harvested redwood siding that was milled in northern California in the mid-1900s. Vittum says it's a superior-quality wood and can't be found anywhere unless it's salvaged.
The team also collected 4-inch by 12-inch beams and built-in cabinets made in the '50s. Vittum says it's sometimes easy to get lost in the details of how things are made, but it's a great learning opportunity for some of his staffers who are new to the construction industry.
Beyond recovering physical material, salvage work is a chance to recover the electricity and fuel that was used to create and transport it, he adds.
"All the material in that house was originally harvested and milled and transported in that process. There's a ton of energy that's consumed. And so when we can recover the material, we're also recovering all that embodied energy, which equates to greenhouse gas," he says.
---
To read Vittum's 20 for the Next 20 profile, click here.