Reclaiming the History of Keauhou Bay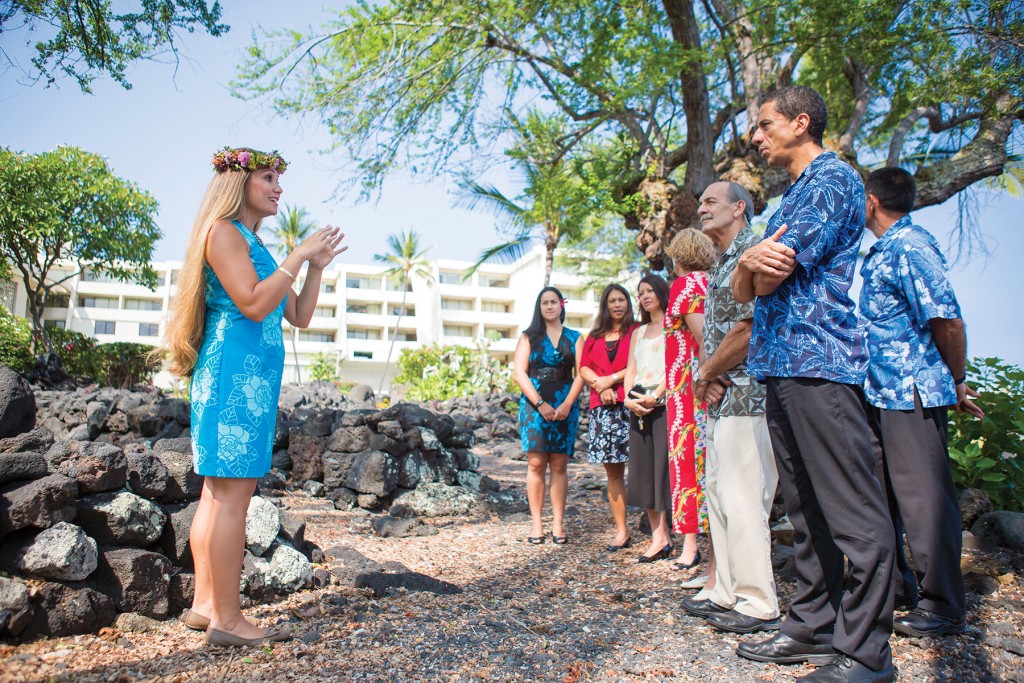 Name: Lily Dudoit
Job: Director of culture and activities, Sheraton Kona Resort & Spa at Keauhou Bay Experience: Three years
START:
Dudoit, who was born and raised in Kona and is part Hawaiian, was walking the grounds of the resort a few years ago while working as executive assistant to the general manager.
"I saw rock structures made from big stones that I knew were placed there," says the 38-year-old. "And there was a big mound of rock covered in shrubbery and I knew it must have been a heiau.
So I started inquiring. I wanted to know more."
Lily Kong, a local kupuna, explained the area's history and Dudoit found, at the bottom of a filing cabinet, surveys done years earlier by the hotel that explained the sites and their significance.
After a couple of years of growing the hotel's cultural programs, she got the new position of director of culture and activities. "I felt it was our responsibility to share this publicly," she says. "We should acknowledge our ancestors before we do what we do here."
GOALS:
"We live in such a fast-paced society, but you have to slow down with this job. You have to be very emotionally and spiritually connected. You can't make decisions for historical sites in the way you make decisions for hotel rooms or restaurants."
Dudoit has learned about the birthing stone for Kamehameha III at Keauhou Bay, a canoe shed for the fishing village that was once there, and the holua slide built during the reign of Kamehameha I. "I remember coming here as a kid … (but) I had no idea these historical sites were here."
BEST PART:
"I'm giving back to the place where I'm from, I'm making a difference for our culture," says Dudoit, who among her many duties, is overseeing the rebuilding of the fishing village as an interactive learning center. "People in the community can be proud of this place, which has been sitting quietly for a long time."