Reopening Tourism: Residents, Visitors Must Trust They'll Stay Virus-Free
That means new systems of testing, hygiene, safe practices and cleaning by airlines, airports, hotels, restaurants, stores and government, say tourism industry leaders. First of two parts.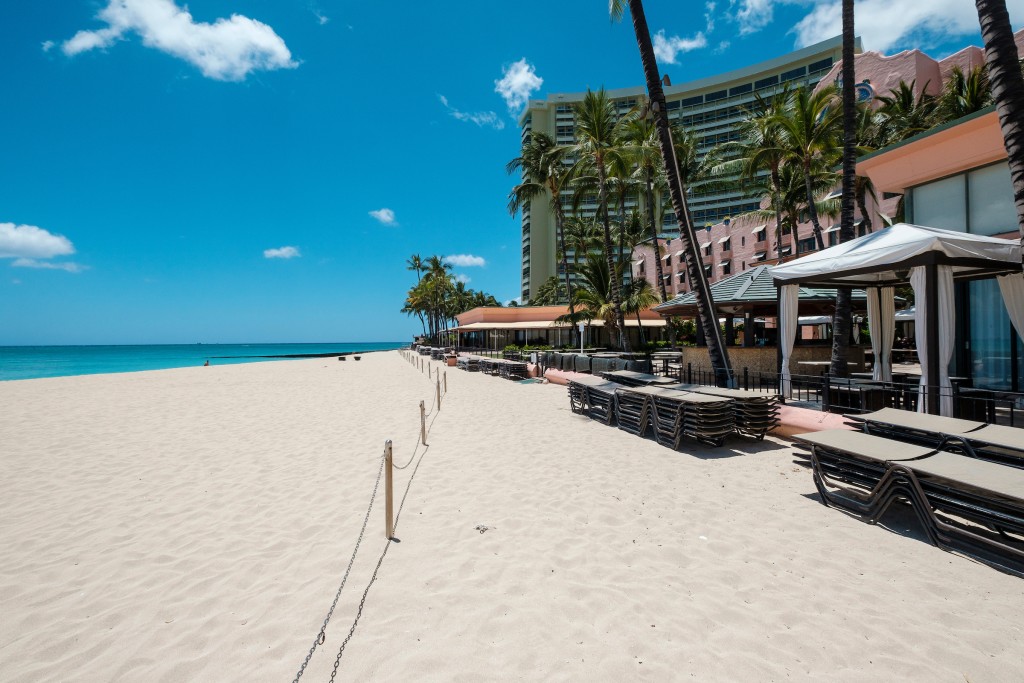 Trust and confidence are essential to reopening Hawai'i to tourists:
Hawai'i's residents must be confident that visitors are virus-free and therefore it is safe to welcome them.
Visitors must be confident that airplanes and Hawai'i are virtually free of the virus, and therefore they feel safe coming here.
The only way to build that confidence is by creating safe and healthy conditions in Hawai'i and in the transportation network that brings visitors here. That is a huge and complex challenge of testing, hygiene, safe practices and cleaning by airlines, airports, hotels, restaurants, stores and government.
That is one of the biggest challenges the state has ever faced.
"The first steps we need are to reassure people that travel is safe," says Frank Haas, a leading Hawai'i marketing executive. "And that's different from what happened after 9/11. Then we had to convince people they could get on airplanes. This time we need to reassure airplane travelers that it's safe – that when they get on that plane they are safe, and when they get off, there is no risk.
"And we also need to reassure the community that visitors coming in are not going to create unsafe conditions."
And when Hawai'i reopens to tourists, we have to do it properly or suffer long-term consequences, say multiple local leaders interviewed for this report. "We have to get it right the first time," says Tina Yamaki, president of the Retail Merchants of Hawaii. "I don't think Hawai'i can survive closing down again."
This report looks into what is needed for that successful reopening of tourism and how tourism in Hawai'i will be transformed under the "new normal."
Creating a Plan
Gov. David Ige has appointed a task force led by former Hawaiian Electric Co. CEO Alan Oshima to plan and implement the reopening of the state economy, including its No. 1 industry, but uncertainty remains about how and how fast that reopening should occur. There are many reasons for optimism. And pessimism.
The good news is that public and private sectors have been working together to identify solutions, and they are gathering good ideas from here and elsewhere. Groups working together include specialized committees formed in both the House and Senate, along with executives from public and private sectors including Dr. Mark Mugiishi from HMSA, Peter Ho from Bank of Hawaii, Peter Ingram from Hawaiian Airlines, Chris Tatum from the Hawai'i Tourism Authority, Sherry Menor-McNamara from the Chamber of Commerce Hawaii, and many more.
Among the reasons for pessimism is the government's spotty record in tracking tourists when only dozens were arriving daily and were supposed to be quarantined for 14 days. But there is $50 million in federal funding on the way to increase the state's capacity for contact tracing and COVID-19 testing.
Pauline Sheldon, professor emerita in the UH School of Travel Industry Management, spoke of a safe reopening strategy during an April videoconference with visitor industry professionals. She advised rebuilding nearby domestic markets first, and then the short haul foreign markets – especially nations like New Zealand that have squashed the virus.
"This is an opportunity to redesign tourism," Sheldon said. "We have to look at it as a tool to regenerate and build back the social fabric of the destination. And we have to include the whole community in decisions. It is an incredible opportunity to rethink and redesign a new kind of tourism that moves away from some of the problems we've had, such as over-tourism."
Others inside and outside the tourism industry also want a reinvention of Hawai'i tourism – one that welcomes tourists while enhancing sustainability and protecting natural and cultural resources in the Islands. That issue is covered in Part II of this report.
Tourism Forecast
The latest tourism forecast from the state Department of Business, Economic Development and Tourism forecasts a 67.5% decline in the number of visitor arrivals this year compared with 2019. That will be followed by a gradual recovery, with 2023's arrivals at about 90% of 2019's, according to DBEDT's forecast. Here are past and projected numbers of arrivals in millions of visitors.

DBEDT says that, based on its assumptions, visitor arrivals will not reach the 2019 level until 2025.
Read the full DBEDT report here.
Safety Guidelines
Tourism leaders have been developing hygiene, health and safety guidelines as they prepare to again welcome visitors.
"We can't get up and running until those areas are addressed satisfactorily," says Mufi Hannemann, president and CEO of the Hawai'i Lodging and Tourism Association, which represents most of the state's hotels. In May, Hannemann gave state Health Director Bruce Anderson a comprehensive set of standards to guide hotel openings and asked the Health Department to vet the document. Hannemann says he expects other sectors of the visitor industry to do the same thing.
"We want to be certified going forward," he says. "That's the stamp of approval that we are seeking. And we're urging other key stakeholders to do the same: restaurants, retail merchants, attractions, ground transportation, car rental companies. I've also reached out to the Japanese tour operators to do likewise."
He hopes every sector will submit their recommendations sooner rather than later. "We're sharing information with each other, and we've looked at national organizations to see what their standards are."
The hotels' standards include policies for safe food and beverage operations within the hotels; comprehensive cleaning of all common areas, following standards set by the U.S. Centers for Disease Control and Prevention and the federal Occupational Safety and Health Administration; and continued recommendations for social distancing.
"Every crisis presents an opportunity," Hannemann says. "There has to be limits, reasonable limits, and reasonable safeguards to ensure what we are doing now doesn't jeopardize future generations. The key is balance."
Chris Tatum, president and CEO of the Hawai'i Tourism Authority, points out in a letter to tourism leaders that "the industry will need to create 'world class' safety protocols that are supported by research and endorsed by the health experts." Tourists will only come back when they feel safe, he says.
"From the time travelers board their plane to the Islands to when they board their returning flight, both the residents and visitors will need to have confidence the airlines, airports, hotels, transportation, restaurants, activities, and attractions are consistently providing protection from COVID-19.
"These protocols need to be part of our brand promise."
Tatum says recommendations from the governor's task force, led by former HECO CEO Oshima, will determine how and how fast the state will reopen its biggest industry.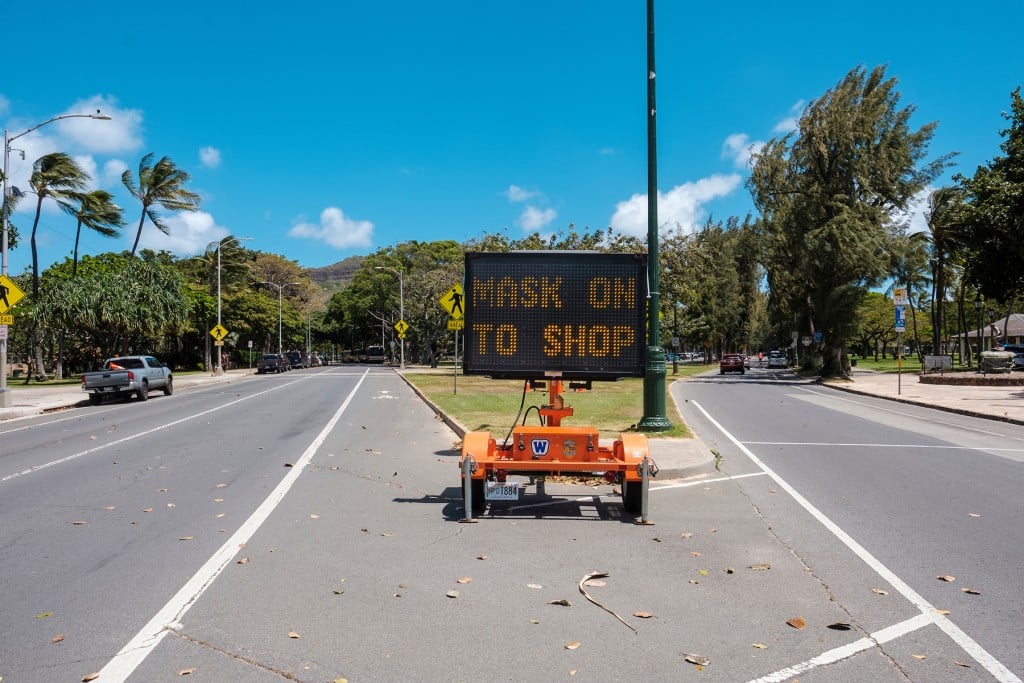 Stores Are Suffering
The reopening will be incredibly complex. For instance, size, merchandise, style and location all make a difference when it comes to protocols for stores and restaurants. That means multiple adjustments for hygiene, social distancing and the provision of safety items for both employees and customers including personal protective equipment for employees, multiple daily cleansing of public areas, and plexiglass shield guards throughout public areas.
Yamaki of the Retail Merchants of Hawaii says 25% of all jobs in Hawai'i are retail related and that many stores have dependent on tourists or a combination of tourists and locals. The billion-dollar question is how many businesses will be able to reopen and thrive.
"What we're finding out is a lot of small business owners haven't paid their lease rent on their business or their mortgage or loan on their home," Yamaki says. "People need to consider that when deciding to reopen. It's not just a couple of wipes and disinfectant sprays to open. You have to pay for PPE, you have to have hand sanitizers and clean more often." Those are substantial expenses while little revenue is coming in.
There are other hurdles. Many vendors that supply stores and restaurants now ask for payment upfront or upon delivery instead of waiting 30 or 60 days. In response, many small businesses are "hui-ing together" to buy in bulk at cheaper prices.
"It's no longer, 'We're competitors.' It's, 'How can we all work together to survive this and solve the issues,' " Yamaki says.
Public transportation poses another question. In some countries, Hannemann says, passengers' temperatures are being checked before they can board.
Will Local Customs Survive?
Even Hawai'i's beloved cultural traditions need reassessment.
"We have to think through greeting people with lei," Hannemann says. "And the packed lūʻau. And the constant touching. How do you rationalize that with what we're going through?"
As the state moves forward, he urges caution. "We shouldn't open up if we're going to be quarantining people. We don't want to open and shut down again. Wait until you're ready to open. Going forward we want to be part of a communitywide effort to make sure we are a healthy and clean and safe place," he says.
"If we are going to open for travel, people will have to trust that if they come here healthy, they will go back healthy." And if tourists are healthy, that will help keep Hawai'i's workers healthy, he adds.
"It's going to be the responsibility of everyone to step up to the plate and by and large the people in Hawai'i have responded, which is why we've been able to flatten the curve. Whatever we've been doing to get to this point, repeat. Don't neglect. We don't want to see a second wave."
On the flip side, if visitors have symptoms of COVID-19 after arrival, they will be isolated in predetermined areas of their hotel, Hannemann says, and the hotel will turn to the state Health Department for assistance. "We're not going to kick you out of the hotel," he says.
He believes airlines and airports should establish clear guidelines and standards to ensure arriving visitors are healthy.
"They may have thermal screens at the airport. We're hoping that happens before they leave for their destination. We're hoping the federal government will mandate some of these things. We don't want sick visitors coming to Hawai'i."
Lt. Gov. Josh Green agrees that visitors should be tested before they depart for Hawai'i. And if they're sick, they shouldn't come at all, otherwise, "You're risking the lives of our loved ones," he said at a press conference with Ige. "So don't try that or the governor's going to send someone out to bust you."
Airline Rules
Airlines are setting their standards. For instance, AirAsia, the low-cost Malaysian airline that flies to Hawai'i from various points in Asia, says it is requiring passengers to wear masks before and during flights, and while collecting baggage afterward. It does temperature screenings at boarding gates and upon arrival; hands out health declaration forms before arrival; and cleans its aircraft nightly.
Boeing forecasts that air travel globally won't return to 2019 levels for two or three years, says James Mak, UH professor emeritus of economics.
"We're in for a long drawn-out recovery period," Mak says. "Plus, all the preventive measures that businesses and governments will put in place will drive up the cost of travel. That empty middle seat has to be paid for by someone; as does extra cleaning, etc., etc., etc. For Hawai'i we may not get back to the 10 million figure (of annual visitor arrivals) for the foreseeable future."
Carl Bonham, executive director of UHERO – UH's Economic Research Organization – says his best guess is that the visitor industry will start to recover by the third quarter of this year, which begins in July. July levels will be 28% of the peak in the fourth quarter of 2019. He says that by December, Hawai'i tourism may be half of the peak of 30,000 visitors arriving each day. With the COVID-19 shutdown, the daily average has been closer to 200.
"Opening up the tourism economy is even more uncertain than opening up the local economy," Bonham told the state House Select Committee on COVID-19 Economic and Financial Preparedness in late April. "The reopening of both the local and the tourism economy will require a tremendous amount of buy-in by our local people."
On the UHERO website, Bonham and fellow economists Byron Gangnes and Peter Fuleky were cautious. "We assume that progress in rolling out screening, testing, and tracing of visitors will allow for reopening of the visitor industry by the last week of July, but that the pace of visitor return will be very slow."
They wrote that tourism "will linger at low levels through the end of the year, held back by consumer reluctance to resume long-haul travel, pocketbook challenges and the probability of localized virus flare-ups in some visitor markets, or in Hawai'i itself."
Much depends on testing capacity and the spread of the virus.
"A more pessimistic scenario is fairly easy to envision," they write. "On the tourism side, the challenges of screening, testing and contact tracing are daunting, relying both on Hawai'i's readiness and willingness to accept significant visitor numbers, and access to – and confidence in – testing measures that can be required of potential visitors. Continuing Mainland virus spread and flare-ups are not unlikely. … In our pessimistic scenario, then, we assume no significant tourism reopening until the last week of September, eliminating all of the summer high season.
"Progress thereafter is slow, and the winter high season is still below 50% of normal. A delay of significant tourism reopening will pose tremendous challenges for the industry, and, absent additional federal support, will very likely lead to bankruptcies and additional loss of jobs."
A joint survey by UHERO and the Chamber of Commerce Hawaii at the end of April found that workforces at hotels were down 83% compared to pre-crisis levels. At retail businesses, the workforce was down 76%; food, educational and other services "also saw reductions north of 50%," the survey found.
"About a third (31%) of businesses reported that their revenue has been reduced to essentially zero during the shutdown, including 56% of hotels, 46% of restaurants and 44% of retail."
Sherry Menor-McNamara, president and CEO of the chamber, says public health must drive the reopening of the tourist economy and Hawai'i's overall economy.
"And yes, we do have to get it right the first time," she says. "Not doing so will erode this confidence in safety and traveling." Getting it right will also "avoid what we're seeing in Asia and Europe where businesses have to close again due to a second wave of infections," she says.
Sumner LaCroix, UH professor emeritus of economics, explains the mindset of potential tourists. "Some risk-averse tourists will decide not to travel anywhere until a vaccine has been developed," he says. "Others will feel uncomfortable about taking the five-plus-hour flight to Hawai'i. Others will worry about job security and forgo vacations. And some will have depleted savings.
"On the other hand, if tourists perceive Hawai'i to be a uniquely safe place, then it's possible that tourism might recover extremely quickly. As long as arriving tourists are tested or quarantined and the state has adequate testing and tracing capacity to deal with virus outbreaks, we should not worry about limiting tourist numbers. Most importantly, authorities need to closely monitor the ramping-up of tourism and put the brakes on if large new outbreaks warrant."
La Croix says Hawai'i should be especially confident about tourists:
Who arrive from destinations that have crushed the pandemic, such as Australia and New Zealand.
Who provide results of antigen tests taken within three days before their arrival that prove they do not carry the coronavirus, or who take that test upon arrival. "Passengers who take an antigen test at a Hawai'i airport would need to quarantine until they receive their test result, which might take from 30 minutes to two days," he says.
La Croix and Tim Brown, a public health researcher and senior fellow at the East-West Center, suggest in a written presentation that emerging technologies that screen visitors for the virus before they board planes will be one of the surest methods to reassure both locals and tourists.
"Tourists need to conclude that it is safe to visit Hawai'i," La Croix and Brown write. "Residents need to conclude that tourists are safe visitors with only a small chance of contributing to Hawai'i's epidemic."