Report Card: Hawaii Teachers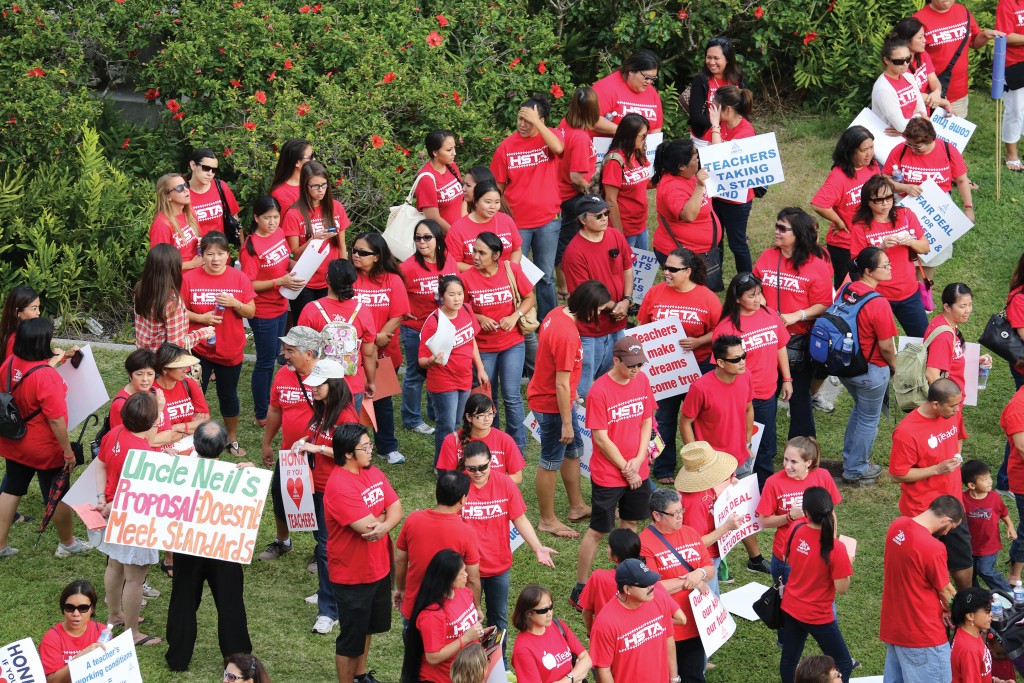 New contract says teachers must be rated as "satisfactory" or better to get pay raises
A rating of "unsatisfactory" can get you fired
Kristen Brummel spends a lot of time thinking about what "teacher accountability" means.
In fact, it was the topic of one essay she was required to write for the National Teacher of the Year competition after being named Hawaii's 2011 Teacher of the Year. The fourth-grade teacher at Noelani Elementary School says she and her colleagues need to be held accountable for their students' success or failure in the classroom, but she adds that the issue is complex.
"There are so many components that go into the success of a child. What makes teacher accountability such a touchy subject is there are so many other factors outside a teacher's control, such as parent involvement, school and state support, time, money, whether the child is getting enough sleep or whether things are OK at home," says Brummel. "I wholeheartedly believe we need to show we're doing what we're hired to do and I know that, in every profession, there are people who are not doing what they're supposed to do, and they should be out of a job. But we need to understand there are other factors involved, and to think we're being held accountable for all these other factors that we can't control, is scary."
Many people agree with Brummel's assessment, including Don Horner, president of the state Board of Education and former CEO of First Hawaiian Bank.
"Student achievement is a team effort and it needs to be realized that teachers are not the problem, they are the solution. But to be an effective solution, they need resources," says Horner.
He says the new contract between the state and the Hawaii State Teachers Association addresses issues of teacher effectiveness. The four-year contract, ratified in April by union members, ends a two-year labor dispute.
Horner says it is a unique contract, because compensation is tied to a new evaluation system, called the Educator Effectiveness System, which incorporates the Common Core State Standards adopted in 45 states.
EES is now used in 81 Hawaii public schools in its second year as a pilot program and is being prepared for statewide rollout in the 2013-14 school year. It will be "no-fault" in its first year.
"For that first year, compensation will not be directly tied to the evaluation. In the second year, it will count, but the evaluation will be conducted at the end of the year. In the third and fourth years, it will have consequences," explains Horner.
According to the new four-year contract, each year, teachers must receive a rating of "satisfactory," "effective" or "highly effective" to receive step movements and across-the-board pay increases contained in the contract. Step movements are increases in seniority that trigger pay increases. In the first year of the new contract, all teachers will move one step up in the salary schedule; in the second year, there will be a 3.2 percent across-the board raise; in the third year, a one-step-movement; and, in the fourth year, a 3.2 percent across-the-board increase.
There are five possible ratings for teachers: highly effective, effective, satisfactory, marginal or unsatisfactory. The new system allows for only the state superintendent to fire teachers if they are rated "unsatisfactory." The grievance and appeal process could take up to a year from filing to a final decision. If teachers receive a rating of marginal, they will not receive the step movement or pay increases. A highly effective rating does not provide for any added benefit or additional pay increases.
The HSTA, which represents 13,500 members, believes the contract is fair and addresses issues of how the EES will be implemented and used to hold teachers accountable.
"Our job at the union is to make sure the assessments are valid and measuring what they're supposed to measure so there will be consistent results over time," says HSTA executive director Al Nagasako. "It needs to be fair and that means teachers and principals need to receive consistent training with the new standards and the implementation of the EES."
Those new standards are the Common Core State Standards, which define the knowledge and skills that students should master in English-language arts and mathematics by the end of each grade to be on track for success in college and career. Teachers will be evaluated, in part, on how well their students meet those standards.
The EES system for evaluating teachers has two main components: teachers' professional practice and their students' learning and growth. Professional practice is assessed using an evaluator's observation of the teacher in the classroom and a student survey. Teacher observations and student surveys will be conducted twice a year: each fall and each spring.
The learning-and growth component measures student growth using standardized tests that compare students with their peers and using Student Learning Objectives. In 2013-14, Hawaii will pilot a new statewide assessment test based on the Common Core State Standards. It's called the Smarter Balanced Assessment and is scheduled to completely replace the Hawaii State Assessment for English language arts and math starting in 2014-15.
Student Learning Objectives (SLOs) are used by teachers to improve student performance. Teachers examine student baseline data such as previous grades and test scores, and set SLOs for the year or semester based on content standards. They formulate lesson plans based on the SLOs and meet with their data teams during the year to determine teaching strategies and to see if they and their students are on track in meeting the goals.
Union leader Nagasako, who spent 37 years as a teacher, principal and deputy superintendent, says these changes will help transform education in Hawaii. He sees more collaboration today than ever before among the stakeholders and he feels the state and the union are moving forward toward greater trust. Horner agrees that, through the negotiating process, it was evident that both the union and DOE wanted to ensure the effectiveness of teachers.
"But the HSTA's concern was to make sure the DOE is using the right tool to measure effectiveness and that the evaluator is qualified to do the evaluation fairly and accurately. As a board, we want to ensure the evaluators and the system are accurate and fair," says Horner.
Training in the EES evaluation system and implementation during the pilot study have been bones of contention with many, says Nagasako.
"The communication piece has been sorely lacking. The pilot-program schools have received different information from the DOE about passing the information down to teachers. Can you imagine when we roll this out to 280 schools if there's no consistent communication? We have to make sure it's consistent."
The DOE seems to be addressing that concern, as a key component of the contract is the implementation of a state-certified training process for evaluators. That, says Nagasako, was one thing HSTA sought.
A continuing challenge with the EES seems to be getting everyone on board and relieving some of the anxiety felt by many teachers.
Yvonne Lau, who serves as EES project manager for the DOE, says the system is designed to provide data and feedback to help teachers improve their craft. Lau says the DOE will be looking at data from the 2012-13 pilot program to decide the exact weighting of the EES components, but at least 50 percent will be from student outcomes.
"This is not a 'gotcha' system. It's feedback about them, but we're also going to look at the kinds of supports we can provide to help," says Lau. "It's not enough to tell someone that they're really stinking it up, but not offering the support to help them improve. That's not fair."
Kaimuki Middle School is taking part in the second year of the pilot study and principal Frank Fernandes, who has been at the helm for 25 years, says it appears to be going well.
"We don't necessarily see the evaluation system and teacher accountability synonymously," says Fernandes. "Teachers have always been held accountable. But accountability is rather general and nebulous and means different things to different people. Ultimately, I think the general consensus is the effect on the kids."
The EES gives children a say in teacher evaluations for the first time. The student surveys are part of the Tripod Project, a research-based system founded by Harvard professor Ronald Ferguson that measures classroom effectiveness by surveying students in grades K-12.
The survey assessments are funded by the Bill and Melinda Gates Foundation and, according to Rob Ramsdell, who leads the project with Ferguson from their headquarters in Cambridge, Mass., in the early years, schools primarily used the results of the student surveys to focus on improvement efforts.
"Only in the past two or three years has it been used to improve (teacher) evaluation systems," says Ramsdell. He works closely with the DOE by distributing the surveys to schools and providing training, data analysis and reports.
"Situated in the context of evaluation, people get nervous. But we don't think of it as students evaluating teachers, rather providing an additional source of information that can be considered alongside other sources of information to provide a complete picture of what students are experiencing."
The survey provides age-appropriate questions regarding the classroom experience, such as, "My teacher is very good at explaining things," "When something is hard for me, my teacher makes me learn it," "I like the way my teacher treats me when I need help," and "My teacher pushes everybody to work hard."
However, many teachers are concerned about the student surveys.
"Our teachers are still worried about the vocabulary," says Keaau Elementary School principal Chad Farias, whose school is in its second year of the pilot program. "Most kids can't understand words like 'confer,' and the types of questions asked can be difficult, especially for the little ones. In the first year, the general response was that it was super unfair, but now (the teachers) see the value in it. They also realize that the survey is about collecting data to drive our practice, and to continuously improve. Most believe this data is not intended to evaluate them out of their jobs."
As the state morphs away from No Child Left Behind requirements toward the new Common Core Standards, Hawaii public education is being overhauled.
"It comes under the big umbrella of transforming education. It's not about teacher evaluations," says Nagasako. "It's about changing what we do in the classroom to prepare kids for college and career. But to do that, things need to change in the classroom. How do we apply the learning in the context of real life? With the common core, we are going to be asking for a lot more higher-level thinking skills, ability to dialogue and for student engagement. Teachers will need to ask reflective questions to kids to bump up their thinking and stir up the thought process. To me, that's what transforming education is about."
Learn more about the Tripod Student Survey at tripodproject.org.
Evaluating Teachers
It could take years under the old contract to fire a teacher who was considered incompetent. The new contract between the teachers union and the state establishes a new evaluation procedure under which teachers either earn their raises, are ordered to improve or get fired. Here's how it works:
Four Elements to New Annual Evaluations
Evaluator's observation of the teacher in the classroom in both spring and fall;
Student surveys of teacher's performance in spring and fall
Progress in students' annual test scores
Achievement of student learning objectives, which are decided in advance
Annual Rankings of Teachers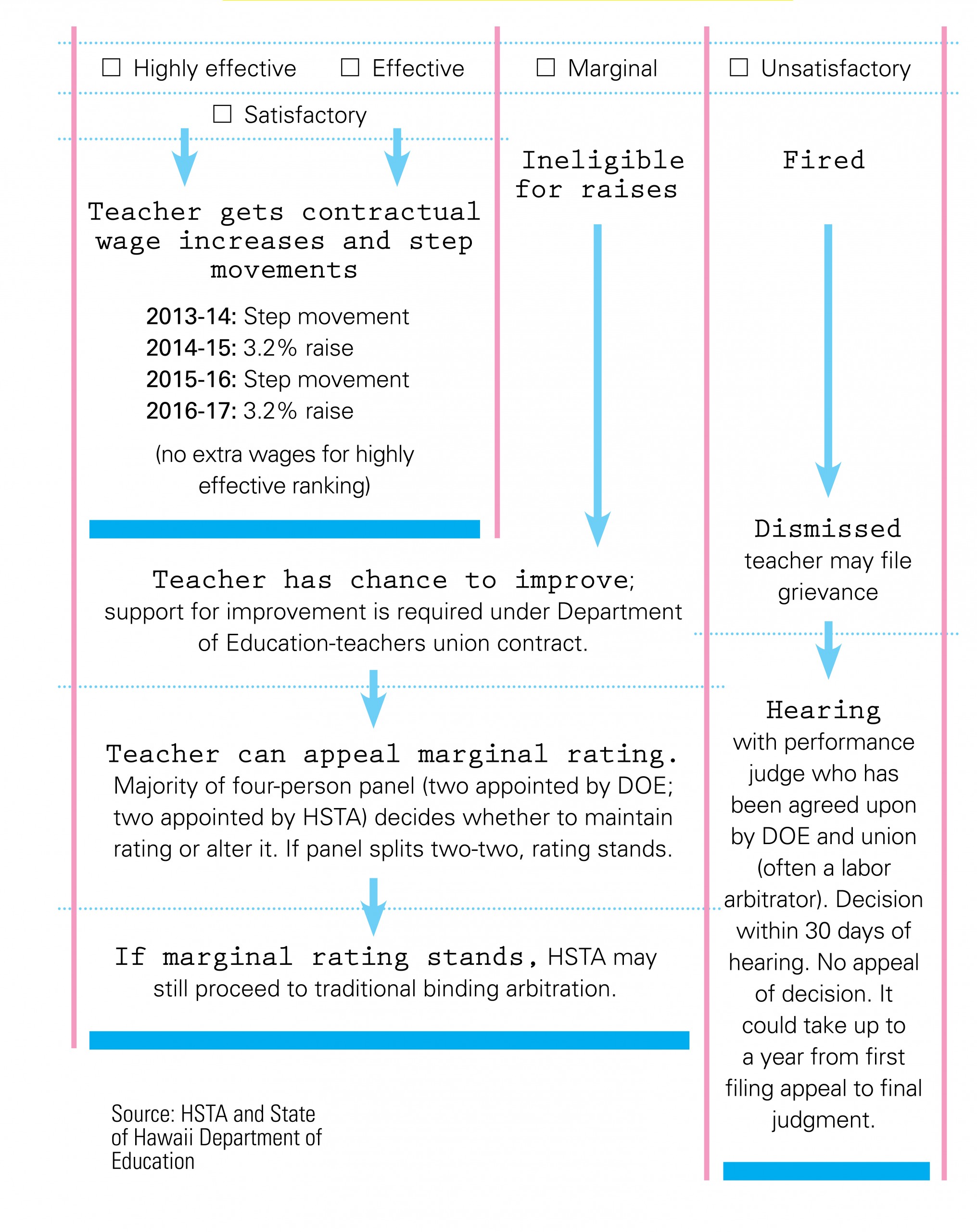 Other Evaluations
These teachers will continue under the old evaluation system during 2013-14
Teachers rated marginal in 2012-13;
Those with documented performance deficiencies in 2012-13;
Nontenured teachers who began before 2013-14.
Source: HSTA and State of Hawaii Department of Education
---
How Long Does It Take to Fire a Teacher?
Q: An untenured teacher can be fired at any time. How long does it take for a Hawaii public school teacher to gain tenure?
A: Probationary teachers currently in service were required to serve four semesters (two years) to gain tenure. Under the new union contract, teachers hired July 1, 2013, or later must serve six semesters (three years) to gain tenure.
Q: How long does it take to fire an underperforming, tenured teacher?
A: Under the current teacher evaluation system, the state Department of Education says, teachers have been terminated. However, the length of that firing process varies widely from a year to four years or even longer, depending on the case and whether the supervising principal has followed procedures and properly documented the reasons for termination,
say the DOE and the teachers union.
Q: How many teachers have been fired in recent years?
A: Despite repeated queries at different levels, the DOE would not answer that question. However, a Civil Beat story in July 2011 quoted DOE sources as saying that six public school teachers had been fired in Hawaii for misconduct in the previous two years.
Q: Does the new contract shorten the time it takes to terminate a teacher?
A: The new contract does have features intended to streamline the review of teachers with a "marginal" ranking; marginal is the second lowest rating. In the new contract, teachers given the lowest rating, "unsatisfactory," are subject to termination; however, those teachers still have the right to grieve a termination under the new contract. According to the DOE and the HSTA, that process can take a year or longer. The right to grieve a firing is held by other public employees covered under union contracts, such as firefighters, police officers, professors, nurses and blue-collar workers.
---
What Students Are Supposed to Know
Hawaii is among 45 states using the Common Core State Standards to guide student learning. The standards define what students should master in English-language arts and mathematics by the end of each grade. Learn what those standards are atdoe.k12.hi.us/curriculum/commoncore/index.htm or use this shortcut, tinyurl.com/blfckhn.
You may also be interested in reading: