Report Card: School Administrators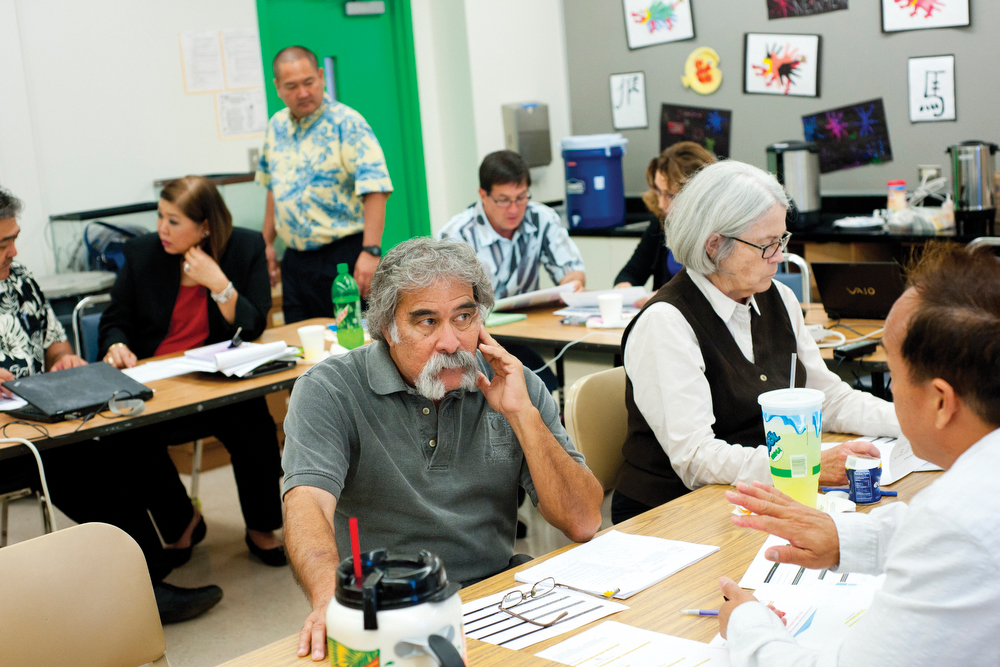 Are sweeping changes in Department of Education's leadership enough to fix Hawaii's schools?
New three-part strategy emphasizes student achievement first, followed by improved support and IT systems, and better training/accountability/HR.
Don Horner, chair of the two-year-old, appointed Board of Education, ticks off the changes to the state's school system over the past few years.
"Write this down," the former First Hawaiian Bank CEO says. "We now have an executive director of the board. We have a new superintendent of the Department of Education. We have a new deputy superintendent. We have a new assistant superintendent for human resources. We have a new assistant superintendent for school facilities. We have a new chief financial officer. By the time this magazine comes out, we'll have created a new director position, which is for our leadership institute." He points out that seven of the 15 complex area superintendents, who Horner calls the "field generals" of the school system, are new. "Almost all the senior staff at the Department of Education are new."
And those are just the personnel changes. Working with the restructured DOE, the board has also created a new strategic plan, which Horner describes as a "three-legged stool." It's built around redefining and improving student achievement, strengthening financial management and creating systems for attracting, training and retaining employees. For example, DOE has petitioned the federal government to permit a new, more holistic approach to assessing student achievement and school success.
DOE has also instituted a larger internal-audit section to monitor the accuracy and viability of the school system's financial reporting and business practices. To maintain the internal audit section's independence, BOE has created an audit charter that spells out the relationship that the internal audit section has with the superintendent and the board. BOE also spent $200,000 for a consultant to conduct a risk audit, which identified dozens of areas of potential fraud and liability within the DOE. The strategic plan also supports human resources, promoting evaluations and professional development at all levels in the school system. This is exemplified by the creation of a new assistant superintendent of leadership development and by the teachers union's recent acceptance of teacher evaluations under a new four-year contract.
These are big changes. The question, of course, is whether they're enough to fix what's wrong with public education in Hawaii. After all, as the only statewide school system in the country, DOE is an enormous institution. With 178,000 students and more than 20,000 employees (plus about 22,000 casual hires) it consumes nearly a quarter of the state's budget. Yet, it's one of the worst performing school systems in the nation. This is reflected not only in a level of student achievement that ranks among the bottom 10 states, but in the bloated, inefficient and sometimes corrupt bureaucracy of the DOE itself.
Years of Failure
For nearly a decade, the state auditor has issued a steady stream of blistering reports that testify to this lack of accountability:
A 2006 audit castigated administrators at Kailua High School for their "low priority on maintaining financial records and accounting for and protecting resources," and found that as much as half the school's $2 million inventory "may be fictitious."
A 2008 audit of the state's Hawaiian Studies Program found the system completely "lacking accountability for the program's intended outcomes," and that schools were able to divert funds from the program "with impunity."
A pair of scathing audits in 2009 pilloried DOE for "inappropriate procurement practices and a culture of disregard" that led to "waste, abuse and improper consultant relationships" and "possible instances of procurement fraud."
A 2010 letter to the state Senate noted that an audit of the Waters of Life Public Charter School was impossible because school administrators could not provide any of the appropriate financial documentation. A follow-up performance audit in 2011 criticized the state's entire public charter-school program for failing "to comply with state law and principles of public accounting."
A performance audit of the school bus system in July 2012 said "ineffective planning for bus services has resulted in routes that are not evaluated for cost, efficiency or adherence to safety guidelines." It may also have identified fraud on a statewide scale.
In order to fix a system this broken, Horner says, BOE had to start at the top. "What I'm getting at," he explains, "is that we began with ourselves, first, by reducing our own budget from around $1.2 million to a little under $300,000. Then, we focused on our own organizational structure to reduce its size. We got rid of all the offices, for example. BOE used to have its own offices. The chairman had his own office and conference room. Those no longer exist; we gave those back to the DOE. Similarly, we used to have a staffing of 12 full-time employees; now we have three. At the same time, I do believe that we've improved our service levels and response time to public complaints. Anyway, that's the first step: looking at ourselves."
Change Requires a Plan
But, in a $2.3 billion budget, those changes were small. Really fixing things requires an aggressive, comprehensive strategic plan. "Before," Horner says, "the board had a strategic plan, DOE had a strategic plan, and these two plans were different. I'm not kidding. And neither one of those plans, in our judgment, was robust enough to do what we need to do."
Developing such a robust plan took more than a year, Horner says. "This involved meetings with military officials, 100-plus school visits, over 300 stakeholder meetings and two retreats with the governor, all basically getting baseline data in order for us to approve a strategic plan."
Kathryn Matayoshi, who was appointed superintendent of DOE in 2010, describes the three legs of the strategic plan. One leg consists of the department's "systems of support," which include not only how the department is structured but whether it has the appropriate data and technology. "If you have a messed-up IT system," she says, "and people can't get out the information they need to get out of it, that's taking time away and reducing their effectiveness."
Similarly, you can't succeed as an organization unless you hold the right people accountable, Matayoshi says, so human resources is another leg of the stool. "If people aren't getting trained and we're not recruiting the right people and we don't have good HR tools in place, we end up with the wrong people in the wrong jobs not getting the support they need for success."
But it's the third leg of the stool, student achievement, that really drives the new strategic plan. "That's the biggest one," Matayoshi says, "because everything bottom-lines with student achievement: How are we doing on graduation rates? How are we doing on proficiency rates? Are students staying in school?"
Hiring Area Leaders
It's helpful to look at how it all comes together. Horner uses the example of the complex area superintendents; each CAS oversees two to four high schools and all the middle and elementary schools that feed into those high schools. "In the past," Horner says, "all the 257 schools in the DOE were somewhat independent." That meant principals were the ones held most accountable for student performance, but a principal only controls one segment of a student's education through elementary, middle and high schools. The CASs, on the other hand, have longitudinal responsibility because they control at least two high schools and all the middle schools and elementary schools that feed them. That gives them a more strategic view of a student's education. But, as Horner points out, it was difficult to get qualified people to take CAS positions.
"Before, the CAS was paid less than the principal," he says. "I'm not making this up. So, the first thing we had to do was change the job description. Before, these positions had the responsibility, but didn't have the authority; had the responsibility, but didn't have the pay. So, we looked at their compensation and their accountabilities and aligned those with their responsibilities. Once we did that, it was much easier, if you will, to find leaders who were willing to take on the responsibility. I'm very, very proud of our CASs. If this board does nothing else but leave 15 effective leaders in the field, I think we'll have gone a long way in moving public education in Hawaii."
Many of DOE's greatest challenges have nothing to do with what happens in the classroom; they're about how effectively the department executes its other functions and services. An excellent example is the 2012 audit, which found that the cost of the school bus system grew by more than 150 percent from 2006 to 2011.
Blind Choices
The causes for the student transportation fiasco were numerous. The audit found that the department didn't have the data or training to effectively plan a transportation system. It found a system in which most requests for proposals resulted in a single bid, and there seemed to be little competition among contractors. And it found a legacy of "escalating costs and a lack of accountability." In short, student transportation was a boondoggle.
These problems were exacerbated by the budget cuts that began in 2010. For Ray L'Heureux, the new assistant superintendent of school facilities and support services, it was an eye-opener. "I got airlifted into this situation," he says, "where the Legislature in the previous session had cut the budget for transportation services, forcing the transportation branch to cut something like a hundred routes – 2,000 kids were affected."
The department's response only made it worse, he says. He explains that he has no reliable information as to "why one route was selected over another. Even my transportation manager couldn't tell me why. Because the guy that sat in my desk before me – Randy Moore, who's beloved – did it all himself, with his own thought processes and justifications.
"I had folks call, asking, 'Why did you cut bus service to Halawa Heights and Aiea Heights when geography alone would tell you that wasn't a good idea?' And I just said, 'I don't know.' But I'm faced with the fact that they were, indeed, cut. And now the routes as they are – the disposition of student transportation today – meets the budgeted allotment. For me to reinstate service, I've got to ask for money that isn't there."
In some ways, the student-transportation service is an excellent symbol for the lack of professionalism and accountability that has plagued DOE for decades. "Transportation is a $67 million business," L'Heureux says. "But when I looked at how that $67 million business was being run, it really wasn't. The folks who were running student transportation were all good folks, but they weren't trained. Even my branch director and all my transportation officers had zero training. None. It was all just on the job."
Nonetheless, he points out, this is one of the easiest problems to fix. "Pupil transportation is one of those disciplines that you have to plug into a national training organization or foundation to get best practices for that industry." As it happens, that training is readily available through organizations like the National Association for Pupil Transportation.
The 2012 student-transportation audit also focused on the procurement issues that seem endemic at DOE. It concludes that the department's lack of oversight left the contractors in charge. In fact, the audit suggests that collusion and price fixing among Hawaii's kamaaina bus contractors account for most of the soaring transportation costs. The audit's recommendation? More competition, including from mainland companies. That means planning further ahead – perhaps as much as two years in advance – so mainland contractors will have time to bid, ship buses to Hawaii and organize operations here. As it is now, local contractors often exploit lax contract-extension rules to delay the process so that DOE is left without other bidders, the audit says.
Lack of Data
Student transportation is also affected by the twin issues of data and technology. The 2012 audit repeatedly emphasizes that the department simply doesn't have the information it needs to do basic things, like analyze the location of bus stops, measure the efficiency of routes or know whether contractors are fulfilling the terms of their contracts. Yet, technology makes it increasingly easy to get this sort of data.
L'Heureux has instituted a pilot project on Hawaii Island to address this issue, installing GPS tracking hardware and software on 15 buses in the Waikoloa area. This, combined with new route-finding technology, is key to rationalizing how student transportation operates. "Any transportation enterprise today is going to have some sort of route-management software," he says. "It's an industry standard. It's unreasonable to think that, in 2013, you wouldn't have it. But guess what: Hawaii didn't have it.
"The advent of this technology satisfies one of the largest problems facing the transportation branch: It has no actionable data on which to base its routing. Once we instituted this technology on the Big Island, I discovered – to no one's surprise – that we had routes from different vendors on top of each other." Absent reliable data, this kind of waste and inefficiency would have gone undetected.
Something similar has also afflicted DOE's food-services program, according to a report from the department's new internal-audit section. "We can't say that we have integrity in our food-service accounting," Horner says, "even though it's a $90-million-plus business."
Part of the problem has been an ineffective chain of command: The food-service managers at schools reported to the principal but were funded by the central office. That meant no one at the school had the incentive to control costs in food service. That was a fairly easy fix, but the system is still burdened with inefficiencies. Horner doesn't blame the employees, though. "It's one thing," he says, "to say we have challenges there, but when you look at the infrastructure, you find the food-service person in the field is literally keeping inventory on a three-by-five card. So, we have a multimillion-dollar business with its inventory on three-by-five cards." In short, we haven't invested in a modern, efficient food-service program.
That shortsightedness can also be seen in the small budget DOE gets for capital-improvement projects. "We have 256 schools spread across the state," says L'Heureux. "The average age of those facilities is 65 years old, but we're 51st in the nation with regard to capital improvement dollars per pupil going back into those facilities. That includes the District of Columbia. And when I say 51st, I mean way over there 51st," he says, emphasizing the big gap between Hawaii and the 50th-place state. In fact, out of a $2.3 billion annual budget, DOE spends only about $210 million on CIP. L'Heureux likes to compare that with the city of Cleveland. "It only has 96 schools within the district," he says. "I don't know where that means they fall on the size scale, but their capital-improvement budget is $1.1 billion."
Despite these obstacles, the leadership at DOE is optimistic about change. Horner, for example, acknowledges the difficulties ahead, but notes, "I've been pleasantly surprised that the vast majority of the professionals within the DOE wanted these changes. This hasn't been a difficult task. And even when it's been difficult, the impediment hasn't been the people. The impediment has been the infrastructure."
Of course, another way to put that is to say the real impediment to proper accountability is money, and Horner the ex-banker is a realist when it comes to money. "Could we use more investment in capital and staffing? Absolutely. Do we realistically expect that to happen given the constraints of the national and state budgets? That's going to be difficult. But is that an impediment to us reaching our goals? No."
Superintendent Matayoshi is also cautiously optimistic. She points out that she was hired by her predecessor, Pat Hamamoto, precisely because of her background as a change agent – she helped streamline the state Department of Commerce and Consumer Affairs during Gov. Ben Cayetano's administration – so she knows what she's gotten into.
"I think it's always a struggle when you're trying to make transformational change," she says. "That's because there are going to be people doing what they know, and what you're asking them is to do something that they're not familiar with. So, there's a huge change-management piece to this."
But Matayoshi believes DOE's new strategic plan is robust enough to overcome institutional inertia. And, like Horner, she thinks the system can be made accountable even in an era of flat budgets and burgeoning needs.
"You can go faster," she says, "if you have more money to invest quickly. But money's not going to be an impediment in the long run."
You may also be interested in reading: