Assets School Plans to Reopen in August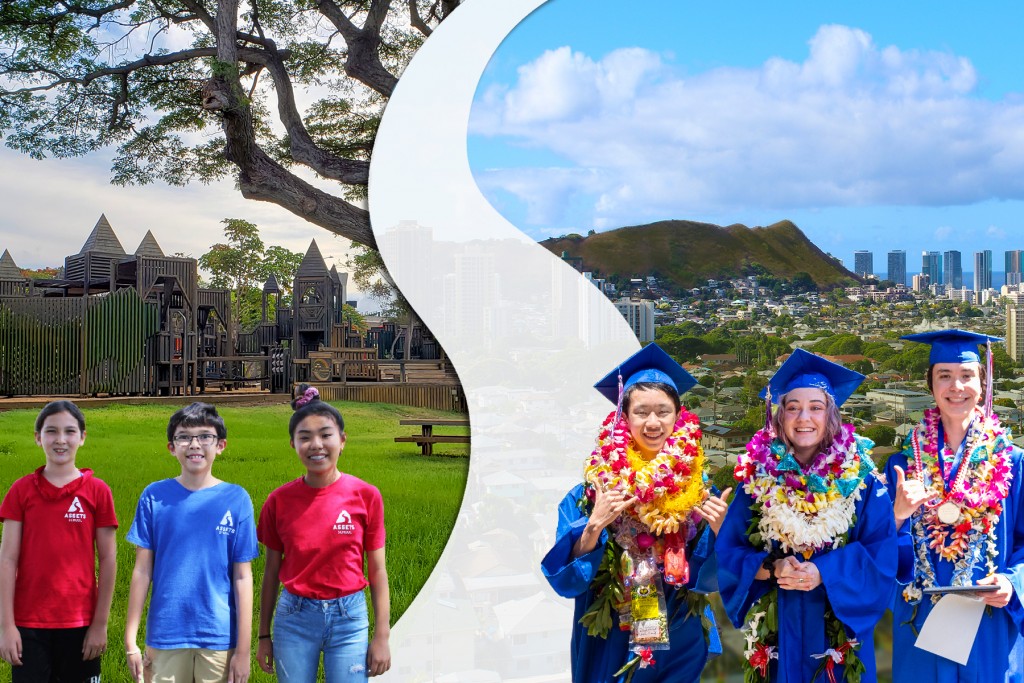 Head of School Ryan Masa describes the changes that will make it safe for students to learn
Assets School, a private school with two O'ahu campuses, hopes to resume in-person learning in mid-August. The school focuses on students with ADD, ADHD or dyslexia.
Hawaii Business Magazine interviewed by email Ryan Masa, who has served as head of school since last year, after spending five years as the school's principal for kindergarten through eighth grade. The interview has been edited for length.  
Please describe how your school plans to reopen this coming school year?
The goal of our reopening plan is to safely have students on campus with in-person instruction. If by circumstance or government order we are not able to be on campus at some point during the school year, we have a high-quality distance learning program ready.
Our approach for safely reopening is to greatly mitigate risk through multiple coordinated strategies, because we know that no single measure is sufficient. We have put everyone's health and safety as our North Star while also honoring our students' intellectual, social and emotional needs.
We expect younger children will have more difficulty adhering to certain guidelines all day, which is why we will keep them in designated school "'ohana bubbles" (i.e., cohorts). 
We dramatically enhanced cleaning and disinfecting protocols. All students will wear cloth face coverings and have a health screening when they arrive. Of course, social distancing will be in effect throughout our two campuses. We have hand-washing and hand-sanitizer options readily available. Students will have personal school supplies whenever possible and we will sanitize all shared materials. We modified our schedule so there are staggered drop-off and pickup times and less crowded lunch and recess times.
Our health rooms have been upgraded over the summer. Our K-8 health room is now in a large area dedicated solely for their care. This allows for more physical distancing in case we have more than one child visiting the health room. 
We have two spacious and beautiful campuses to allow for social distancing. Our K-8 is located at One 'Ohana Nui Way near the airport and our high school is located in 'Ālewa Heights, with plenty of outdoor and indoor learning areas.
Lastly, but maybe most importantly, is education. We need our students, faculty, staff and parents to all be agents of change as opposed to objects of change. Our health is interconnected, and we all share this community. A big job is to help our students understand how to properly wear and care for their face covering. We have to help everyone change cultural norms around visiting campus, greeting one another and playing with friends in a safe way. Students who are not feeling well will need to do their best to articulate their symptoms immediately to their parents and refrain from going to school, rather than waiting for symptoms to escalate.
Assets School focuses on children coping with ADD, ADHD or dyslexia. How have their education needs been impacted by the shutdown in ways different from other students?
I think all children have been affected by the pandemic and the transition to distance learning last school year. Most obviously, we are living through a stressful time and children are a barometer of family stress. It is said that emotion is the "rudder of learning." If our children are anxious or emotionally vulnerable, they are not as available to learn. 
Children who learn differently are bright but might struggle in a certain area like reading, writing or math, which makes it difficult to work independently. Despite their ability to understand what's going on, remembering and retaining information can be difficult.
Some need more time to think about and apply what they've learned. Many require direct instruction in foundational skills, opportunities and time to practice their new skills, and access to accommodations that support their learning. This often causes difficulties in a traditional school, which is its own stressor. Coupled with COVID-19 and the sudden transition to distance learning and physical distance from friends and caring teachers, anxiety has massively risen for many students and it is understandable.
At Assets, we have highly and specially trained teachers who understand and meet our students' needs. We also scaffold our school environment to support our students, such as visual reminders throughout the classroom, alternative seating that allows them to "get the wiggles out" and a schedule that suits them. Some of this translates nicely to a virtual setting and some not as much. However, we are fortunate to have had a one-to-one technology program for years, so our students are familiar with using iPads or laptops daily, from the beginning of their educational journey whether they are home or on our campuses.
What worries me the most are students who learn differently, at any school and in any educational model, who are not getting consistent instruction and support from highly trained teachers because of COVID-19. We have long known about the "summer slump" where students who learn differently often lose some of the progress they made during the school year, which is exacerbated by the summer gains their peers make. This is often because they are not receiving regular instruction and are avoiding activities that are difficult, such as reading for pleasure. If we see some version of this during COVID-19 with all the hybrid and virtual learning options, we run the risk of increasing the achievement gap for our students.   
How have your school's finances, fundraising and expenses been affected by the pandemic?
Our school is financially healthy because it has been well-managed for decades by our trustees and former heads of school. We strive to serve only a few hundred students, so our enrollment is good. We also receive new inquiries daily as we offer rolling admissions.
However, our expenses and needs have increased because of COVID-19. We are strictly adhering to the guidelines from the Centers for Disease Control and the Hawai'i state Department of Health. The enhanced safety measures required to safely reopen campus are compounded by a skyrocketing need for financial aid.   
We have seen the number of financial aid requests soar from longtime dual-income families where one parent was recently laid off, and existing financial aid families who need supplemental funding to keep their child at Assets. Annually, more than one-third of our students receive financial aid. We are trying to accommodate all our families and their financial situations.
We had to cancel our annual fundraising gala in mid-March. We are immensely grateful to all the corporations, foundations, trustees, donors, alumni, staff, families and friends who support our event and continue to show their commitment to our success. We cannot thank them enough. 
On July 16, we launched our online virtual auction and all proceeds will go toward supporting our families devastated by COVID-19. 
What changes do you foresee at Assets School long-term?
I am proud of Assets' legacy and its 65 years of educating Hawai'i's best and brightest while transforming lives. Assets is recognized as a national and international leader in our field. Changes in the future may involve reimagining our physical spaces to support our students' developing talents. We will be revisiting our master building plan for both campuses.
Our school has always seen its mission as larger than the walls of the school. There are so many children who learn differently and we can only directly serve a small percentage at one time. We currently administer a free literacy screening. To be eligible students need to be beginning their second semester of prekindergarten or in kindergarten through third grade.
The screening is quick and we sit with parents after to go over the results, which include a child's current reading skills, identification of skills in need of intervention, and a prediction of future reading achievement if they do not receive intervention. For more information, please contact Assets Director of Professional Development and Outreach Darlene Robertson at drobertson@assets-school.org or at 423-1356, ext. 611.