Challenges Facing Nonprofits: Honolulu Museum of Art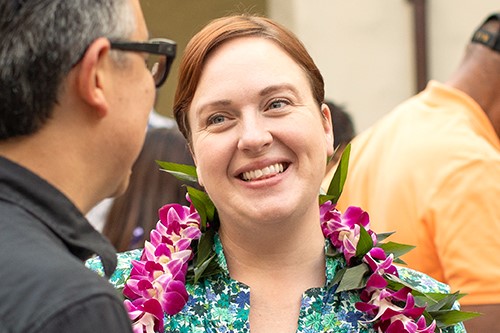 Interview: Halona Norton-Westbrook, Director, Honolulu Museum of Art (HoMA)
Please describe how and when you are conducting your return to your museum and other physical locations.
We're excited to welcome the entire community back to the Honolulu Museum of Art on July 16 with new weekend and evening hours geared toward Hawai'i's residents and local families. Of course, we'll have new safety protocols in place throughout the museum to keep all of our guests, volunteers and staff safe. And, we're encouraging kama'āina to rediscover the amazing gem that exists right here in our own backyard by extending free museum admission to all Hawai'i residents every Friday from 4-9 p.m. through Sept. 11, thanks to our partners at Hawaiian Airlines.
After your transition period ends, how do you think your "new normal" will be different from your old normal?
The world has changed virtually overnight, and we are actively learning what it will take to better serve our community now and in the future. Our quick pivot to engaging visitors through social media and digital outreach during the government's stay-at-home order was well received, and it set us down a path of exploring the full potential of the online experience in complement with the in-person experience. This new approach will allow us to remain flexible, adaptive and relevant to our audiences for the duration of the pandemic and into the future.
How are you going to ensure good employee performance and engagement under your new normal?
While difficult, the museum closure has given our employees the gift of time to reflect upon and appreciate our institution's rich history and unique attributes, and to use that as a platform for what we can uniquely offer to the community going forward. We will reopen with a renewed sense of purpose, detailed plans that encourage much deeper collaboration across departments, and a shared vision of the important role that art plays in improving our lives and the society we live in. 
Are there other important lessons your organization learned from this crisis?
Like so many nonprofits, the pandemic has required us to look closely at our operations and activities and make critical adjustments. Despite the challenges, I have been so impressed by the way our museum 'ohana has rallied in response to this crisis with selfless teamwork, resolve and amazing creativity. During this pandemic we have witnessed our entire community come together to protect the vulnerable and do all we can for the common good. That is a powerful lesson for all of us, and through this shared experience our museum has come to a deeper understanding that collaboration yields the best results and, at the end of the day, we are all better together.