Teaching Today Requires Transformation and Innovation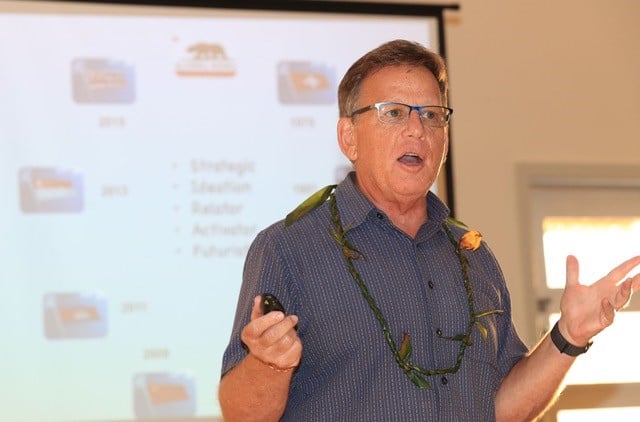 Interview with Robert Landau, Founder and Strategist, Two Roads Education
Landau is an education consultant and leader and the former executive director of the Hawai'i Association for Independent Schools.
What do you envision for education in the future?
This is the million-dollar question! I think of students sitting at the feet of Socrates or Confucius and draw a straight line to the creator of experiential education, John Dewey, who eloquently stated that "If we teach today's students as we taught yesterday's, we rob them of tomorrow."
So why are we still using the factory model from the 1800s to educate our children in 2020? Just think, a child born at the turn of the 21st century will be 21 in a few months. Our first 21st century teachers will be in schools in a few years.
I am a futurist through and through and I believe that educators must be aligned to other sectors like technology, scientific research, medicine and law. These sectors change daily. Change is the only constant. No one in education should ever be complacent.
We need to prepare our children to be competitive in the global economy as the world shifts, automates and disrupts; to that end, I envision a future where colleges will accept students based on the "content of their character" accomplishments, not their grades or test scores.
I am currently involved in a project where students will work in cohorts focusing on the major problems and challenges of our time. Covid-19 has presented the education sector with tremendous challenges. I look at these challenges and I see an opportunity for major disruption in the education sector that ultimately will benefit students by radically transforming our systems, structures and priorities.
What is the role of Hawai'i's business community in helping make such schools a reality at scale?
Collaboration! For too long schools have built a barrier between graduation requirements and relevance in the real world. For years now we have been hearing that 50% of jobs of the future have not yet been created. We know that many college graduates lack the critical thinking and innovation skills needed to work in these environments. We know that internships and apprenticeships expedite the learning process.
As mentioned above, I am currently working on a project that will give students unprecedented amounts of time to join the business community via extended internships and apprenticeships to gain exactly this type of experience and exposure. 
Classic work study programs already exist but do so with insufficient amounts of time to make these experiences relevant and transformative. Why? Because students are bound by schedules, courses, credits and lots of extraneous work. 
So much time is devoted to unreasonable and unrealistic courses and credit work. Educators need to leverage the business community to create a streamlined link to higher education. 
Students spend 13 years in a regimented credit-based program, only to enter college for more credits. From my direct experience in transformational schools, students are ready for more intense work-based experience as early as 4th grade. Just last year, 3rd-5th graders in my former school started a reef-safe sunscreen company that reimbursed investors within three months! 
What do Hawai'i's education and business leaders need to do together to ensure that our kids succeed in this 21st century?
As progressive educators we love to tell the stories of former students who were hired by tech companies out of high school. We share anecdotes about students who started their own businesses and those who developed their own patents. In fact, at one of my former schools, two high school students invented a portable incubator for premature babies that ran on a chemical reaction that produced heat. These are the true success stories in education!
With the proliferation of technology and the emergence of self-taught entrepreneurs and inventors, why do we continue to think traditional K-12 schools are better than real-world opportunities that young people experience while doing internships and apprenticeships?
I lived in Switzerland for 22 years and a majority of 16-year-olds left formal school to start apprenticeships. They worked in banks, factories, businesses, garages and shops. They moved up the ladder within a real-world environment and enjoyed successful careers. We need to completely blur the lines between schools, businesses and nonprofits. We have early college programs – let's create more early career programs as well.
What advice do you have for local working parents?
Right now, our working parents have the same options they've had for decades: public, public-charter and private schools. During these unprecedented times, many parents are turning to home school networks or forming cooperatives. Before this global pandemic parents assumed their children would be supervised by these institutions, Monday through Friday. Most schools even offer early morning and after school programs. On those unusual days when the child is ill and cannot go to school, working parents faced a dilemma they have now experienced for months and for the foreseeable future.
Unfortunately, the primary focus to get kids back to school is a square peg in a round hole. The numbers don't add up so older students will continue the hybrid models that will keep children home for parts of every week. The much-used phrase, "new normal" will continue to be abnormal for working parents. It's time to be innovative, creative, and strategic about the way we educate our young people. My advice for working parents is to seek out ideators and futurists who are thinking about alternative models of education.