Restaurants' New Normal Comes with a Takeout Bag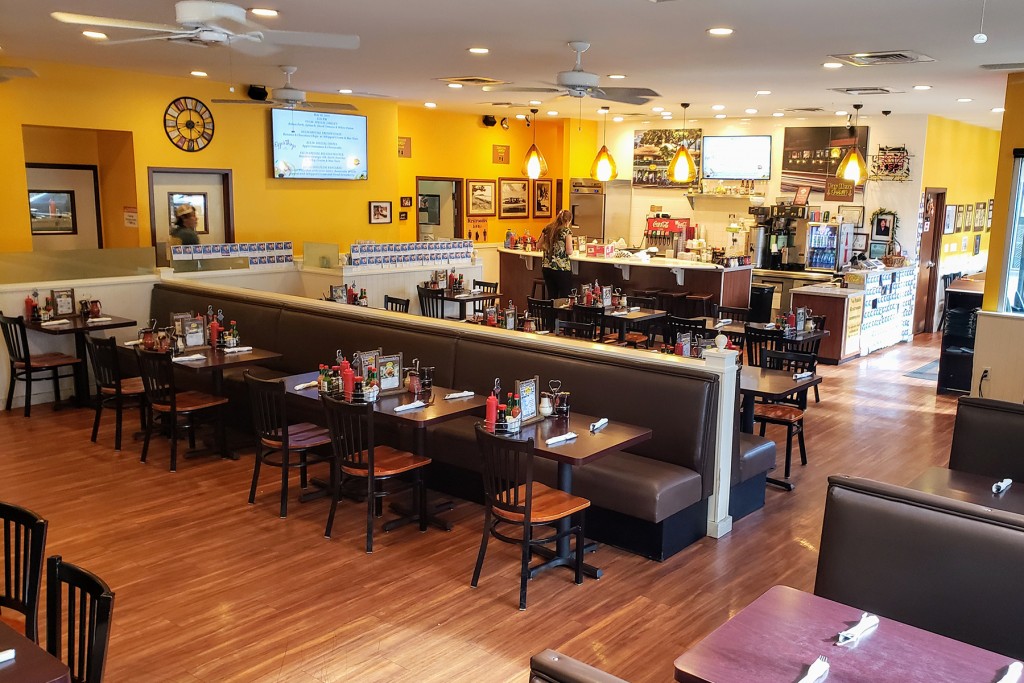 The coronavirus pandemic has forced many local restaurants to pivot their business models or risk closing for good. Here's a look at how restaurants have changed and how they are preparing for their new normal.
It was common to see the Discovery Bay McDonald's, nestled between Waikīkī and Ala Moana Center, buzzing with tourists, nearby residents, and retail and hotel employees.
That changed once the coronavirus pandemic gripped the Islands.
"The tourists are gone. The hotel employees are gone," says Victor Lim, owner of five McDonald's locations on O'ahu and legislative lead at the Hawai'i Restaurant Association. "The walking, passing by are gone … so the traffic has slowly disappeared."
Other restaurants have similar stories as coronavirus-related government mandates required them to temporarily close their dining rooms, residents to stay at home and tourists to self-quarantine. As a result, many restaurants furloughed or laid off employees, expanded their takeout and delivery operations or innovated in other ways.
Restaurants are now starting to reopen their dining rooms, but many operators say their industry won't look the same as before the pandemic.
"Coming out of this we're not going to be flocking back to restaurants the way we did anytime soon, so we have to be aware of the resources that we have," says Mark Noguchi, executive chef and co-founder of the Pili Group, a catering company.
"It's the time of the innovators. It's the time of those that dare, that can dare to think different."
Shifting to Takeout
Many restaurants that had never done takeout or delivery before are doing it now to keep staff employed and busy, Lim says.
"For many restaurants, they went from zero takeout business to now 100% takeout business, which is basically … anywhere from 15% to 30% of their old business," he says. And the revenue they're generating is "nowhere near what's necessary to sustain the business."
Tom Jones, chairman of the Hawai'i Restaurant Association, says the restaurants that have been successful with takeout are mostly those that offered takeout before the pandemic and had built a reputation for that service.
He says his Gyotaku Japanese Restaurants in Honolulu, Niu Valley and Pearl City exemplify that: Revenue was down 80% at the beginning of the pandemic as people stayed home, and leveled off at 50% of normal operations as people settled into new routines. He says those numbers speak to his restaurants' brand and existing successful takeout service.
The restaurant association's Keep Calm and Carry Out Hawaii directory lists about 1,000 restaurant locations that are open for takeout, drive-thru, curbside pickup or delivery. Sheryl Matsuoka, HRA executive director, says the directory is open to all restaurants, not just HRA members.
But shifting a restaurant's focus to takeout is difficult. Takeout and delivery only made up 10% of Brick Fire Tavern's sales before the pandemic, says Matthew Resich, co-owner of the Chinatown restaurant known for authentic Neapolitan pizza (watch our video interview with Resich). One of the challenges with transitioning solely to takeout and delivery, he says, is that the menu had to be revised to temporarily remove items that don't travel well.
For example, the prosciutto e rucola is one of the restaurant's most popular pizzas, with melted cheese, fresh arugula, olive oil and cold prosciutto. But time spent in a box on the ride home will cause the arugula to wilt and the prosciutto to warm up. So the pizza is not available on the restaurant's takeout and delivery menu.
Brick Fire Tavern's online menu contains four fewer pizzas and two fewer salads, and some items that had been cooked to order pre-COVID-19, such as meatballs, are now prepared so customers can heat them at home. Resich adds that the restaurant has also been working on making its dough crispier, so its pizzas travel better. "So there will be some cool things born out of this out of necessity," he says.
The restaurant's dining room has been closed since March 18, and while Resich considers his takeout and delivery operations to be successful, Brick Fire Tavern is only making 25% to 30% of what it normally made before the pandemic.
Koko Head Cafe initially tried takeout when the pandemic hit in March and then closed after sales couldn't cover the restaurant's costs. Chef and co-owner Lee Anne Wong says the brunch house was losing $1,000 a day on average.
"When you talk about the cost of electric, water, turning the lights on and your staffing, that's about the average," she says, adding that the restaurant used to bring in an average of $9,000 or $10,000 on a Sunday when its dining room was open. "So slash that down to like maybe $3,000 or $4,000 on a Sunday with just delivery, and you can see the math just doesn't add up anymore."
Koko Head Cafe reopened in early May for takeout and delivery after receiving a loan from the federal Paycheck Protection Program that allowed it to rehire some employees.
Most restaurants' business models depend on lots of diners, Resich says, because they have large bills for rent, labor and supplies. Those bills don't go away when a restaurant is only open for takeout and delivery.
"It's all about square footage that you're paying for," he says. To adapt to a takeout model, he says, a restaurant would need a smaller space.
Mark Oyama, chef and owner of Mark's Place in Līhu'e, writes in an email that he thinks ghost kitchens and virtual restaurants will become a new normal in the industry to help restaurants reduce costs. Some restaurants and chefs on the Mainland have already adopted these models, where food is prepared solely for delivery or takeout. Sometimes, the kitchen preparing the meals is attached to a full-service restaurant; other times, the restaurant operates out of a shared commercial kitchen with other virtual restaurants.
Thomas Naylor is the founder and executive chef of catering company Ke Nui Kitchen and virtual restaurant Open Kitchen O'ahu. When the pandemic led to the cancellation of Ke Nui Kitchen's catering contracts, he launched Open Kitchen O'ahu on March 17 with the catering company's staff and its Hale'iwa kitchen. Customers can order individual- or family-size meals online and either pick them up or have them delivered. There's no dining room, and the menu changes every two weeks.
If it's successful, Naylor says, he would want to move his virtual restaurant closer to urban Honolulu: "Especially as people start going back to work, you'd have more exposure, especially office buildings and et cetera, to have this virtual kitchen."
While some people view virtual restaurants and ghost kitchens as new concepts, the Pili Group's Noguchi says the terms are just sexier names for takeout.
"You're still taking food out to take it home," he says. "It's like a virtual restaurant, it's not like you buy takeout and it comes with a person that will follow you to the house and wait on you. Right? So in essence, I think virtual restaurants is what we're calling the new takeout."
Found Opportunities
Some local restaurant owners say the pandemic forced them to get creative in how they run their businesses.
"Some businesses, I think, will come out of this stronger," says Alexa Caskey, co-owner of Moku Roots, a vegetarian and zero waste restaurant in Lahaina. "And it'll be the ones who took this opportunity to like, say, 'OK, what could we implement that's going to make us better right now?' "
She adds: "I've really been trying to be cognizant of things like that, of improvements that we can make right now, how that's going to affect us in the future and help us out." Some of those improvements include offering delivery, produce boxes and grab-and-go food options.
A few minutes away in Old Lahaina Center, Sale Pepe Pizzeria e Cucina also changed its offerings. Its takeout and delivery menu has new budget-friendly specials; family-style platters; pizza kits; and pantry items, like Italian flour, olive oil and vinegar. And Whole Foods O'ahu recently started carrying Sale Pepe's locally made pasta and sauce line, called Bu'ono. Qiana Di Bari, who owns the restaurant with her husband, Michele, says she feels lucky the restaurant has that additional revenue stream during this difficult time.
"We just feel like that revenue stream is a relief that we don't have to have it all come from the takeout and the delivery here or the sparse in-room dining that we'll eventually have," she says. Before the pandemic, Sale Pepe's dining room was lively and often packed with customers who knew each other's names and chatted between tables.
Pili Group shifted its focus to supporting the broader community when its catering contracts were canceled because of the pandemic. Noguchi and his wife, Pili Group co-founder Amanda Corby Noguchi, launched initiatives with other community and restaurant partners to rescue excess food and prepare and deliver meals to communities in need.
This work is under Pili Group's Chef Hui, which was launched in 2018 and comprises local cooks and food service providers. Part of the intent of those efforts, Noguchi says, is to help local restaurants offering takeout and delivery make up for pandemic-related drops in revenue.
Another new initiative created to help restaurants pivot to takeout and delivery is Elite Delivery, a service under Elite Parking Services. Ryan Chun, president and partner of Elite Parking Services, says Elite Delivery delivers meals from over 50 restaurants across O'ahu through the Hawai'i Agricultural Foundation's Food-A-Go-Go program. The delivery service is free to restaurant partners; customers pay a $10 delivery fee.
"Our intent still is not to full-fledge ever try to compete with the Uber Eats or Grub Hubs of the world," he says. "We're really just trying to do this wonderful community that we live in right, get some of these restaurants through a hard time, and work through it together." Elite Delivery also delivers meals for the Show Aloha Challenge, which prepares and delivers free meals to kūpuna.
Chun says Elite Delivery delivers over 1,000 meals a day and helps keep 60 to 70 Elite employees on the payroll.
New Normal
Restaurants around Hawai'i have already started to reopen their dining rooms – and they don't look the same.
State Health Department and county guidelines now generally require tables to be spaced 6 feet apart and customers to wear face coverings. The rules also limit the sizes of groups that can dine together and prohibit self-serve buffets and drink stations. And restaurants are required to clean and disinfect often, among other requirements.
Obviously, social distancing and sanitation will continue to be key themes in restaurants, says Lim, the McDonald's franchisee.
"We do not shake hands, right? We don't touch and we do air hugs. We wear masks," he says. "And we used to laugh at people from Japan and Korea and Taiwan and Thailand that they're wearing masks, and, yet, now you don't walk out the house without a mask. So these are the kind of things that you see; this is the new normal now."
Restaurants have always depended on high sanitation standards to stay open, but Michael Skedeleski, director of operations at Eggs 'n Things, which has four locations on O'ahu, says one positive outcome from the pandemic is that restaurants will be cleaner than ever and more transparent about their sanitation procedures.
McDonald's has almost 40,000 restaurants around the world and takes customer and employee safety "to the extremes," Lim says. In May, the fast-food chain distributed a 59-page guide to franchisees that outlined procedures they should follow to safely reopen their dining rooms.
"We took the position that you have one chance to do it right when you reopen the restaurant … You as customer when you walk into our place, all your apprehension, all your concerns, we would have addressed it based upon what you see, CDC guidelines and things like that," Lim says.
He adds that drive-thrus will also grow in importance because they allow customers to order and pick up food with minimal contact. Before the pandemic, a typical McDonald's drive-thru would bring in 60% to 70% of total sales.
Nathan Fong, senior VP and retail services group leader at commercial real estate company Colliers International, says drive-thru sites have been in high demand over the past few years for quick-serve restaurants and gas stations.
"We're going to see a lot of other restaurant concepts starting to implement drive-thrus if they can," he says, citing Panda Express' drive-thru on South King Street as an example. "They were able to make that work. And you know it's interesting because you think of a quick-serve restaurant being more of hamburgers and french fries, but eventually you'll be able to get every single food type out of a drive-thru."
Restaurant operators agree that takeout and delivery will continue to play a large role in their new normal, but people will also still want to dine in. And Elite Parking Services' Chun, who also owns a small restaurant in the Luana Waikiki Hotel called Fish Hook Café, says he can't wait to serve them.
"You know, eating out is a wonderful joyous occasion," Lim says. "We go eat out, we celebrate the great things in life – birthdays, graduation, get-togethers, friendship. … And right now, because of where we are at, takeout will probably increase but I think our societal fabric needs to come back. It's part of being a human being."
Restaurant owners also agree that it'll take some time before their businesses get back to the way they operated prior to the pandemic. The Hawai'i Restaurant Association's Jones projects that local restaurants that fully reopen outside the tourism sector won't see 2019 sales levels again until mid 2022.
DK Kodama is the owner of DK Restaurants, which comprises four seafood and sushi restaurants, a steakhouse and an Italian tapas and wine bar. Only his Vino Italian Tapas and Wine Bar in Honolulu is open for takeout (featuring menus from Vino, the sushi restaurants and steakhouse); the rest are heavily reliant on tourists and remain closed. He doesn't anticipate reopening them until later in the summer, when, if all goes well, tourists will begin arriving in the Islands in larger numbers.
His restaurant group received aid from the Paycheck Protection Program to help it stay in business even while most of its locations are closed. "We did have some money to keep us going for the next foreseeable future," he says. "We need to have tourists come back, that's the bottom line."
In Chinatown, Brick Fire Tavern's Resich is not rushing to reopen his dining room on June 5 – the first day Honolulu restaurants can reopen. He wants to see how other restaurants handle the new rules and whether they can bounce back.
He received a Paycheck Protection Program loan that covers his rent and payroll for two months and is staying alive with a skeleton crew doing takeout and delivery. But he admits he's worried that he won't ever be able to reopen the Chinatown dining room.
"I'm worried that the only way to get it open will be to incur more debt and the restaurant industry is not a high margin business," he says. "And at some point, there's a tipping scale where too much debt, it just doesn't make sense."
Watch our video interview with Hawaiʻi Restaurant Association Chair Greg Maples.