Sages Over 70: Walter Dods
The longtime CEO of First Hawaiian Bank is well-known for a multitude of community-building efforts over 60 years and his public service continues today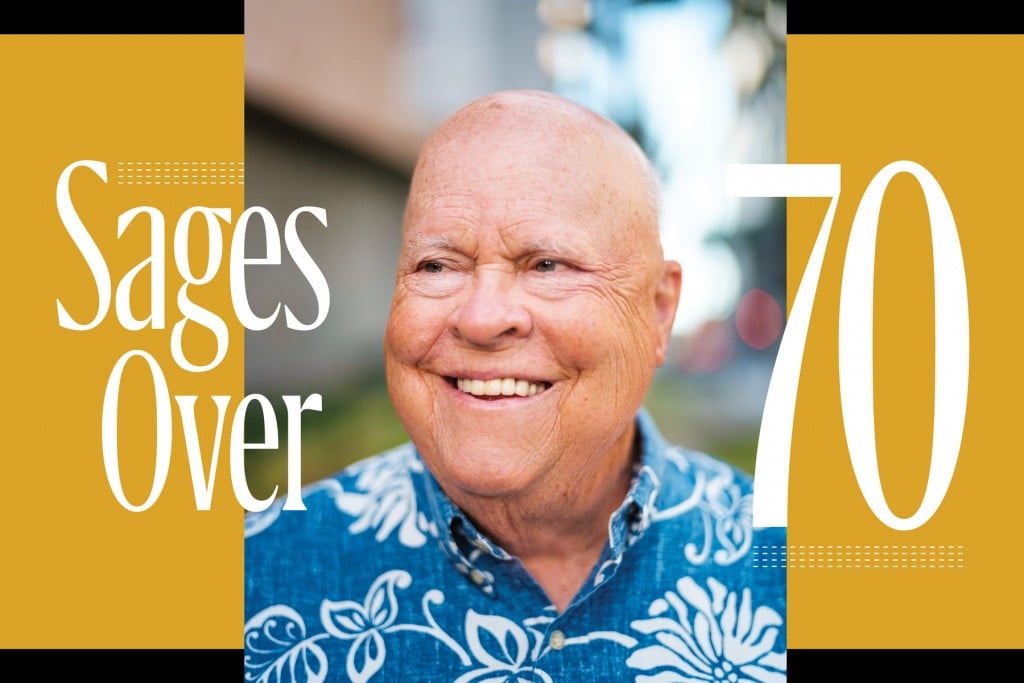 First in a series of profiles of Hawai'i's "Sages Over 70"
---
Walter Dods was working out at the gym about 10 years ago when he suddenly couldn't move one side of his body. He was rushed to an emergency room, half paralyzed.
"This young Vietnamese woman doctor checks me out and it turns out to be a small blockage in my brain," he says. The doctor looked at his paperwork, noted his name and asked: "Are you the Dods of the Dods scholarship? I went to UH and UH medical school on your scholarship."
Tears welled in Dods' eyes. "It brings it home," he says. "I wanted to help local kids."
Dods and his wife, Diane, created the UH scholarship fund for immigrant students who would be the first in their families to go to college, provided they finished public school. Because of that philanthropy, that doctor and hundreds of others had greater opportunities.
Dods is best known as the longtime CEO of First Hawaiian Bank. Almost as well known are his multitude of community- building efforts over 60 years. He hasn't stopped.
Today, at age 80, he is helping raise money to support festivities when the U.S. Navy destroyer Daniel K. Inouye, now under construction, is home-ported at Pearl Harbor in December. And he continues to serve on four corporate boards: for Par Pacific, Cincinnati Bell (Hawaiian Telcom's parent), Pacific Guardian Life Insurance and HC&D (formerly Honolulu Construction & Draying Co.)
Dods says his commitment to community grew out of his first job out of high school, as a mail boy at First Insurance Co. of Hawaii. His life changed when an insurance agent insisted he join the Jaycees, an organization focused on building leadership and community service.
"I got thrown in and forced to do it and then I loved it," he says. "It got pounded into my head that you're only as good as your community, and it never left me.
"They taught you silly little things like Robert's Rules of Order, how to organize budgets and stand up in front of groups and sell your ideas and motivate others to follow," he says.
Those were the seeds of Dods' marketing genius and inspiring leadership – and why he emphasized support for the community while CEO at First Hawaiian Bank from 1989 to 2004.
"By doing that we became a bigger, stronger bank and were able to help a lot of customers and employees over the years. As CEO I was able to get the bank more heavily involved in community service. One of my principles is if you get income from the community you give back."
His campaigns included recruitment for the Police Department, fundraising for the Blood Bank headquarters and rebuilding the old Community Chest into the modern Aloha United Way. He has also created million-dollar scholarship funds at his alma maters: Saint Louis School and UH, from which he graduated after years of night school.
Many of the people he's mentored over the decades have since stepped into leadership roles throughout the community.
Eric Yeaman, now chairman of the board of Alexander & Baldwin, is one. Yeaman remembers the day Dods asked if he would become CEO of Hawaiian Telcom, which Yeaman would eventually lead out of bankruptcy.
"Prior to that we had maybe a 10-minute conversation," says Yeaman, "but he said, 'I've been watching you over the years and I'm impressed by what I see and what I've heard from others. And I was wondering who was an up-and-coming guy who had the energy to take this on.'"
Yeaman gave the question deep consideration and said yes.
Then, Yeaman says, Dods told him: "'You're CEO and I'm chairman of the board, but you're in charge. You use me as much or as little as you want. It's up to you. One thing you have to understand is if you ask me for my opinion I'm going to give you my honest opinion. If you decide to do what I suggest, I will support you 100%. And if you decide to do something different, I'm going to support you 100%.'
"That created this safe space and that gave me permission to ask him anything, whether I thought it was stupid, it didn't matter," says Yeaman. "That safe space allowed me the freedom to use him in the way that made me feel comfortable. And he lived up to his word." And Dods is still mentoring Hawai' i's future leaders today.
While Dods led First Hawaiian, his counterpart at Bank of Hawaii was Larry Johnson, another community leader. Despite their business rivalry, they were friends.
"For many years, Walter and I competed in an aggressive but fair way," Johnson writes in an email. "We mutually respected each other and often participated as a two-person team on various nonprofit fundraising campaigns. Our friendship has lasted almost 60 years and I am proud of all that he has accomplished for our community.
"He will be remembered as one of the most respected leaders of our time."