Sanitary Best Practices Before Your Employees Return to the Office
Many local businesses have been working remotely but are considering a return to the office when the pandemic is finally over. I interviewed Scott Paul, CEO of Kleenco Group, about what to do before taking that step.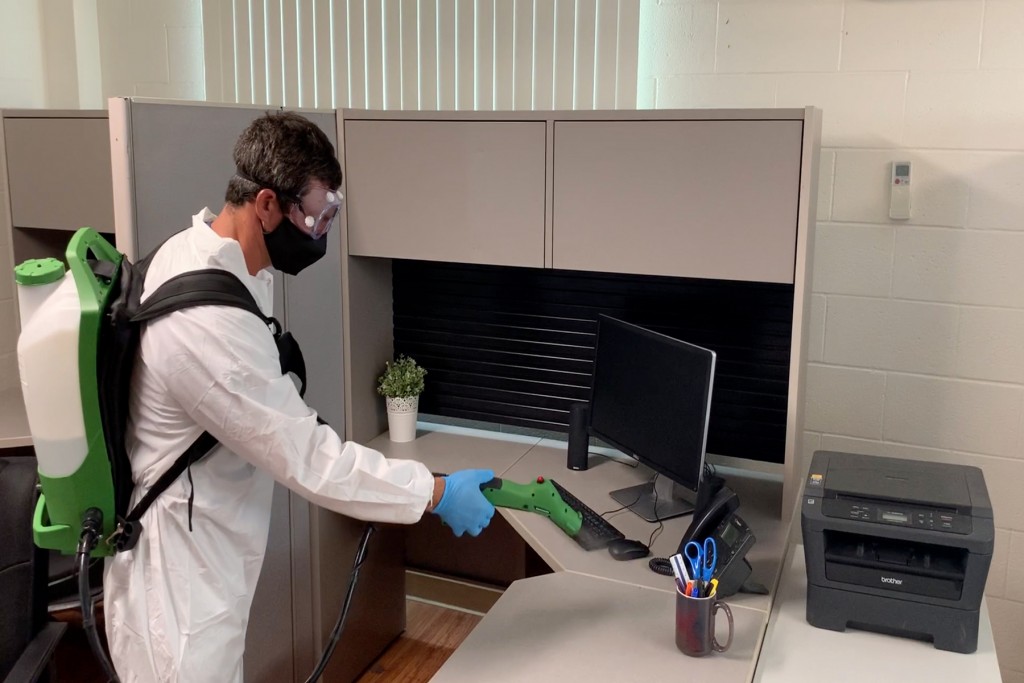 Question: What are the main health and sanitation issues an organization needs to think about before it brings lots of employees back to the office or other locations?
Answer: Consider four steps.
Declutter. Remove unnecessary items from desks and office spaces. It will be easier to clean, and there will be fewer places for viruses and bacteria to hide.
Reconfigure. Organize workspaces to encourage social distancing, allowing for at least 6 feet between each employee. In some cases, additional physical barriers may be necessary, but more often, businesses are simply reducing places where people gather. This includes capacity restrictions in conference rooms, restrooms and break rooms.
Communicate. Post signs about any changes and new protocols related to COVID-19, such as mask mandates, health screenings and social distancing requirements, and review with employees before they return. Ensure that your workspace and sick-leave policies meet local, state and federal guidelines. Have a plan for when an employee exhibits symptoms or tests positive for COVID-19.
Empower. Make hand sanitizer and disinfecting wipes easily accessible, particularly near high-touch surfaces such as elevator buttons and entrances, and in shared spaces. Remember to comply with U.S. Occupational Safety and Health Administration (OSHA) regulations when supplying cleaning and sanitizing materials to employees. Rules around personal protective equipment should also be clear. Make it easy by supplying reusable masks to all staff.
Q: What pre-back-to-office services do you provide that help protect the health and safety of a company's employees and customers?
A: Even unused workspaces can become dusty and dingy over time, so we recommend a deep clean of all surfaces to remove dirt and debris. This can include shampooing carpets, dusting ceiling fans and light fixtures, and scrubbing and recoating hard surfaces. Don't forget your restrooms and other high-visibility areas.
Small improvements, such as cleaning grout in restrooms, are cost-effective ways to refresh the look of a space and protect from dirt and grime buildup.
Consult an HVAC professional to ensure that your air-filtration systems are working efficiently. The U.S. Environmental Protection Agency recently provided updated HVAC maintenance guidance for heating, ventilation and air conditioning systems to combat the spread of COVID-19 in indoor spaces. At our Kleenco Group offices, we use affordable Honeywell HEPA air filters that purify the air several times per hour in each office and in all shared spaces. We also recommend opening windows whenever possible for fresh air circulation, which helps dissipate the concentration of aerosolized viruses, according to the U.S. Centers for Disease Control and Prevention.
Q: Before the pandemic, many offices were cleaned nightly by janitorial staffs. How should these cleanups be different in the new world?
A: Employers have a legal obligation to provide a safe workplace, which includes protecting employees from the spread of illness. Regular cleaning is critical to ensuring safety. Review your budget to help determine what cleaning services you can afford. Select a trusted professional who has extensive experience in the Hawai'i market, as well as the proper training and certifications. Your janitorial team should understand COVID-19 protocols, federally approved sanitizing products (EPA List N disinfectants) and PPE requirements.
Once employees return to the office, electrostatic spraying – the professional application of a positively charged disinfectant to negatively charged surfaces – can be added to routine cleaning to ensure that surfaces are fully sanitized. This is particularly efficient for larger areas. Additional spray products can even help slow the growth of viruses and bacteria on surfaces.
Honolulu-based Kleenco Group is a leading provider of professional cleaning, tile and grout solutions, and licensed building maintenance services throughout Hawai'i. kleencogroup.com