Saving the Science Fair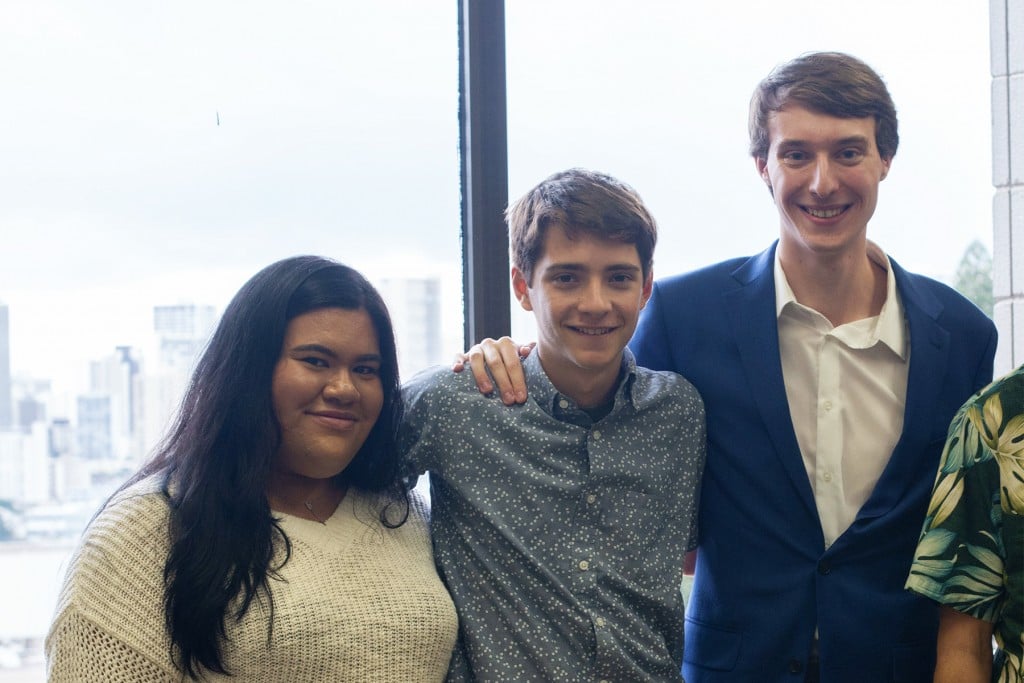 Fair went virtual on a locally created platform called Student Corner
Local students had spent months, even years, preparing projects for the Hawai'i State Science Fair when the pandemic shutdown happened. That's when organizers turned to Hawai'i Island-based Student Corner.
The digital platform staged the science fair virtually and raised the bar by providing a permanent online home for the students' projects.
George Donev, a UH Hilo student and CEO and co-founder of Student Corner, calls it a LinkedIn for students: "An online educational platform where students and teachers can upload projects, collaborate with others, get feedback and showcase student work."
In fact, he says, it goes beyond LinkedIn by allowing users to create and upload projects to create a portfolio.
"Unlike Google Drive that's very much just for an online document, and unlike LinkedIn, which is just for networking profiles, Student Corner bridges the gap between those two. Students can showcase their work for college applications, internships, jobs and other opportunities."
Mary Wenstrom, director of partnerships and innovative learning at Hawaii Technology Academy, a statewide charter school, finds the online portfolios especially useful. She says the University of California system no longer uses SAT and ACT scores in its admissions process, because it realizes "scoring well on a test has no correlation to success later in life." Student-created projects are a better indicator, she says, because project-based learning uses more real-life skills like collaborating, time management, problem-solving, hard work and applying knowledge.
The science fair was scheduled for April 8-10 at the Hawai'i Convention Center when the shutdown order came down. "We only had three weeks for the high school students to turn their science fair projects digital," says Amy Weintraub, director of the Hawaiian Academy of Science. They quickly prepared the students and parents.
"We had webinars three to four times a week. It was basically a walkthrough of Student Corner, and some clarifying questions were answered: the rules, procedures and how they would be judged."
One student who dedicated incredible time and effort to his science fair project was Kāʻeo Kekumano, a senior from Kamehameha Schools Kāpalama. Kekumano, who starts at Harvard University this fall, placed third overall in the science fair for his two-year-long study of compounds in sea cucumbers and their potentially anti-cancerous properties.
"Student Corner is a great platform for me to showcase my project," he says. And with the projects online, he says, any time constraints on the judges were eliminated. They were able to spend more time looking at each project in-depth and revisiting them as needed, without worrying about students packing up their trifold boards at the end of the day.
Kekumano says the audio/video feature of Student Corner was also popular because it allowed students to reshoot their videos as many times as needed to get it right. Kekumano missed the in-person science fair – seeing his classmates and the excitement of the event – but found it easy to share his project through Student Corner, and to view others' work.
Student Corner is one part of an education trend toward more project-based learning and digitization, and away from tests. HTA's Wenstrom believes a blended learning model combining digital learning with traditional classroom learning using easy-to-use platforms like Student Corner is the way forward into education's "new normal."
Steve Smith, COO of Student Corner, who has a master's degree in learning design and technology from Purdue University and is pursuing his Ph.D. at UH Manoa, supports this shift in education wholeheartedly. When he was a middle school science teacher, he says, "I wanted a platform like Student Corner for my students."
He believes students would be more motivated if they could "showcase their learning and take pride in their work," instead of working hard on a project only "to just get an A and that's it." In other words, there should be something bigger than a grade: a sense of accomplishment.
Read the list of science fair winners or view some of the projects.
---
Student Corner is providing free webinars to teachers interested in using their platform. For more information or to register, go to https://studentcorner.io/webinars.