Sea Level Rise Intensifies Debate Over How Hawai'i Uses Its Coastlines
A UH report asks decision-makers: What are the most important values and uses for the remaining oceanfront as the sea continues to rise?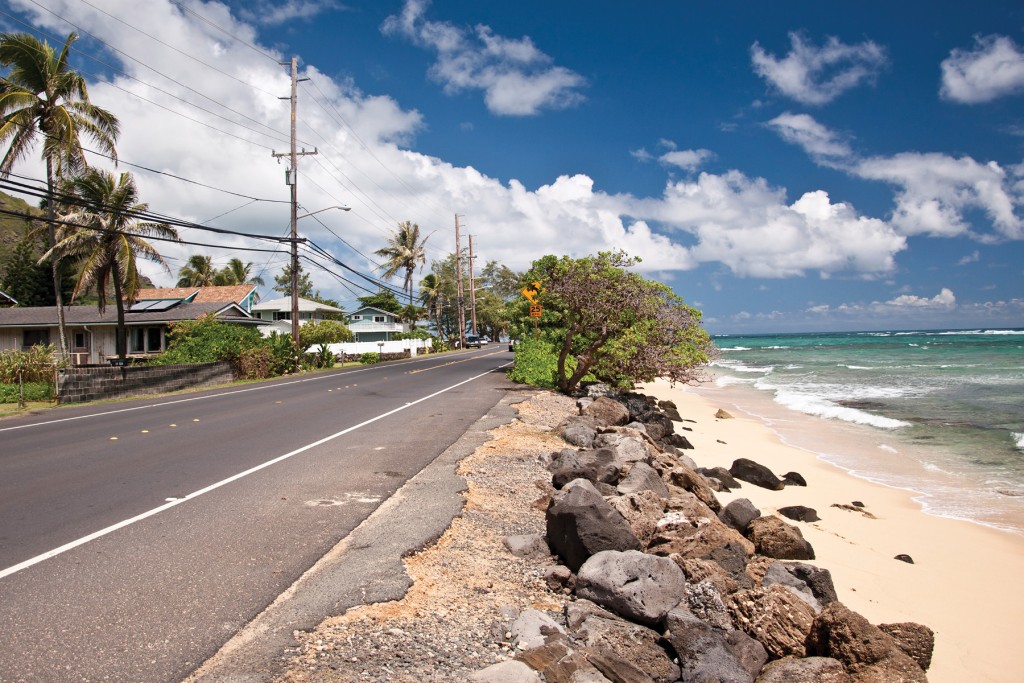 The sea is rising and so is the discussion about the most important things to preserve from the advancing ocean. Private real estate values? Ecological conditions? Nearshore recreational opportunities and family gatherings?
The issue has been put at center stage by three recent developments:
The new disclosures are on top of an oceanfront addendum Realtors can use for purchase contracts, says Realtor Anne Hogan Perry of Compass.
Awareness by Buyers and Sellers
Most prospective buyers and sellers are aware of how climate change impacts beachfront properties, Perry says.
However, the state's online map – which forecasts the areas that may be underwater at sea level rises of 6 inches, 1.1 feet, 2 feet and 3.2 feet – brings a new perspective on the potential future.
"What is a surprise, what is a shock, is the map," Perry says. "I think that is more of a shock in that they get that it is happening, but they may not necessarily get how traumatic it is."
For example, the map shows that every multimillion-dollar beachfront property in Honolulu's tony Kāhala neighborhood has at least some exposure to sea level rise of just 6 inches. But when the level is 3.2 feet, half or more of some entire lots are exposed.
The online Sea Level Rise Viewer shows similar impacts around the Hawaiian Islands.
Priorities and Competing Values
So the UH research team wanted to see how decision-makers viewed the competing priorities when dealing with sea level rise.
Here's how the researchers described their method: "Our interdisciplinary team interviewed and surveyed 42 civil society, government and the private sector representatives involved in coastal decision-making in Hawaiʻi. We grounded our conversations around three distinct coastal areas on Oʻahu: Kāhala, Kaʻaʻawa and Sunset Beach."
They asked three questions:
What uses and values of the beaches and coastlines do you identify as currently important for coastal communities and stakeholders?
Ideally, which uses and values do you see as shaping decision-making around adaptations to sea level rise?
What conflicts are emerging over such uses and values?
Current Uses and Ideal Uses
The results of the report are not surprising when it comes to current uses and values of coastlines for the three areas: nearshore recreation was rated No. 1 for Sunset Beach, onshore subsistence was tops in Kaʻaʻawa and real estate value was paramount for Kāhala.
"However, when it comes to what respondents think should ideally be prioritized in decision-making, respondents, on average, push ecological functions, habitat, spiritual and cultural values to the top in all sites. In contrast, real estate value was given the lowest priority across all sites, including for Kāhala."
The report also acknowledged conflicts over some of the steps property owners have taken to maintain beaches, including sea walls. While some of the people interviewed by UH said the new law would change property owners' expectations about their ability to protect the beach, others felt that sea level rise would make conflicts worse because as some beaches disappear, other beaches would become more crowded.
Meanwhile, the new law will at least help to educate homeowners and prospective buyers before they buy.
"I think we've known all along that some oceanfront properties are at risk, and that I don't think anybody's denying the sea level rising. That's a given," Perry says. "I think that the disclosures are essential, and the Honolulu Board of Realtors and most of us have taken a very strong stand."