Guide: Shipping, Air & Transportation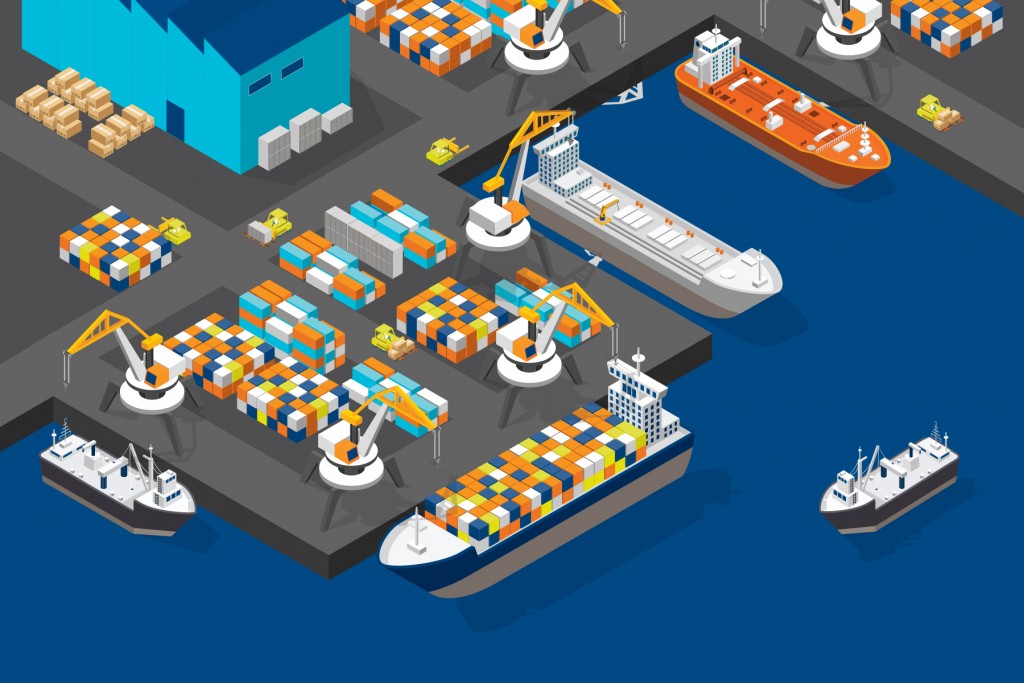 The Hawai'i Archipelago is the most remote island chain in the world.
Upwards of 80 percent of all goods consumed by Hawai'i's residents and visitors to the islands are imported into Port Hawai'i. Honolulu Harbor, one of the largest container ports in the US, serves as the hub of 10 commercial harbors across O'ahu, Maui, Moloka'i, Lāna'i, the Big Island, and Kaua'i and it handles over 8 million short tons of cargo annually. Its proximity to Honolulu International Airport provides easy access to intermodal cargo transport.
Shipping and transportation are integral to Hawai'i's past, present and future. "As a family-owned ocean carrier dedicated to the Hawai'i/Mainland trade lane, we have a tremendous sense of responsibility to the people of Hawai'i who depend on us to bring in their essential goods such as food, water, medicine, household goods, and other everyday living materials in a timely and consistent manner," states George Pasha, IV, President & CEO of Pasha Hawaii. The third-generation, family-owned company's Hawai'i roots can be traced to World War II when Pasha offered storage and truckaway services to US troops deployed here. Pasha Hawaii operates six vessels that provide a broad scope of ocean-transportation services between the U.S. Mainland and Hawai'i. In 2015, the company doubled in size with the acquisition of Horizon Lines, Inc.'s Hawai'i business.
Since Captain William Matson's maiden voyage aboard Emma Claudina to deliver plantation supplies from San Francisco to Hawai'i in 1882, Matson has provided a vital link between the mainland and the islands, continuously upgrading its fleet and equipment in step with improving technology to serve the needs of Hawai'i. Matson offers more arrivals from the West Coast to Hawai'i than any other carrier, including twice weekly service from Northern and Southern California and weekly Saturday departures from the Pacific Northwest. Matson also serves Hawai'i's neighbor islands.
Young Brothers' first inter island shipment was cases of pineapples from Kolo on Moloka'i to Honolulu in the 1920s. Today Young Brothers' fleet of eight barges serves the Hawaiian Islands exclusively with 12 sailings weekly, serving all ports. Families can pack personal goods, deliver them to the pier and then pick up on a neighbor island, making Young Brothers very popular with college students.
In January 2018 the Hawai'i Department of Transportation (HDOT) Harbors Division broke ground for the largest capital improvement project in the history of Hawai'i's commercial harbor system: the 84-acre Kapalama Container Terminal project (Piers 41, 42, and 43 in Honolulu Harbor). The state-of-the-art facility will create 1,800 linear feet of new berthing space to alleviate congestion at the system's hub and it is expected to be complete in 2022. The Kapalama Container Terminal is expected to enable real-time container data visibility for customers, adjoin barge connections for direct neighbor island connections and on-dock truck queuing for reduced street traffic.
Pacific Marine & Supply Co., Ltd. started during World War II as a small ship repair company servicing America's wartime fleet in the Pacific. After the war the company expanded its services to include commercial ship repair and this year celebrates its 75th anniversary. In 2017, Pacific Shipyard moved into new facilities including a new dry dock on over 6 acres of property at Pier 24 in Honolulu Harbor. With its two floating dry docks, today the company has the capability to lift vessels as large as a 400' container barge. Hawai'i's largest all-air cargo company, Aloha Air Cargo offers flights to and from Honolulu and major Hawai'i airports 6 days/week.
HAWAIʻI'S PORTS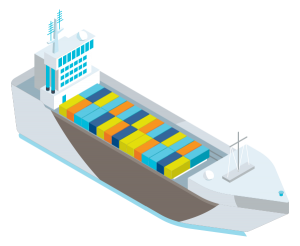 About 80% of all goods consumed by Hawaiʻi's 1.4 million residents and 8.6 million annual visitors are imported. 98% of those goods are transported over water. (HIDOT)
Port Hawaiʻi is made up of 10 commercial harbors on six Hawaiian Islands.
The Kapalama Container Terminal project will cost an estimated $448 million to complete by 2022.
Port Hawaiʻi is a self-sufficient and self-funded enterprise that generates revenue from harbor use fees and charges to cover operating and maintenance costs as well as capital improvement projects. (HIDOT)
Port of Honolulu, Hawaiʻi's trade totaled $4.12 billion for all of 2018, the latest annual data available, according to the U.S. Census Bureau data analyzed by WorldCity. (USTradeNumbers.com)
Since 1946 the company has been committed to providing consistent cargo service to the people of Hawai'i and the business community in the islands. Marcus Miura, Director of Sales states, "Aloha Air Cargo offers overnight general freight service for all types of air cargo throughout the Islands of Hawai'i. If it fits in our aircraft, we will take it. Next Flight Out service, for time-sensitive shipments, ensures that shipments are placed on the next available flight. Aloha Economy offers a convenient and cost-effective solution for less time-sensitive cargo shipments." Aloha Air Cargo is the only overnight carrier to offer refrigeration capabilities at all Hawaiian island locations.
These shipping and transportation industry leaders are also doing their part as stewards of the environment. The two new 'Ohana Class containerships joining the Pasha Hawaii fleet next year will operate fully on LNG from day one, minimizing environmental impact. Matson's latest investments, both in fleet and terminal infrastructure, underscore the company's long-standing commitment to serving island communities with the most reliable, efficient and environmentally friendly operations. Matson's new Aloha Class and Kanaloa Class ships are being built specifically to meet Hawai'i's freight needs into the future, reduce environmental impact and improve efficiency.
Young Brothers strives for the most efficient use of barge and container capacity on every trip with its investment in new vessel and shore side technologies to reduce emissions and mitigate impacts on sensitive marine life. The company's regular maintenance and repair schedules optimize equipment lifetimes and reduce waste.
In 2017 Young Brothers invested 80 million dollars in four brand-new fuel-efficient and environmentally friendly tugs that went into service in 2018. In 2019, the company purchased 78 additional new 20-foot refrigerated containers to ensure temperature controlled cargo transport between the islands. These new containers reduce fossil fuels and lower emissions and energy consumption. Young Brothers also works in partnership with the Department of Agriculture to avoid the spread of invasive species between the islands.
In the face of natural disasters, Young Brothers is there to assist first responders by pre-positioning cargo ahead of the storm or priority loading first responder equipment post-storm.
Steven Loui, Chairman of Pacific Marine & Supply Co., Ltd. shares, "With our modern new facilities at Pier 24, we're able to increase our efficiencies and offer greater drydocking capabilities for our Mid-Pacific region customers." The company has a history in the research and development of innovative products and services, including the Navatek 1 and the Navatek 2.
Aloha Air Cargo supports sustainability by working with the Hawaii Farm Bureau Federation (HFBF) to provide exclusive shipping rates for farmers of locally grown and packaged foods. Aloha Air Cargo is also a proud sponsor of the Hawaii State Farm Fair held annually by HFBF.
///

BUILDING FOR THE FUTURE
Pasha Hawaii continues to invest in Hawai'i's future with the recent keel laying for M/V George III and steel-cutting for M/V Janet Marie—two LNG-fueled containerships joining its fleet in 2020.
"Construction of the new vessels is progressing on schedule," said George Pasha, IV, President and CEO. "These LNG-powered container ships will support the needs of shippers in the Hawai'i trade lane, while minimizing our environmental impact. Adding George III and Janet Marie to our existing fleet greatly enhances our service capabilities, marking three generations of service to Hawaii." The new ships are part of a $1 billion investment plan the company has launched as part of its commitment to Hawai'i.
Pasha Hawaii sets itself apart with its personalized service from logistics experts dedicated to helping customers succeed and delivering quality based on the company's core values: Excellence, Honesty and Integrity, Innovation, and Teamwork, as reflected in its 'Voice of the Customer' Program.
///

PACIFIC MARINE & SUPPLY
This year, Pacific Marine celebrates an incredible milestone – 75 years of service to Hawai'i. It's a testament to the vision of founder, Fred Loui, the leadership of his son, Steven Loui, and the talents of 500 dedicated employees who have helped to make Pacific Marine and its subsidiaries leaders in their respective industries.
"My father believed in hiring the best employees and giving them the tools and responsibility they needed to succeed," said CEO Steven Loui. "We sincerely appreciate everything our employees, both past and present, have contributed to Pacific Marine, and we share this proud milestone with them."
Pacific Marine first got its start during WWII, helping to repair America's wartime fleet. The year was 1944. When the war ended, the company expanded its operations, moved into a new facility, and diversified its business into supply distribution for Mobile Oil and Chrysler Airtemp where it pioneered air conditioning in Hawai'i.
Over the decades, that entrepreneurial spirit has served the company well, creating a family of businesses including HSI Mechanical, Navatek Ships, Unitek Hawaii, CAP Insurance, Pacific Shipyards, Royal Hawaiian Cruises and Navatek Boat Builders. From pollution control to advanced ship hull designs, Pacific Marine's history represents a lifetime of accomplishments.
"As a family-run business, our employees are like family to us," says Steven. "So much so that we've even sold some of our subsidiaries to key executives so they can manage them independently. It's been rewarding to watch them grow."
"My dad would be proud," says Steven. "Nice job, team!"
///
YOUNG BROTHERS
Serving the islands for over a century, Young Brothers is Hawai'i's foremost inter-island freight transportation company. The company has a tremendous responsibility to the people of Hawai'i as the water carrier responsible for transporting all cargo that originates and ends in the state.
Young Brothers moves all types of freight, from containers to canoes to cars. To meet the needs of the neighbor island communities, Young Brothers operates 12 regular sailings per week to every major port in Hawai'i and is the only water carrier with offices on all islands, including Moloka'i and Lāna'i. From reservation to pick up, our team of approximately 380 employees works day and night to move your goods quickly, securely, and seamlessly across the Hawaiian Islands. That's what makes Young Brothers your neighbor island partner.
Young Brothers remains committed to delivering the best service for Hawai'i and recently made an $80 million investment in four new 123-foot American-built tugs. Three of the new tugs are currently providing efficient and reliable service to all seven major ports of Hawai'i. The new tugs are significantly more fuel efficient, helping Hawai'i in our efforts to reduce our carbon footprint. The efficiency of the new tugs will bring reliable and just-in-time delivery service of cargo to the neighbor islands.
Young Brothers is dedicated to delivering the safest, highest- quality, lowest-cost inter-island water-transport service in Hawai'i.
Learn more at youngbrothershawaii.com.
///

MATSON INVESTING $60 MILLION + IN HONOLULU HUB
Matson's Honolulu cargo terminal serves as the hub for its statewide service, so it's not surprising the 137-year-old ocean transportation company is investing more than $60 million to improve and expand its Sand Island facility. Improvements include three new 65 long-ton capacity gantry cranes, the biggest ship-to-shore container cranes to be deployed at any commercial harbor in Hawai'i, to better serve Matson's nearly $1 billion investment in new state-of-the-art Aloha Class and Kanaloa Class ships for its Hawai'i service. In addition to increasing operational efficiency, the new cranes and ships will reduce the environmental impact of Matson's operations. Other improvements include upgrades for terminal technology, electrical systems and equipment, plus a redesigned and expanded container yard. Work related to cranes and other systems is expected to be complete by mid-2020 and the container yard expansion by 2023.
///

ALOHA AIR CARGO
Aloha Air Cargo is Hawai'i's largest all-air cargo company with six days a week scheduled flights to/from Honolulu and major Hawai'i airports and daily to/from Los Angeles and Honolulu. Three service options are offered for convenience: overnight, next flight or economy. With our Boeing jet fleet we can accommodate a wide range of cargo, including dangerous goods, oversized freight, perishables and live animals. If it fits in our aircraft, we'll take it. Aloha Air Cargo has been committed to Hawaii since 1946. We continue to ensure reliable, consistent service to the people and business community of Hawai'i. We do this through continued investment in our facilities, people and services….and in August 2019 Aloha Air Cargo added an additional Boeing 737 freighter to our fleet – expanding from three aircraft to four.