SmallBiz Editor's Choice Awards 2019
Profiles of five great local companies that you should know about.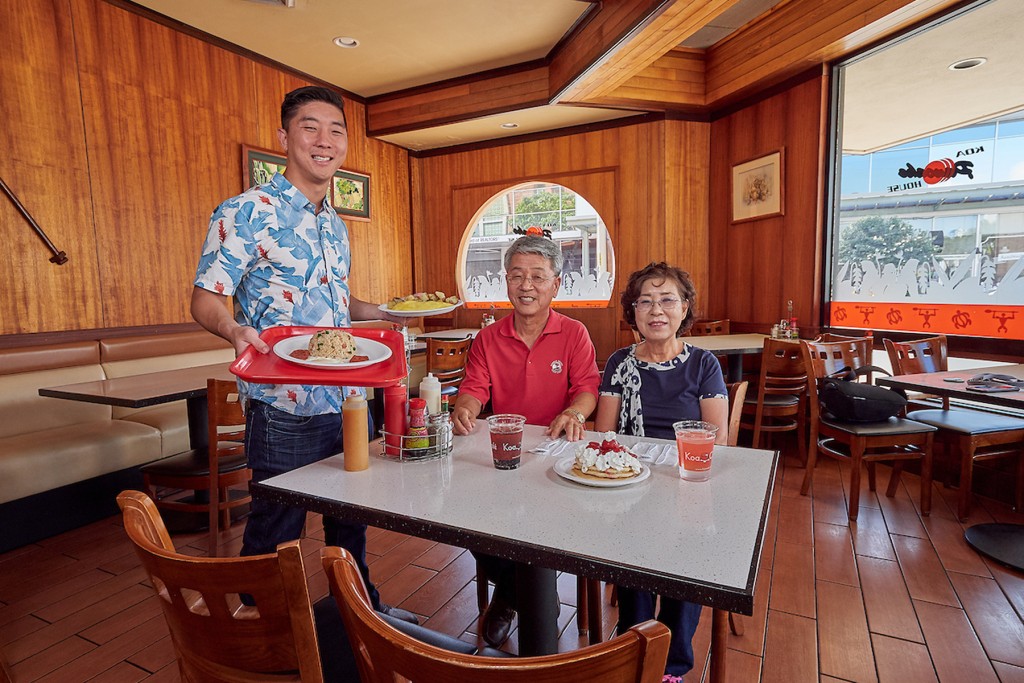 WOMEN-OWNED BUSINESS
Meli James & Brittany Heyd
Co-Owners
Mana Up
Meli James and Brittany Heyd launched Mana Up in November 2017 with the goal of empowering the owners of locally based consumer product companies.
The key is Hawaii itself: Mana Up gives smart, ambitious local people the chance to build careers at home instead of on the Mainland and Mana Up helps these CEOs authentically use the worldwide allure of the Islands to market their brands.
Mana Up has had three cohorts of companies and the goal is to help each company grow its revenue to more than $10 million a year. James says some cohort participants have already seen increases in e-commerce revenue as high as 40 percent.
James doesn't just want to grow the local economy, she wants to create a sustainable environment for successful, homegrown entrepreneurs. After 11 years on the Mainland in tech development and hotel management, James says she returned home focused on helping to create "an innovation ecosystem here like the one I had been involved with in Silicon Valley." She's worked with Blue Startups, Sultan Ventures and XLR8UH and is president of the Hawaii Venture Capital Association.
Co-founder Heyd currently also serves as general counsel for a software company based in Washington, D.C., and previously co-founded the global venture capital fund and business incubator 1776, and was an economic policy staffer during the Obama administration. James says Heyd is the "perfect partner" and that they each bring unique strengths to the challenges of entrepreneurship.
James says Big Island Coffee Roasters, a member of the second cohort, is a great example of how passion and leadership cultivate innovation. The award-winning company grows, mills and roasts coffee, and is now successfully "leveraging the cachet of Hawaii's coffee industry" to produce a new product category with Espresso Bites – bars that feature coffees from various regions of Hawaii, instead of chocolate. Each bar contains three espresso shots, says James.
Co-founder Kelleigh Stewart says Mana Up helped Big Island Coffee Roasters to clarify its goals and anticipate potential obstacles, while providing access to a vetted network of professionals.
"Meli and Brittany are highly regarded in the retail community, so when buyers find out that we're affiliated with Mana Up, they know they're partnering with a reputable company and getting a rock-solid product," says Stewart.
Kamehameha Schools is a Mana Up partner and Stacy Kealohalani Ferreira of KS' Strategy and Innovation Division says, "Meli's business acumen and diligent footwork coupled with her vast network have resulted in an accelerator that is effectively helping to further develop our state's economy and support Native Hawaiian entrepreneurs."
— By Carin Enovijas


INNOVATIVE COMPANY
Isar Mostafanezhad
Founder & CEO
Nalu Scientific
Nalu Scientific might one day help change the world.
The Honolulu-based technology company is engineering microchips and precision sensors that are used in physics experiments. "We are making the building blocks for tools that scientists will use to understand the basic laws of physics, like where energy and matter came from," says founder and CEO Isar Mostafanezhad.
The target market is the world's few particle physics laboratories. One example is the SuperKEKB in Tsukuba, Japan, known for its Belle II experiment, which involves the study of particle collision. "It's like simulating the big bang on a very small scale," says Mostafanezhad.
These experiments require firmware with extremely fast data acquisition and signal processing capabilities, which Nalu Scientific has engineered and continues to develop. What distinguishes Nalu's technology is small size, light weight and low power – a tech term known as SWaP.
To date, the work has been funded through the federal Department of Energy's Small Business Innovation Research and Small Business Technology Transfer programs. Mostafanezhad says that private funding and commercialization may be an option within a few years.
Tom Browder, a professor of physics and astronomy at UH Mānoa, says, "Nalu is likely to develop into a major company providing readout solutions to high energy physics and astroparticle projects."
Eventually though, Mostafanezhad says, this same technology will have applications in other sectors, such as medical and positron emission tomography, or PET, imaging; a remote sensing method called lidar; driverless cars; and space exploration. "Maybe, 20 years from now, these (particle) experiments will help find a new source of energy," he says.
If you think a second is a brief moment of time, consider a picosecond, which is one-trillionth of a second. "Our chips do not process within a picosecond time unit, rather they can tell you about the time of arrival of a particle (or a photon) with a resolution of tens of picoseconds. There are other tools that can tell you the time within picosecond timing accuracy. What distinguishes ours is the low size, weight and power that we can deliver this performance – hence making it appealing also for other applications," Mostafanezhad says.
Originally from Iran, Mostafanezhad completed a doctorate in electrical engineering and did his postdoctoral work at UH's physics department. He launched Nalu Scientific in 2015.
"Our microchips digitize wave forms and nalu means waves in Hawaiian," Mostafanezhad says. "That's how we connected the dots."
— By Laurel Dudley


BEST NEW BUSINESS
Travis Morrin, Jaron Blosser & Cody Christopher
Co-Owners
Fork & Salad Maui
In 2016, Travis Morrin, Jaron Blosser and Cody Christopher opened the flagship Fork & Salad Maui location in Kihei's busy Azeka Shopping Center. A Kahului location followed in 2018, feeding the island's growing appetite for healthy, fast and affordable food that is locally sourced.
The menu features chef-inspired salads, sandwiches, soups, stews and juices, organic coffee, tea and kombucha supplied by more than 25 local farms and vendors.
"We're on a mission to spread a taste of Maui, infused with the aloha spirit, to all parts of the world – one guest, one salad and one community at a time," says Morrin.
In early May, Fork & Salad will open its first Mainland store in the Old Towne district of Orange, California, in partnership with Fransmart, a leader in franchise development. Fransmart CEO Dan Rowe says, "We see Fork & Salad as a 1,000-plus unit chain and can't wait for the Orange, California, location to open.
"Healthy food is the most popular segment and eating trend in the restaurant industry today," and high sales volume and low startup costs associated with Fork & Salad's fast-casual concept position the business to succeed as a global brand, he adds.
Morrin says a shared passion for fresh food "done right" is what emboldened the young partners to fearlessly break onto the culinary scene in 2009 with a food truck and catering business before opening the award-winning Three's Bar & Grill in 2010.
"If I knew what I know now back when I was 22, when I opened Three's, I would never have done it. It would just be too scary," says the Maui-born entrepreneur.
The partners now employ 135 people on Maui, and each business has won numerous people's choice awards. Three's has been featured on Guy Fieri's TV show, "Diners, Drive-ins and Dives," but Morrin says he is especially proud of Fork & Salad's 2017 Friend of Agriculture Award, bestowed by the Maui County Farm Bureau and its executive director, Warren Watanabe.
Watanabe says that in addition to buying local ingredients, Morrin and his partners provide invaluable exposure for local farmers and ranchers.
"They also donate their time and resources to support charities and nonprofit organizations that educate the community about the importance of a viable local agricultural industry," says Watanabe.
In fact, Morrin says, supporting local ag and educating people about where their food comes from is at the root of Fork & Salad's mission.
— By Carin Enovijas


GREEN BUSINESS
Scott Cooney, Founder & CEO
Pono Home
Greening homes is the mission of Pono Home. "We're like a green handyman," says Scott Cooney, who had been immersed in sustainable business ventures for more than a decade before founding Pono Home in 2013.
The company's mission is to reduce household energy and water consumption. The two effects are smaller utility bills for customers and, more importantly, reduced environmental impact.
Cooney came up with the idea while writing about sustainable best practices for his online media company, which he would often do from friends' houses. While visiting, he suggested ways his friends could reduce utility bills such as using LED lightbulbs and high-efficiency shower heads and faucet fixtures, checking for leaky toilets and poor refrigeration seals, and using energy-efficient appliances.
Today, this is the backbone of the Pono Home audit, whereby technicians inspect, assess and make energy-saving recommendations. Technicians also enhance appliance efficiency by snake-cleaning dryer vents and cleaning AC filters and refrigeration coils, which further reduce energy demands.
The average invoice, about $500, comes guaranteed: cost savings on your utility bill in less than two years or your money back.
"We've seen payback periods in as fast as six months," says Cooney.
The margins are slim, but Cooney and his team of 10 are driven by a higher cause:
protecting the environment by making sustainable living accessible, easy, affordable and convenient for all.
"Even if we only see a 1 percent savings, it's worth it," says Debra McAuley, who had Pono Home visit her two dozen apartments in Hilo. "We found out our toilets are not leaking, but they're water hogs!" She installed newer, more efficient models.
Pono Home has greened upward of 9,000 houses and apartments on Oahu, Hawaii Island, Maui, Kauai and Molokai. In April, the company began operations on Lāna'i in partnership with Pūlama Lanai and Hawaii Energy, with the goal of greening every home. Cooney is especially excited about what might be learned from the data showing an island's worth of energy use before and after being greened.
He is convinced environmental solutions must come from the private sector. Last year he launched Pono Home Essentials, a line of chemical- and plastic-free personal care items like soap nuts – a natural alternative to laundry detergent – and shampoo, dish soap and beard oil. Bottles and packing material are reused and recycled with the goal of zero-waste. Buy them at ponohomeessentials.com.
— By Laurel Dudley


LONG-TERM SUCCESS
Il Man & Sam Soon Chung, Retired Founders & Owners
Juno Chung, President
Koa Pancake House & Koa Cafe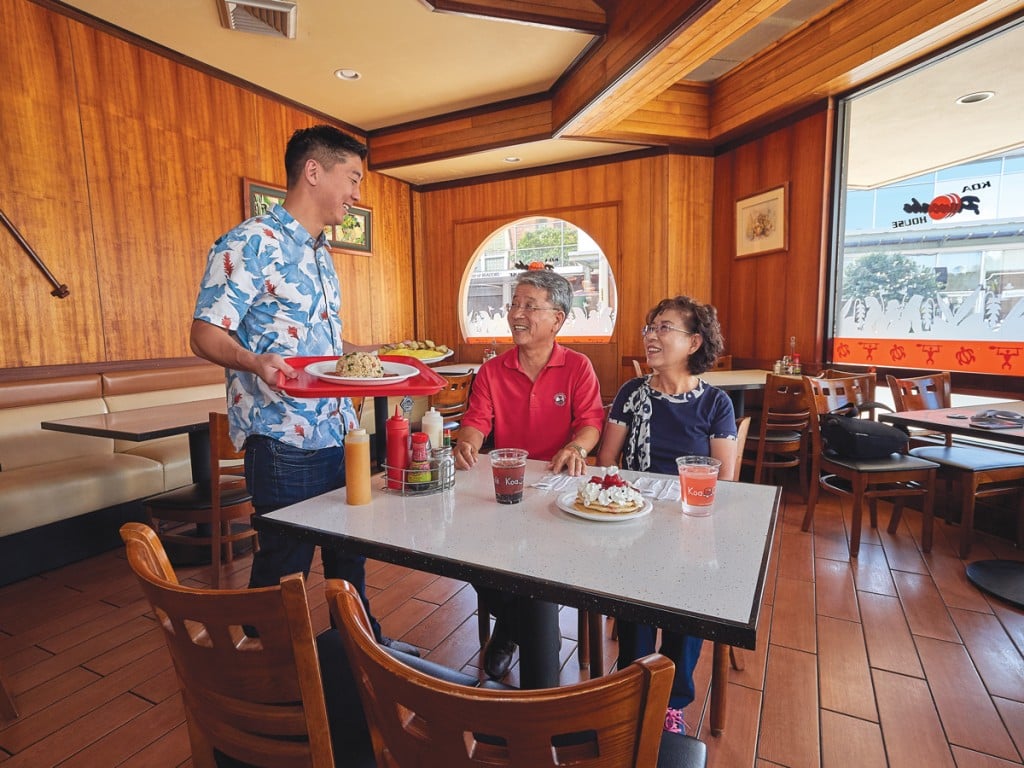 At Oahu's two locations of Koa Café, customers can pair spicy Korean fried chicken with Belgian waffles or mochi pancakes. And they can order their meals online so there's no waiting when they arrive.
The cafes – hipper versions of the company's six Koa Pancake House restaurants – are among Juno Chung's successful innovations since taking over the family business from his parents in 2014.
Il Man and Sam Soon Chung opened their first Koa Pancake House 31 years ago in Moiliili after emigrating from South Korea. Today, son Juno is constantly innovating with new technology to make the operation more efficient while growing the business and increasing revenue every year.
Juno has been working unofficially in the family business all his life, but full time since graduating from Maryknoll School in 2003. He opened his first pancake house location in Hawaii Kai in 2010 when he was 25, and is now in charge of all eight eateries across Oahu.
"I grew up in the family business," Juno says. "I remember my mom having me work the register as a kid and not allowing me to use the calculator to figure out how much change to give so that I could sharpen my math skills. I remember a customer jokingly saying, 'Does this kid have a worker's permit?'
"My father made me work every position in the business. He would always say, 'How are you supposed to know if an employee is doing their job correctly if you don't know how to do their job?' "
His parents retired five years ago, though his mother helps in the office to keep her mind sharp.
Jennifer Abiva, assistant VP at First Hawaiian Bank and 'Ewa Beach branch manager, commends the family's dedication and hard work in creating their thriving business, and applauds Juno's creativity and innovative spirit.
"They (the senior Chungs) had the vision, dedication and the willingness to be successful, and passed on those same ethics to their son," says Abiva. "Juno has a fresh outlook, which contributes to new ideas that help the business make changes and grow in this changing environment."
— By Beverly Creamer
Sponsor: Jennifer Abiva, First Hawaiian Bank
Check out the profiles of 26 local companies and business leaders who won this year's SBA Hawaii awards, plus the inaugural members of the Hawaii Small Business Hall of Fame.
US SBA Awards: