Hawaii's Biggest Cooking School Just Got Bigger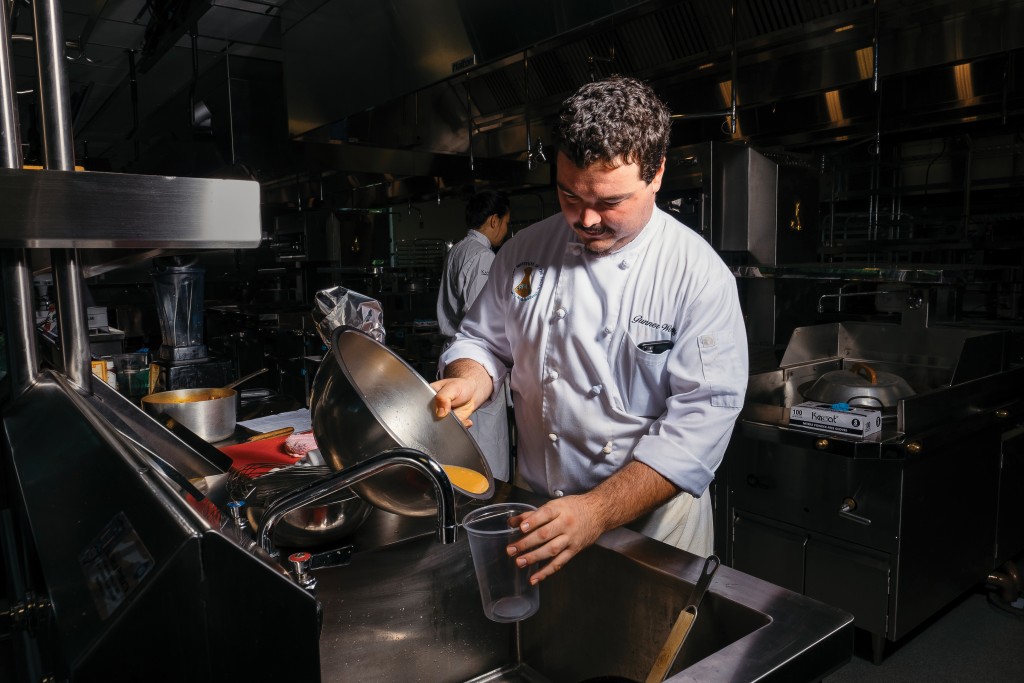 Food is at the heart of local culture. Whether we prepare, serve or simply eat it, food lets us show affection, support and sympathy for those closest to us.
Those are big reasons that so many young people choose careers in food service and begin their training at Kapiolani Community College's culinary program, the largest in the UH system with nearly 400 students working toward certificates and associate degrees in culinary arts, pastry arts and food service management. There are so many notable KCC alumni, including Sam Choy, Ryan Blanchard of Disney's Aulani Resort, "Chopped" winner Lance Nitahara, Mark "Gooch" Noguchi, Royce Arakaki and Foodland's Keoni Chang.
The Culinary Institute of the Pacific, being built in phases on the mauka-facing slope of Diamond Head, now offers four-year degrees and other advanced programs – training that was previously only available through Mainland schools.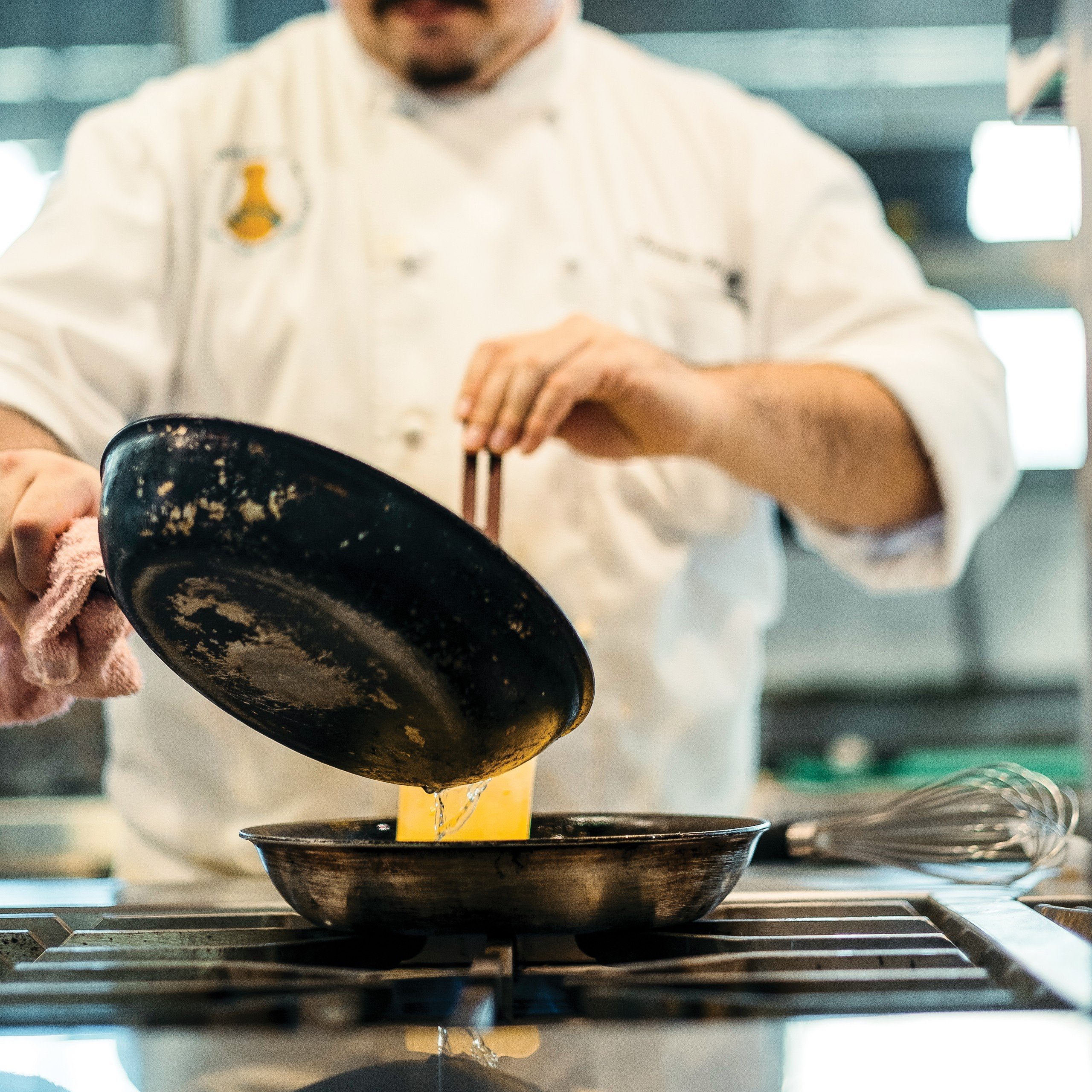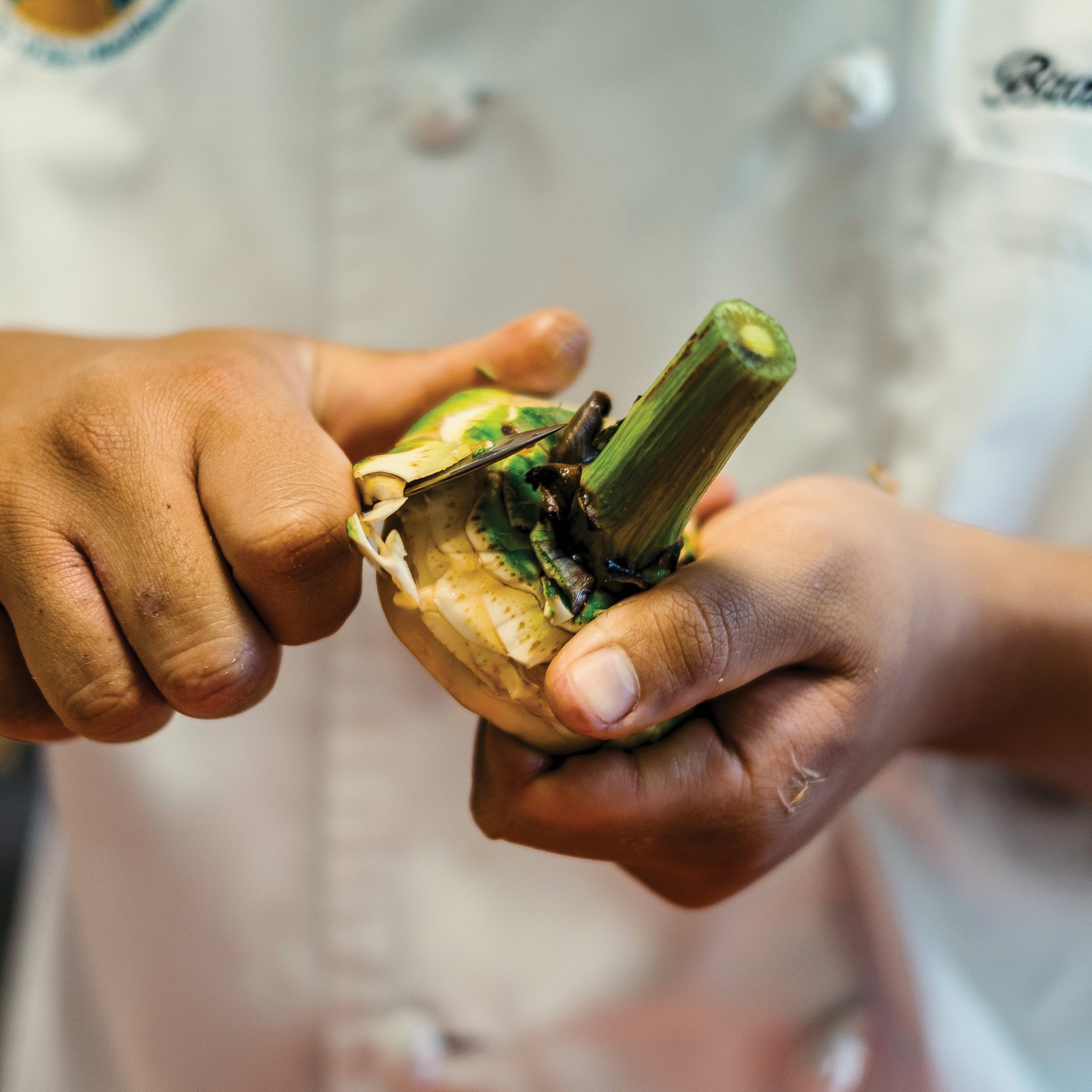 "Not every student is going to be interested in going beyond, to start moving into executive chef level positions or sous chef positions, but some are," and those students previously had to go away to the Culinary Institute of America or to Johnson and Wales campuses on the Mainland, says John Morton, UH's VP of community colleges.
"Not only are they far away, but very expensive," Morton says. "If you go to the CIA, you pay more tuition in one year than you would in the entire four years of community college." For example, tuition for one year at the CIA's California campuses in wine country is roughly $28,000 – nine times the full-time tuition at KCC of about $3,000 a year.
KCC has been educating chefs up to the level of a two-year associate degree for decades, but the new facility is dedicated to training advanced students and keeping their talent in the Islands.
Morton says the Culinary Institute of the Pacific has been a dream, and a battle, that has engulfed the college for over 20 years. "When you're doing something on Diamond Head, there's a sensitivity because of the nature of the space and the place. A lot of people have an interest in what you're trying to do there," he says.
After overcoming leasing issues, permit requirements and financing obstacles, the CIP broke ground in September 2015, and completed the first phase of its construction in February 2017. The new institute sits on 8 acres at the former site of the Cannon Club, an Army social club founded in 1906 and closed in 1997.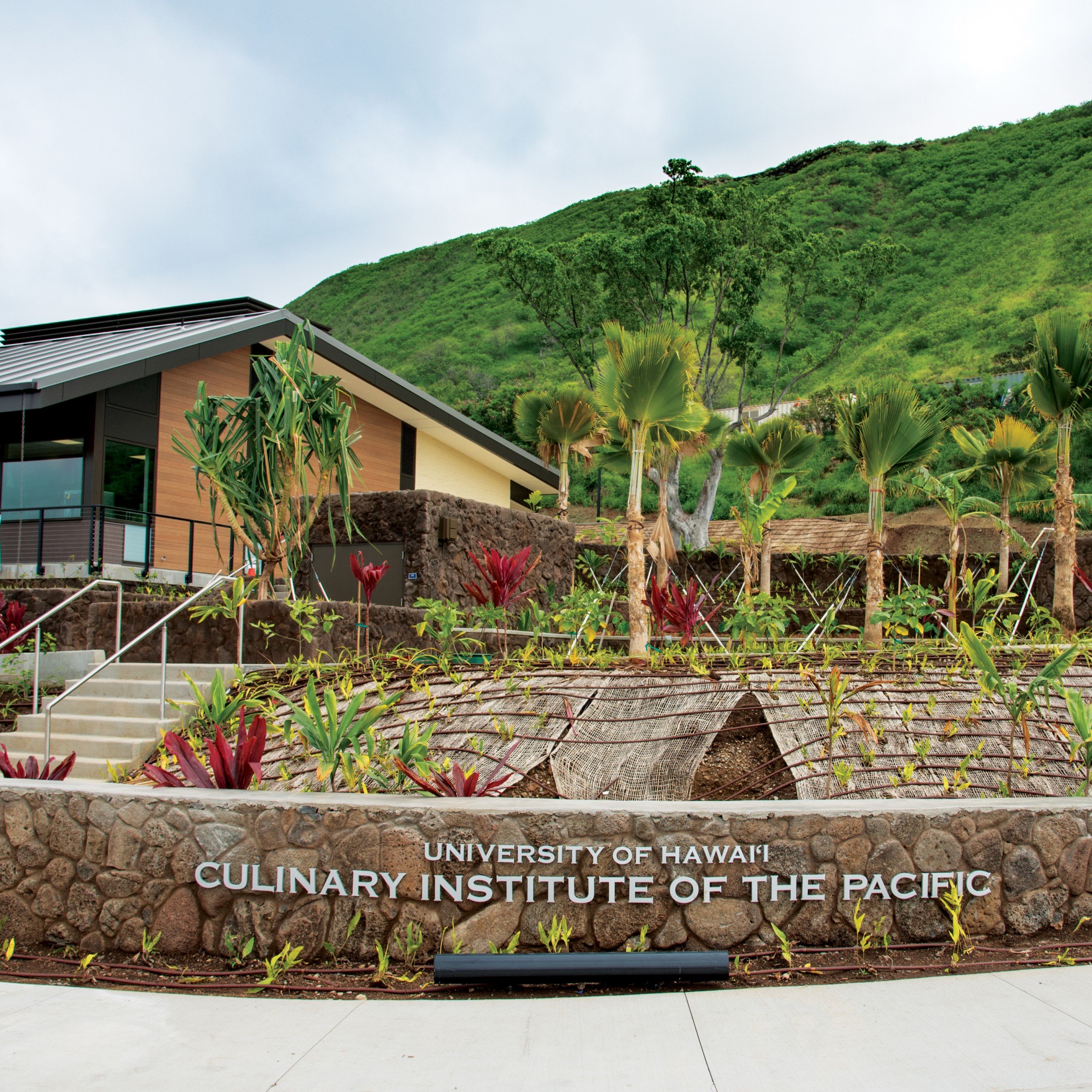 "A large part of the first phase is infrastructure," Morton says. "It's the parking lot, it's the roads, it's replacing all the electricity, water lines, sewer lines and everything else that needs to go. This was a 1920s Army installation. Nothing that was there was usable, so we had to start from scratch."
The completed building was first used for workshops and culinary team training, and students began attending classes there this semester. Included are two new teaching labs, one focusing on Western food and the other on Asian cuisine.
The second phase of construction will add teaching spaces, a patisserie lab, classrooms, an auditorium and a restaurant. Morton is confident the project can be finished within 18 to 24 months of receiving the necessary funding.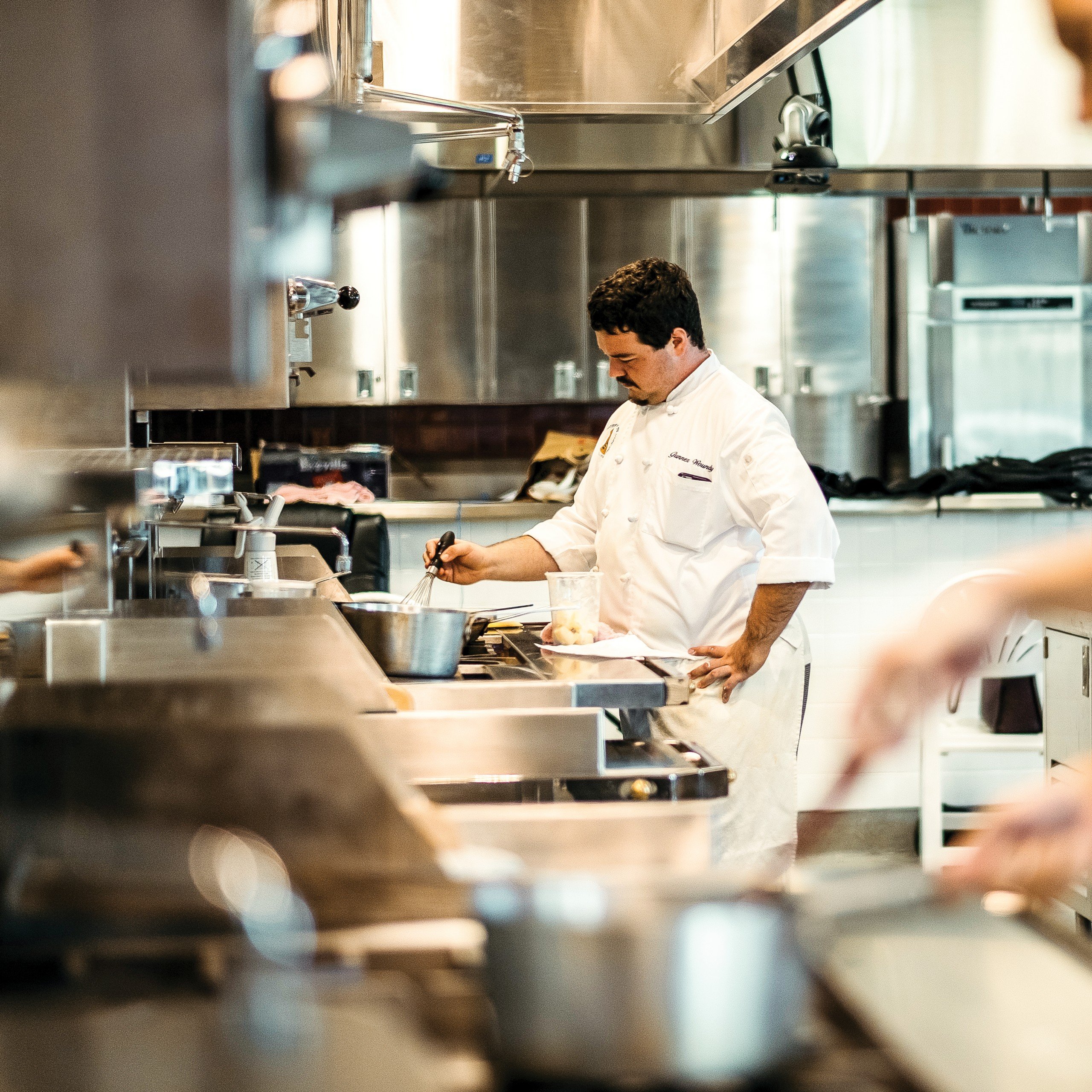 The CIP is acting as a "graduate school" for KCC culinary programs, offering advanced professional certificates in culinary arts and four-year bachelor's degrees in culinary management and food science. Morton says the purpose of the CIP isn't to replace the culinary program currently at KCC.
"It's adding two years on top of the two-year program that now exists in the community colleges. That advanced two years is made up of a year of advanced culinary courses, then a year's worth of business courses."
With 89 percent of culinary students moving on to work in their chosen fields after graduation from KCC, these four-year degrees will give graduates an even greater edge when joining the workforce. "You're poised for a better opportunity for investment," explains UH spokesman Dan Meisenzhal. "With an associate's degree, you're likely to earn 68 percent more than someone who graduated with just a high school degree, and that grows if you have a bachelor's degree."
Through culinary labs, business courses and internship opportunities, KCC has proven it isn't only committed to creating great chefs; it's committed to creating great communicators, managers and small-business owners as well.
These are important figures to remember when starting in a field saturated with entry-level jobs requiring no experience or schooling. While it may be tempting to jump straight into the kitchen to earn money, a formal education offers students technical skills they may never encounter through on-the-job training alone. Through culinary labs, business courses and internship opportunities, KCC has proven it isn't only committed to creating great chefs; it's committed to creating great communicators, managers and small-business owners as well.
KCC's chefs have gone on to accomplish great things. In fact, they have done well while still students. In 2009, KCC's team won the American Culinary Federation's national competition; in February 2017, KCC's team won the federation's Western regional competition.
"If you look at the team right now, three are from Hawaii, one is from the Philippines, one is from China, and one was born in Japan," Morton says. "And if you go back to the team that won (the nationals), it's the same kind of thing. There was somebody from China, Japan, Korea, Hawaii, and Colorado." The ability to beautifully blend a wide range of cultures has always been a core strength in the Islands, and has now become the secret ingredient in Team Hawaii's success."
"Our graduates are all over the Pacific region," gushes Meisenzahl. "They're all over the world!"
"I was in Peoria, Illinois," says Morton, recalling a recent trip. "They had seared ahi on the menu. I grew up in Illinois. I'll guarantee you, the only thing that would be on the menu then is fish sticks! So, the impact of Hawaii on food across America, particularly the blending of flavors of Asia and Hawaii, has made Hawaii almost a food destination."
Morton acknowledges that with success, comes responsibility. "One of the great things that I have always admired about the chefs around town is how much the chefs engage with the local community, their willingness to give back, to see it as an ecosystem that they want to be a part of. That's what we want to perpetuate."
"That connection to the community," explains Meisenzhal, "it's not something that's said as a graduation speech once they're leaving. It's something that begins from the day they walk in here." Incorporating the farm-to-table concept into the curriculum "is a testament to the entire program and to the faculty," he says.
---
Alan Wong: KCC Alumnus
EARLY YEARS: In the mid-1970s, long before he became a household name, Alan Wong dreamed of making it as a food and beverage manager in Waikiki. While skilled in front-of-the-house operations, such as food service and cash handling, he was considered a novice in the kitchen and was encouraged to seek technical knowledge and training.
Wong transferred out of UH Manoa and into KCC's culinary program, an experience he fondly describes as "eye opening." During his first year at KCC he worked as a cook's helper at the Veranda restaurant in the Beachcomber Hotel and later at the Waialae Country Club. As if balancing work and school wasn't enough, Wong also served as junior chapter president of the university's branch of Professional Cooks of Hawaii. Chapter members participated in catering jobs, special events and an end-of-semester showcase at the Culinary Arts and Suppliers Exposition.
FIRST JOB: When he graduated from KCC in 1979, Wong accepted a two-year culinary apprenticeship at the Greenbrier Hotel in West Virginia. From there, his culinary talents carried him along the East Coast before he returned home to Hawaii, where he opened up his first restaurant in 1995. He has been the chef and owner of Alan Wong's Restaurants ever since and now has a location in Shanghai.
KCC'S ROLE: "Culinary school teaches you the foundation of all cooking. It is the base from which all other cooking comes. KCC taught me more than just culinary; it gave me life lessons that would become more valuable as I went from job to job and taught me how to overcome life's challenges and adversities early on. I was very fortunate to have great instructors, who often spent countless hours before and after class teaching, nurturing, satiating my curiosities, and helping me see what I never saw, ate and experienced before. I really loved it."
ADVICE FOR FUTURE CHEFS: "Think about building a house. The first thing you do is pour a concrete slab, which becomes the foundation for your house. Your house becomes your career and life. The concrete slab becomes your foundation of culinary knowledge and skill from which you will need a strong solid base to springboard from. The stronger and bigger your foundation, the better. School is one opportunity to help begin making your base. It will also help shape your most important attribute: your attitude. Finishing school takes discipline and perseverance, but once you finish, no one can ever take that away from you. Ever."
---
Jan Tsukazaki: KCC Alumna
EARLY YEARS: Tsukazaki graduated from KCC in 1978 with a degree in Food Science, then worked as a breakfast cook, waitress and pastry chef to save up for baking school in Switzerland. Once in Switzerland, she attended classes focusing on sugar work, chocolate and patisserie. When classes were not in session, she worked in a Swiss bakery in exchange for room and board.
NAPOLEON'S BAKERY: She returned to Hawaii bursting with technical knowledge, creative ideas and a passion for patisserie. Much to the delight of local foodies, she worked with Zippy's founders Francis and Charles Higa to open the first Napoleon's Bakery in 1983. Today, the bakery has 22 locations on Oahu, Hawaii Island and Maui. Tsukazaki returned to college and earned a BA in education from UH Manoa in the early '90s, before returning to Napoleon's as a bakery manager in 1997. She is currently the GM of Food Solutions International.
KCC'S ROLE: "It prepared us very well for the technical part of baking. What is also valuable from that experience is my classmates; we are still in touch today. We compare notes, and we're all in business, so it's always good to have someone you can call up and ask a question, or see somebody who achieved success."
ADVICE FOR FUTURE CHEFS: "The culinary field can take you to many interesting places and introduce you to many interesting people. A successful career requires passion, dedication, sacrifice, and humility. Long hours working in a hot kitchen, low wages at the start, and sacrificing time with friends and family during the holidays are some of the realities of the industry. Be prepared for the reality, but keep your focus on your dreams and goals, and you will find your happiness."