Social Media Can Wreck Your Career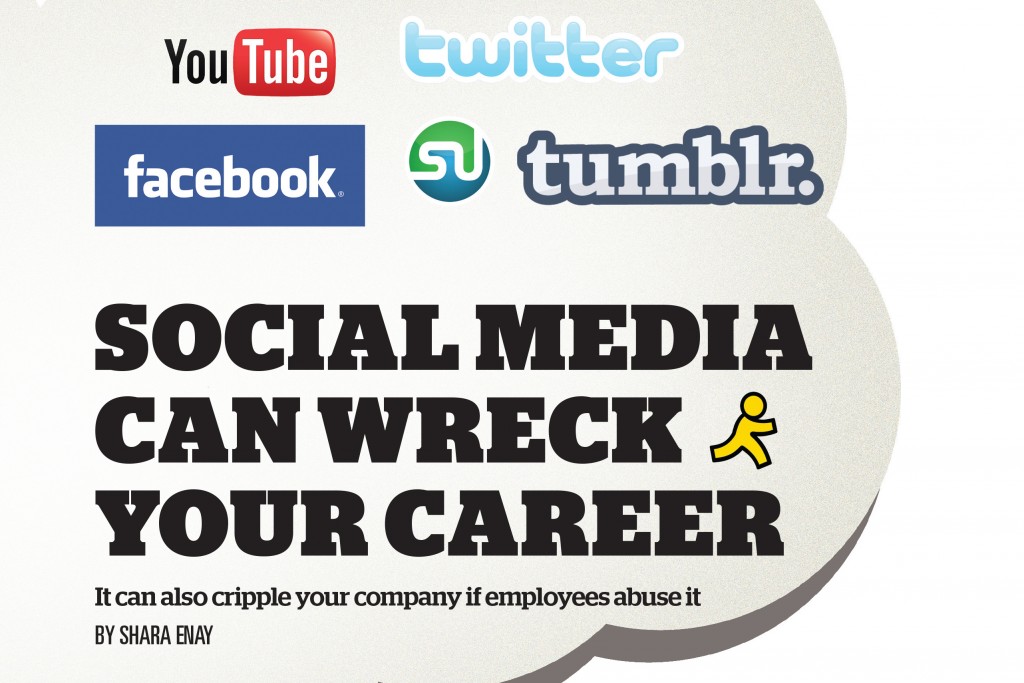 Comedian Gilbert Gottfried is the latest celebrity to be fired over social media, because of callous tweets about the devastating tsunami in Japan.
In February, Rep. Chris Lee, R-N.Y., resigned from the U.S. House of Representatives after stories emerged that he sent a bare-chested photo of himself to a woman he met on Craigslist. And, how can we forget those ex-Domino's Pizza employees who posted videos on YouTube showing themselves doing disgusting things to a pizza two years ago? That's the problem – you can't forget it – because once you post something online and it goes viral, it's there forever for the world to see.
Social media is a popular way to network, market yourself or promote your business, but it can also kill job offers, lose clients, tarnish reputations or, worse, get you fired. These days, most companies need a social-media policy to safeguard information, protect the brand and preserve productivity.
"It's not enough anymore to say, 'Use your common sense,' " says Roxanne Darling, a partner at Barefoot Studios, which provides social media training, consultation and Web-development services. "It's better to be clear so employees don't have to guess what's permitted and management doesn't have to make up the rules along the way."
Risky Business
Employees at work visit Facebook more than any other Internet site, according to a recent study by Network Box, a global company that manages security services. It surveyed 13 billion URLs used by businesses in the first quarter of 2010 and found that 6.8 percent of all business Internet traffic goes to Facebook – double Google's business traffic.
Social media connects us 24/7 and, for some people, it's impossible to resist knowing what's going on with their online community at all times. That hurts productivity and job performance.
"There are all kinds of studies that show the average person puts in an eight-hour day (of work), but if you get four useful hours out of them, you're doing pretty well," Darling says. "Most likely, social media has put a big dent in that number."
Employees who access Facebook, Twitter or other social media can waste hours every day, costing their companies hundreds to thousands of dollars daily, according to Nucleus Research Inc., which provides information-technology research and advising. Nucleus interviewed 237 randomly selected office workers in 2009 and found that almost half use social media during work, and only 13 percent of them could identify a clear business purpose for doing so.
There are more than 500 million active Facebook users globally and, collectively, they spend more than 700 billion minutes per month on the site, says Nucleus Research. Slowly, Facebook messages are beginning to replace traditional emails, even for business.
"That's a lot of information being disseminated via social media sites," Darling says. "And from a business's perspective, that opens up a lot of opportunity for security breaches, confidentiality issues and misinformation."
"Social Media and the Workplace: A Guide for Hawaii Employers," a white paper released last year by Altres Staffing, says, "Employees who post negative comments online about fellow workers or management, or make disparaging comments about customers or vendors, can expose a company to legal liability and/or a public-relations crisis." (Go to simplicityhr.com to download the full report for free.)
In 2001, Ian Lind became the first journalist in the nation to be fired over social media when he blogged about topics related to the sale of the Honolulu Star-Bulletin. Legally, Hawaii is an at-will employment state, which means employers in the private sector can reprimand or fire employees for any – or no – reason, including violating a company's social-media policy, according to Altres.
Fired before you're hired
It's becoming more common for employers and HR professionals to conduct online background checks on potential hires before making a job offer. A quick Google search or scan of a candidate's Facebook or LinkedIn pages can reveal a lot about a person, says Kristi Inkinen Yanagihara, principal of Remedy Intelligent Staffing, which offers entry- to management-level job placement services.
"We don't use it for background checks but we do use it as a character reference," Inkinen Yanagihara says. "For example, if there are questionable gaps of employment or something on the candidate's resume that seems inconsistent, most times we'll use social media to check it out."
Inkinen Yanagihara says what people do on their personal time can affect their work performance. "If there are lots of pictures of you partying every night, that might affect your attendance or ability to focus on your job." She says a lot of her employer-clients do their due diligence and google job prospects as well, "so we need to make sure we do our research and don't get caught off guard by any inappropriate information that the client could've dragged up. But you have to take some of the information with a grain of salt. After all, we were all 21 once."
Remedy Staffing has dismissed applicants because of questionable online content. Employers will usually be more forgiving of entry-level applicants versus management candidates, and will also consider the nature of the job.
Judy Bishop, the owner of Bishop & Co., a professional recruiting firm that also provides HR consulting and outsourcing, says her staff does not use social media to research clients for several reasons: "You cannot discriminate on the basis of age, race, gender and religion," she says. "If you go to someone's Facebook page, there's a chance that you can see all of that information. Second, it could be a case of mistaken identity and, third, a candidate can misrepresent themselves on social media just as they would on a resume, so you have to verify everything."
Inkinen Yanagihara says her firm will only reference a person's social media sites after they've met for a face-to-face interview and are being considered for a position.
Two other notable staffing and recruitment firms in Honolulu – Olsten Staffing Services and Inkinen and Associates (owned by Kathryn Inkinen, the mother of Kristi Inkinen Yanagihara) – also do not use social media to check out job candidates. However, many local employers who handle their own hiring do.
"In Hawaii, employment laws constrain our ability to conduct full background checks prior to a job offer," says Malcolm Inamine, director of HR and administration for Aloha Pacific Federal Credit Union. "Therefore, our credit union relies heavily on the reputation and character references readily available on a candidate."
After an application is submitted and an interview conducted, the company uses social media such as Facebook, Myspace, blogs and others sites for additional information.
"As a financial institution, because credibility and reputation are so important, the standards must also be high for the people that the credit union employs," Inamine says, adding that APFCU has withheld job offers to candidates whose online profiles were deemed inappropriate or unprofessional.
Individuals who think they can keep their personal and professional online personas separate are sorely mistaken, says Inkinen Yanagihara. "You're representing the company even when you're not at work, so anything you do could end up online and could reflect poorly on your employer and result in disciplinary action," she says.
For example, if a sales executive for a well-known wine distributor updates his Facebook status with: "Just finished a BIG client presentation at the Hilton – cha-ching!" it might alert competitors to a potential sales opportunity.
In 2008, former Gov. Linda Lingle selected Joshua Wingstrom, a UH-Manoa graduate student, to fill a vacancy on the UH Board of Regents. Wingstrom resigned when several UH students showed up at the public confirmation hearing to present negative testimony, including embarrassing photos from Wingstrom's Myspace page that were distributed to all the senators and audience members.
Kitty Lagareta, who was chair of the regents at the time, recalls Wingstrom was partially nude in one of the photos, making rude hand gestures and drinking from a large wine bottle. "The senators called a break in his confirmation hearing and then reconvened to announce that he had decided to withdraw his application to the BOR," Lagareta says. Other reports say there were images of Wingstrom with a female dressed in a fig-leaf bikini and quotes about him favoring "naked parties" and "beer pong."
Lagareta, who is the chairman and CEO of her own company, Communications Pacific, says it's none of her business what her 30 employees do on their free time – except if their behavior reflects badly on the company's image, credibility or ability to service clients.
Inamine says blogs by potential hires that are critical of former employers would also diminish their chances for employment.
Even attorneys are using social media for gathering information on parties and witnesses, says Louise Ing, a director and stockholder at the Honolulu law firm Alston Hunt Floyd and Ing.
Eliminate guesswork
Many companies have responded to the increasing use of social media in the workplace by blocking access to it all together, but that is draconian, Darling says, especially since people can easily connect to social media from their mobile phones.
Darling says companies would be more effective if they created a fair social-media policy that's enforceable and then enforced it. But the old command-and-control model won't work, she says.
Lind, who was fired 10 years ago, when social-media policies didn't exist, says he would have followed the rules if there had been any, emphasizing that "a clear policy that gives employees guidance on what is appropriate and what isn't is certainly preferable to this no-man's land where you're always guessing," he says. "Clearly, I would've preferred to keep my job."
Some companies purchase monitoring or time-tracking software, such as Rescue Time, or assess chatter via email, especially for offensive language. This type of software can be installed for the whole company or for individuals, Darling says, "and it can be useful stuff, but I would approach it from a proactive, productivity point of view rather than a Big Brother point of view."
Aloha Pacific FCU's IT department tracks all websites visited by employees and the time spent on each site. The credit union allows employees to visit certain professional websites that may be relevant to their jobs but blocks sites it feels are inappropriate or may compromise sensitive information.
Alston Hunt Floyd and Ing has a nine-page social-networking policy that covers acceptable phone, email and Internet usage. While the firm acknowledges the benefits of social media, it cautions that, if used improperly, it can violate rules of professional conduct and damage the firm's reputation. It is prohibited to use the firm's systems to access social-networking sites purely for social interaction.
At Communications Pacific, where employees are encouraged to use social media to help the business, Lagareta says the rules are basic and explained in a one-page policy. For instance, only designated employees can use CommPac accounts to speak on behalf of the company in social media. The policy asks employees to respect co-workers and clients and not disparage them publicly. It also tells employees not to let social media hurt their work productivity.
"That said, the company encourages employees to use social media as a tool and to explore potential opportunities to add value for clients," Lagareta says.
Darling says the increasing popularity of social media provides extra incentives for businesses to be good employers and to establish open lines of communication with their workforce. Employers should emphasize that if there is a problem at work, it should be discussed with management before taking it to social media. "I think a policy is necessary, but I think too many rules or too little freedom could also backfire," she says.
Lagareta sees it in simpler terms: "My rule of thumb is that I hire grownups. I don't care what age you are, if you don't understand your responsibilities to the company and the clients, I think that's a bigger issue that has little to do with social media or the Internet; it has to do with maturity, honesty, respect and accountability. So far, it's worked pretty well for me."
Multitasking = Inefficiency
Clifford Nass, a communications professor at Stanford University, says more information is not always better. Nass, who wrote the book "The Man Who Lied to His Laptop: What Machines Teach Us About Human Relationships," says our brains are not built to handle multiple data streams at once, such as Facebook updates, emails, text messages and tweets. The information overload decreases efficiency, though most people falsely believe multitasking means they are getting more done.
To maintain productivity, Nass says, do not set up instant alerts for new messages. "Lots of people don't check their email because they're expecting something important or crucial," he explains. "It's because they want a break from what they're doing or are bored."
He suggests carving out 15-minute slots in which to focus on one medium or information source. For example, check your email for 15 minutes at a time. If you don't have enough, wait until you do so you can eliminate distractions throughout the day and increase your productivity. Then, work for an hour or two and take another 15-minute break to focus on either Facebook or Twitter. When it's time to switch into social-media mode, take a quick scan of all your information and data streams and then decide which one you're going to spend the next 15 minutes tackling.
How to create a social-media policy for your business
Consider your business Are you a defense contractor? Are you dealing with sensitive, confidential information? If so, your rules should be more stringent. But a 100-percent ban might not be the most sensible. Consider allowing people access on their breaks or restricting only certain websites that might compromise security. If you encourage employees to promote the company using social media, spell out what kind of information should not be discussed and remind them that if productivity drops, privileges could be revoked.
Know your employees Often, older employees are less technology driven, Darling says. "Most younger employees expect to be connected all the time, so they might need more guidance about the company's social-media policy and why it's necessary." Also, if you have a large company with more employees, there's more room for abuse.
Change takes time "Start off by having brown-bag lunches, or listening campaigns, with employees and ask for feedback on what type of social-media policy would be fair for everyone." Both management and staff need to be educated on the advantages and disadvantages of social media.
Present good data If productivity or efficiency is being compromised, bring hard numbers and facts. "The better data the company has to show that work levels are suffering, the higher the chance employees will understand the need to put policies in place," Darling says.
Put it in writing Be sure to review the policies with employees and address any concerns. Also, discuss potential ramifications for breaking the rules and ask employees to sign the policy upon reviewing it.
Go to socialmediagovernance.com/policies.php for samples of social media policies.
Don't Make "A"
Everyone has their "my job sucks" or "my boss is an idiot" moments, but it's best to refrain from sharing those frustrations with your social network. That's because what you thought was only going to a few close friends may leak out to the rest of the world. The No. 1 piece of advice offered by social-media gurus and HR experts is to use restraint when talking about your job and work. Here's what else they recommend:
Be aware of your brand "What you say on social-media sites today could affect you 30 years later when it's time to apply for a job," Lagareta says. "We've seen it time and time again with politicians. Once you put something online, it's hard to make it disappear." Some people feel they can be uninhibited on social media but would never behave that way in front of a client. "It could get confusing and affect your credibility if you have an online brand that contradicts your professional brand," Lagareta says.
Use privacy settings: Set up groups so only certain people have access to information that you don't want shared with your entire network. And keep re-checking your settings, because sometimes sites change their rules. "When you are not careful about the settings you are using and you link with someone who is a client, you could be baring more information than you'd like to your competition," says Bishop & Co.'s Judy Bishop.
TBYC: Think before you click. For instance, don't hit "reply all" for emails with multiple recipients before considering the nature of your response and to whom it applies, Bishop says. Check the recipients before you send. "It would be devastating to send a private message to the wrong person – or worse, an entire group – because you were careless and typed in the wrong address," she adds.
Extra, extra! "If you wouldn't feel comfortable seeing your post on the front page of the paper, don't do it," cautions blogger Ian Lind.