Some Hawaii Pet Stores Don't Sell Pets, But Offer Adoptions Instead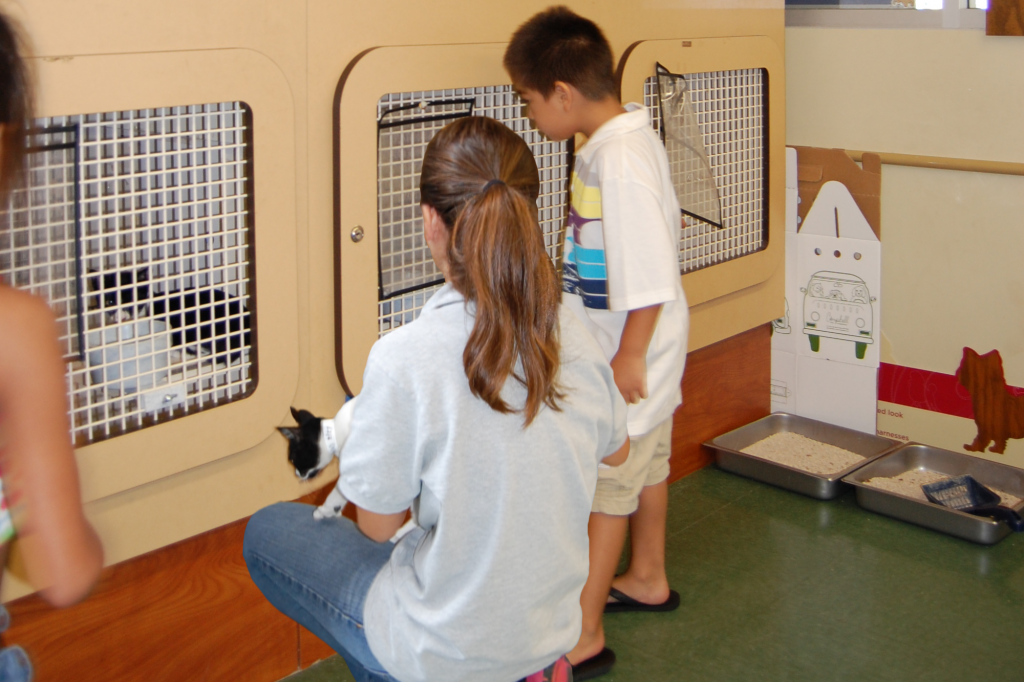 Some pet stores in Hawaii have stopped selling cats and dogs, and are instead partnering with animal shelters and rescue groups to offer adoptions of homeless animals.
The unusual marketing strategy may be partly due to more pet-store owners' concern that the puppies they sell may come from unscrupulous breeders, says Joanna Yeh, manager of Calvin & Susie, a pet-supply store in Kapahulu.
Another reason might be that inexpensive shelter animals can draw customers to pet stores and increase sales of food and other pet products.
Petco, a national chain with three stores on Oahu, sells fish, rodents, birds, small mammals and insects, but has never sold puppies or kittens and, since its inception, has partnered with local shelters to offer animals for adoption.
"It really increases our visibility when we can showcase our cats at Petco each week," says Tedi Villaroz, founder and president of Joey's Feline Friends, a Kaneohe shelter. "Some of our cats would never find a forever home if we did not have this opportunity."
Petco has opened its doors to several other nonprofits, including the Oahu SPCA, Hawaii Cat Foundation and the Hawaiian Humane Society.
"We have always had an adoption-first philosophy," says Lisa Epstein, national spokeswoman for Petco. "Through our national adoption events and other promotions, we have raised more than $75 million for shelters across the United States."
There is an adoption fee, but it is usually much less than the animal sales price charged by most pet stores. For instance, the Hawaiian Humane Society's adoption fee for dogs, cats and rabbits is $65, which includes spay/neuter surgery, all vaccinations, free vet checks if anything comes up within two weeks, microchipping and lifetime behavior counseling.
In March, Honolulu police and Hawaiian Humane Society officials rescued 153 dogs and puppies from a breeding facility in Waimanalo. The city prosecutor's office has charged Bradley International LLC with 153 counts of animal cruelty. The facility's owners operate out of Pearl City Pet Spot, a pet store that continues to sell other puppies.
The Humane Society of the United States, a nonprofit separate from the Hawaiian Humane Society, developed a national Puppy Friendly Pet Stores Pledge. A pet store that takes the pledge agrees not to sell puppies and many of the stores work with animal shelters to promote adoptions. In exchange for the pledge, HSUS recognizes the store as a "puppy friendly" business and encourages pet owners to patronize the stores.
"For us, it just ethically made sense not to sell animals at our store," says Yeh, of Calvin & Susie, the first Hawaii pet store to sign the pledge. Two other Hawaii pet stores have taken the pledge: 55 Pawsh Place in Kapolei and Natural Pet Hawaii in Lihue.
"We feel pets are members of the family," Yeh says, "and by not selling live animals, we hope this encourages people to adopt an animal from a shelter, or only buy animals directly from reputable breeders."
Call Ahead
If you want to adopt a shelter animal at a pet store, call ahead to find out on which days the animals will be available.