Startup Weekend Honolulu condenses entrepreneurship into 54 hours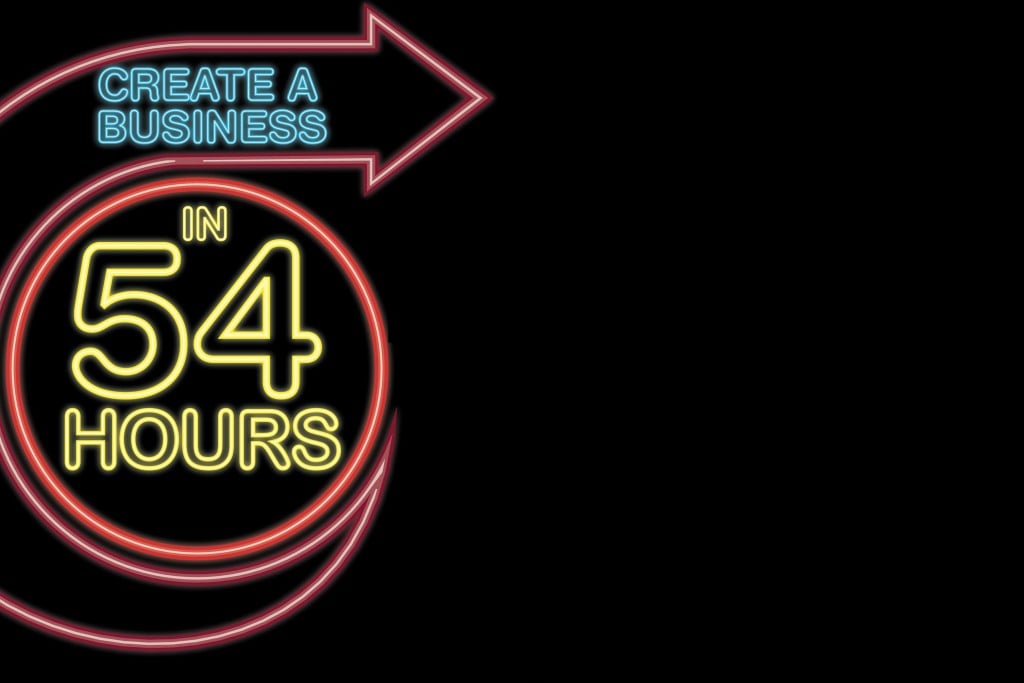 PHOTOGRAPHY BY GREG YAMAMOTO
Startup Weekend Honolulu
 

condenses entrepreneurship into a fast-paced weekend of networking, programming, design and business development. Red Bull is optional.

Four weeks after being laid off, 27-year-old Bryan Butteling stands before a crowd of entrepreneurs, software developers, designers and investors to pitch his business idea: an app that tells you which bars are showing your favorite team's game. He calls it Fan Addicts.

That was Friday evening. Two sleep-deprived, adrenaline-and-caffeine-driven days later, Butteling stands next to six people who had been strangers on that first evening. Now, they are a team, and have built and tested a working version of Fan Addicts in fewer than 54 hours. The crowd of about 100 people cheers as they take first place at Startup Weekend Honolulu, beating out eight other teams.

"After they announced my team, it was a cool rush to feel that validation from those mentors who were helping through the three-day process," Butteling says. "… (The mentors and judges) were there to give you support for your idea, and I felt that the teams that they chose were teams they felt could actually monetize and begin to actually work."

Startup Weekend gives anyone the chance to propose an idea, assemble a team and get a business running in three nights and two days. It's a crash course in hands-on business development accelerated to meet a deadline. You can network, validate ideas, introduce the next big thing and maybe even win a prize. Entrepreneurial zeal stoked by creativity, caffeine and team spirit.
7:00 p.m., Friday, Sept. 28
It's standing room only at The Box Jelly in Kakaako, a co-working space for budding entrepreneurs, software/app developers and others. More than 100 people pack into the recently renovated space, eating pizza from JJ Dolan's and drinking beer out of red plastic cups. Some aren't participating in the competition, but have come to check out the pitches or cheer on friends and colleagues.
The master of ceremonies, Frank Denbow, calls for pitches, and 20 people form a line to the microphone. Each gets 60 seconds to pitch an idea, with a round of applause gently reminding speakers when it's time to get off the stage.
Denbow has flown in from New York to provide advice. He's the founder of a merchandising service called Startup Threads and a volunteer advisor for the nonprofit that oversees Startup Weekends around the globe. He tells those pitching to answer four questions: Who are you? What problem are you solving? How will you solve it? Who do you need?
Though any kind of business idea is welcome, all the ideas tonight are for smartphone apps or web-based platforms. One person wants to create a website that will pay your ATM fees in exchange for taking surveys. Another wants to build an app that texts you when your table is ready at a restaurant.
An alarm app for smartphones gets a huge response from the crowd. Called Move Me or Else, the proposed app requires that you move your body a predetermined distance (such as 10 feet) before the alarm turns off. If you hit snooze, you get charged a fee.
After the pitches end, each person with an idea has an easel-size Post-it note with the idea written on it. Everyone in the room receives three small, yellow Post-it notes, and they vote by attaching their notes to ideas. The ideas with the most votes go on to round two. The votes also indicate who wants to work on which project.
The room becomes a hot crowded mess as people try to find the founders and talk to them about their ideas. Some gain votes by standing on chairs and being the most visible amongst the crowd, while other founders garner little attention as they stand in an open but uncrowded area.
A dozen ideas make it to the next round. Each founder now needs to find team members and manage them for the next 54 hours. Honolulu isn't full of startups like Silicon Valley, but Startup Weekend shows the city does have a vibrant startup community.
Fielding questions and talking with participants is Kevin Hughes, a Startup Weekend mentor, a pioneer in Web design and software, and a local tech legend. He started Hawaii's first web server and website at Honolulu Community College in 1993 and went on to work on major projects for companies and startups in Hawaii, California and across the country, including CommerceNet and Wells Fargo.
Hughes says Hawaii businesses, in general, have been slow and entrenched, encumbered by dominant big businesses that don't adapt quickly. Startup culture changes that. He says events like Startup Weekend allow people to think about businesses differently and accelerate all the thought that goes into a business.
"This event teaches people how to be flexible in business and to collaborate," Hughes says, adding that these skills can be used in any industry or profession, not just tech.
Rob Zazueta of Vertical Response, an email and social-media marketing company in the San Francisco Bay area, says he's been to 11 Startup Weekends around the country, including ones in San Francisco, New York and Asheville, N.C. He says the Honolulu event is smaller than in those places, but he likes coming to smaller markets because, even though the startup industry is less mature, people come out of the woodwork for the event. He also says that events like this all over the world prove that Silicon Valley isn't the only place where you can innovate and succeed.
Hawaii is also a good testing ground for ideas. "If it works here, it will work in other markets," says Mike Prasad, founder of Kinetiq Labs and a mentor tonight. What he means is that Hawaii, unlike places like Silicon Valley, is not an early adopter willing to try anything new, so, if it's a hit here, it can be replicated elsewhere in the world.
9 p.m., Friday
Everyone is talking in the still-packed house, networking and pondering ways for their businesses to move forward. The crowd is even more electric than when the pitches were being made. The excitement of entrepreneurship is contagious.
As the evening wears on, the noise gradually fades. Those who were just watching start to leave. Some participants leave because they like to work on their part alone or need some sleep. Among those who stay are programmers hunched over their laptops and typing in code. Designers are creating visual prototypes on their computers. Others hatch marketing plans. Some teams work together until 3 in the morning. Whatever the case, The Box Jelly will stay open around the clock for the entire weekend to accommodate anyone's work rhythms.
10:30 a.m., Saturday
The mood has shifted from the previous night. What once felt like a college keg party has now turned into a serious study hall. Teams cluster around folding tables as members focus on their laptops. At one table, a team member has just returned from the convenience store with a bag full of sugar-free Red Bull.
In the past 12 hours, some teams have made significant progress with their projects, but there's still more work to be done. Where's My Toot? – a marketplace for tutors – has changed its name to Tudah. Kevin Shin, a UH student who pitched the idea, looks stressed. The team's to-do list, which includes market surveys, is on the wall but nothing is marked as completed. The goal is to have it all done by 5 p.m. that day.
Minded, an app that links birthday and holiday reminders to gift-giving websites, offers free coffee as an incentive to participate in a market survey, or to sign up for an email newsletter and like it on Facebook, Twitter and Pinterest.Jamie Noland, a team member focusing on business development and a marketing project manager at Olomana Loomis ISC, says the team started with "literally nothing" yesterday and signed up for social-media accounts and had some design mockups ready to go by noon on Saturday. She says the team has two developers and hopes to have a functioning web-based platform ready to go this evening. By signing people up on social media early, they would have an audience to beta test the product on Sunday, she explains.
John Abram Cruz created a working app for Fan Addicts before he left on Friday night. On Saturday – with 48 college football games scheduled for national telecast on more than two dozen broadcast and cable networks – the team's business-development members took it for testing and validation to local bars such as Kanpai in Kakaako,Murphy's downtown and Jimmy Buffett's in Waikiki. The team says it got positive feedback from both customers and owners. Bar managers said they were tired of answering calls asking, "Are you showing this game?"
Ken Brady, a Startup Weekend Honolulu judge, says most teams build their projects through Saturday morning. Everything should be planned and mapped out by midday, he says, and, by the end of the day, it will be time to refine presentations.
1 p.m., Saturday
The master of ceremonies formally introduces the mentors and judges, who include investors and startup founders who have flown in from as far away as the East Coast. Among them are Rohan Mehta, a founder and entrepreneur who runs the early-stage investing firm Bulwark Ventures, and Brady, a futurist, science fiction writer, and co-founder of Genkii, a developer and consultancy based in Tokyo. Participants could tap the brains of Daniel Leuck of local software company Ikayzo, Chenoa Farnsworth of venture-capital firm Hawaii Angels and Greg Gaug, a senior investment associate with Ulupono Initiative and former head of strategy and financial planning at StubHub. Unofficial mentors who helped teams included Darius Monsef, founder of Creative Market and Colour Lovers.
"The mentorship that Startup Weekend provides is invaluable," says Bryan Butteling, adding that participants get free counseling that would normally cost hundreds of dollars an hour.
10 p.m., Saturday
Seven teams are still at The Box Jelly, some planning on working through the night. A few hunker down by passing around a bottle of bourbon.
Some teams have had setbacks. The team working on Minded, the birthday reminder app, does not have its product ready as planned because a developer left due to illness, says Jamie Noland.
She is not completely discouraged, however. The team ended the day with 25 people signed up for its email newsletter, 80 Facebook likes and 25 Twitter followers. Not bad, considering those were all zeroes 24 hours before.
The team working on Move Me or Else stayed up late Friday night into Saturday morning, and had a working app. Its founder, Ray DeGuzman, says the company has also thought of franchise possibilities, like "Stop Smoking or Else" or "Diet or Else," and saw the company providing tools to improve one's life. For the competition, though, the team was focused on refining Move Me or Else.
Other teams have shuttered themselves in one of the four enclosed conference rooms.
With a 54-hour time limit – and much fewer hours to actually write code and develop the project – some people think that no one sleeps at Startup Weekend. The stereotype does apply to some people, but most get at least a little sleep. Even so, Startup Weekends asks for a big time commitment from all participants, which may be impossible for many people with families. Some other stereotypes fit: Most people here are under 30, and most are men.
Everyone's story about why they came is unique. Steve Monas, an entrepreneur from Poipu, Kauai, came for the experience. He pitched an idea for a business that monetizes open government data, but was unable to persuade people to back his idea. Undeterred, he is excited to spend the weekend working with smart people.
Fan Addicts team member Eamonn Donlyn, a sales and marketing executive at KGMB who moved to Hawaii from Ireland a year ago, says he came to network and meet people.
Unlike some work situations, Butteling says, the participants are generally easy to work with. He says it's pointless to delegate; instead, people just fall into their roles.
1 p.m., Sunday
Inside The Box Jelly, the mood is relaxed as teams prepare their presentations. Presenters rehearse their lines and go over slideshows. Designers and developers seem to take it the easiest, sitting back and chatting. Their work is done.
Plate Nation starts a barbecue at 2:30. Michael Reisor, who works at the state's High Tech Development Corp., says the cookout is to get the word out about Plate Nation and test its software. It is a web-based platform that connects travelers with people who would like to host and share a home-cooked meal. Reisor is hoping to create a community for people who like to eat, and home cooks who want to validate their own cooking expertise. People rate users on their cooking and the first user is cooking the barbecue.
5 p.m., Sunday
Presentations have been moved to Fresh Cafe, about five blocks from The Box Jelly, where there is a large back room with a stage. As presenters and guests arrive, it's not as crowded as Friday night, but it is again standing-room only.
Each team is called up to present and then is grilled by the judges. How do you plan on making money? How are you going to differentiate yourself from other businesses with similar ideas? How will you incentivize people to join?
Some of the pitches from Friday have changed names and morphed into new businesses. Prompt Me has turned intoLiterately.co, a creative tool for readers and writers to use to compose stories on their mobile phones. Where's My Toot? – which turned into Tudah – now is focused on one specific market, foreign-language tutors.
The most audacious presentation comes from Ally.io, a reservation system for small- to mid-size businesses in the local hospitality and activity industry. At the end of his presentation, the founder estimates $80 million in annual revenue and, matter-of-factly, asks for $5 million in funding.
After the anxiety of the presentations is over, everyone enjoys the moment, and no one bites their nails waiting to see who won.
The judges announce the top three projects: Fan Addicts,26 Ideas (a website that lets you post an idea and like other ideas) and Move Me or Else. Each gets prizes, including a micro-incubator workshop with Kinetiq Labs. The top team gets a chance to pitch its idea to the investors of Hawaii Angels, though the pitch does not guarantee funding.
What happens next?
At the Startup Weekend Honolulu event in April, Elyse Petersen introduced Tealet, a business that connects tea growers in places like China and Japan directly with tea drinkers around the world. Tealet placed second at that Startup Weekend and has since been invited to participate in 500 Startups, a renowned startup accelerator in Silicon Valley.
The No. 1 team at April's Startup Weekend Honolulu event built WhoWillSee.Me, a site that connects its members with a doctor who's immediately available. That app has not taken off, but it was the brainchild of developers from HMSA, and the project has influenced how the health insurance company will approach startup culture in the future. In fact, HMSA was one of the platinum sponsors of this September's event and a number of its developers signed up.
On Sunday, DeGuzman and Bryce Bearchell say their Move Me or Else app will be ready for launch in about three weeks.
As for Fan Addicts, the team was determined to meet again, says Bryan Butteling. He says the weekend gave him an incredible experience, new colleagues and a viable business model. That's exactly what Startup Weekend was designed to do.
Designers and Developers Wanted
Startup Weekend categorizes the participants at its gatherings worldwide as entrepreneurs, designers and developers, but the latter two are usually in short supply. To address these shortages, each category of participants is capped with a certain number of participants. Honolulu capped each category at 50.
Shawn Reills, the designer from the winning Fan Addicts team, pulled triple duty over the weekend by helping two other projects.
Angelica Rabang, a freelance designer who worked on the Move Me or Else project, was hesitant to participate at first because, like other designers, she didn't want to just follow someone's directions. "I thought I would be told, 'You do exactly this and that's all you do,' but it wasn't like that at all," she says. "It's super collaborative compared to what I thought it would be. It really opened my mind."
The event can push developers into new categories. Bryce Bearchell, a freelance developer who worked on Move Me or Else, says the app is his first iPhone 5 app. (That version of the iPhone had just been released a week before the event.) He joined the project because it seemed like something that was "doable," and thought he could get a minimum viable product (MVP in startup jargon) by presentation time. He did stay up for two days straight, and the team had a working product by the time the team presented.
Events Around the World
Startup Weekend is a nonprofit based in Seattle that helps local organizers set up such events worldwide. During the same weekend as Startup Weekend Honolulu, events were also held in Manila, Basel, Switzerland, and at the University of Southern California. Visit startupweekend.org for a list of events.
Honolulu has held three Startup Weekends, with a plan of staging two a year. The goal is to create 200 businesses over five years via Startup Weekend, says Danielle Scherman, who, along withRechung Fujihara and Dave Pascua, organized the local event.
In Honolulu, the cost to participate was $99 for designers, developers and entrepreneurs, and $50 for students. Entry includes access to a facility at which to work, meals and access to mentors and judges.
Further Reading
LIVE BLOG: Startup Weekend Honolulu