State of the Unions
Hawai'i's workforce is more unionized than any in the country and it's facing challenges as the pandemic disrupts tourism, government, shipping and other unionized sectors.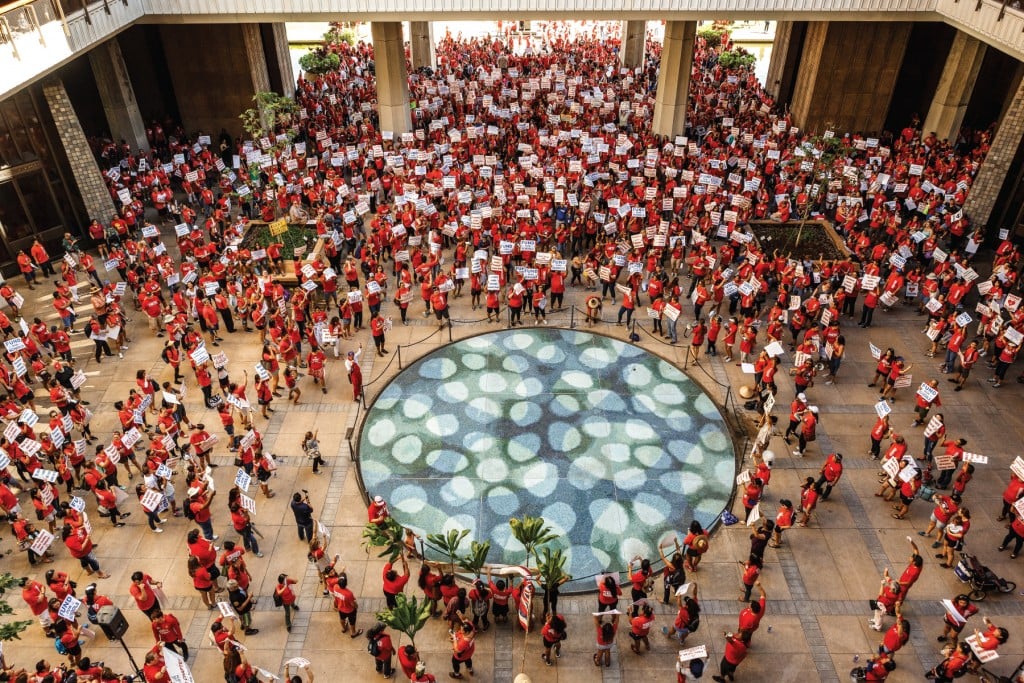 Here's how unions see their role and how their power shapes local politics and public policy.
Union participation has been declining for decades in the U.S. – roughly 1 in 5 American workers were union members in 1983, according to the Bureau of Labor Statistics. In 2019, that figure was down to roughly 1 in 10. The political power of national unions has similarly diminished.
Hawai'i is an outlier. Last year, the bureau reported that 23.5% of local wage and salary workers belonged to a union – almost 1 in 4 – and some unions wield considerable political power. During this year's election campaign, as in previous years, many candidates have courted union endorsements and have touted the ones they received.
However, the pandemic has driven unemployment to record levels, raising speculation about a potential decline in union membership. Many low wage and immigrant workers have never had representation, and the pandemic has highlighted their struggles to access services like unemployment insurance and health care.
Hawaii Business Magazine spoke with labor organizers, union officials and scholars about the challenges facing organized labor during the pandemic, the political influence of unions and their future in the Islands.
Working People
"Our responsibility is to provide a voice and representation to working people," says Randy Perreira, president of the Hawai'i State AFL-CIO, a council of local unions. "In our crazy pandemic world, we've taken on multiple roles."
One role is advocating for employee safety, he says. Another is focusing on economic stability within the community.
"Within the AFL-CIO, there's a broad spectrum of unions. You have those of us in government and construction who are working, who continue to provide essential services in our respective areas. You have, however, people in the hospitality industry who are sidelined completely, and those in the maritime industry who have seen dramatic scale backs in the work that they're doing."
At the broadest level, Perreira says, unions have been seeking coherent policy from state and county governments to promote economic stability during the pandemic. He says unions and their members have also been helping others by distributing food and sometimes direct aid so people can pay for utilities and rent.
Perreira is also executive director of the Hawaii Government Employees Association – Hawai'i's largest union – which represents more than 42,000 members who work in state and county government. Public sector unions have "something of a traditional employer-employee type relationship" with the government, he says. "Our interaction with them – just like with your employer – could be cooperative at times and maybe contentious at times."
Perreira says he's been frustrated by a lack of coordination among some departments and agencies at the state level during the pandemic. Some departments and agencies have done an excellent job of ensuring worker safety, he says, while others have done poorly.
"Sadly, in many instances we find that government has become the biggest offender of their own guidelines and prohibitions," says Perreira. "They have returned people to work in cramped quarters, so social distancing is not always honored." Some government employees have had requests for telework denied without justification, he says. He also points to inadequate PPE, especially at the Hawaii State Hospital and within the prison system.
"There's no improvement whatsoever in either the communication or the development of protocols from the top, from the Department of Health. To some extent, the departments have pretty much been left to operate on their own."
Perreira says the pandemic has highlighted the value of unions. He says that though Hawai'i isn't a hotbed for efforts to organize additional workers, union action still has the potential to improve working conditions for all workers. For example, he cites paid sick leave and paid family leave for all workers as policies that some members of the labor movement are fighting for.
He says he was heartened by a Gallup Poll released just before Labor Day that reported that 65% of Americans approve of labor unions. Gallup says the percentage has been rising since hitting a low of 48% in 2009, during the Great Recession.
"People are beginning to see that labor unions and organized workers do have that broader picture in mind, that it's not just about trying to increase the wage of the unionized worker, but it's really trying to create a better community," Perreira says.
Advocating for Safety
"I tell people that 'union' means you're not alone," says Corey Rosenlee, president of the Hawaii State Teachers Association. "Rather than one person having to advocate for something, we have 13,500 members of HSTA united in trying to make sure our schools are safe."
Rosenlee says HSTA worked with HGEA (which represents school principals and educational assistants) and United Public Workers (which represents custodians and food workers) to advocate for a delayed reopening of schools to ensure safe conditions for students and teachers.
He says the unions were concerned the DOE was opening schools too early, without sufficient protective equipment or thorough sanitation procedures, and that it was unsafe for teachers and students. The unions asked the state for an extra two weeks to prepare and received those two weeks, pushing back the start of the school year from Aug. 3 to Aug. 17. On Aug. 13, Rosenlee issued a statement in which he described the DOE plan to have students visit campus to pick up distance learning materials as unsafe. In the statement, he announced that HSTA was filing a complaint with the Hawai'i Labor Relations Board.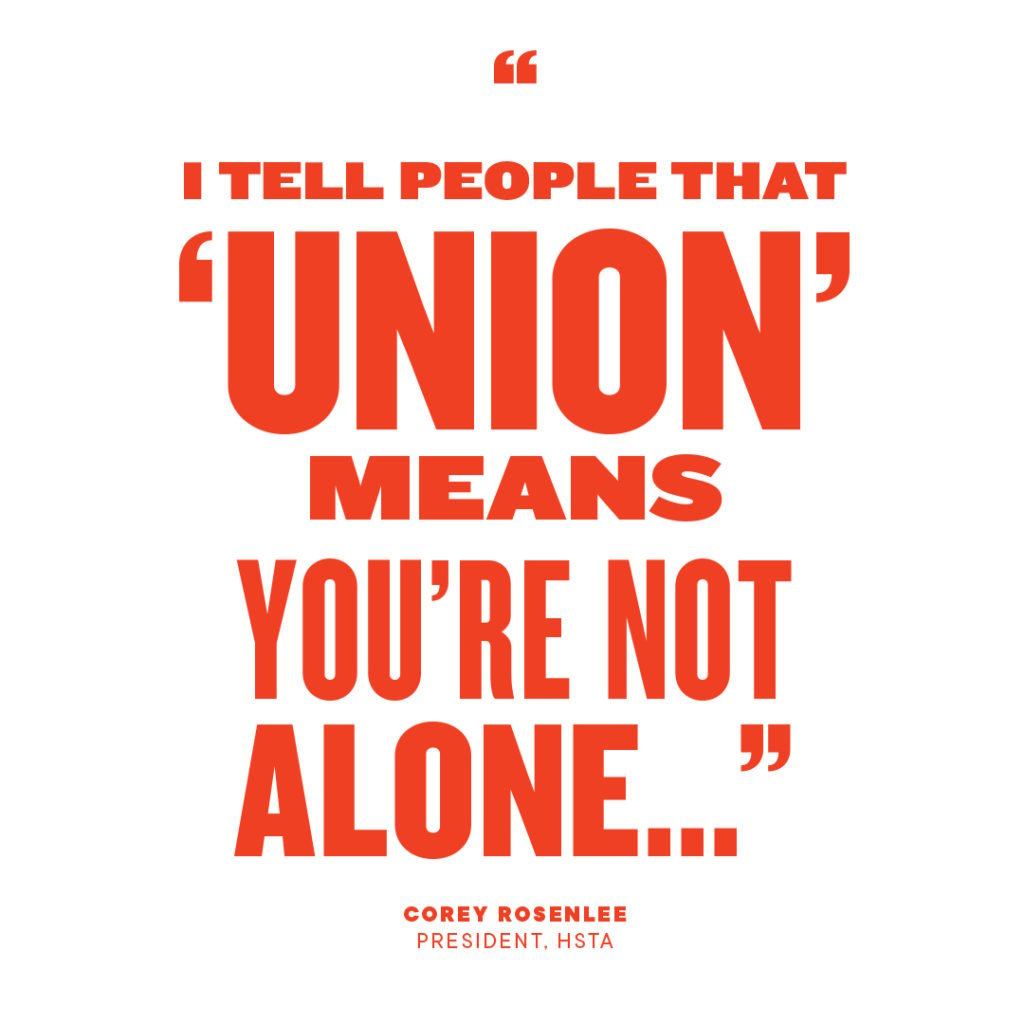 Rosenlee views HSTA as the latest in a long line of unions stretching back to the industrial revolution. "If you think about the industrial revolution and the birth of the unions, you had wealthy individuals that were motivated by greed. If given the absolute power to do so, they created horrible work environments and paid their workers as low wages as possible," he says. "Unions are there so the workers can stand up against that kind of authority and greed and represent the workers' interests."
Though HSTA has experienced some success in advocating for teachers, Rosenlee says, "there are still deep structural inequalities." For example, he points to the disparity in resources available to private and public schools.
"Hawai'i still has the highest rate of private school attendance in the nation," he says. "You go a mile down the road and compare the facilities of Punahou versus Roosevelt. … One of our priorities is to improve schools not only for teachers, but for keiki as well.
"That's still an issue that I feel we have not addressed in Hawai'i: How do we create a more equal society?" One way, he says, is by ensuring that everyone has a shot at a quality education.
Labor Leaders
The University of Hawaii Professional Assembly represents roughly 3,500 Bargaining Unit 7 members, all faculty members in the UH System. Of those workers represented by UHPA, roughly 86% are members of the union.
Since a 2018 decision by the U.S. Supreme Court, workers within any union's bargaining unit are not required to pay union dues, even though they receive the same wages and benefits as union members.
Up until the court ruling, "nonmembers paid 'fair share' fees to cover the costs associated with collective bargaining and contract enforcement," says UHPA's executive director, Christian Fern. "However, after that decision, unions are unable to collect those fees. Union dues are collected from members."
At UHPA, Fern says, his primary responsibility is to "ensure that the collective bargaining unit terms and conditions are being followed by the employer."
To do that, Fern says, his days are filled with meetings: listening to faculty members' concerns and addressing those concerns with university administrators. He also works with the state Legislature to ensure that members' interests are addressed.
Fern says his involvement with the Legislature dates back to college. "I interned as a student and returned after I graduated, as a committee clerk. … That gave me insight into how policies are developed at the Legislature. After that, I encouraged everyone I knew to work down there to see how things actually work."
After working as a committee clerk for one legislative session, Fern worked at HMSA for 16 years and then at Kaiser Permanente for six months. He was hired as associate executive director of UHPA in July 2015 and promoted to executive director in December 2019.
"Before joining UHPA, I managed the employer union health benefits trust fund for (HMSA and Kaiser). That experience helped me get some insight into the collective bargaining world since the beneficiaries of the funds are primarily union members."
While working at HMSA, Fern completed a weeklong, in-person advanced labor program at Rutgers University. In one class exercise, he had to play the role of labor during collective bargaining. "I was fascinated with the whole collective bargaining process," he says. "I believe (it) sparked my interest in the union movement."
Fern says he was frustrated by Gov. David Ige's proposal in April to cut pay for public workers. He says Ige's administration hadn't engaged in any formal negotiations with the union before making the proposal. He says his members are prepared to make sacrifices, but he expects the administration to follow proper procedure.
"Public employees are well aware of the fiscal situation and they know there will be tough decisions that need to take place," he says. "Tell us a number. Tell us what we need to contribute to meet the needs of the state."
When the Department of Labor and Industrial Relations was struggling to process unemployment claims, Fern says, UHPA, HSTA and HGEA sent volunteers to the Hawai'i Convention Center to help. Other members have been trying to support local businesses.
"Public employees have been encouraged by the various unions to continue spending money in the community to ensure that the money is flowing within the economy. That's a direct result of them not having a pay cut or losing their jobs," he says. "Public employees make up 10-12% of the entire workforce. They recognize that this is a dire situation, and they're trying to do their part."
Political Power
Colin Moore, director of the Public Policy Center at UH Mānoa, says some local unions enjoy considerable political power.
"We have the highest union affiliation of any U.S. state," he says. "Almost a quarter of employed people are represented by unions here. That's way, way higher than anywhere else. … In California it's 15%. As a result, unions here have a lot of power."
According to Moore, unions primarily affect elections in two ways: campaign contributions and endorsements. He says that some unions, like the Hawaii Regional Council of Carpenters, have demonstrated effective political strategy and even played decisive roles in some races.
For example, the Hawaii Regional Council of Carpenters played a large part in the 2018 race for lieutenant governor. Through its super PAC, "Be Change Now," the carpenters union spent more than $1 million to support Josh Green's candidacy. Jill Tokuda, who finished second in the race, had been critical of rail project cost overruns while serving as the chair of the Senate Ways and Means Committee.
Previously, the carpenters union funneled more than $3 million through the Pacific Resource Partnership, an advocacy group that represents the carpenters and more than 240 local contractors, to support Kirk Caldwell in his 2012 bid for mayor. Caldwell's opponent, former Gov. Ben Cayetano, had based his campaign on stopping the Honolulu rail project. After he lost the election, Cayetano sued PRP for libel for its negative ad campaign against him; they settled after PRP agreed to run apologies in the Honolulu Star-Advertiser and give $100,000 to UH and $25,000 to the Hawaiian Humane Society in Cayetano's name.
"Trade unions tend to be pro-development, which leads to policies that encourage development," Moore says.
While trade unions advocate for development and construction projects, public sector unions trade political support for steady raises and generous collective-bargaining rights and protections for workers, he says. "It's all very transactional."
When Ige challenged incumbent governor and fellow Democrat Neil Abercrombie in 2014, HGEA endorsed neither candidate in the primary election; Ige won and HGEA endorsed him in the general election, which he won.
In 2018, HGEA endorsed Colleen Hanabusa in her campaign against Ige in the Democratic primary. Ige defeated Hanabusa, then received HGEA's endorsement in the general election, which he also won.
When Ige proposed a 20% pay cut for some state employees in April 2020, Perreira said in a video message to HGEA members that he had lost all confidence in the Ige administration. Rosenlee, the HSTA president, held a press conference to voice his opposition to the proposal. Ige backed down.
Two months later, the state Legislature approved millions of dollars of pay raises for government workers, even as the state forecast a budget shortfall of more than $1 billion.
"The fact that public workers got a raise in the middle of a pandemic is an indication of the unions' political power," says Moore.
Also advocating for their members' safety are private sector unions, including Unite Here Local 5, which represents more than 12,000 hospitality, health care and food service workers in Hawai'i.
On March 17, in the pandemic's early stages, Local 5 union leaders wrote an open letter to employers, requesting they ensure continuing medical coverage for employees, allow access to sick leave, ensure adequate cleaning and sanitation, and respect labor agreements.
Eric Gill, Local 5's financial secretary-treasurer, says some hotels – especially those owned by offshore investors and real estate investment trusts – have refused to bargain over these conditions during the pandemic. He attributes their resistance to a divergence of interests between labor and owners. "The conflict of interest between hotel workers and hotel owners is a conflict between local people and global corporations that are just out to make money," Gill says.
"Hotels are not just there to provide returns for private equity and real estate investment trusts, they're there to provide jobs for us," says Gill. The hotel workers represented by his union want to work, he says, but not at the cost of their health or lives.
Gill says he wants the state to use federal aid money to support workers' health and welfare benefits. He also says the state should set high standards for employee testing and require staffing levels adequate to enact hygiene protocols.
Gill says the COVID-19 Health, Safety and Security Standards proposed by the Hawai'i Lodging and Tourism Association are "woefully inadequate." The standards require that sick employees stay home, but Gill says he's worried that sick employees will continue working because they don't have paid sick leave. He says he's also concerned that the standards provide no requirement for staffing levels and that if hotels cut personnel to reduce costs, they won't be able to ensure the safety of workers or visitors.
HLTA represents hotel properties and more than 500 other businesses, and in his role as president and CEO of HLTA, Mufi Hannemann often works with Local 5's Gill. Hannemann says that with the COVID-19 proposal, HLTA's aim was to create a set of guidelines that would satisfy both industry stakeholders and the state Department of Health. He says he recognized that not everyone would be happy and counseled Local 5 leaders "to go back to hotels and ask for a higher standard" if they're not satisfied with the HLTA proposal.
In some ways, the interests of Local 5 and HLTA align. Both benefit from tourism. Yet they are often pulled in different directions. Local 5 represents the interests of workers; HLTA represents the interests of owners and other stakeholders. Of course, both groups want a safe reopening, but their leaders disagree about what that entails.
In the eternal negotiation between labor and owners, unity may not be possible, but ongoing collaboration is. Hannemann says the key is to "never stop communicating." Stakeholders have to be heard and recognized, even when their voices are in the minority; otherwise, he says, they won't accept the outcome. At the negotiating table, "the process is almost as important as the end product." However, some scholars argue that workers are not adequately represented at the negotiating table.
Workers at the Table
In June, Monisha Das Gupta and Richard Rath co-authored "Workers at the Table: Recommendations for Best Practices for the Hotel Industry as it Recovers from COVID-19."
Das Gupta is a professor in the ethnic studies and women's studies departments at UH Mānoa. Rath is an associate professor in the ethnic studies department. Both have been supporters of Unite Here Local 5 since 2002.
Their report recommends that "workers have a place at the table in all discussions about reopening tourism and an equal voice in shaping the future of Hawai'i's hotel industry."
"In order for hotels to reopen safely, they need to draw on the experience of the people who run the hotels … the workers," says Rath. "The managers say they run it, but you know if you have ever seen a manager try to fill in for a worker, you know pretty quickly who runs the hotel."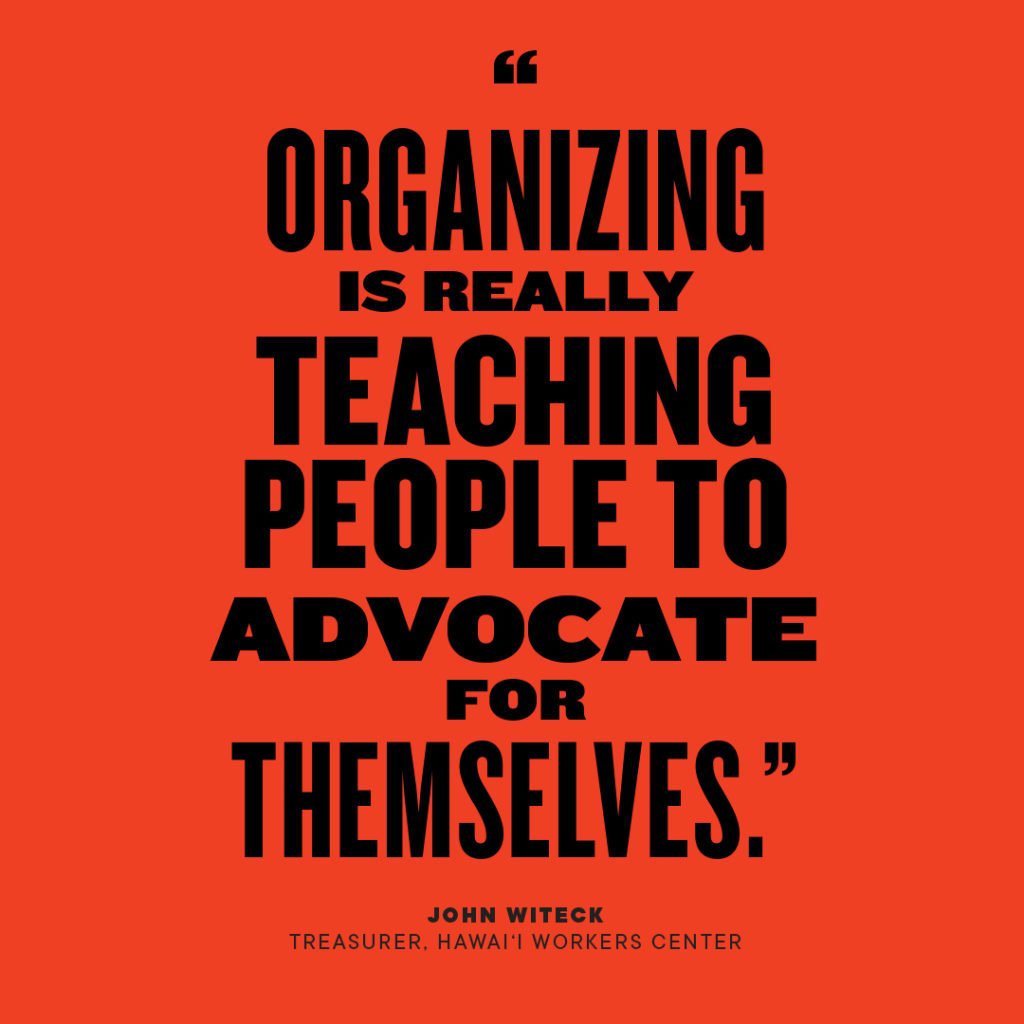 Before he became an academic, Rath worked in the restaurant industry for 15 years as a line cook. He says this experience alerted him to the benefits of union membership: Some of his fellow cooks had worked stints in Las Vegas – where restaurant workers are unionized. Back then, his co-workers told him they could earn a decent living in Vegas, because of the union.
Rath says that when he's attended local hotel inspections, he's found the appearance of safety in the lobby sometimes conceals unsafe working conditions elsewhere in the hotel. For example, he says, cooks are often crammed together in kitchens, within inches of each other.
"They (the hotel owners) would need to redesign the kitchen," he says. "They don't want to do that, but that's the kind of thing that needs to be done, taking care of workers through structural redesign, and it will cost money and take away from profitability, so the corporations – most of which are (based) overseas – are opposed to it."
In the report, Das Gupta and Rath argue that enhanced safety procedures and workplace redesigns won't be enough. They write that the hotel industry needs "paid sick leave, health care for all, (and) employer sanctions to safeguard workers from losing unemployment benefits if they have concerns about safely returning to work."
Nonunionized Workers
Though Hawai'i has the highest level of union membership in the country, most workers are not represented. Since its launch May 1 on International Workers' Day, the nonprofit Hawai'i Workers Center has been trying to change that.
According to its website, the workers center provides "information, education, training and organizing," as well as workshops on workers' rights; safety and health; and protection from wage theft, labor trafficking, abuse, harassment and more. The center also offers referrals for health, housing, immigration and legal matters.
Tony Doroño, the center's executive director, moved to Hawai'i last year. Before retiring seven years ago, he worked as a union organizer in California for more than 15 years, including with the Service Employees International Union and the United Nurses Associations of California/Union of Health Care Professionals. He also served as chairman of the board of the Filipino Migrant Center in Long Beach.
In Hawai'i, Doroño says he spoke with local community organizers and labor organizers and learned that few local unions engaged in external organizing to get other workers organized. He also found that low-income workers were not very well organized, and that many were unaware of their labor rights. He says the Hawai'i Workers Center fills the gap to educate workers about their rights.
John Witeck is treasurer of the Hawai'i Workers Center and a member of the board of sponsors. Witeck worked for the United Public Workers for 26 years as a union editor, business agent and assistant division director. Following his union work, he worked 19 years in HR and in management positions with the City and County of Honolulu Department of Environmental Services, the Honolulu Board of Water Supply and UH Mānoa. He retired in 2014.
Witeck says low-income workers and immigrant workers often lack the resources or language skills necessary to access government services such as unemployment insurance and health care. The pandemic has interfered with physical outreach to these communities, he says, so the workers center has focused on online education and leafleting at food distribution centers.
Mary Ochs, a member of the board of sponsors, says there are more than 200 workers centers in the U.S. Some focus on specific industries or demographic groups, but the Hawai'i center is "more flexible and adaptable."
The center is funded primarily by small donors, as well as the Hawai'i People's Fund. In September, Ochs says, the center had only one paid part-time staff member. Doroño volunteers in his capacity as executive director.
Doroño says the pandemic will result in many union members losing their jobs. As these workers enter the nonunionized workforce, he says, there may be an opportunity to foster new workers associations and fight for better working conditions. The challenge, he says, is to "bring them together, and point out the most urgent issues that they have and organize them on the basis of those issues."
Witeck says that organizing labor requires overcoming fear and building trust.
"In many cultures there is a collective culture, but in other places there's a rugged individualism, so to teach people about solidarity and how much more effective and powerful they can be if they get together is always a problem," he says. "Organizing is really teaching people to advocate for themselves."
---
The Revolving Door
Union influence on local politics extends beyond campaign contributions and endorsements. Some former politicians go on to careers with the unions, while some union officials successfully enter politics. Here are two recent examples.
Honolulu City Council Chairman Ikaika Anderson announced that he was stepping down in a letter dated Sept. 9. He was ending his final term early, he wrote, to support his aging grandparents, who raised him. Two days later, Honolulu Civil Beat reported that before his resignation, Anderson had already accepted a position with Local 630, the plasterers and cement masons union, and had been working for them since Sept. 1.
In July, Tyler Dos Santos-Tam was elected chair of the Democratic Party of Hawai'i. From 2013-2018, Dos Santos-Tam was executive director of the Hawai'i Construction Alliance, which lobbies on behalf of 15,000 members of the carpenters, laborers, plasterers and cement masons, bricklayers, and operating engineers unions.