Surfing Is Life At Downing Hawaii
This profile of the family business founded by George Downing was written just weeks before the famous surfer died March 5, 2018.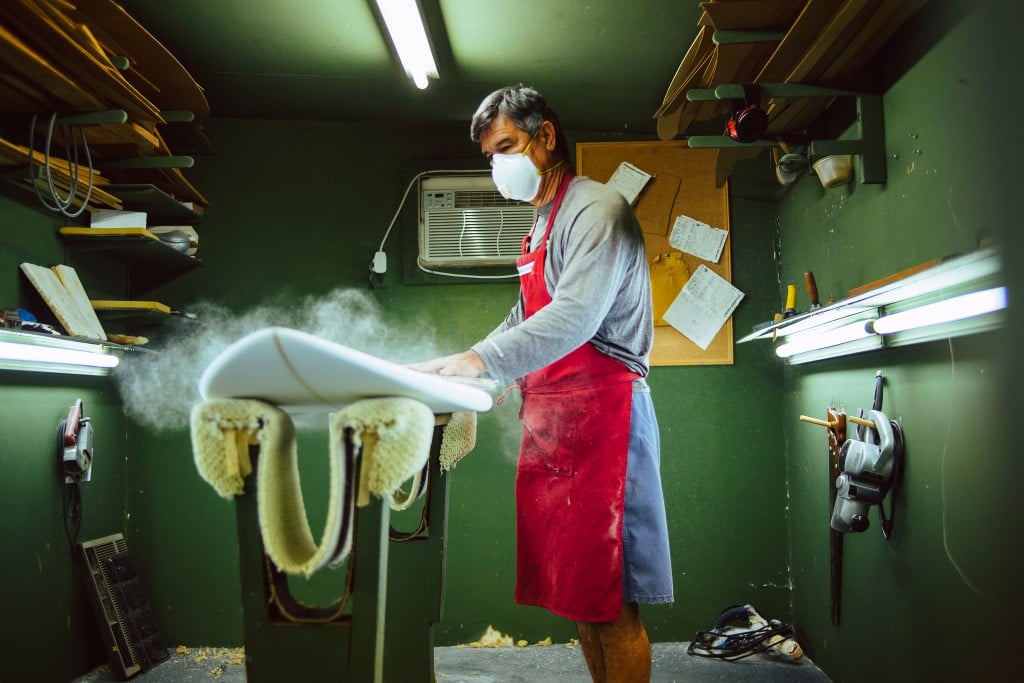 "Everybody should learn how to surf. The ocean teaches you self-esteem, builds values and shows you what you can and can't do in life," asserts Keone Downing, manager of his family's longtime Kaimuki surf store, Downing Hawaii.
"The sea is powerful. It's intimidating. Nothing on land gives you as much immediate consequence as does the surf."
Keone, 64, is the son of the legendary, late-surfer George Downing. "My father basically grew up on Waikiki Beach," he says. "When he was only 10, my grandparents got separated and divorced. Rather than go back to the Mainland, my father ran away and got taken in by the Waikiki beachboys.
"He was kolohe (rascal) and street-smart."
In the 1950s, George managed the surfboard concession at the Outrigger Canoe Club and taught surfing. He met his wife, Gildea, in Waikiki.
"But in the mid-'60s, my father found the beach was changing. There was more drug use," Keone recounts. "So he and a friend of his got this idea to open up a surf store to capitalize on my father's reputation as a waterman."
George ran the store on Kapahulu Avenue, next to the former Ono Hawaiian Foods restaurant. His friend ran another on Keeaumoku Street, about where McDonald's is now, Keone says. Initially, both stores were known as the International Surf Center.
In the early '70s, the Keeaumoku Street store closed and the remaining store was rebranded as Wave Crest Hawaii. In 1978, George moved the business to its present location on Waialae Avenue in Kaimuki and incorporated it as Downing Hawaii. The family is fortunate enough to own both the building and the land it stands on.
Keone is also quite the surfer, having ranked fifth in the World Amateur Championships when he was only 16. After college, he joined the World Professional Tour from 1978 to 1980. And in 1990, he won the Quiksilver Eddie Aikau Big Wave Invitational at Waimea Bay.
After receiving his bachelor's degree in graphic design from the California College of the Arts in 1975, Keone came back to Hawaii to work part-time in his father's surf shop, and began to learn to shape boards.
"We're Hawaii's oldest surf shop," he says proudly. "My father was the first to bring foam surfboards to Hawaii in 1959, due to his friendship with manufacturers Hobie Alter and Gordon Clark; we became their exclusive distributor.
"Dad didn't mass-produce boards; he made them for each individual's needs. In the '40s when he was growing up, you had to learn how to shape boards out of necessity – there were no surf shops."
The Aina Haina resident says the family business's boom years were the mid-'70s to the mid-'90s. "We were able to open a second store with women's clothing at Windward Mall, Get Wet, in the early '80s. My sister ran it. Then we opened a third store in the mall, Downing Hawaii, in the early '90s."
Keone divided his time between the two Downing Hawaii branches. But when the local economy weakened in the 1990s, both Windward Mall stores eventually closed. "During the (first) Iraq war, you could drive a bowling ball through that mall and not hit anyone."
Keone says they were also hit hard by the 2008 recession. "We started to concentrate more on boards; the clothing lines became optional."
George worked at the Kaimuki store until his late 70s. Keone took over its management in 2005.
"But I noticed my father started to ask me questions like, 'How's your kids?' or 'How's your family?' I began to realize making money wasn't the only thing in life," the father of two grown children and two grandchildren says. "If the surf's good, sometimes I'll just lock the door and put a sign up, 'Gone surfing – and you should, too.'
"Life is just like surfing: It's all about making adjustments."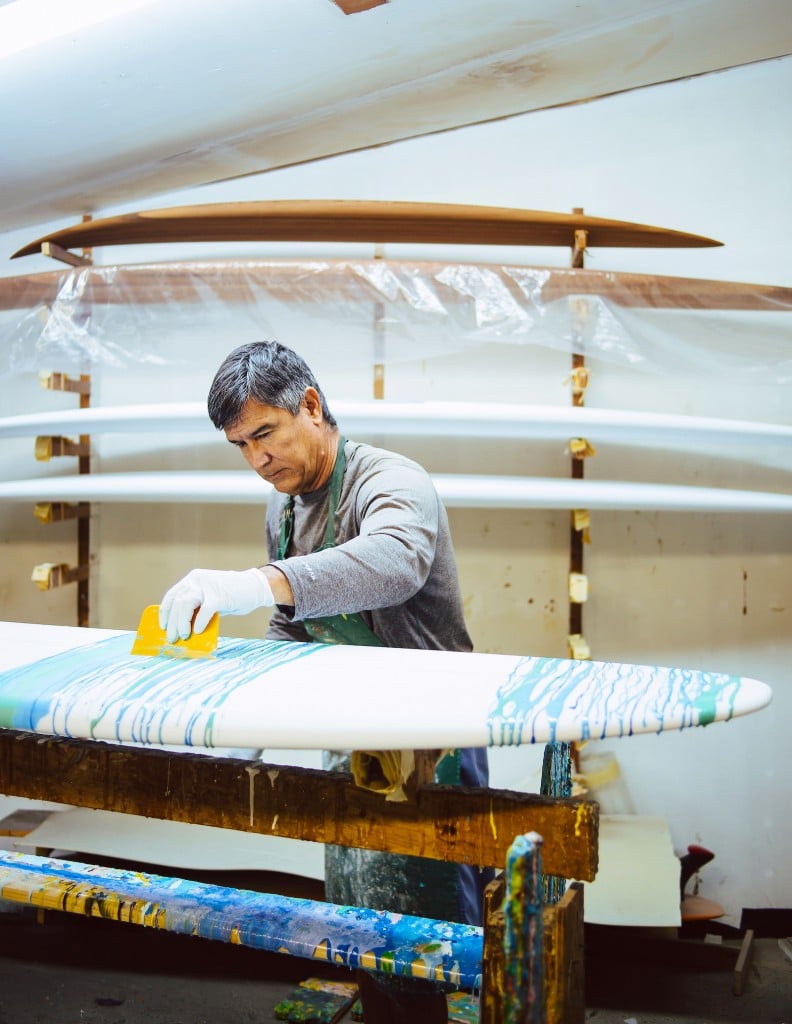 Now, Keone works in the shop during the day and shapes customers' boards at night. "The shortboard designs are mine; the longboards are my father's," he says. "People should talk to us about finding the board that's best for them, according to their skills and the location they'll be surfing.
"Cheap boards may be OK for you at the beginning, but maybe not later."
Customers find Downing Hawaii mostly through word-of-mouth and its website. "We're a destination shop. People come here for a reason," Keone notes. "We have a lot of local repeat customers – probably over 70 percent. And they're generational – they'll bring younger family members back."
Jeeyun Lee, executive director of the Hawaii Nature Center, is a stand-up paddleboarder and has been a Downing Hawaii customer for the past decade.
"I've bought rashguards, suits, wax, boards, surf racks, straps, leashes and other accessories from Downing. The customer service is excellent, and Keone lives and breathes the values of malama aina.
"Whenever I go in, Keone has exactly what I'm looking for, somehow magically laid out and ready for me. Downing Hawaii has been a fixture in my life, from my 20s as a young adult first learning to surf, to now being a 34-year-old mother of a 6-year-old."
As for the future, Keone says, his dad doesn't care much about preserving his legacy, and doesn't want his children or grandchildren to continue the business if they're not interested.
But as long as the shop stays open, Keone says, the family is "happy to share with others the sport that has taught us all about ourselves."