Talk Story: David Lassner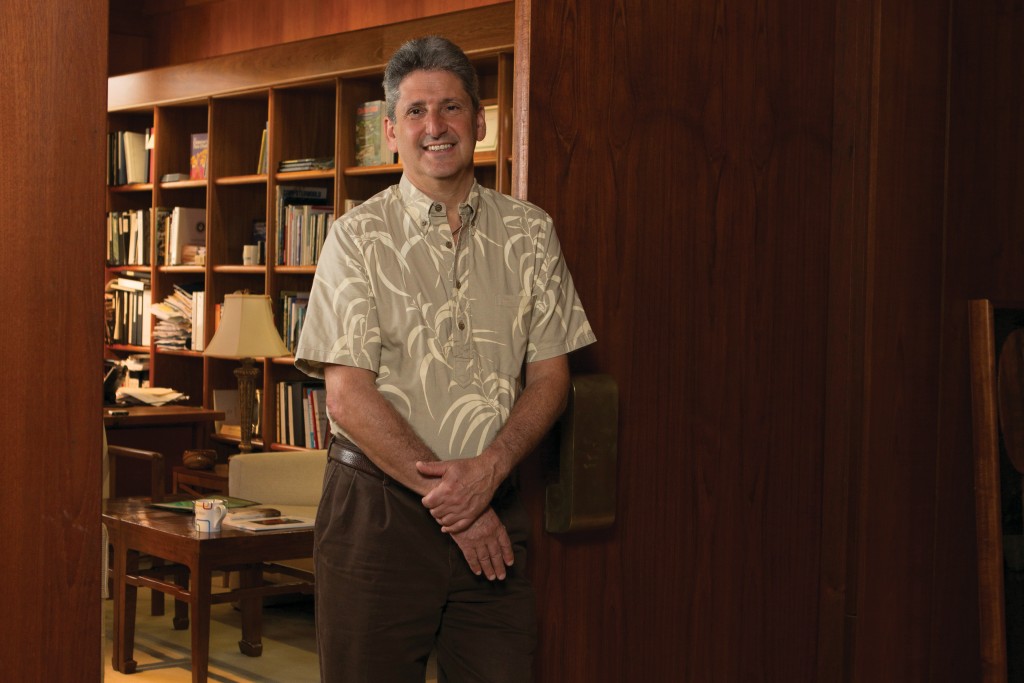 It was not your idea to vie for this job; the UH Board of Regents asked you to apply. Given the troubles facing the UH, what made you accept the challenge?
This is the only grownup job I've ever had. I came here when I was 22 years old. Personally and professionally the institution has been great to me and I wanted to give back. Most important, I believe that UH is the most important institution in the state in terms of creating a positive future. We educate the students, who are the backbone of the state moving forward. Our research work is also important. We look at sea-level rise, climate change, sustainable agriculture, the health of families, prison policies. You just go across the gamut and the UH is doing the work that helps us understand the world around us – and the challenges and opportunities.
You became the 15th president of the UH system on July 1, 2014. Within a few weeks, you faced high-profile protests, fallout from a hiring freeze at your flagship campus and turmoil over Manoa Chancellor Tom Apple's firing. How did you make it through that turbulent time?
I had already been interim president, so I was aware of the challenges we were facing, particularly the financial challenges. I never once got up in the morning and said: "This is very painful, I did the wrong thing." That is what grounded me, consistently being able to tell myself: "This was the right thing to do."
As I looked at all the demonstrators, I thought to myself: "In my youth, I was them. How did I get myself on the other side of this front?" This chapter was all about conversation. I needed to explain things. I don't think I was able to convince everyone who was there, but I think it was important that we communicated.
Describe your leadership style.
I think I am pretty consistent and I'm principled. I like consensus, but I don't demand it because sometimes it doesn't work. I am not afraid to have people around me who don't agree with me and I'm pretty reasonable about changing my mind. One thing about this job is that it is impossible to know everything and I would rather have people around me who have expertise in their areas and with whom I can have lively debates.
What alternative sources of revenue are you considering to make up for the decrease in state funding?
It isn't helpful for me to say the Legislature is unfair – legislators face a lot of challenges. Our challenge moving forward is to do the best to manage our costs and to identify other sources of revenue.
"As I looked at all the demonstrators, I thought to myself: 'In my youth, I was them. How did I get myself on the other side of this front?' " 
One of the advantages on the cost side is that, as a system, we have opportunities for economies of scale and collaboration across 10 campuses. It won't be easy, because anything you change is hard, particularly in a complex institution that has a strong tradition of participatory governance. We have to be smart, because we have gone further than we should on across-the-board 2 percent cuts. Those have hurt us and we can't keep doing that. In fact, there needs to be some restoration.
On the revenue side, there are areas where we can do better and those are where I intend to spend more time. One area is philanthropy. I think there is wealth in this community that can resonate with the mission of public higher education. We have to do a better job at connecting.
We have land assets that can be leveraged both monetarily and from a mission perspective. Being systematic about how we manage land assets is important, like the land in West Oahu that was given to us by Campbell Estate. Some of that land can be developed commercially. For instance, I would love to do a utility-scale photovoltaic farm. It would reduce our energy costs.
We have also spent a lot of time with the new vice president of research and innovation and the new director of technology transfer and economic development to identify areas where we can directly and indirectly generate revenue.
The last general area is enrollment, particularly enrollment by nonresidents, because they pay substantially higher tuition. But this measure wouldn't be just about money. We have a lot of local students who don't get out of Hawaii, so bringing in students from outside improves their experience – personally, culturally and intellectually.
Our enrollment strategy would also look at other adult populations – reaching out to adults who did not make it straight to college out of high school, such as veterans and the military population. Our colleges offer fabulous training programs.
Tuition has increased 31 percent since 2010. Are you forecasting further increases?
In 2011, the Board of Regents approved a five-year tuition schedule. We are now in our third year and we have two years remaining. The next two years will be the last of the schedule that was approved. The tuition increases at that time were largely back loaded because, in 2011, we really didn't want to raise tuition, although we needed the money. What was approved was roughly 7 percent in each of the next two years. The board last year indicated it would prefer if we could reduce that 7 percent. We agreed to defer that conversation until May, when the UH administration will propose an operations budget (including proposed tuition) for next year that will account for our needs and whatever the Legislature provides.
Your Ph.D. is in information sciences. How is tech going to shape the future of UH?
We have identified STEM as a priority; it is critical to creating an innovation economy in Hawaii. We have identified four strategic directions for the university. One is the Hawaii innovation initiative, which is the work we've been doing with the Hawaii Business Roundtable. It is about creating a billion-dollar innovations research sector in Hawaii. This would create a lot of great jobs that would incentivize a lot of people to stay. We are the key contributor to that as the state university – not just the research we do in Manoa, but across the UH system.
UH is moving away from a historical budgeting method, in which funding for each department is largely determined by what was allocated the previous year. What alternative formulas are you exploring?
Most of that attention has been about Manoa. I don't lead this, but I am supporting the effort by the chancellor and the process of shared governance. The plan is to move to a hybrid activity revenue model. In 2016, they will allocate tuition consistently to the units and then refine the model for the following year. The notion is that the revenue you generate as a dean or director will impact your budget allocation, as will your "activity," the number of students you enroll, how many degrees you award, etc.
Another part of our budget allocation will be performance based. The community colleges have done this for a small part of their budget. (Performance-based funding rewards departments for key indicators, such as graduation rates.)
State Sen. Jill Tokuda, chair of the Senate Ways and Means Committee, is looking at performance funding, which the Legislature has not previously supported. We have proposed several productivity funding models; so far we have been unsuccessful, but we will continue the conversation. One thing I've learned is that very little comes out of the Legislature the first time you ask. It is a continuous education process, in which you have to talk with them and be consistent in what you are asking for and be principled.
One alternative budget method that was tossed around was responsibility center management, which has been adopted at several mainland universities. Under RCM, individual departments are directly responsible for the costs and revenues generated within their operations. Is it still being considered at UH?
We sort of do responsibility center management in the sense that the president does not micromanage the community colleges – they run pretty independently. They get a piece of the operating budget, but they keep their own revenue. Manoa looked at responsibility center management and felt that it was not a good fit at this time. There are a number of reasons: It requires a lot of information and a lot of complexity. It can lead to perverse incentives, if not managed carefully, with units doing things they probably shouldn't just to keep revenue. So you might have everybody teaching math so they can keep the math revenue, rather than just having math taught by the math department, which has the expertise.
Former UH athletics director Ben Jay said the organization needed $3 million in funding from the state and big donors. What's the plan to stabilize this department?
We need to figure out financial solutions. Whether costs can be trimmed much more, I don't know. We have asked the Legislature for money, and the reason is not because it is more important than the library or our investment in the Philosophy Department or something else. It is because the state cares passionately about UH athletics. We can't squeeze the money out of the tuition. We have a modest athletics fee and I don't think there is a great comfort level with increasing it.
"What sells newspapers is not the great work that gets done on campus – it is not the positive story. … But the community recognizes there are a lot of great things coming out of the institution."
We are looking for help. It could be the Legislature, it could be cash, it could be structural changes to create revenue flows that come to us other than from the general fund. I think having a better relationship with Aloha Stadium would help. Possibly the Hawaii Tourism Authority could help us.
A recent report recommends that the state Legislature sell or lease the UH Cancer Center's research facility. What's your plan to put the Cancer Center on steady footing?
The Manoa chancellor announced that the Cancer Center will be established as an organized research unit within the medical school. That has benefits, because we can reduce administrative costs without hurting the academic and research mission.
The other thing I like about this move is that the Cancer Center has the obligation to have a stronger clinical trials program – which is how we will ultimately provide great cancer care to the people of Hawaii. The medical school knows how to blend clinical practice with education and research, so that supports the Cancer Center's mission. The other side is that the Cancer Center is a strong research unit, and that's an opportunity for JABSOM.
Meanwhile, we have to do the homework on the actual cost to maintain the center's National Cancer Institute designation and the actual revenue shortfall. We will also have to identify potential sources of revenue: philanthropy, help from the Legislature? What can we do with the private healthcare community? We've got $2.2 million in commitments from the consortium, which includes Hawaii Pacific Health, Queen's and Kuakini. Can we bring in more partners? Can they extract more value out of it? Research can generate some revenue. We've got to take a hard look at things.
This is an intense job. What do you do for fun?
Hiking and hula dancing, which I used to do a lot more than I do now. I got transfixed the first time I saw hula – you don't see it too much in Illinois. I ended up going to France for two weeks dancing at ethnic dance festivals across the French countryside.    
Tell us something unusual about yourself.
I was a shepherd for seven months. When I was in undergraduate, I took a year off and had a rail pass and was staying in youth hostels and sleeping on trains. I eventually ended up going to Israel and getting placed in a moshav community, where the work is collective. I ended up being a shepherd.
What has surprised you the most since taking this job?
The extent to which people downtown and in the community love the university and support what I'm trying to do. What sells newspapers is not the great work that gets done on campus – it is not the positive story. Many in the Legislature focus on what can be improved. But the community recognizes there are a lot of great things coming out of the institution.
This interview has been edited for conciseness and clarity.