Talk Story: Trevor Ozawa, Honolulu City Council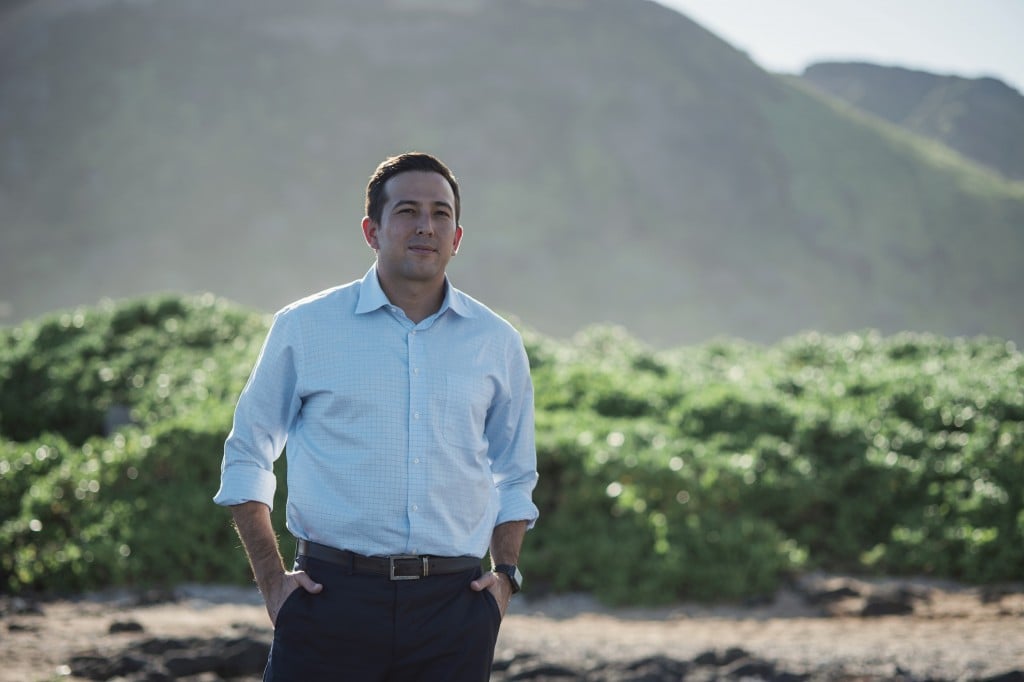 This talk story features Honolulu City Councilmember Trevor Ozawa, who received the inaugural Hawaii Lodging and Tourism Association Award for Leadership In the Industry: Young Achiever
It's become a tradition for Honolulu City Councilmember Trevor Ozawa to volunteer his time to the Hawaii Lodging and Tourism Charity Walk by greeting participants and working the bbq. The 35-year-old has been grilling Portuguese sausages for walkers and volunteers at McCoy Pavilion at Ala Moana Beach Park for years now. It's something Ozawa genuinely looks forward to. Perhaps, it's in his blood to be cooking for others since his father was a chef, but serving others is in line with his style of leadership.
Ozawa is a firm believer in servant leadership, where the leader focuses on the well-being and growth of the community rather than accumulation of power. In 1970, Robert Greenleaf published an essay and coined the term "servant leadership."
"The servant-leader is servant first […] It begins with the natural feeling that one wants to serve, to serve first; then conscious choice brings one to aspire to lead," writes Greenleaf. "That person is sharply different from one who is leader first, perhaps because of the need to assuage an unusual power drive or to acquire material possessions."
Greenleaf's essay had a profound effect on Ozawa, who learned about this style of leadership in the Pacific Century Fellows program. In addition to being a graduate of PCF, Ozawa is also a Kamehameha Schools alum and has a B.A. in Economics from the University of Southern California, as well as a law degree from Suffolk University Law School in Boston.
Ozawa was born and raised in Hawaii Kai, and as the representative of Honolulu's District 4, which spans from Ala Moana to Hawaii Kai, he utilizes all of his education to better his community. He currently resides in Hawaii Kai with his wife, who is also a lawyer, and their two daughters. Ozawa was recently recognized as Leadership In the Industry: Young Achiever at the inaugural aio Media Hawaii Lodging and Tourism Awards and we wanted to pick his brain on leadership and receiving this recognition.
Q: Who are the leaders that you look up to and why?
Ozawa: Well, I have to say first and foremost for me and my family would be my grandpa, who passed away recently. He did everything for the greater good of the family, and could have lived a much more lavish lifestyle but decided to take care of the family and put other first. Others would have to be Senator Akaka and Senator Inouye, who dedicated their entire life to making sure Hawaii was taken care of, standing up for minorities on a national scale and fighting for equality and against racial discrimination. In addition, being a Kamehameha grad, Princess Bernice Pauahi Bishop gave her entire wealth to perpetuating Hawaiian culture and educating Native Hawaiians and that to me is complete selflessness and I look up to her and appreciate that I got to benefit from her giving heart.
Q: What does servant leadership mean to you?
Ozawa: Servant leadership means in any capacity with a heart of pure aloha and giving of your time and yourself to make an impact in the community that is really selfless.
Q: As a kamaaina, why are you proud to represent Honoluluʻs District 4 as their city councilmember?
Ozawa: I like to fight for our community and our community needed someone to fight for them. So I'm very thankful for the opportunity to represent them. Every single day I go into work, I'm really happy to go into work and I enjoy it. I know I'm making an impact in regard to keeping our community safe, improving our parks and fighting for affordable housing.
Q: Where do you think is the largest opportunity for economic growth in your district?
Ozawa: Waikiki is already the number one contributor for us in the State, but I do see that as the place we can grow the most as well. We have to continue to revitalize Waikiki, add to the infrastructure and we need to continue to adapt at the forefront of the global tourism industry to ensure that we don't have any dips in bad times. What we have in Waikiki is a perfect place to demonstrate what the Aloha spirit is, what the Hawaiian culture is and to continue to provide better experiences. I think that area has so much potential even though to some people it's completely maxed out. I see it as a place that is ripe with opportunity.
Q: When you received the Hawaii Lodging and Tourism Association Award for Leadership In the Industry: Young Achiever how did you feel and what did it tell you about your past four years at the City Council?
Ozawa: I felt very honored that the Waikiki community would consider me a leader in the tourism industry. I definitely did not see that coming, but I was definitely humbled and it also provides a lot of validity for the things that we've been fighting for. This award means we're doing things right and are in touch the community at large by making a real impact. Creating special districts like the Waikiki Beach Special Improvement District, where we have been providing funding for the beach erosion. Being a member of the Waikiki Business Improvement District, working with the Waikiki Improvement Association, the HLTA, the HTA and the various tourism organizations in that area. It's been an honor to be in the same discussions with these people, but I've also learned a lot from them and I've come to understand what it takes to be a good steward of that area. I've just been trying to do my job and my part to ensure that Waikiki is constantly improving. We're looking at Waikiki not only from an economic perspective, but also from a cultural perspective as well to ensure that we continue to recognize the host culture and honor that.