Talk Story: W. David P. Carey III President and CEO, Outrigger Enterprises Group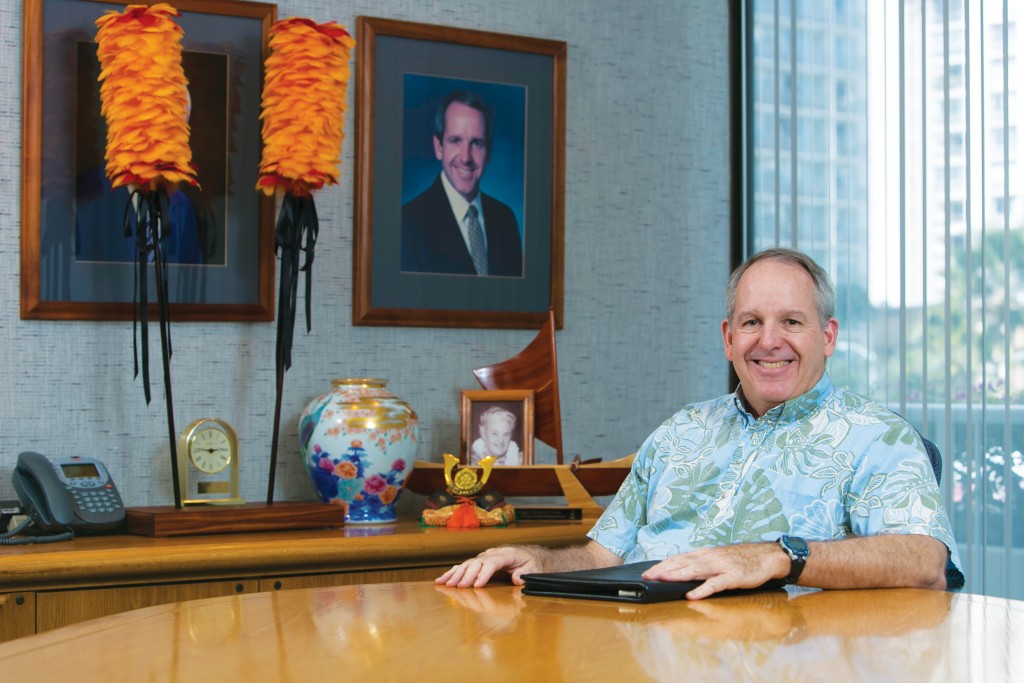 Carey oversees an empire of 35 hotel operations in the Pacific and Asia, with more coming soon. He has an undergraduate degree in electrical engineering from Stanford University, plus a law degree and an MBA from Santa Clara University. He joined Outrigger in 1986.
How strong is the tourism turnaround? It's extraordinarily strong, at least for Oahu. The velocity isn't as significant on the Neighbor Islands, with the Big Island not getting traction yet.
The bounce back is being driven by a lot of factors and some is product. The Oahu product is in the best shape in the 30 years I've been here. We did the Waikiki Beach Walk development and that was a catalyst for change and several others followed up and down the strip. The place looks great.
There's also been an upsurge in a more activity-oriented tourist. There are now 1,200 to 3,000 people a day hiking on Diamond Head. They want event opportunities and more opportunities for dining.
By the way, food and beverage has seen a great turnaround. We took a gamble with Beach Walk in having 50 percent in restaurants and it's paying off. There's a food and beverage renaissance, especially in Waikiki.
What are the issues we have to be aware of to keep tourism thriving? Some we can control; some we can't. Global safety and security are paramount for tourism. The experience Mexico has had has seriously hurt its tourism; it has really flattened out. Another example is the Japanese visiting China; that hasn't been good because that relationship has been off.
One of the things that has helped Hawaii has been the currency differential. The dollar is much cheaper against the yen. And there's been an appreciation of the Aussie dollar and we've seen near record levels of Australian tourists here. They could be as much as 8 to 10 percent of the market from a low of 3 percent.
Some other factors that portend well for the future are the visa waiver out of Korea in the last year and, most recently, the visa waiver out of Taiwan. However, it's still challenging to get a visa from China in a timely fashion. We've been making some improvements, but there's still an interview and application process. You can't just decide, "Let's go to Hawaii in two weeks."
What new trends do you see? The length of booking windows has been reduced in time significantly. In the 1980s, it was six months in advance. When the airlines started doing last-minute specials about 10 years ago, habits began to change and (today) people are waiting to book. The Internet also facilitates that. The result is you have to maintain your promotions to the last minute. So these are two trends: consumer habit and ease of booking.
What are the new trends in the Outrigger chain? It's the diversification of markets. There's been a massive growth of markets in Asia-Pacific, and a lot of growth of the company working with developers building hotels. We're opening three hotels in Thailand, one in Bali, one in Fiji, and we've got one on contract in Vietnam, one in Hainan, China, and three in Australia. There are 35 properties (or 40 including those under development) through Asia-Pacific. We also just spent $18 million upgrading the Outrigger Waikiki on the Beach.
What hospitality-industry issues do you foresee at the state Legislature this year? When times are good, destinations tend to say, "Well, we don't need to spend any more money on destination marketing. … While you guys are doing well, we can raise taxes." But, long term, that will harm business. Every time we have the market up it happens. We say, "Wait a minute, the best investment is tourism-destination marketing. That's the only thing you have that has multiple payoffs."
"You put money into marketing and you get a multiple return back: income taxes, occupancy, excise taxes, sales tax, hotel room tax."
We're the ones that pay the rent and bring new money into our economy. The amount we've been spending on tourism has been capped at around $60 million for the last several years but we need to spend about $100 million. The state would tremendously benefit. We need to invest in some markets for the future.
How are room rates doing? There's a strong recovery. Now we're back up to '07 levels. We're back to where the peak was, but we haven't made up the (profit) gap. The costs still marched along at inflationary rates when the revenues were down, so profits got squeezed.
Should we be building more hotels in Waikiki or is that passé as timeshares overtake the market? The market would love hotels, but the cost of developing hotels doesn't make sense. It's $400,000 to $600,000 a key for developing hotel rooms, and you need about a dollar a night in rates for every $1,000 in construction costs. So, if it costs $600,000 a key to build, you need a $600 a night rate over time to make it work. That means if you're not on the beach, your chances of making it work are really small. Basically, timeshares and hotels work really well together because timeshares tend to run relatively full and then the hotels are nearby and provide a broader range of services.