Talk Story with Bill Brizee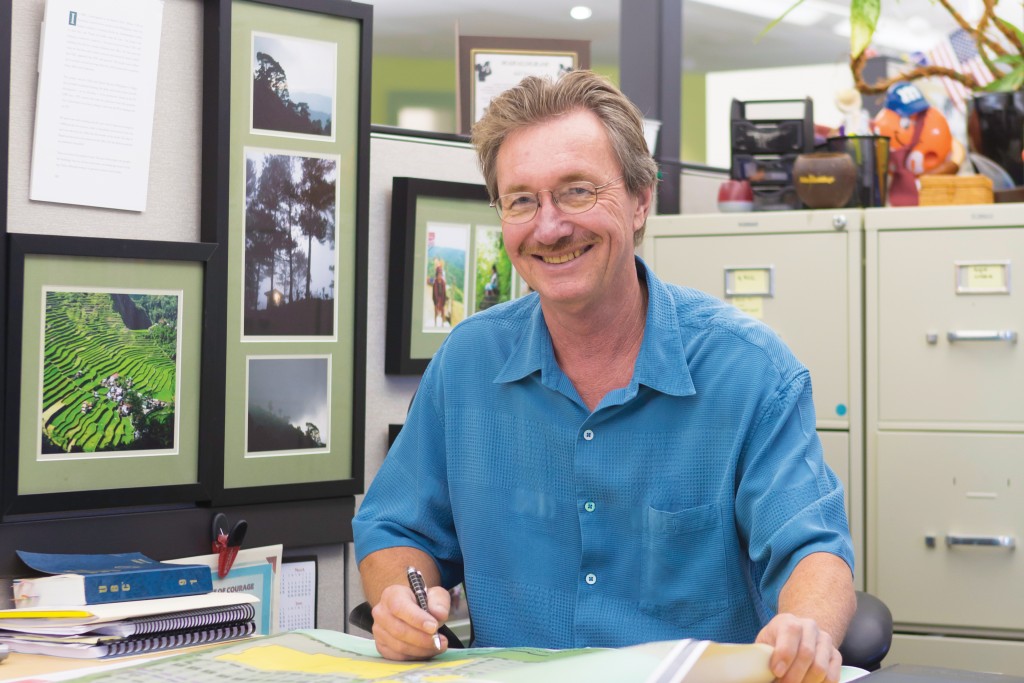 Brizee joined AHL in 1995 as a project architect and manager, and was promoted to principal in 2004 and CEO in 2010. He shares his views on rail and the importance of the LEED (Leadership in Energy & Environmental Design) certification system.
The American Institute of Architects, Honolulu Chapter, supports a hybrid light-rail system for Honolulu, combining elevated and street-level tracks. Do you believe the elevated rail that is being built is better than no rail?
Yes, what we're doing is better than no rail at all. If it has to all go overhead, we'll make it the most beautiful overhead thing the world has ever seen. We have to. But we need rail for a lot of different reasons. We need it for people who live on the west side to not have to spend an hour and a half driving home every night, or those that have to leave their homes at 5:15 every morning, so they're commuting only a half hour instead of an hour.
Rail will spur development around the stations and we need to have TOD (transit-oriented development) occur around the stations. There are studies that say the majority of residents within a half-mile of a station will likely take public transportation. If you take those people off the roads, it leaves more room on the roads for those who really need their vehicles during the day.
What is your ideal vision of rail?
I support rail because we need a public transportation alternative. But my vision would be for the technology to allow the trains to be "at-grade," or street level. That would be ideal along Hotel Street. It would become a pedestrian mall with the train. It would provide an atmosphere of sidewalk cafes, cool artisan shops and the fun places that are already there. You could also do that along Kuhio Avenue. If you get rid of all the traffic on Kuhio, it becomes a different experience for a tourist. Also, for the amount of money we would save by having an "at-grade" rail system from Kapolei to Ala Moana, we could run the train under the Ala Wai and come up onto Kuhio Avenue.
Do you think "green" building can be accomplished without LEED?
Absolutely. Around the world, there are many different ways of measuring sustainability of buildings. Every country seems to have its own way. USGBC (U.S. Green Building Council) is just one way of doing it with LEED. What we're finding is we can do sustainable buildings with little or no additional cost. Where we have to charge money is in the processing to get the certification. Sometimes that could be substantial because of the amount of documentation that's necessary.
For one of our projects, in order to get our LEED Build certification, the contractor had to weigh all of the demolished material before it left the site. So it's not just what the design professionals have to go through, but the contractor needs to follow certain requirements.
There needs to be a chain of custody that's submitted to the USGBC whenever we're reusing materials or donating materials. And it's all based upon weight. So we have to weigh everything when it comes onto the site and weigh everything as it leaves the site in order to gain certain points.  What you're trying to do is avoid demolition materials from going into our dumps.
Why do developers pursue LEED certification?
Those who do go for LEED certification do so because it's required for public buildings. There are both prestige and financial rewards, but most clients go for it because it adds value to the building. Whatever the reason to go for LEED certification, it's a good thing to do for the environment. A green, clean environment provides value for the developer, the user and the community.
What is unique about Hawaii architecture, relative to mainland or international architecture?
In Hawaii, we struggle with, "What is Hawaiian architecture?" There are certain definitions out there when it comes to certain styles of building a roof, for example. But sometimes we try to push the envelope to try to come up with some different, contemporary versions of what's been classified as the Hawaiian "sense of place" architecture. I think we're struggling with that. I always struggle with anything we do in Hawaii since we're putting more concrete down and building taller buildings. There needs to be a balance of where those types of developments go and where you need to try to keep the country "country."
What's your favorite building in Hawaii?
I think it would be the Outrigger Canoe Club. It reflects Hawaiian culture and our tropical environment. And, of course, being on the beach doesn't hurt either. I really love the architecture there and that they were able to use some of the native materials like the coral inlaid into the columns.
You've been an architect for nearly 40 years. What do you consider the most significant changes in the industry and the occupation since you started out?
Obviously, there's the pencil and paper to the computer and three-dimensional programs that we have now. When I started in architecture, they gave me a desk and a stool and they let me draw toilet partition details until I was really good at it. Then they put me on window details and wall sections and, through the process of on-the-job training, you knew how a building got put together. And, these days, with the computer, that's not available anymore. So we really have to work hard and be diligent in training our young people as they come out of school. It's a lot more effort from a management standpoint, but necessary.
Generally, the schools of architecture don't teach you how to put buildings together. Mostly it's all about design, which is good, since we need that. But there's also the technical aspect that's so important.