Talk Story with Chris Tatum, Marriott Resorts Hawaii Executive and Hawaii Hotel and Lodging Association Chair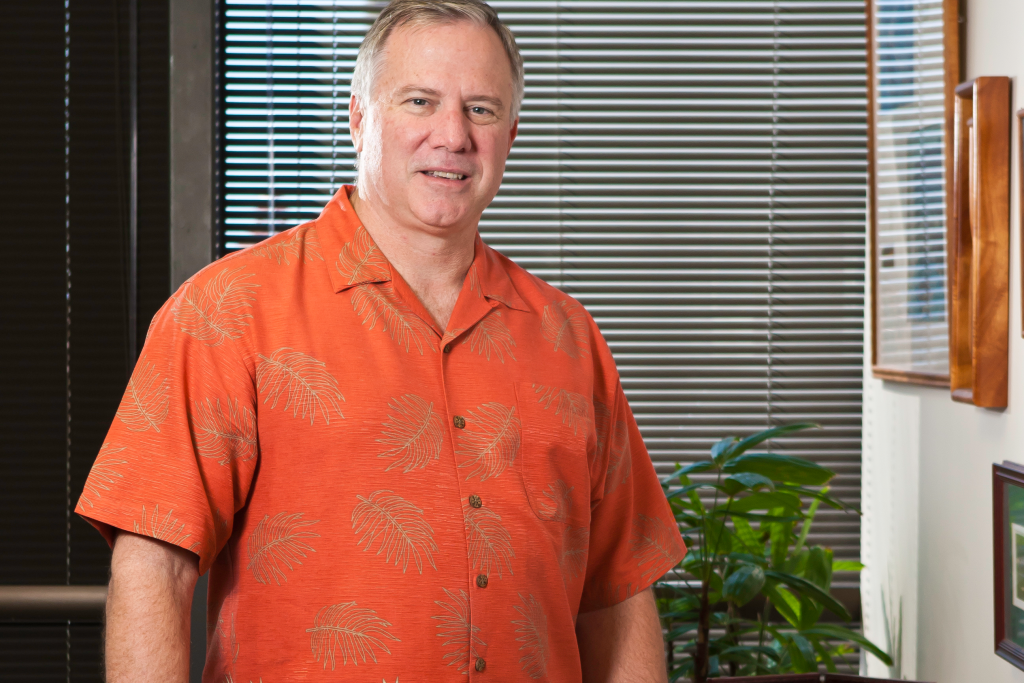 The new chairman of the Hawaii Hotel & Lodging Association is Vice President in charge of Marriott's hotels and resorts in Hawaii, North Asia and the South Pacific.
Tatum says growing up in Hawaii has given him a valuable perspective on how the hospitality industry should work here, and how filling hotel rooms helps the economic health of every neighborhood in the Islands.
Q: Are we seeing a turnaround in the visitor industry and, if so, what's helping?
A: Right now, we're looking at some encouraging signs and, as we go into 2012, the numbers will improve. For our market, everything is driven by group (sales), and that's slow to come back. We need that group business from all segments to be successful and to really see an impact on retail, food and beverage.
Getting the convention business is going to be vital to us in the future. APEC coming here in November will give us a lot of exposure, but it's more than that: People from Asia and the Mainland will see Hawaii as a business-meeting location. Yes, Hawaii's beautiful, but it can be something other than leisure as well. We want this to be an East-meets-West opportunity.
Q: How are you promoting Hawaii?
A: For the third year, we're going to put the Marriott "Spirit of Aloha" bus on the road starting Jan. 17. It's a large touring coach wrapped in advertising and beautiful scenery, and we take a group of dancers and singers from the Polynesian Cultural Center. We've done this twice in the U.S. and once in Japan over the last two years and it has had an impact. We work with Hawaiian Airlines and put together Spirit of Aloha packages. Starting in Los Angeles, we'll then go up the coast hitting all the major cities through the Pacific Northwest and the Midwest markets all the way to Chicago, and then down to Dallas, Houston and Phoenix.
The goal is to get into as many TV and radio stations as we can in those key markets, bragging about our product and exciting them about the destination. You have to sell the destination first. If you can't get them on the planes to Hawaii, you're not going to get them into the hotels. So we want to be the ones that are top of mind, especially in our key markets. And the dancers from PCC are phenomenal. They'll go out there and do a hula in the snow!
Q: If you could wave a magic wand and change something about Waikiki, what would it be?
A: Get the beach back in some areas (where sand has ebbed). The hotels are getting together, along with the state, to help, but it has to be done from an environmental standpoint. I'm not sure what drives the sand out, but, for instance, in Kaanapali during a certain part of the year, you lose the beach. Some of it is natural, but it's hard to explain that to customers.
Q: Is there an advantage to having grown up in Hawaii when you're part of the hospitality industry?
A: People want to see that you're invested in the community. You're not just coming in and seeing what you can do for your career and moving on. All my friends work in different areas, so I get feedback from all parts of the community. You also see that the value of the tourism industry impacts everyone on the island. I didn't grow up in an area with hotels, but clearly the people who live in all those neighborhoods are impacted by the economy in Waikiki. When tourism drops and the hotels aren't full, everyone's business hurts.
Q: Where are our new markets for tourist growth and are there any issues to conquer?
A: We see some tremendous opportunities in China but (the U.S. State Department) has to work to make the visa process more customer-friendly, and not such a challenge. The Chinese are traveling; they're just not traveling to the U.S. because of the visas. Currently, more Chinese travel to Paris than to the whole U.S., so the opportunity is there. To get a visa, you have to apply and then do an interview. And there are only so many interview locations. The state government understands the issue and it's working on it, and the Hawaii hotel association and the national hotel association are big advocates. Korea became visa-free last year and, as that economy improves, we'll see that visitor number improving. For our hotels, it's already up about 25 percent. The easier you make the visa, the more business you get.
Q: What are the key ingredients of a successful tourist location?
A: It has to have a draw that everyone wants, and then you have to provide the things people expect. You have to have safety, cleanliness, ease of arrival and departure. People don't want it to be a strain to go on vacation. They want it easy. The piece we have that other destinations don't is tourists understand that the visitor industry is part of our heritage. I have people at the Waikiki Beach Marriott who come back every year to run the marathon with one of our staff. The feeling that this is what Hawaii is all about – provided by one of our employees – is something that brings people back. They feel they get a real understanding of what life in Hawaii is like.